NEWS
KATE STABLES & HG20
11 July 2022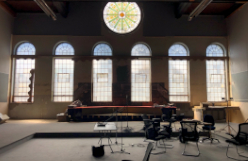 Very excited to let this cat out of the bag! The wondrous Kate Stables (of... This Is The Kit) will be headlining Monday 1st August's HG20 event at MOTH Club! I know!
Also here's a 90-minute 'Hello Goodbye' Resonance FM radio special featuring yours truly talking to Dexter Bentley about our upcoming HG20 event, so many brilliant tracks aired from past sessions and the present, HG20 discussed at length too! Enjoy!
KIBITZER-N-TOUR
4 July 2022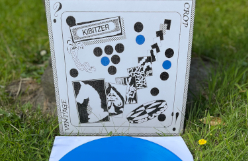 VINTAGE CROP's stunner of a new album 'Kibitzer' is out now in all the best shops PLUS they kick off the UK-leg of their tour this evening in Bristol, see you there! Look out London on Saturday night!
DARK WORLD LPs HAVE LANDED
24 May 2022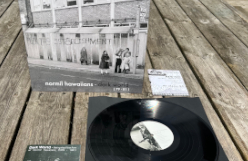 Our long-awaited Normil Hawaiians 'Dark World' compilation has finally arrived back from the plant on LP, only took 14 months to press up! 'Dark World' collects together choice material from Normil Hawaiians' formative early years of 1979-1981. Tagging along with the band from their peppy post-punk origins (so brilliantly debuted on 'The Beat Goes On') into the looser, dubbier territories that laid the foundations for the group's landmark album 'More Wealth Than Money'. Pre-orders flying out the door today, available to buy from all top shops soon and from our webstore now.
Crack open a Guinness! Good things come to those who wait!
THE BLOODY WAR
16 May 2022
Everyday life ain't easy, we're all just soldiers negotiating flak. One day though we'll catch the train to the lake, row amongst the ducks and work out everything. Until then check out Vintage Crop's new single 'The Bloody War', out today digitally and taken from the group's forthcoming massive listen of an album called Kibitzer (out June 24th). Suit up!
NEXT SHOW - MODEL HOME
10 May 2022
Our next show is a two-day residency at Café OTO with the incredible Model Home, one month to go! DC-based experimental hiphop meets glitched noise weirding. Check it! Horacio Pollard + Gaute Granli + Robin Stewart (of Giant Swan) and Dee Byrne all performing too. See you there!
SCREENSAVER - NEW 7" OUT NOW!
29 April 2022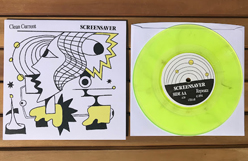 What luminous portent!
Today Upset The Rhythm releases Screensaver's astute-n-snappy double A-side 7" on yellow lambent vinyl. 'Clean Current' is a thrill of nervy guitar, motorik beat and echoed ennui: "This minute is eternity"! 'Repeats' is a moody sister track, a gothic post-punk stomp pushed ever onwards by a gritty sawtooth synth and ascendent vocal. Hyper-limited to just 150 copies worldwide this 7" is only available in the best of shops and from our very own mailorder.
CLEAN CURRENT
20 April 2022
Rock out in the kitchen! Here's Screensaver's domestic hi-five of a video for 'Clean Current'! " A hip-shaking certified bop" according to Post-Trash who just premiered the single-shot cavort! 'Clean Current' is out now digitally and next week on a yellow-fluoro 7" via Upset The Rhythm.
THE DUKE
11 April 2022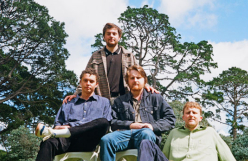 Check out Vintage Crop's sprightly new single 'The Duke', a song about indecision and distraction and not so much about inheriting the duchy! Premiered today by the wonderful Raven Sings The Blues.
REPEATS OUT NOW!
8 April 2022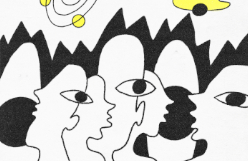 Screensaver's moody post-punk stomper 'Repeats' is released today digitally, the flipside of their AA single with 'Clean Current'! Led by a gritty sawtooth synth, chorus-splashed guitar, textural percussion and soaring vocals, 'Repeats' gleefully languishes in the repetition allotted to much of modern life.
'Clean Current / Repeats' will also be released by Upset The Rhythm on a fluoro-yellow 7" in the coming weeks.
HG20
6 April 2022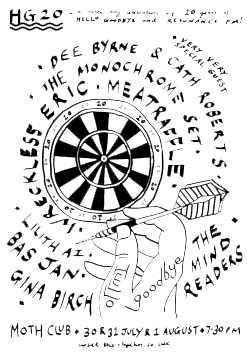 Hurrah! Upset The Rhythm are helping to celebrate 20 stupendous years of deXter Bentley's Hello Goodbye radio show on Resonance FM with this three-day extravaganza at the very end of July at MOTH Club! So many brilliant artists down to play, will be a proper knees-up, plus all profits from the event will go towards Resonance FM. What's not to like? Ta-da!
KIBITZER!
17 March 2022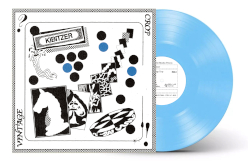 Geelong's favourite sons Vintage Crop return this summer (June 24th) with their much-anticipated fourth album, 'Kibitzer'. 'Kibitzer' sees the band define their field of play, more melodic at times, still bruising, forever droll. These ten tracks of 'snappy as elastic' Australian punk are packed with tensile riffage, hefty beats and witty refrains of everyman curiosity.
Today we're sharing Double Slants with you, Vintage Crop's first single from the 'Kibitzer'. We're also announcing that our pre-order for the album on sky-blue vinyl, black vinyl and CD is now up and running.
Dinked have kindly nurtured a lavish limited version of the LP on white vinyl with accompanying lyric zine, bookmark and live show flexi-disc! That can be chased down here.
CLEAN CURRENT
14 March 2022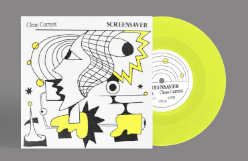 Thanks Raven Sings The Blues! Screensaver's neon flicker of AA single is announced today! Super limited quantities (150 copies) of these being made so well worth getting your pre-order on!
"Melbourne's Screensaver follow quickly on their excellent album Expressions of Interest with a new single and the first cut out of the gate sees them sliding away from the darker corners of their debut and into a slackened, neon flicker of synth pop with a pogo pulse. With a crooked smile and a foaming wave of keys, the band cross-wires the maximalist sonic assault of Snapper with the nervy pounce of The Units or Starter."
TAKE CONTROL OF IT
19 January 2022
Get your ostrich bop on with this wondrously odd new vignette from Robert Sotelo. 'Take Contol Of It' is taken from the album 'Celebrant', out now on Upset The Rhythm.
BERLIN TONIGHT!
15 January 2022
Lou & Iggy are given the inimitable Frobos treatment with today's surprise digital single! 'Berlin' b/w 'Tonight' performed by Philip Frobos (Omni) featuring Greenscreen and Grace Bellury! Available now on all digital platforms, enjoy!
NICFIT OUT NOW!
14 January 2022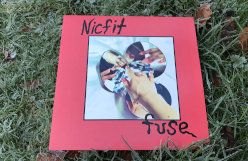 Kick, kick, kickstart 2022 with Nicfit's wild debut album 'Fuse', out today on Upset The Rhythm!
Nicfit are a punk band from Nagoya, Japan. Comprising Hiromi on vocals, Charley on guitar, KenKen on bass and Kuwayama on drums the group are by turns melodic and menacing. Nicfit are a nervous itch, incessantly flipping between head-down tumbles of hardcore bounce and freaked feedback clamour. Boasting some total life-affirming trample packed with snappy vocals, metallic spikes and glammy undercurrents that soar out of the sprawl.
'Fuse' is available now digitally and in all the best records shops on 180g black vinyl, we also have copies of the LP in our webshop, yeh!
YULETIDE THANKS
12 December 2021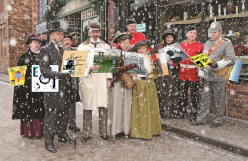 Seasons Felicitations! Upset The Rhythm turns 18 years old today and to celebrate with suitable festive panache we're offering you all 18% off our entire catalogue for the next 18 days. Just use the code UTR18 at the checkout of our UTR webshop.
XMAS = SORTED
2021 saw Upset The Rhythm release an astounding armful of 9 records by Buffet Lunch, Screensaver, Philip Frobos, Robert Sotelo, Kaputt, Bertie Marshall, Clear History and Normil Hawaiians! We could not be prouder of these essential outpourings of underground culture. Thanks so much for all your kindness and support in making our record label and concerts possible this year, you put the baubles on our tree!
May merriment abound and all your Christmases be happy and healthy, UTR x
NICFIT - 'DEVIATION'
10 December 2021
Japanese group Nicfit have a restive (and decidedly not festive) new single out now called 'Deviation'! Here's the brilliantly tensile video. 'Deviation' is also streaming on all the usual digi-platz and features on the band's debut LP 'Fuse', out Jan 14th through Upset The Rhythm.
LATEST RELEASES MIXTAPE
LINKS
UPCOMING SHOWS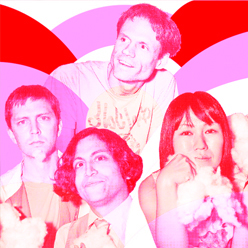 DEERHOOF
SACRED PAWS
Wednesday 31 August
Electric Ballroom
184 Camden High St, Camden Town, London, NW1 8QP | Map
7pm | £17 | Buy tickets
DEERHOOF have continually quested for daring storytelling and radical sounds over their eighteen boundless albums, as experimental as they are pop. 2020's critically acclaimed, overwhelmingly prescient Future Teenage Cave Artists explored fairytale visions of post-apocalypse, welding intrinsic melodies with absurdist digital recording methods. Its immediate sequel Love-Lore, a live covers medley, channeled futurist mid-century artists—Parliament, Sun Ra and Stockhausen, to name a handful— into a patchwork love letter to the anti-authoritarian expressions that inspire the band.
Deerhoof's latest, Actually, You Can, is a genre-abundant record that uses technicolor vibrancy and arpeggiated muscularity to offer a vital shock from capitalism's purgatorial hold. The band says, "Think of all the beauty, positivity and love that gets deemed ugly, negative and hateful by the self-proclaimed guardians of 'common sense.' We'd hardly be destroying society by dismantling their colonial economics and prisons and gender roles and aesthetics. We'd be creating it!"
SACRED PAWS are a fantastic, intuitive dream punk duo, comprising Eilidh Rodgers of Golden Grrls on drums, and Rachel Aggs from Trash Kit and Shopping on guitar. Raw Soweto high-life riffs and rolling Afrobeat grooves are filtered through post-punk sass and ramshackle K Records charm. It's an utterly joyous sound, the duo trading giddy melodies and righteous chants over febrile rhythms and chunky, infectious riffage. Rock Action released the band's debut album 'Strike A Match' in 2017 and it received a slew of incredible reviews from the likes of Q, DIY, Clash, Loud & Quiet, The Skinny and was voted Scottish Album of the Year too! In 2019 they followed that up with 'Run Around The Sun' (out May 31st on Merge / Rock Action) brimming with upbeat reflections on growing up and looking back.

MAX TUNDRA
BAS JAN
GUS BONITO (DJ Set)
Friday 2 September
The Lexington
96-98 Pentonville Rd, Angel, London, N1 9JB | Map
7.30pm | £12 | Buy tickets
MAX TUNDRA, aka Ben Jacobs, is a master of delightfully inscrutable, slyly tuneful electronic pop. His three albums recorded for Domino Records between 2000-2008 echo throughout much contemporary pop music. The first of the trilogy, 'Some Best Friend You Turned Out To Be', is more or less the most experimental; the second, 'Mastered By Guy At The Exchange', perhaps the most joyful; and the third, 'Parallax Error Beheads You', the most riotous. All three albums remain essential and three are being reissued by Domino this summer! A remix mixtape entitled R'emixtape' featuring the likes of Julia Holter and Kero Kero Bonito will also arrive alongside the reissues on August 12th. The hyperpop pioneer has collaborated with the likes of Arca, Daphne & Celeste and A. G. Cook. The natural musical predecessor to the likes of PC Music, Max Tundra also boasts a remix roster which includes Pet Shop Boys, The Strokes and Franz Ferdinand. Join us for a very special concert from Max Tundra to celebrate these reissues on September 2nd, to the very day the exact 20th anniversary of landmark album release 'Mastered By Guy At The Exchange'.
BAS JAN are a London-based ensemble, this year they returned with an expanded line-up and a much-anticipated second album 'Baby U Know' (Lost Map). It is the follow-up to the critically acclaimed 2018 debut album Yes I Jan, which was hailed for its "messy majesty" (Uncut) and "beautifully fractured art-pop" (Mojo). Bas Jan were co-founded in 2015 by songwriter, vocalist and multi-instrumentalist Serafina Steer. The band features Emma Smith (Jarv Is, Meilyr Jones, Seamus Fogarty and founder member of the Elysian Quartet) on violin, bass and electronics, Rachel Horwood (Trash Kit, Bamboo, Jenny Moore's Mystic Business) on drums and Charlie Stock on electric violin.

JENNY MOORE
EVADNEY (Sep 13)
ZAHRA HAJI FATH ALI TEHRANI (Sep 14)
Tuesday 13 & Wednesday 14 September
Servant Jazz Quarters
10A Bradbury Street, Dalston, London, N16 8JN | Map
7.30pm | £8 | Buy tickets
JENNY MOORE is a composer, singer, drummer, performance artist and choir leader. Her London-based six-piece choral-punk ensemble Jenny Moore's Mystic Business is known for their tuned percussion, huge vocals and chanted soulful mantras, a mix of the 90's R&B and post-punk Jenny grew up listening to in the Canadian prairies. Their new EP, "He Earns Enough," was released on Lost Map Records in 2021.
Moore founded the alternative feminist choir F*Choir, composing and arranging for the diverse group of singers using non-gendered voice parts, graphic scores, no auditions to create highly energetic, rhythmic and political music. She's played in bands like the dance-punk trio Charismatic Megafauna and Bas Jan, committed to DIY and collective processes towards making and distributing music, workshops, artworks and performances. She has a monthly radio show on Soho Radio called 'Hitting Things,' and co-founded Bedfellows, a queer feminist sex education project. This performance will showcase Jenny Moore's new set of piano songs, recently recorded at St Barnabas Church (Dalston) and available soon through Lost Map, and will feature members of her band Jenny Moore's Mystic Business and her punk choir F*Choir.
EVADNEY captured his own outsider experience with his two stunning EPs of poetic electronic-pop odysseys on Black Acre Records. Led by his unique vocals, the politics of sexuality, identity and Evadney's intersectionality are played out across cinematic pieces of work. Growing up in the UK in a Caribbean family, Evadney's sound has been shaped from his love of bold artists like Bjork, Kate Bush and Grace Jones, and later studying the likes of John Cale, Stockhausen and Musique concrete during his MA in Music Composition at Goldsmiths University.
ZAHRA HAJI FATH ALI TEHRANI is a musician, composer, performer and award-winning director of the Young Women's Music Project. She is based in Oxford where she was born and raised as a second-generation immigrant, her father having emigrated to the UK from Iran and her mother being Irish. Thoughts on identity run as an undercurrent through her creative process as she connects the different cultures she embodies. She released her self-produced EPs Wednesday's Child and Atigheh under the name Despicable Zee. Her previous body of work centred around Zahra's reflections on the experience of immigration and existing between cultures which are worlds apart. She wove in samples from Iranian ballads, lullabies from her Irish mother and Iranian grandmother, and sounds of her son that have been collected as he grows up, pockets of childhood captured in the quiet moments.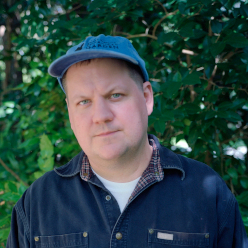 JAKE XERXES FUSSELL
Friday 14 October
St John on Bethnal Green
200 Cambridge Heath Rd, London, E2 9PA | Map
7.30pm | £12 | Buy tickets
JAKE XERXES FUSSELL is a singer, guitarist and folk music interpreter who has distinguished himself as one of his generation's preeminent interpreters of traditional (and not so traditional) "folk" songs, a practice which he approaches with a refreshingly unfussy lack of nostalgia. By recontextualizing ancient vernacular songs and sources of the American South, he allows them to breathe and speak for themselves and for himself; he alternately inhabits them and allows them to inhabit him. In all his work, Fussell humanizes his material with his own curatorial and interpretive gifts, unmooring stories and melodies from their specific eras and origins and setting them adrift in our own waterways.
Jake's exquisite new album for Paradise of Bachelors 'Good and Green Again' finds him navigating fresh sonic and compositional landscapes on the most conceptually focused, breathtakingly rendered, and enigmatically poignant record of his catalog. Produced by James Elkington and featuring formidable players both familiar (Casey Toll, Libby Rodenbough) and new (Joe Westerlund, Bonnie Prince Billy), it includes Jake's first original compositions; atmospheric arrangements with pedal steel, horns, and strings. Always compelling and deftly impressive, Jake's live shows have become must attend events, so its with great honour that we welcome him back this October to London.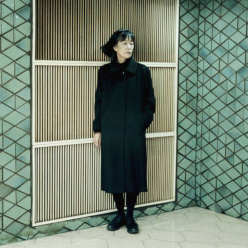 PHEW
MODEL HOME
Sunday 16 October
The Lexington
96-98 Pentonville Rd, Angel, London, N1 9JB | Map
7.30pm | £12 | Buy tickets
PHEW was a founding member of the legendary Japanese punk band Aunt Sally. After the band's breakup in 1979, she continued her career as a solo artist, releasing a collaborative single with Ryuichi Sakamoto in 1980, and her first solo album, 'Phew', with Conny Plank, Holger Czukay of CAN, and Jaki Liebezeit in 1981. In 1992, her third album, OurLikeness, was released on MUTE, again at Conny's studio, with Jaki Liebezeit of CAN, Alexander Hacke of Einstürzende Neubauten, and Chrislo Haas of DAF. Since the beginning of the 2010s, she has released a series of works that combine voice and electronic music, and has gained international recognition as an electronic artist. Pitchfork has described her as "Japan's underground legend." She has also released collaborative works with Ana da Silva (Raincoats), Seiichi Yamamoto (Boredoms) and others. Phew's expansive album 'Vertical Jamming' is being released on vinyl for the first time via Disciples on 28 October, a special run on clear vinyl housed in a Studio Tape-Echo sleeve. A small number of advance copies will be on sale at this London show.
MODEL HOME is a hyperprolific experimental hip-hop formation from Washington D.C., instigated by rapper NappyNappa and producer Pat Cain. The duo recruits an ever-changing cast of collaborators to give each record a new feel: Model Home can sound like post-modern take on old school hip-hop, glitchy noise or even improvised exploration. The gist of Model Home is that the music pours out like from a faucet, faithfully channeling the chaos of the everyday thought. Model Home's music would blend right in with a dystopia. The deteriorating sounds of Patrick Cain's electronics would be impossible to distinguish from the constant construction that is the score of any contemporary city; NappyNappa's enigmatic missives would be lost in the roar of public service announcements, personalized advertisements, and omnipresent sirens. Built on the edifice of dub sound systems and DIY basement clatter, their sound is made up of slabs of textured noise and decayed vocals. Disciples just released the duo's sensational new album 'Saturn In The Basement' and it's companion cassette, go seek!

MIDWIFE
EUAN ALEXANDER MILLAR-MCMEEKEN
Tuesday 18 October
Cafe OTO
18-22 Ashwin St, Dalston, London, E8 3DL | Map
7.30pm | £12 | Buy tickets
MIDWIFE is the moniker of multi-instrumentalist Madeline Johnston. She lives and works in San Miguel, New Mexico by way of Denver, Colorado, where she spent the better half of the past decade developing her experimental pop project. As a self taught guitarist and recording engineer, Midwife explores dark subject matter in her anthemic, soft-gaze hits. Self-described as "Heaven Metal," or emotive music about devastation - catharsis.
Midwife's third full length record, 'Luminol' (released last year by The Flenser), was written and produced during quarantine. Luminol is a chemical used by forensic investigators to reveal trace amounts of blood left at a crime scene. Midwife is interested in profound truth - turning trial and tribulation into sources of light. 'Luminol' navigates themes of incarceration, locus of control, clarity, confinement and truth-seeking, all erupting in a bioluminescent field of ambient, drone and shoegaze, sometimes flecked with more conventionally heavy metals. Johnston's ghostly voice is always central, often working over the same phrases with mantra-like focus.
EUAN ALEXANDER MILLAR-MCMEEKEN is a Scottish musician based in London whose work explores themes of permanence and impermanence, loss and fragility. His music can be found in many guises including The Kays Lavelle, glacis and Graveyard Tapes. His instrumental work has been described as "akin to that found on sets by Nils Frahm, Dustin O'Halloran and Alex Kozobolis" with "the extreme simplicity...speaking directly to the heart, in an amazing mix of fragility and power of expression". His vocal work has drawn comparisons to Atlas Sound and Mount Eerie and has been described as "music that embraces, repels, challenges, makes you think, deeply moves you and also knows how to give you the most beautiful moments imaginable".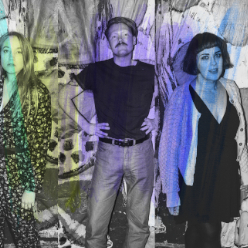 CURRENT AFFAIRS
ES
Wednesday 19 October
Mascara Bar
72 Stamford Hill, London, N16 6XS | Map
7.30pm | £8 | Buy tickets
CURRENT AFFAIRS are a post punk band from Glasgow, neatly navigating the line between new wave and goth. Formed in 2016 and Comprising Joan (ex-The Royal We/Seconds/Rose McDowall's band), Seb (ex-Anxiety/Pissy), Josh (The Downs/Kaspar Hauser/ex-Rose McDowall's band) and Andrew (Shopping/As Ondas). A cassette called Object was released along the way on Comodillo Tapes and in December 2018 the band's first 7" Breeding Feeling -bw- Draw The Line was put out into the world by Not Unloved, followed in June 2019 by Buckle Up -bw- World's In Crisis, out via Berlin's Dot Dot Dot. The band's recent' LP Object & Subject' (on Tough Love) is the accumulation of the band's output over 3 years, now gathered and synthesised into one convenient disc. "We never agonised over our sound or direction, but worked to our punk strengths and leaned into our pop tendencies collectively. On the cusp of releasing an album and re-imagining our live set up, it feels great to be putting out this overview of what we've made so far."
ES is Maria Cecilia Tedemalm (vocals), Katy Cotterell (bass), Tamsin M. Leach (drums) and Flora Watters (keyboards). Their 2016 debut EP, Object Relations, released on influential London punk label La Vida Es Un Mus, was described as "mutant synth-punk for our dystopian present" (Jess Skolnik, Bandcamp, Pitchfork). The band has since become a vital presence in London's underground DIY music scene, as well as having toured the UK with the Thurston Moore Group in 2017. 'Less of Everything'. The title of Es' first full length LP (on Upset The Rhythm) could be interpreted as a manifesto pledge, an outright demand or a purely literal sonic descriptor of the London quartet's glacial form of punk rock music. This tension between intent and interpretation has been a fundamental element of the group's output from their formation. The dynamic between Cotterell's bass and Watters' keyboard is at the heart of Es' sound: intertwining sub-zero melodies, gothic anarcho-punk influences and some kind of entirely unlocatable aquatic component. When combined with Leach's precise drumming, the outcome is original and immediately recognisable. This provides the perfect backdrop for Tedemalm's relentless, pointed vocal style. While comparable 'cold' sounding groups might affect an impersonal, safer mode of lyrical or vocal detachment, Tedemalm's strategy is to "push the lyrics as far as I can thematically until they become absurd … overly dramatic ... while still being sincere in the feeling they're trying to invoke.

SARAH DAVACHI
Thursday 27 October
Grand Junction
Rowington Cl, London W2 5TF | Map
7.30pm | £16 | Buy tickets
SARAH DAVACHI's work as a composer and performer of electroacoustic music is concerned with the close intricacies of intimate aural space, utilizing extended durations and simple harmonic structures that emphasize subtle variations in texture, overtone complexity, psychoacoustic phenomena, and temperament and intonation. Similarly informed by minimalist tenets of the 1960s and 1970s, baroque leanings toward slow-moving chordal suspensions, and experimental production practices of the recording studio environment, in her sound is manifest an experience that lessens apprehension of consonance and dissonance in likeness of the familiar and the distant. Davachi has toured extensively across the globe and has shared the stage with artists such as Grouper, the London Contemporary Orchestra, William Basinski, Oren Ambarchi, Ariel Kalma, the BBC Scottish Symphony Orchestra, Jessica Moss, Donald Buchla, Alessandro Cortini, Ian William Craig, Kara-lis Coverdale, Aaron Dilloway, Robert Aiki Aubrey Lowe, Ellen Arkbro, Loren Connors and filmmaker Paul Clipson. Between 2007 and 2017, Davachi also had the unique opportunity to work for the National Music Centre in Canada as an interpreter and content developer of their collection of acoustic and electronic keyboard instruments. She has held artist residencies at The Banff Centre for the Arts (Banff, Canada), STEIM (Amsterdam, Netherlands), WORM (Rotterdam, Netherlands), EMS (Stockholm, Sweden), OBORO (Montréal, Canada), MESS (Melbourne, Australia), and with the Bozzini Quartet (Montréal, Canada). Davachi is currently a doctoral candidate in musicology at UCLA – where she works on the aesthetic phenomenology of musical instruments and timbre in popular, experimental, and early music – and is based in Los Angeles, California. Davachi's new album 'Two Sisters' will be released through her own Late Music imprint on September 9th.

PROLAPSE
YEAH YEAH NOH
Saturday 29 October
OSLO Hackney
1A Amhurst Rd, Hackney Central, London, E8 1LL | Map
7.30pm | £12 | Buy tickets
PROLAPSE originally formed in Leicester in the early 1990s and earned a cult following for their chaotic live sets, and tense and repetitious songs like Flex and Tina This Is Matthew Stone. They feature duelling vocalists Mick Derrick and Linda Steelyard, who play out an intense soap opera over a ferocious triple guitar assault and pummelling rhythm section. Their releases have included numerous singles and four albums on various labels, including Cherry Red and Radar, as well as recording four Peel sessions. The band has received critical acclaim, including singles of the week on the Radio 1 evening session and NME. They have also toured and shared bills with a diverse array of bands, including Stereolab, Sebadoh, Arab Strap and Sonic Youth. Pavement's Stephen Malkmus described Prolapse as the best band of the weekend at Reading Festival.
After a long hiatus, the band reformed in 2015 and occasionally play live dates. This short UK tour offers a rare chance to experience the Prolapse live show. Two of the band's Peel sessions have recently been released on the Precious Recordings of London label and Pointless Walks to Dismal Places is re-issued as a double gatefold LP on Optic Nerve Records in July.
YEAH YEAH NOH are an unpop group of some repute, long trading quietly in a melange of noise and ideas that defies categorisation. It's DIY pop. It's post-punk. It's 'calor gas psychedelia'. Feel the effect as their guitar pedals and secondhand synthesizer play unexpected melodies in your mind. As they relay their stories of consequence and coincidence and mid-air women. John Peel favourites and veterans of three classic BBC sessions back in the day, Yeah Yeah Noh are now championed by Radio 6 Music where Marc Riley and Gideon Coe have twice let them loose in the studio.

LANDE HEKT
Monday 14 November
The Shacklewell Arms
71 Shacklewell Lane, Dalston, London, E8 2EB | Map
7.30pm | £8.50 | Buy tickets
LANDE HEKT's voice in music is one that's socially aware yet often introspective, drawing awareness to serious issues but at the same time baring her soul. Much of Hekt's compositions act as a personal diary of what's going on in her life at any given time. This is evident in her discography with Muncie Girls, the band which she formed in her hometown of Exeter as a teenager and have released two critically acclaimed albums to date. This knack of combining her own experiences and feelings whilst highlighting larger socio-economic issues has carried through to her more contemplative solo material, which began life in an EP 'Gigantic Disappointment', self-released in 2019.
Lande Hekt's debut album Going to Hell was released in 2021 and was placed in Stereogum's Album of the Week, Bandcamp's Album of the Day, and one of AV Club's '17 albums we can't wait to hear'. The album is a personal and confessional account of Hekt coming out as gay and DIY Magazine called it "A celebration of personal freedom". Going to Hell came out on queer and trans run DIY label, Get Better Records and gained Lande Hekt a following for her introspective and journal-style lyrics, political themes and catchy, guitar-driven indie rock. New 7" single 'Romantic' - a song about struggling to fit in, feeling down and finding comfort in romance - is out now on Emotional Response.

FUZZ
(Charles Moothart, Ty Segall, Chad Ubovich)
Friday 17 March 2023
This show is rescheduled from July 22nd 2020 & March 31st 2021 & March 18th 2022, original tickets valid, refunds available too Electric Ballroom
184 Camden High St, Camden Town, London, NW1 8QP | Map
6pm-9.45pm | £17.50 | Buy tickets
FUZZ are back! Ty Segall, Charles Moothart and Chad Ubovich's electrifying trio return to London next spring! Fuzz have released three studio albums to date on In The Red, their self-titled release debuting back in 2013, and the more heavy metal influenced II & III dropping in 2015 & 2020 respectively. Moothart and Segall originally formed the group, as Moothart was a touring member and guitarist for the Ty Segall backing band, and later became the drummer of Segall's current touring group. The aim with FUZZ was to take the essential ingredients of the "rock and roll power trio" and put them right out on the chopping block. New album 'III' is a much more honest approach for FUZZ: just three humans getting primitive, staying primitive. The goal was never to reinvent the wheel. Sometimes it's just about seeing how long you can hold on before you're thrown off. It's heavy, chaotically controlled, softly serpentine, and blindingly barbaric. To translate the auditory from ethereal to saliva soaked semantics is to shatter a promise as it's made. In the meantime, Ty, Charles, and Chad walk on. It is what it is.