NEWS
DARK WORLD LPs HAVE LANDED
24 May 2022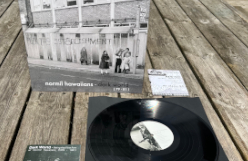 Our long-awaited Normil Hawaiians 'Dark World' compilation has finally arrived back from the plant on LP, only took 14 months to press up! 'Dark World' collects together choice material from Normil Hawaiians' formative early years of 1979-1981. Tagging along with the band from their peppy post-punk origins (so brilliantly debuted on 'The Beat Goes On') into the looser, dubbier territories that laid the foundations for the group's landmark album 'More Wealth Than Money'. Pre-orders flying out the door today, available to buy from all top shops soon and from our webstore now.
Crack open a Guinness! Good things come to those who wait!
THE BLOODY WAR
16 May 2022
Everyday life ain't easy, we're all just soldiers negotiating flak. One day though we'll catch the train to the lake, row amongst the ducks and work out everything. Until then check out Vintage Crop's new single 'The Bloody War', out today digitally and taken from the group's forthcoming massive listen of an album called Kibitzer (out June 24th). Suit up!
NEXT SHOW - MODEL HOME
10 May 2022
Our next show is a two-day residency at Café OTO with the incredible Model Home, one month to go! DC-based experimental hiphop meets glitched noise weirding. Check it! Horacio Pollard + Gaute Granli + Robin Stewart (of Giant Swan) and Dee Byrne all performing too. See you there!
SCREENSAVER - NEW 7" OUT NOW!
29 April 2022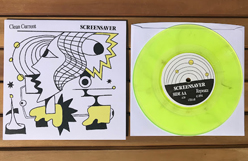 What luminous portent!
Today Upset The Rhythm releases Screensaver's astute-n-snappy double A-side 7" on yellow lambent vinyl. 'Clean Current' is a thrill of nervy guitar, motorik beat and echoed ennui: "This minute is eternity"! 'Repeats' is a moody sister track, a gothic post-punk stomp pushed ever onwards by a gritty sawtooth synth and ascendent vocal. Hyper-limited to just 150 copies worldwide this 7" is only available in the best of shops and from our very own mailorder.
CLEAN CURRENT
20 April 2022
Rock out in the kitchen! Here's Screensaver's domestic hi-five of a video for 'Clean Current'! " A hip-shaking certified bop" according to Post-Trash who just premiered the single-shot cavort! 'Clean Current' is out now digitally and next week on a yellow-fluoro 7" via Upset The Rhythm.
THE DUKE
11 April 2022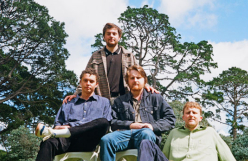 Check out Vintage Crop's sprightly new single 'The Duke', a song about indecision and distraction and not so much about inheriting the duchy! Premiered today by the wonderful Raven Sings The Blues.
REPEATS OUT NOW!
8 April 2022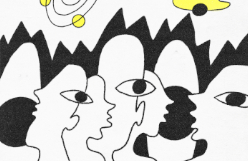 Screensaver's moody post-punk stomper 'Repeats' is released today digitally, the flipside of their AA single with 'Clean Current'! Led by a gritty sawtooth synth, chorus-splashed guitar, textural percussion and soaring vocals, 'Repeats' gleefully languishes in the repetition allotted to much of modern life.
'Clean Current / Repeats' will also be released by Upset The Rhythm on a fluoro-yellow 7" in the coming weeks.
HG20
6 April 2022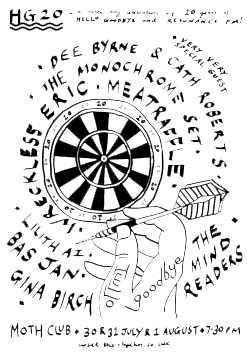 Hurrah! Upset The Rhythm are helping to celebrate 20 stupendous years of deXter Bentley's Hello Goodbye radio show on Resonance FM with this three-day extravaganza at the very end of July at MOTH Club! So many brilliant artists down to play, will be a proper knees-up, plus all profits from the event will go towards Resonance FM. What's not to like? Ta-da!
KIBITZER!
17 March 2022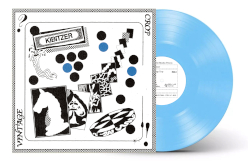 Geelong's favourite sons Vintage Crop return this summer (June 24th) with their much-anticipated fourth album, 'Kibitzer'. 'Kibitzer' sees the band define their field of play, more melodic at times, still bruising, forever droll. These ten tracks of 'snappy as elastic' Australian punk are packed with tensile riffage, hefty beats and witty refrains of everyman curiosity.
Today we're sharing Double Slants with you, Vintage Crop's first single from the 'Kibitzer'. We're also announcing that our pre-order for the album on sky-blue vinyl, black vinyl and CD is now up and running.
Dinked have kindly nurtured a lavish limited version of the LP on white vinyl with accompanying lyric zine, bookmark and live show flexi-disc! That can be chased down here.
CLEAN CURRENT
14 March 2022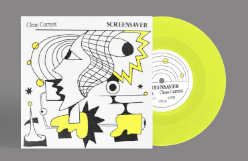 Thanks Raven Sings The Blues! Screensaver's neon flicker of AA single is announced today! Super limited quantities (150 copies) of these being made so well worth getting your pre-order on!
"Melbourne's Screensaver follow quickly on their excellent album Expressions of Interest with a new single and the first cut out of the gate sees them sliding away from the darker corners of their debut and into a slackened, neon flicker of synth pop with a pogo pulse. With a crooked smile and a foaming wave of keys, the band cross-wires the maximalist sonic assault of Snapper with the nervy pounce of The Units or Starter."
TAKE CONTROL OF IT
19 January 2022
Get your ostrich bop on with this wondrously odd new vignette from Robert Sotelo. 'Take Contol Of It' is taken from the album 'Celebrant', out now on Upset The Rhythm.
BERLIN TONIGHT!
15 January 2022
Lou & Iggy are given the inimitable Frobos treatment with today's surprise digital single! 'Berlin' b/w 'Tonight' performed by Philip Frobos (Omni) featuring Greenscreen and Grace Bellury! Available now on all digital platforms, enjoy!
NICFIT OUT NOW!
14 January 2022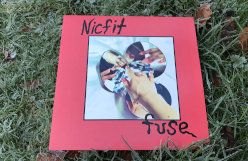 Kick, kick, kickstart 2022 with Nicfit's wild debut album 'Fuse', out today on Upset The Rhythm!
Nicfit are a punk band from Nagoya, Japan. Comprising Hiromi on vocals, Charley on guitar, KenKen on bass and Kuwayama on drums the group are by turns melodic and menacing. Nicfit are a nervous itch, incessantly flipping between head-down tumbles of hardcore bounce and freaked feedback clamour. Boasting some total life-affirming trample packed with snappy vocals, metallic spikes and glammy undercurrents that soar out of the sprawl.
'Fuse' is available now digitally and in all the best records shops on 180g black vinyl, we also have copies of the LP in our webshop, yeh!
YULETIDE THANKS
12 December 2021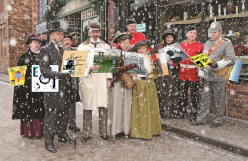 Seasons Felicitations! Upset The Rhythm turns 18 years old today and to celebrate with suitable festive panache we're offering you all 18% off our entire catalogue for the next 18 days. Just use the code UTR18 at the checkout of our UTR webshop.
XMAS = SORTED
2021 saw Upset The Rhythm release an astounding armful of 9 records by Buffet Lunch, Screensaver, Philip Frobos, Robert Sotelo, Kaputt, Bertie Marshall, Clear History and Normil Hawaiians! We could not be prouder of these essential outpourings of underground culture. Thanks so much for all your kindness and support in making our record label and concerts possible this year, you put the baubles on our tree!
May merriment abound and all your Christmases be happy and healthy, UTR x
NICFIT - 'DEVIATION'
10 December 2021
Japanese group Nicfit have a restive (and decidedly not festive) new single out now called 'Deviation'! Here's the brilliantly tensile video. 'Deviation' is also streaming on all the usual digi-platz and features on the band's debut LP 'Fuse', out Jan 14th through Upset The Rhythm.
LATEST RELEASES MIXTAPE
LINKS
UPCOMING SHOWS

THE SPACE LADY
ROBERT SOTELO
Friday 1 July
OSLO Hackney
1A Amhurst Rd, Hackney Central, London, E8 1LL | Map
7-10pm | £12.50 | Buy tickets
THE SPACE LADY began her odyssey on the streets of San Francisco in the late 70s, playing versions of contemporary pop music an accordion and dressed flamboyantly, transmitting messages of peace and harmony. Following the theft of her accordion, The Space Lady invested in a then-new Casio keyboard, birthing an otherworldly new dimension to popular song that has captured the imaginations of the underground and its lead exponents ever since, with the likes of John Maus, Erol Alkan and Kutmah being devotees. Of her early street sets, only one recording was made, self-released originally on cassette and then transferred to a homemade CD. 'The Space Lady's Greatest Hits' released in 2014 through Night School features the best of these recordings - mostly covers but with some originals - pressed on vinyl for the first time and features archival photographs and liner notes from The Space Lady herself. 'Greatest Hits' contains The Space Lady's personal favourites; her haunting take on The Electric Prunes' 'I Had Too Much To Dream (Last Night),' a frantic 'Ballroom Blitz' amidst other reconstructed pop music. Following on from this wonderful record, The Space Lady released a split LP in 2015 with the Burnt Ones on Castle Face records which included her spectral take of 'Across The Universe' and a recent LP from 2018 through Mississippi entitled 'On The Street Of Dreams'. This will be The Space Lady's final London show, part of her farewell tour!
ROBERT SOTELO is a mercurial melodist building a resplendent world of pristine DIY pop from the ground up. The Glasgow-based artist's songs are meticulously crafted, patchworked together with eclectic arrangements and ardent vocal performances. Last year Upset The Rhythm released Robert Sotelo's vivid new album 'Celebrant'. 'Celebrant' was intended to be and still is to some extent a joyous wedding album (Sotelo is recently married), but in his own words "the pandemic and the death of my aunt Carmen intersected with the original concept so the album is darker than intended in places." More cinematic and measured than prior albums, Sotelo expounds that "it is purposefully a bigger sounding attempt at my keyboard songs and I felt more ambitious about it in general." That's certainly reflected in these twelve sophisticated loops of song, all curiously affecting and catchy, sprinkled with Sotelo's offbeat musings and keenly accurate observations. Guitars are rarely employed on this record with Sotelo recruiting Iain Mccall, Ross Blake, Celia Morgan and David Maxwell to contribute brass, woodwind, spoken word and acoustic drums respectively. All of these additions blend well with the album's synthetic core, softening and subtly shaping its pop-first nature into something more nuanced, vulnerable and human.

RICHARD DAWSON & CIRCLE
MICROCORPS
Wednesday 6 July
Scala
275 Pentonville Road, King's Cross, London, N1 9NL | Map
7pm | £18 | Buy tickets
RICHARD DAWSON & CIRCLE teamed up to record an epic album together recently called 'Henki'. Richard Dawson is the Geordie troubadour whose moving songs have been described as state-of-the-nation addresses, even - or perhaps especially - when he's singing about pre-medieval peasants. Circle are the genre-straddling pioneers of The New Wave Of Finnish Heavy Metal, known for wearing spandex and singing in a made-up language. Together they are… Richard Dawson & Circle! Their epic joint record might seem a departure to those who are most familiar with Dawson from recent solo albums like 2017's Peasant and 2020. In fact, 'Henki' fits comfortably into the bigger picture of two acts who have always strived for uninhibited originality. Inspired by Circle's guitarist Janne Westerlund instructing the group during recording to be less straightforward and more "like a plant", 'Henki's seven tracks deal with special plants throughout history. The result is a towering flora-themed hypno-folk-metal record of gargantuan proportions.
Dawson & Circle have intricately crafted their sound, with imaginative, constantly evolving arrangements that highlight Circle's prog credentials. There are also unexpectedly euphoric choruses too: the instrumental mid-section of Silphium makes like a more dissonant take on Xanadu-era Rush, then gradually builds momentum before exploding back to life again just before the 11-minute mark. Methuselah gallops along like a flora-fixated Iron Maiden as it tells the cautionary tale of Donald Currey, a researcher trying to find the oldest tree on Earth who only realised he'd found it after he'd cut it down in 1964. Throughout, there is so much going on that it takes many listens to absorb everything. A tour de force of botanical rock!
MICROCORPS is the new project by artist and musician Alex Tucker (Grumbling Fur, Alexander Tucker, Imbogodom) exploring electronics, cello and voice. The debut release XMIT, an eight-track album featuring collaborations with Gazelle Twin, Nik Void, Simon Fisher Turner and Astrud Steehouder, was released on Alter in 2021. In a move away from previous projects Tucker investigates erasing the self, removing obvious traits of the hand and voice, and allowing a focus on the humanoid rather than the human. Instead of recognisable lyrics and coherent imagery, MICROCORPS evolved synthesised voices to generate alternate characters.

Presented in collaboration with Supersonic JUNE OF 44 RATTLE Friday 8 July 229
229 Great Portland St, London, W1W 5PN | Map
7pm | £20 | Buy tickets
JUNE OF 44 formed in the fall of 1994. They are a super-group collective with a rich underground lineage of members from beloved bands - Rodan, Lungfish, Codeine, Rex, Hoover and Shipping News. Truly a who's who of the indie rock world, together they have often been referred to as the punk rock pirates of the math rock world. The band are cited for their artistic hand-crafted record packaging for music that ranges from experimental jazz to ambient dub to angular post punk. June of 44 released their four totemic albums on Quarterstick in the 90s, but in 2020 they announced their first studio album in 21 years. 'Revisionist: Adaptations & Future Histories in the Time of Love and Survival' came out recently on Broken Clover. "It will have been 23 years since performing in the United Kingdom… so much life, too many wars, so much music, a few extraordinary babies, heart-breaking loss, real struggle, epic success, total failure – for all of us."
RATTLE are a Nottingham based duo, Rattle focus almost exclusively on drums and more drums, beneath a delicate overlay of vocal harmonies and percussive effects. Formed by Katharine Eira Brown and Theresa Wrigley, Rattle began as an experiment in crafting rich songs and melody using drums and voice alone. Their music weaves and intertwines post-punk, minimalism and experimental rock, through off-kilter rhythms, patterns and counter melodies. Rattle effortlessly blend the avant-garde with irresistible melodies and hypnotic drum beats, using rhythm and harmony to create a refreshing sound that is utterly new - a pretty rare feat these days when we're saturated with so much music. Rattle's impressive 'Sequence' album came out through Upset The Rhythm.

VINTAGE CROP
MARCEL WAVE
PUBLIC BODY
Saturday 9 July
The Lexington
96-98 Pentonville Rd, Angel, London, N1 9JB | Map
7.30pm | £8 | Buy tickets
VINTAGE CROP are Geelong's favourite sons, returning this summer with their much-anticipated fourth album, 'Kibitzer'. Running with the ball that 2020's "Serve To Serve Again" punted forward, this album marks another energetic break towards the goal for Vintage Crop. 'Kibitzer' sees the band define their field of play, more melodic at times, still bruising, forever droll. These ten tracks of 'snappy as elastic' Australian punk are packed with tensile riffage, hefty beats and witty refrains of everyman curiosity. 'Kibitzer' delves into themes of identity, resilience and acceptance; some of the more upbeat notions that the band have dealt with to date. 'Casting Calls' opens the record, slamming through the speakers with gusto and setting the tone for the following 30 minutes. These themes hit home with the album's title too, with Cherry feeling that 'Kibitzer' is an apt way to describe a lot of the band's focus. "I feel like a lot of our lyrics over the years have been our unsolicited opinions on other people's situations, the very definition of the word Kibitzer. So for this record we wanted to lean into that tendency by acknowledging it and even go as far as stamping it on the album cover."
MARCEL WAVE write eulogies for tragic actresses, ancient riverbeds and concrete obscenity. Meades meets Pat-E-Smith meets Kirklees Borough Council. Featuring members of Cold Pumas and Sauna Youth.
PUBLIC BODY have from the cradle to a 9-5 job been buried in unread emails and PMQ youtube alerts, tackling issues such as Question Time Bias and Workplace Etiquette. Public Body formed in Brighton in late 2018 with a clear aim to write the perfect soundtrack to whatever you do whilst procrastinating at your day job.

RACHEL AGGS
ELECTRIC FIRE
Monday 11 July
Cafe OTO
18-22 Ashwin St, Dalston, London, E8 3DL | Map
7.30pm | £8 | Buy tickets
RACHEL AGGS is a multi instrumentalist and songwriter based in Glasgow. Aggs, a prolific specialist in euphoric post-punk, has achieved international acclaim with collaborative touring projects Trash Kit, Shopping and Sacred Paws. Creating zines and co-ordinating workshops that encourage women, non-binary people, and people of colour to form bands, Aggs has galvanised the DIY scene in the UK. Aggs released a solo album on Lost Map records as part of their Visitations residency in 2019 and self released //Tape 1// in 2020. Both releases showcase Aggs' signature hybrid post-punk/highlife inspirations stripped down to new minimal extremes. Pulsating, electronic beats, coolly-recited lyrical mantras and spindly guitar lines abound in this life affirming music that speaks directly to your heart.
ELECTRIC FIRE is made up of Alicia (vocals), Ehima (drums, percussion and vocals), Sam (synths and vocals) and William (laptop, production and vocals). Their unique sound was developed through Heart n Soul's digital music project SoundLab. It has evolved into an incredible live act, and the band have performed on stages from Hong Kong to Amsterdam, London to Paris. Their heart lifting, feel good second EP Buzzin' is all about having fun. Opening with a song about the feeling you get when everything is going your way, from having rice or sausage rolls for lunch to touring Hong Kong, this is a band who are all relentlessly positive! Buzzin' contains four incredible 'egg funk' bangers that could only be made by one of the best bands on the planet.

QUINTRON & MISS PUSSYCAT
BRUNO AND THE OUTRAGEOUS METHODS OF PRESENTATION
Tuesday 12 July
The Lexington
96-98 Pentonville Rd, Angel, London, N1 9JB | Map
7.30pm | £12 | Buy tickets
QUINTRON & MISS PUSSYCAT have been making genre-defying noise and hard rocking dance music in New Orleans for over twenty years. The majority of their 17 full-length albums have the psychedelic soul of traditional New Orleans party music, filtered through a vintage Hammond B-3, technicolor puppets, and a battalion of distorted, homemade instruments. This summer, the duo will be joined on tour by two New Orleans musicians, drummer Sam Yoger and "talk boxer" Benni Divine, to recreate their most recent Goner LP, 'Goblin Alert' as well as butchering the best of the old songs. The Quintron / Miss Pussycat experience is one of barely controlled electronic chaos, "Swamp-Tech" dance beats, small explosions, incredible clothes, and entertaining puppet stories.
Quintron and Miss Pussycat's sweaty musical blasts are paralleled in spirit and performance by Miss Pussycat's dreamy puppet worlds – elaborate, and beautifully crafted for success in intimate venues of late- night drinking and dancing. She has also had several major solo museum exhibitions and, although the puppets are never for sale, ceramics, paintings and other visual work related to her puppetry, are represented by the Webb Gallery in Waxahachie Texas.
BRUNO AND THE OUTRAGEOUS METHODS OF PRESENTATION is a situationist / aktionist un-group masterminded by the precocious teenage brat Bruno Bof Wilkinson. Bruno is a multi-faceted neuro-amazing proto-superstar, splatter-gunning golden gems of power-pop, garage-punk, nihilistic electro-void darkness and plain super-catchy teeth-rattlers. Created in Bristol in 2006 from Brazilian/English motherfatherlodes he's played with The Nightingales, Damo Suzuki, Adulkt Life, Babyshakes, Beak and a whole bunch more. You can see him fronting his own band, The Outrageous Methods Of Presentation, guesting with Bristol garage indie-punk legends Bucky, fronting Bath oi-punks Shiner and occasionally bursts to the front of the stage to guest with Alter Moderns. Bruno appeals to fans of Crime, Jonathan Richman, Guided By Voices, Electric Eels, The Kinks, Television, The Stooges, Swell Maps and Huggy Bear!

HG20
A three-day fundraiser celebrating 20 years of Hello Goodbye and Resonance FM
WRECKLESS ERIC
MEATRAFFLE
LILITH AI
Saturday 30 July
MOTH Club
Old Trades Hall, Valette St, Hackney, London, E9 6NU | Map
7.30pm | £10 / three-day pass £25 | Buy tickets
THE MONOCHROME SET
THE MINDREADERS
DEE BYRNE & CATH ROBERTS
Sunday 31 July
MOTH Club
Old Trades Hall, Valette St, Hackney, London, E9 6NU | Map
7.30pm | £10 / three-day pass £25 | Buy tickets
VERY SPECIAL GUEST (TBA)
GINA BIRCH
BAS JAN
ROZI PLAIN (DJ-SET)
Monday 1 August
MOTH Club
Old Trades Hall, Valette St, Hackney, London, E9 6NU | Map
7.30pm | £10 / three-day pass £25 | Buy tickets
WRECKLESS ERIC is Eric Goulden. He was given the name to hide behind. After a while he realized he was stuck with it. Onstage he hides behind nothing, he tells the truth with big open chords, lilting enchantment, squalls of feedback, dissonance, bizarre stories and backchat. Eric began his recording life on Stiff Records in 1977 with his enduring hit Whole Wide World when he was little more than an ex-teenage art student. Eventually he sidestepped the mechanics of stardom to become Britain's biggest underground household name, much loved and often underestimated. His 2015 album 'amERICa' reminded those who've kept the faith and new generations of fans what he's all about. He won't recreate 1978 for you, he'll blow your mind instead.
MEATRAFFLE is a common chord running through the leftist brigades of the South London art scene. For Meatraffle it is the political, the platonic, the comradeship of the struggle that provides true artistic grist.
LILITH AI is a guitarist, who writes and performs poignant tales of modern life. Hailing from nowhere special, Lilith began releasing lo-fi bedroom recordings in 2016. Her first EP RIOT is full of underground anthems popular with Riot grrrls word wide. Her second EP Native Tongue chronicles her teen years, spent living on the streets of Queens New York. 2019 saw the release of 3rd EP Bare Radical with evolving sounds. Lilith's artfully delivered songs fit somewhere between indie pop and anti-folk.
THE MONOCHROME SET are a highly influential English new wave band, originally formed in London in 1978 by Bid (vocals & guitar), Lester Square (lead guitar), and J D Haney (from The Art Attacks, on drums). In 1979, they signed to Rough Trade and released three singles, "He's Frank", "Eine Symphonie Des Grauens", and "The Monochrome Set". They released their debut studio album, "Strange Boutique", produced by Bob Sargeant in 1980. Their classic follow-up album, "Love Zombies", was produced by Alvin Clark and the band, later that same year. In 2018, the 40th year since the band formed, their 14th studio album, "Maisieworld" and a box set, "The Monochrome Set 1979–1985: Complete Recordings", was released. The group's most recent album 'Allhallowtide' was released earlier this year.
THE MINDREADERS are Richard Ipaint on vocals and drums, Sexton Ming on vocals, sfx and guitar, and Russ Wilkins on vocals and guitar, with all three on songwriting duty too. Fans of The Pop Rivets, The Milkshakes, The Natural Born Lovers, Rocking Richard, The Delmonas, Auntie Vegetable, The Wildebeests and more will know all about them. Debut album 'Ban The Mindreader' was released in 1987 on Russ' Empire Records label, with some extra gig recordings to bulk it out. Some of the gig recordings also found their way to the Medway Powerhouse compilations on Hangman Records. Fast forward 30 years, Russ and Richard realised they only lived 25 miles apart in Scotland, and now much wiser, a connection was made from Sexton (now also much wiser) who wanted to do something dim and simple. A gig was arranged in Hastings which led on to more gigs! Following on from the gigs, they convened in a garage and recorded some songs over two days onto a Tascam 8 track, 1/2" recorder, playing whatever they felt worked, recording over twenty tracks. The fruits from this labour were released last year by Spinout Nuggets as the LP 'Continuation'.
DEE BYRNE & CATH ROBERTS released their first album on Luminous in 2020. Mixed by Alex Bonney, Disembark! is a series of short acoustic improvisations recorded at Gun Factory Studios. Disembark! is a series of short, spontaneous improvisations that explore a dramatic range of textures, whilst maintaining the sense of an ongoing, inquisitive conversation. The recording came about after a series of live duo performances; going into the studio seemed like the next logical step.
GINA BIRCH released her first ever solo single last year on Third Man Records called 'Feminist Song'. Gina Birch is a founding member of Dorothy, The Hangovers and The Raincoats. Gina was also a member of Red Crayola when Mayo Thompson asked her to contribute to their 'Kangaroo' album. 'Feminist Song' made it's way into recent Raincoats gigs and Gina's longtime collaborator and fellow Raincoat Ana da Silva contributes monotron on this recording. Gina performs solo using film and video projections with sound that she augments live with guitar and vocals.
BAS JAN are a London-based ensemble, this year they returned with an expanded line-up and a much-anticipated second album 'Baby U Know' (Lost Map). It is the follow-up to the critically acclaimed 2018 debut album Yes I Jan, which was hailed for its "messy majesty" (Uncut) and "beautifully fractured art-pop" (Mojo). Bas Jan were co-founded in 2015 by songwriter, vocalist and multi-instrumentalist Serafina Steer. The band features Emma Smith (Jarv Is, Meilyr Jones, Seamus Fogarty and founder member of the Elysian Quartet) on violin, bass and electronics, Rachel Horwood (Trash Kit, Bamboo, Jenny Moore's Mystic Business) on drums and Charlie Stock on electric violin.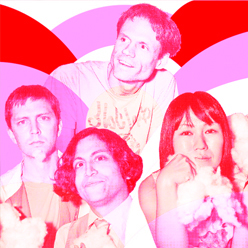 DEERHOOF
Wednesday 31 August
Electric Ballroom
184 Camden High St, Camden Town, London, NW1 8QP | Map
7pm | £17 | Buy tickets
DEERHOOF have continually quested for daring storytelling and radical sounds over their eighteen boundless albums, as experimental as they are pop. 2020's critically acclaimed, overwhelmingly prescient Future Teenage Cave Artists explored fairytale visions of post-apocalypse, welding intrinsic melodies with absurdist digital recording methods. Its immediate sequel Love-Lore, a live covers medley, channeled futurist mid-century artists—Parliament, Sun Ra and Stockhausen, to name a handful— into a patchwork love letter to the anti-authoritarian expressions that inspire the band.
Deerhoof's latest, Actually, You Can, is a genre-abundant record that uses technicolor vibrancy and arpeggiated muscularity to offer a vital shock from capitalism's purgatorial hold. The band says, "Think of all the beauty, positivity and love that gets deemed ugly, negative and hateful by the self-proclaimed guardians of 'common sense.' We'd hardly be destroying society by dismantling their colonial economics and prisons and gender roles and aesthetics. We'd be creating it!"

JENNY MOORE
Tuesday 13 & Wednesday 14 September
Servant Jazz Quarters
10A Bradbury Street, Dalston, London, N16 8JN | Map
7.30pm | £8 | Buy tickets
JENNY MOORE is a composer, singer, drummer, performance artist and choir leader. Her London-based six-piece choral-punk ensemble Jenny Moore's Mystic Business is known for their tuned percussion, huge vocals and chanted soulful mantras, a mix of the 90's R&B and post-punk Jenny grew up listening to in the Canadian prairies. Their new EP, "He Earns Enough," was released on Lost Map Records in 2021.
Moore founded the alternative feminist choir F*Choir, composing and arranging for the diverse group of singers using non-gendered voice parts, graphic scores, no auditions to create highly energetic, rhythmic and political music. She's played in bands like the dance-punk trio Charismatic Megafauna and Bas Jan, committed to DIY and collective processes towards making and distributing music, workshops, artworks and performances. She has a monthly radio show on Soho Radio called 'Hitting Things,' and co-founded Bedfellows, a queer feminist sex education project. This performance will showcase Jenny Moore's new set of piano songs, recently recorded at St Barnabas Church (Dalston) and available soon through Lost Map, and will feature members of her band Jenny Moore's Mystic Business and her punk choir F*Choir.

MIDWIFE
Tuesday 18 October
Cafe OTO
18-22 Ashwin St, Dalston, London, E8 3DL | Map
7.30pm | £12 | Buy tickets
MIDWIFE is the moniker of multi-instrumentalist Madeline Johnston. She lives and works in San Miguel, New Mexico by way of Denver, Colorado, where she spent the better half of the past decade developing her experimental pop project. As a self taught guitarist and recording engineer, Midwife explores dark subject matter in her anthemic, soft-gaze hits. Self-described as "Heaven Metal," or emotive music about devastation - catharsis.
Midwife's third full length record, 'Luminol' (released last year by The Flenser), was written and produced during quarantine. Luminol is a chemical used by forensic investigators to reveal trace amounts of blood left at a crime scene. Midwife is interested in profound truth - turning trial and tribulation into sources of light. 'Luminol' navigates themes of incarceration, locus of control, clarity, confinement and truth-seeking, all erupting in a bioluminescent field of ambient, drone and shoegaze, sometimes flecked with more conventionally heavy metals. Johnston's ghostly voice is always central, often working over the same phrases with mantra-like focus.

PROLAPSE
Saturday 29 October
OSLO Hackney
1A Amhurst Rd, Hackney Central, London, E8 1LL | Map
7.30pm | £12 | Buy tickets
PROLAPSE originally formed in Leicester in the early 1990s and earned a cult following for their chaotic live sets, and tense and repetitious songs like Flex and Tina This Is Matthew Stone. They feature duelling vocalists Mick Derrick and Linda Steelyard, who play out an intense soap opera over a ferocious triple guitar assault and pummelling rhythm section. Their releases have included numerous singles and four albums on various labels, including Cherry Red and Radar, as well as recording four Peel sessions. The band has received critical acclaim, including singles of the week on the Radio 1 evening session and NME. They have also toured and shared bills with a diverse array of bands, including Stereolab, Sebadoh, Arab Strap and Sonic Youth. Pavement's Stephen Malkmus described Prolapse as the best band of the weekend at Reading Festival.
After a long hiatus, the band reformed in 2015 and occasionally play live dates. This short UK tour offers a rare chance to experience the Prolapse live show. Two of the band's Peel sessions have recently been released on the Precious Recordings of London label and Pointless Walks to Dismal Places is re-issued as a double gatefold LP on Optic Nerve Records in July.

FUZZ
(Charles Moothart, Ty Segall, Chad Ubovich)
Friday 17 March 2023
This show is rescheduled from July 22nd 2020 & March 31st 2021 & March 18th 2022, original tickets valid, refunds available too Electric Ballroom
184 Camden High St, Camden Town, London, NW1 8QP | Map
6pm-9.45pm | £17.50 | Buy tickets
FUZZ are back! Ty Segall, Charles Moothart and Chad Ubovich's electrifying trio return to London next spring! Fuzz have released three studio albums to date on In The Red, their self-titled release debuting back in 2013, and the more heavy metal influenced II & III dropping in 2015 & 2020 respectively. Moothart and Segall originally formed the group, as Moothart was a touring member and guitarist for the Ty Segall backing band, and later became the drummer of Segall's current touring group. The aim with FUZZ was to take the essential ingredients of the "rock and roll power trio" and put them right out on the chopping block. New album 'III' is a much more honest approach for FUZZ: just three humans getting primitive, staying primitive. The goal was never to reinvent the wheel. Sometimes it's just about seeing how long you can hold on before you're thrown off. It's heavy, chaotically controlled, softly serpentine, and blindingly barbaric. To translate the auditory from ethereal to saliva soaked semantics is to shatter a promise as it's made. In the meantime, Ty, Charles, and Chad walk on. It is what it is.