NEWS
TAKE CONTROL OF IT
19 January 2022
Get your ostrich bop on with this wondrously odd new vignette from Robert Sotelo. 'Take Contol Of It' is taken from the album 'Celebrant', out now on Upset The Rhythm.
BERLIN TONIGHT!
15 January 2022
Lou & Iggy are given the inimitable Frobos treatment with today's surprise digital single! 'Berlin' b/w 'Tonight' performed by Philip Frobos (Omni) featuring Greenscreen and Grace Bellury! Available now on all digital platforms, enjoy!
NICFIT OUT NOW!
14 January 2022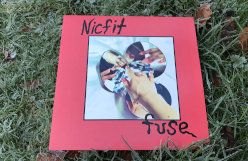 Kick, kick, kickstart 2022 with Nicfit's wild debut album 'Fuse', out today on Upset The Rhythm!
Nicfit are a punk band from Nagoya, Japan. Comprising Hiromi on vocals, Charley on guitar, KenKen on bass and Kuwayama on drums the group are by turns melodic and menacing. Nicfit are a nervous itch, incessantly flipping between head-down tumbles of hardcore bounce and freaked feedback clamour. Boasting some total life-affirming trample packed with snappy vocals, metallic spikes and glammy undercurrents that soar out of the sprawl.
'Fuse' is available now digitally and in all the best records shops on 180g black vinyl, we also have copies of the LP in our webshop, yeh!
YULETIDE THANKS
12 December 2021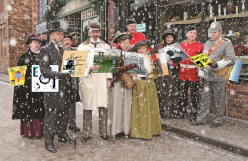 Seasons Felicitations! Upset The Rhythm turns 18 years old today and to celebrate with suitable festive panache we're offering you all 18% off our entire catalogue for the next 18 days. Just use the code UTR18 at the checkout of our UTR webshop.
XMAS = SORTED
2021 saw Upset The Rhythm release an astounding armful of 9 records by Buffet Lunch, Screensaver, Philip Frobos, Robert Sotelo, Kaputt, Bertie Marshall, Clear History and Normil Hawaiians! We could not be prouder of these essential outpourings of underground culture. Thanks so much for all your kindness and support in making our record label and concerts possible this year, you put the baubles on our tree!
May merriment abound and all your Christmases be happy and healthy, UTR x
NICFIT - 'DEVIATION'
10 December 2021
Japanese group Nicfit have a restive (and decidedly not festive) new single out now called 'Deviation'! Here's the brilliantly tensile video. 'Deviation' is also streaming on all the usual digi-platz and features on the band's debut LP 'Fuse', out Jan 14th through Upset The Rhythm.
KAPUTT - 'GONE WEST'
22 November 2021
Glasgow post-punks Kaputt return today with an early taste of their new album in the form of surprise digital single 'Gone West'! A restless riot of sax breaks, fidgeting drums and guitar riffage that continually swims against the tide. Cal from Kaputt shared that "Gone West is about the migration of affluence, when industry clashed with the living standards of the wealthy. The smoke blows East, so the money moves West." Such choice lyrical concerns and their pointed address are set off against 'Gone West's needling impulse to dance its way into your brain. 'Gone West' is just the tip of the iceberg though, Kaputt's new album looks set to sink us all!
Kaputt will be going on tour this week check out our tour page for full info including their spell of dates with Squid in January.
EXHIBIT ON LP
21 November 2021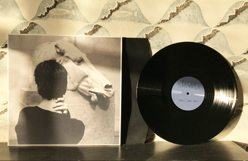 Best news! Bertie Marshall's stunning album 'Exhibit' is now available on vinyl! Available through all the best shops and our very own webstore too.
NICFIT - FUSE
19 November 2021
Announcing Nicfit's gleeful nervous itch of a debut album 'Fuse' today! Thanks to Post-Trash for sharing the group's first single. Nicfit are from Nagoya, Japan and flip between head-down tumbles of hardcore bounce and freaked feedback clamber. Debut LP 'Fuse' is released on UTR on Jan 14th. Available to pre-order now.
CELEBRANT OUT NOW
12 November 2021
Q. Who's the man behind the mask?
A. Robert Sotelo!
Q. Did you know his incredible new album of pristine DIY pop' Celebrant' is released digitally today?
A. Now I do! I heard there's a vinyl version coming in the next few weeks too!
Q. Shall we celebrate with this video for 'The Currency is Love'?
A. You bet!
BERTIE ON RESONANCE FM
8 November 2021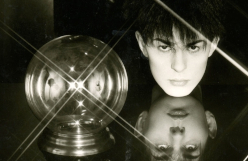 Lovely in-depth chat with the inimitable Bertie Marshall featured in this Hello Goodbye special for Resonance FM, many tracks from 'Exhibit' featured and even a live bootleg from our Cafe OTO launch party too!
THE CHEEK OF IT
5 November 2021
This ones a grower! Here's Buffet Lunch's amazing vid for 'Cheeks', thanks to Joshua Roland for making it! It features not only claustrophobia but hummus too, enjoy! Buffet Lunch's new 7" 'Cheeks / Mild Weather' is due on vinyl in the next week or two!
'DEAR RESIDENT'
27 October 2021
Follow the signs! 'Dear Resident' by Robert Sotelo is released today as a digital single. "We shall be together, somewhere out of time". 'Dear Resident' appears on the forthcoming album 'Celebrant', out Nov 12th on Upset The Rhythm.
NEW RELEASES
25 October 2021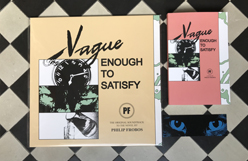 We have a total haul of new releases out now on Upset The Rhythm. Our first is Philip Frobos' delectably immersive book and official soundtrack to the novel on LP, entitled 'Vague Enough to Satisfy'.
Our second release of the week is a fantastic early-days (79-81) collection from Normil Hawaiians called 'Dark World'. 'Dark World' is out now digitally and on CD. An LP version is expected soon.
Our third new addition to the webshop takes the form of Screensaver's 'Expressions of Interest' LP, trapped in 180g heavy black vinyl and hellbent on turning your mind ablaze with its moody synth punk moves. Wonderful to have this record in stock finally.
'BUY / SELL / TRADE'
22 October 2021
Huge thanks to Raven Sings The Blues for premiering Screensaver's brand new (and immediately vintage) video for 'Buy/Sell/Trade'.
"Melbourne's Screensaver serve up a new video reveling in VHS psychedelics & a UHF chyron clutter. With a heavy beatdown of electronic drums & nodding synth swirl that move in motorik motion, the band's "Buy/Sell/Trade" is synth-punk bliss!"
Screensaver's debut album 'Expressions of Interest' is out now on Upset The Rhythm.
'AUTHORESS' - BERTIE MARSHALL
20 October 2021
Everything looks better in the rain!
Here's Bertie Marshall's new single 'Authoress' (1990), taken from his debut album 'Exhibit' out next week. Bertie is playing at Cafe OTO on Saturday 30th October too, with Simon & Noel from Normil Hawaiians in his group. See you there!
MILD WEATHER FOR A BUFFET LUNCH
7 October 2021
Lo! Buffet Lunch return this November with a stonking new 7" single on Upset The Rhythm entitled 'Cheeks / Mild Weather'. 'Mild Weather' was just premiered this afternoon + features Me Lost Me guesting to perfection on vocals too, what a world!
Thank you Raven Sings The Blues for premiering the video! Fans of the road network on the Isle of Mull are really treated to something special with the video.Buckle up!
'Cheeks / Mild Weather' is available to pre-order now, alongside much other glorious UTR produkt.
LATEST RELEASES MIXTAPE
LINKS
UPCOMING SHOWS

ERIC CHENAUX
ASHLEY PAUL W/ YONI SILVER
Friday 4 March 2022
Cafe OTO
18-22 Ashwin St, Dalston, London, E8 3DL | Map
7.30pm | £12 | Buy tickets
ERIC CHENAUX lives in Paris but was a fixture of DIY and experimental music in Toronto throughout the 1990s and 2000s, progressing from local postpunk legends Phleg Camp and Lifelikeweeds towards a highly distinctive technical and gestural mastery of amplified acoustic guitar. Eric Chenaux operates among various musical 'traditions' but perhaps most broadly, his records grapple with the relationship between improvisation and structure in very particular, unique, idiosyncratic ways – and quite without irony or cynicism, through love. Because fundamentally, Chenaux writes love songs, which he sings in a voice honeyed and clear, while his guitar gently bends, frazzes, chortles, diverges and decomposes. This juxtaposition of his mellow, dexterous crooning and his highly experimental (and equally dexterous) guitar explorations, explodes even unconventional notions of singing and accompaniment, of tonal and timbral interplay between guitar and voice.
Constellation has been home to Eric's "solo" records since 2006 – a brilliant discography of adventurous, sumptuous, mostly languorous deconstructed folk, jazz and pop-influenced balladry rooted in the juxtaposition of Chenaux's fried guitar playing and his gorgeously clear and lyrical singing voice. Eric's new album comes out this February and is his most immaculate and pristine. 'Say Laura' perfectly incarnates the counter-intuitive interplay of instrument and voice that Chenaux has been revealing and revelling in throughout the past decade: his gently unhinged juxtaposition of resplendently smooth, seductively assured singing and puckish, thoroughly destabilized guitar could come from no other musician. The five wandering, wondering ballads on 'Say Laura' bring Chenaux's semi-improvised but keenly intentional songwriting to its fullest, clearest, warmest and coolest articulation; uncompromising and generous, hyper-specific and loose, spartan and luxurious, elemental and ornate.
ASHLEY PAUL & YONI SILVER will be performing music from Paul's album 'RAY' released in late 2020 on Slip Imprint. Together they explore the fringes of song form and free improvisation, dissecting melodies and slowly piecing them back together alluding to shape but only occasionally binding together. It is as if Ashley Paul's spaciously experimental, playfully contrasting aesthetics have been eerily anticipating our strange times, finally locking into the larger zeitgeist with her spellbinding album 'RAY'.

FUZZ
(Charles Moothart, Ty Segall, Chad Ubovich)
Friday 18 March 2022 (Postponed, new date TBC)
This show is rescheduled from July 22nd 2020 & March 31st 2021, original tickets valid, refunds available too Electric Ballroom
184 Camden High St, Camden Town, London, NW1 8QP | Map
6pm-9.45pm | £17.50 | Postponed, awaiting new date!
FUZZ are back! Ty Segall, Charles Moothart and Chad Ubovich's electrifying trio return to London next spring! Fuzz have released three studio albums to date on In The Red, their self-titled release debuting back in 2013, and the more heavy metal influenced II & III dropping in 2015 & 2020 respectively. Moothart and Segall originally formed the group, as Moothart was a touring member and guitarist for the Ty Segall backing band, and later became the drummer of Segall's current touring group. The aim with FUZZ was to take the essential ingredients of the "rock and roll power trio" and put them right out on the chopping block. New album 'III' is a much more honest approach for FUZZ: just three humans getting primitive, staying primitive. The goal was never to reinvent the wheel. Sometimes it's just about seeing how long you can hold on before you're thrown off. It's heavy, chaotically controlled, softly serpentine, and blindingly barbaric. To translate the auditory from ethereal to saliva soaked semantics is to shatter a promise as it's made. In the meantime, Ty, Charles, and Chad walk on. It is what it is.
Presented in collaboration with Parrallel Lines FUTURE ISLANDS DAN DEACON Friday 25 March 2022 Alexandra Palace
Alexandra Palace Way, London, N22 7AY | Map
6.30pm | £30.00 | Buy tickets
FUTURE ISLANDS are a band whose brilliance was always hiding in plain sight. One viral moment might have catapulted them to worldwide recognition, but they were just doing what they always did – pouring their heart and soul into every moment, and channelling art's great power to spread love and hope. It was, quite simply, who they are. Long, hard years on the road, and the sense of constantly traveling away from something, have shaped the band many ways, both spiritually and physically. Always leaving, never arriving, the horizon an impossible destination to be chased but never caught. Future Islands' new album As Long As You Are is out now on 4AD. This show is the long-awaited return of the band back to London since their run of sold out shows at Brixton Academy back in 2017. This is a 14+ show, under 16's to be accompanied by an adult over the age of 21.

BUFFET LUNCH
ME LOST ME
SHAKE CHAIN
Friday 1 April 2022
MOTH Club
Old Trades Hall, Valette St, London, E9 6NU | Map
7.30pm | £7.00 | Buy tickets
(Tickets valid from the original postponed Cafe OTO show on Nov 6th 2021)
BUFFET LUNCH are a Scottish group who make it their mission to craft satisfyingly imperfect pop songs filled with imagery and humour. The group's elementary parts are Perry O'Bray (Vocals/Keys/Guitar), Neil Robinson (Bass), John Muir (Lead Guitar) & Luke Moran (Drums), united by a shared love of music on the ABBA-to-Beefheart axis. These four ricochet between Glasgow and Edinburgh, creating music that bristles with DIY spirit and upbeat wonkiness. Their tracks are vigorous excursions, meandering into clattersome terrain as often as hiking up into the breezy, melodious foothills. The desire to lead the listener along a curious tale helps tie things together, showcasing a lyrical playfulness that pins down their puzzle of sound. Following on from their excellent 'The Power of Rocks' album (Upset The Rhythm), the band return this November with a vigorous new 7" EP featuring the tracks 'Mild Weather' and 'Cheeks'.
ME LOST ME is the project of Newcastle based electronic folk innovator Jayne Dent, recent recipient of the Paul Hamlyn Foundation Award for Composers and former Artist in Residence at internationally renowned concert venue The Sage Gateshead. Described by BBC Radio 6's Tom Robinson as a "brilliant peculiar noise", Me Lost Me delights in experimenting with genre and songwriting, taking influence from folk, electronica, art pop, ambient and noise music to create a beguiling mix of soaring vocals, synth, field recordings and hypnotic rhythms. Her live shows are atmospheric and playful, with a repertoire that explores storytelling and textural world-building through original songs, improvisation and reworkings of traditional ballads.
In 2021, Me Lost Me's live line up expanded beyond a solo show for the first time, performing with Newcastle jazz stalwarts Faye MacCalman on clarinet and John Pope on double bass, alongside Dent's voice and electronics, for the first time. The trio began working together remotely during lockdown on the latest Me Lost Me EP release 'The Circle Dance'. The EP was described as Dent's "most texturally and sonically adventurous music to date" by NARC Magazine, thanks in great part to the expanding of her sound palette to include woodwind and strings. In addition to translating these new songs to a live setting, the group have enjoyed working together on new arrangements of older songs in the Me Lost Me live set, breathing fresh life into them. MacCalman and Pope frequently perform together in various jazz, improv and genre-defying projects (Archipelago, John Pope Quintet, and many more), which is evident in the thrilling interplay of sounds and warm energy they bring to the stage.
SHAKE CHAIN are a 4-piece experimental group formed of artist Kate Mahony (Vocals), Joe Fergey (Drums), Robert Eyres (Guitar/Synth) and Chris Hopkins (Bass/Synth) hailing from Bournemouth, London and Oxford. Formed through a love of thought-provoking performance art and a yearning for disruption, they recorded their debut EP 'Neil Yonge and Bob Doylan Live at Hyde Park' in 2019 with sound artist David Carugo at Oxford Brookes University, released by Permanent Slump. Shake Chain provide a fusion of post-punk grooves, noise samples and chaotic lamenting on the current state of things.

Presented in collaboration with Barbican GROUPER COBY SEY Thursday 14 April 2022 Barbican Hall
Silk St, Barbican, London, EC2Y 8DS | Map
7.30pm | £20.00 | Buy tickets
GROUPER is a recording and performing project by Liz Harris. She lives and works on the Oregon Coast. At the Barbican in April 2022, she will present material from her 12th full-length album, Shade, which will be out on 22 October 2021 on Kranky. The new album is a collection of songs spanning 15 years, featuring themes of respite, and the coast, poetically and literally. Songs touch on loss, flaws, hiding places, love, with deep connections to the Bay Area, and the North Coast, with its unique moods of solitude, beauty, and isolation. Throughout, Liv threads a hidden radiant language of voice, disquiet, and guitar, framed by open space and the sense of being far away.
COBY SEY is a vocalist, musician and DJ, who, after years spent buzzing around the DIY artist circuitry of South East London, has developed a distinctive presence as a performer and producer offering a shifting, disorienting vision of club music. A long-time collaborator with Mica Levi, Tirzah, Babyfather, Klein and Kwes, Coby's recorded work – as best evidenced on the Whities 010: Transport for Lewisham 10′′ – spans the realms of live instrumentation, sample-based productions and experimental music, melding recognisable motifs of hip hop, drone, jazz, grime and more into a dubbed-out anaesthesia.

PROTOMARTYR
TRAAMS
RATTLE
Saturday 16 April 2022
Islington Assembly Hall
Upper St, Islington, London, N1 2UD | Map
7pm | £17.00 | Buy tickets
PROTOMARTYR play a taut, austere rock that's been incubated in a freezing Detroit warehouse littered with beer cans and cigarette butts and warmed occasionally by space heaters. With respect to the local predecessors, this isn't the primitive stomp of The Dirtbombs or The Stooges' greasy roar. Punk works, kind of, even if it leaves the hardcore kids confused. Protomartyr's economical rock elicits comparisons to possible antecedents like Pere Ubu or The Fall as well as local contemporaries like Frustrations or Tyvek. Singer Joe Casey's dry declarative snarl serves as a reliable anchor, granting his bandmates (guitarist Greg Ahee, drummer Alex Leonard and bassist Scott Davidson) the opportunity to explore textures and reinforce the rhythm section.
Next April sees Protomartyr finally touring the UK in support of their 2020 album 'Ultimate Success Today'! The group's epic fifth album moves like a river, with waves of sound that are quiet, loud, empty, full, but flowing together and shaping itself around the words. To see these songs performed live finally will be a cathartic release, this is what we've been waiting for!
TRAAMS formed in late 2011 via their shared love of groups like Television, Battles, The Stooges, Can & Women. Having released EP Ladders & LP Grin via FatCat Records in 2013 they saw through the year playing shows with bands such as Wire, Fidlar, Parquet Courts, & Temples. 2014 saw TRAAMS support Drenge on a sold out UK tour, before venturing to the states for SXSW and releasing the Cissa EP. 2021 witnessed Traams release '4-songs' (FatCat), a collection of some of their stand alone tracks plus the never before released 'Karma Kat'. TRAAMS' music is a distinct form of post-punk leaning Krautrock that is in equal parts catchy and hypnotic.
RATTLE are a Nottingham based duo who focus almost exclusively on drums and more drums, beneath a delicate overlay of vocal harmonies and percussive effects. Formed by Katharine Eira Brown (also of Kogumaza) and Theresa Wrigley (also of Fists), Rattle began as an experiment in crafting rich songs and melody using drums and voice alone. Their music weaves and intertwines post-punk, minimalism and experimental rock, through off-kilter rhythms, patterns and counter melodies. Rattle effortlessly blend the avant-garde with irresistible melodies and hypnotic drum beats, using rhythm and harmony to create a refreshing sound that is utterly new - a pretty rare feat these days when we're saturated with so much music. Rattle's impressive 'Sequence' album came out recently through Upset The Rhythm.

KRISTIN HERSH (Electric Trio)
FRED ABONG
Thursday 21 April 2022
The Garage
20-22 Highbury Corner, Islington, London, N5 1RD | Map
7.30pm | £25.00 | Buy tickets
KRISTIN HERSH, most recognised as the front person for the influential art-punk band Throwing Muses and power trio 50FOOTWAVE, will be touring the UK in Spring 2019 with Rob Ahlers (50 Foot Wave) on drums and Fred Abong (Throwing Muses, Belly) on bass. Throwing Muses first gained traction in the early '80s, playing with similarly singular artists, such as The Pixies and Dinosaur Jr. They continue to release ground-breaking music, most recently with 2013's double CD masterpiece 'Purgatory/Paradise'. Kristin's solo career spun off in 1994 with the release of 'Hips and Makers', a widely acclaimed album that included 'Your Ghost', a duet with R.E.M.'s Michael Stipe. Since then, Kristin has released a steady stream of distinctly individual solo albums, including 2010's 'Crooked', released as her first in the inventive book/CD format for which she is now known.
2016's 'Wyatt at the Coyote Palace', on which Kristin played all of the instruments, received rave reviews; an explosive defined by blistering guitars, powerful drumming and her signature visceral vocal technique. Her poignant true stories bring the listener into what the BBC calls Hersh's "dark and dizzy world". In 2004, Kristin formed the noise rock power trio 50FOOTWAVE, releasing a series of frighteningly intense mini-albums, all available for download free of charge. Their most recent 'Bath White' EP was described as "a series of loud explosions, of velvet like dreams all intermingled at the same time. Bath White takes no prisoners." Kristin's writing career has flourished with the highly acclaimed 'Paradoxical Undressing' (released as 'Rat Girl' in the USA) and the award winning 'Don't Suck, Don't Die', a personal account of her long friendship with the late Vic Chesnutt, as well as the enchanting books which now accompany each of her record releases. Kristin's tenth studio album, 'Possible Dust Clouds' was a highly personalised sociopathic gem delivered as a futuristic rewriting of how music works, a melodious breeze with a tail wind of venomous din. Enveloping the juxtaposition of the concept of 'dark sunshine', a brooding solo record created with friends to expand her off-kilter sonic vision; a squally, squeaky mix of discordant beauty. 'Possible Dust Clouds' is a glorious return to form for one of alternative rock's true innovators.
FRED ABONG will be supporting Kristin on her current UK tour dates. Fred is a friend of Kristin's and former Throwing Muses and Belly bass player. Fred will be touring his new solo acoustic EP, described by himself as sounding like a "ragged Replacements".

JAKE XERXES FUSSELL
Saturday 7 May
This show is rescheduled from May 12th & Sep 8th 2020 & May 7th 2021 at The Lexington, and September 1st at OSLO Hackney, original tickets valid, refunds available too. OSLO Hackney
1A Amhurst Rd, Hackney Central, London, E8 1LL | Map
6.30pm - 10pm | £9.00 | Buy tickets
JAKE XERXES FUSSELL is a singer and guitarist from Durham, North Carolina. Jake's 2015 self-titled debut record, produced by and featuring William Tyler, transmutes ten arcane folk and blues tunes into vibey cosmic laments and crooked riverine rambles. Collaborating with Tyler and engineer Mark Nevers in Nashville was a conscious decision to depart cloistered trad scenes and sonics for broader, more oblique horizons. In 2017 Fussell followed his debut with a moving new album of Natural Questions in the form of transmogrified folk/blues koans. This time these radiant ancient tunes tone several shades darker while amplifying their absurdist humour, illuminating our national, and psychic, predicaments. What in the Natural World features art by iconic painter Roger Brown and contributions from three notable Nathans: Nathan Bowles (Steve Gunn), Nathan Salsburg (Alan Lomax Archive), and Nathan Golub (Mountain Goats). On his most recent album for Paradise Of Bachelors 'Out of Sight', his most finely wrought album yet, Fussell ushers up an utterly transporting selection of traditional narrative folksongs addressing the troubles and delights of love, work, and wine (i.e., the things that matter), collected from a myriad of obscure sources and deftly metamorphosed, Out of Sight contains, among other moving curiosities, a fishmonger's cry that sounds like an astral lament; a cotton mill tune that humorously explores the unknown terrain of death and memory; and a shanty/gospel song equally concerned with terrestrial boozing and heavenly transcendence. Always compelling and deftly impressive, Jake's live shows have become must attend events, so its with great honour that we welcome him back this September to London.