NEWS
'BUY / SELL / TRADE'
22 October 2021
Huge thanks to Raven Sings The Blues for premiering Screensaver's brand new (and immediately vintage) video for 'Buy/Sell/Trade'.
"Melbourne's Screensaver serve up a new video reveling in VHS psychedelics & a UHF chyron clutter. With a heavy beatdown of electronic drums & nodding synth swirl that move in motorik motion, the band's "Buy/Sell/Trade" is synth-punk bliss!"
Screensaver's debut album 'Expressions of Interest' is out now on Upset The Rhythm.
'AUTHORESS' - BERTIE MARSHALL
20 October 2021
Everything looks better in the rain!
Here's Bertie Marshall's new single 'Authoress' (1990), taken from his debut album 'Exhibit' out next week. Bertie is playing at Cafe OTO on Saturday 30th October too, with Simon & Noel from Normil Hawaiians in his group. See you there!
MILD WEATHER FOR A BUFFET LUNCH
7 October 2021
Lo! Buffet Lunch return this November with a stonking new 7" single on Upset The Rhythm entitled 'Cheeks / Mild Weather'. 'Mild Weather' was just premiered this afternoon + features Me Lost Me guesting to perfection on vocals too, what a world!
Thank you Raven Sings The Blues for premiering the video! Fans of the road network on the Isle of Mull are really treated to something special with the video.Buckle up!
'Cheeks / Mild Weather' is available to pre-order now, alongside much other glorious UTR produkt.
PHILIP FROBOS - NEVER NOTICED
29 September 2021
Time to waltz with a signature cocktail, here's the video for Philip Frobos' third single 'Never Noticed', taken from his forthcoming album and novel 'Vague Enough to Satisfy'! Reach for those celery bitters!
Huge thanks to Ears To Feed for the premiere! 'Never Noticed' is out now as a digital single everywhere. 'Vague Enough to Satisfy' will be released on October 22nd through Upset The Rhythm (album) and Hex Enduction (book).
ROBERT SOTELO - INFLUENCER
15 September 2021
Time to celebrate the arrival of 'Celebrant', Robert Sotelo's classy new album of pristine DIY pop out Nov 12th on Upset The Rhythm! Today we're announcing this ambitious synth-centric collection of unbridled songs with Sotelo's ultra-catchy first single 'Influencer'. 'Influencer' is released today as a digital single in all habitual zones and in this mind-warping video of Sotelo's cryogenically-preserved head reanimated in song, yes really!
'Celebrant' is available to pre-order now in our UTR webshop, heads you win!
SKIN
9 September 2021
Melbourne post-punks screensaver return with their sparking new single 'Skin' today! Clash have kindly just premiered the track with the video. Bringing the gloom to the room and their rapport to the dancefloor, screensaver make sad dancers of us all!
KE KE KE KE KE YA!
7 September 2021
"Running with the torches!" Seeing that it's a new moon we're sharing Bertie Marshall's new video for polyrhythmic thrill-ride 'Ke Ke Ke Ke Ke Ya' today! A crush/crash of energy, feedback and colour in sound and vision. The video is also accompanied by a reflection from Bertie on the Behaviour Red 7"s first outing (1982) from his forthcoming memoir too! 'Ke Ke Ke Ke Ke Ya' appears on Bertie's album 'Exhibit', out this Halloween on Upset The Rhythm.
WE'RE BACK BABY!
27 August 2021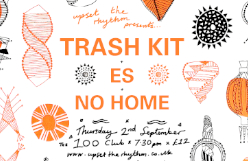 Hello everyone! Upset The Rhythm returns with our first London live concert in 16 months next week. We're beyond excited! Next level of next level. On Thursday 2nd September we will be holding court at The 100 Club with truly the very best company: Trash Kit, Es and No Home.
Seems somewhat surreal and infinitely exhilarating at the same time. Trash Kit will be bringing their 110% polyrhythmic joy to help kick off our renewed live programme, accompanied by their fierce choir and bonus violinist too. It's a total trip to invite Es to play too for the first time since we released their debut album last year and with No Home opening the show we're in for the mightiest of treats, lucky us!
VACANT STREET
18 August 2021
Get busy!
Here's 'Vacant Street', the second single from Philip Frobos' forthcoming debut LP and novel 'Vague Enough to Satisfy'! Released as digital single today, alongside 'My Funny Valentine' as the b-side, 'Vacant Street' is a fizzy trip of 'Whammy'-era B52s groove, hooky basslines and enough muted meanderings to make you wanna join Philip in a sprightly skinny dip. Baker Street!
'Vague Enough to Satisfy' is released by Upset The Rhythm on LP, and published by Hex Enduction in novel form on October 1st. Look out!
EXPRESSIONS OF... SCREENSAVER
9 August 2021
Pulsate with 'No Movement', the dystopian first single from screensaver's debut album 'Expressions of Interest' out on October 8th! Thrilled to be working with these Australian 'on point' post-punks and Heavy Machinery on this most gloriously brooding album of albums!
'Expressions of Interest' is available to pre-order now hither
CLEAR HISTORY
4 August 2021
What's this? Another new release from up our busy sleeve! 'Solar Death Ray' is the debut single from Berlin group Clear History, a scorching post-punk trio intent on bringing a matchbox to the dancefloor. "Light a match and watch it drop, burn it down" they sing on this pulse-quickening single, which sounds equal parts Kleenex, Gang of Four and ESG.
'Solar Death Ray' is taken from the band's debut EP 'bad advice good people' out November 5th on Upset The Rhythm. Thanks to Ears To Feed for premiering the 'Solar Death Ray' video!
BERTIE MARSHALL - 'EXHIBIT'
28 July 2021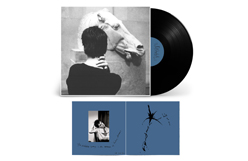 Make an exhibition of yourself! Bertie Marshall is best known as a punk memoirist, his book 'Berlin Bromley' is celebrated as an insider's take on the lurid origins of punk. Bertie wasn't just a face on the scene though, he also made music. Uncanny, mesmerising, affirming music!
From 1980-83, Bertie was the frontman for post-punk boundary-pushers Behaviour Red - they released one single, did a mini-tour and promptly broke up. Their sound was characterised by experimentation and drama, boasting at times tribal drumming, searing vocals, dazed guitars and feedback. Bertie continued sketching out atmospheric compositions afterwards too, walking a tightrope between bewildered pop and gothic folk. Central to everything is Bertie's commanding voice; heartfelt, at times strident, always truthful.
This Halloween, Upset The Rhythm will release the fruits of Bertie Marshall's resolute labour. Entitled 'Exhibit', this debut album gathers Bertie's exuberant songs together for the first time. 'Exhibit' will be released on limited 180g black vinyl, CD and digitally too. Today we're releasing the single 'Shaking Johnny' to whet your appetite!
RATTLE - PERFECT SOUNDS
23 July 2021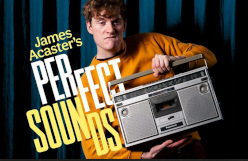 James Acaster invited Isy Suttie onto his Perfect Sounds show to discuss Rattle's "totally engulfing" debut album 'Rattle'. Find out how "drumming is like snowboarding" and how Rattle made a "refreshing change" of an album by "serving their songs first by using percussion as a voice". Total proof that 2016 was the greatest year for music ever!
VAGUE ENOUGH TO SATISFY
21 July 2021
Send those parcels flying! Today we're sharing the exciting news that Philip Frobos will release his debut solo album 'Vague Enough to Satisfy' with Upset The Rhythm on October 1st. This exquisite, lounge-inspired punk album acts as an original soundtrack to his debut novel of the same name (published by Hex Enduction Books).
'No Packages Today' is the sprightly first single from the album, proceeding with a hooky bassline, the cryptic sort that Frobos is known for as a member of Atlanta post-punks Omni. Sounding like the Au Pairs and Suicide refining an obsession with Bowie's 'Lodger', Frobos opines "I'm afraid that you need more than I can offer", bedecked by shuffling beats and burgeoning waves of saxophone. Here's the full video, we promise to treat all pre-orders (including those bundled with the book) a lot better than Philip would seemingly!
'Vague Enough to Satisfy' is available or order now from our webshop.
DARK WORLD COMING!
13 July 2021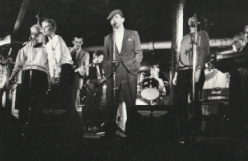 Best news! This September we're releasing 'Dark World' by Normil Hawaiians, a compilation documenting the group's formative years of 79-81. Covering acres of ground from peppy post-punk origins into the progressively wayward, dubbier territories, 'Dark World' gathers the group's energetic 7" singles on Dining Out and Illuminated Records, their metamorphic 'Gala Failed' EP (Red Rhino) and a lively last-minute Peel session from 1980, alongside outtakes, rarities and demos.
'Dark World' is a snapshot of Normil Hawaiians in flux, finding their feet, stretching their limbs. These 22 tracks display all the glittering debris from their magpie's nest of sound. Emergent, hopeful and resistant in both music and ethic.
Upset The Rhythm will release 'Dark World' on LP, CD and digitally on September 24th. It is available to pre-order in our webshop as of… now!
NEW UTR SHIRT & BADGES
12 July 2021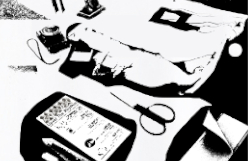 Our brand new 'Tools of the Trade' Upset The Rhythm t-shirt and 'Foggy eye / Foggy moon' badges are now available to purchase in our webshop, oooooooh!
LATEST RELEASES MIXTAPE
LINKS
UPCOMING SHOWS

NIGHTSHIFT
THE PHEROMOANS
Friday 29 October
New River Studios
199 Eade Rd, Harringay, London, N4 1DN | Map
7.30pm | £7.00 | Buy tickets
NIGHTSHIFT formed in 2019 in the ecosystem of Glasgow's current indie scene. The city's fertile & creative group of musicians have been committed to pushing the boundaries of and blurring the lines between DIY, punk, experimentalism and indie pop for decades now. Nightshift fit right in, featuring members from current indie stalwarts Spinning Coin, 2 Ply and Robert Sotelo. The band was formed by David Campbell (guitar), Andrew Doig (bass), Eothen Stearn (keyboards/vocals) & Chris White (drums) as a "No Wave/No New York/early Sonic Youth/This Heat-esque" group, but their sound quickly evolved once guitarist/vocalist/clarinetist Georgia Harris joined (as the band was writing 'Zöe'). Nightshift self-released a full-length cassette on CUSP Recordings in early 2020, laying the foundation of their sound; hypnotic, melodic, understated indie post-punk with hooks that stick around long after you've heard them.
Unlike the band's previous album, the songs on 'Zöe' weren't conceived live in the band's practice space, but rather pieced together and recorded remotely during quarantine lockdown. The isolation actually allowed for an openness and creativity to flow and many of the songs took on radically different forms from when they were originally envisioned. Vocalist & primary lyricist Eothen Stearn says "The process of writing these songs separately during lockdown was a kind of exquisite corpse - I liked this gesticulation of reaching out to one another and responding. Building up the next layer and passing it on."Stearn says "poetic restraints" to writing & Eno & Schmidt's Oblique Strategies concepts were on their mind when composing the words to the songs, and highlights the influence of author Rosi Bradiotti's book 'The Posthuman'. 'Zöe' kicks off with 'Piece Together', a mesmeric song anchored by the band's chanted vocals and serpentine guitar licks. 'Spraypaint the Bridge' showcases Harris' clarinet in an unexpected & delightful melodic shift during the song's anti-chorus. Elsewhere tunes like the swooning 'Infinity Winner' and 'Outta Space's minimalist, slinky rhythm swirl in a late-night vibe, while 'Make Kin' ruminates on "Looking to kinship as a way of engaging with entangled environmental and reproductive issues... how a band is a bond" and lurches forward with kinetic guitar strangling & staccato rhythmic percussion from White & Doig. 'Power Cut' is the album's centerpiece, luring the listener into involuntary movement with its waves of harmonies, synth drones and metronomic pulse, until they all come crashing down in the song's dissonant midsection.
The band acknowledges the whiffs of nostalgia prevalent in 'Zöe's songs, and the nature of writing & recording the album is soaked in the self-work, reflection & reevaluations involved not only personally but creatively in each member's lives. Consequently, 'Zöe' has become a collection of sketches of hope, growth, awareness of the power of the world & the power of self and possibility.
THE PHEROMOANS are a rock band from the South East of England who deal in a deadpan DIY music. Married to the mundane yet surreal reportage of our lives, their music manages to address the truly restless boredom and absurdity of everyday life. The group have released albums on Alter, Upset The Rhythm and Savoury Days. They would like this review from 2014 by Peter Rea to best sum up their sound. "Akin to The Fall, someone who clearly wants to be Mark E. Smith fronts a band of great sounding musicians. Using his microphone stand to remain upright, the lead singer slurs words with little coherence, occasionally managing to fit in nicely with his exceptional band members – possibly by accident. He mentions Jerry McGuire, swears loudly a lot, and then keeps saying "David Lynch". It's an amusing spectacle, but I'd like to hear someone more sober and poetic. The second to last tune is actually pretty great, which goes some way to make up for some cringeworthy and laughable moments."

BERTIE MARSHALL - 'Exhibit' album launch
LUVIA
'Tissue' by Nicola Tyson - Film screening
Saturday 30 October
Cafe OTO
18-22 Ashwin St, Dalston, London, E8 3DL | Map
7.30pm | £10.00 | Buy tickets
BERTIE MARSHALL is a writer/ performer. He is also an acclaimed memoirist, most well known for his book 'Berlin Bromley' (2006) about his transformation from Bertie, an anxious, androgynous, depressed teenager, into Berlin, a teenager who would reject suburban values and become a founding member of punk's "Bromley Contingent", alongside Siouxsie Sioux, Steven Severin, and Billy Idol. He's currently working on 'Looking: Backwards To Go Forwards', picking up from where 'Berlin Bromley' left off. His other books include the debut novel 'Psychoboys' (1997), 'Nowhere Slow' (2014), 'From Sleepwalking to Sleepwalking' (2016), 'Wild - re write' (2017), 'The Peeler' (2018) and 'Pete's Underpants' (2019). In 2015 the British Library purchased his writing archive.
From 1980-83, Bertie was the frontman for post-punk boundary-pushers Behaviour Red - they released one single (favourably played by John Peel), did a mini-tour and broke up. At various times Behaviour Red featured Noel Blanden of Normil Hawaiians and fine artist Nicola Tyson. Their sound was characterised by looseness and freedom, boasting at times tribal drumming, streams of vocals, dazed guitars and feedback. Bertie continued sketching out atmospheric compositions afterwards too, walking a tightrope between bewildered pop and gothic folk. Central to everything is Bertie's commanding voice; heartfelt, impassioned and masterfully leading you through the story.
Bertie became interested in spoken word and performance poetry in the 90s, which then led him into writing and performing in his own plays and devised theatre pieces. He did regular readings and performances in NYC and began writing books inspired by the visceral talents of Acker & Burroughs. Having lived in Berlin, San Francisco, and Brittany, Bertie now lives in London. October 29th sees Upset The Rhythm release 'Exhibit' by Bertie Marshall, collecting for the first time his songs and spoken word tracks from this fertile period of the 80s-90s. This show will be its timely album launch featuring Bertie reunited with many original musical collaborators.
LUVIA aka Maddie Vincent makes ethereal, melancholic pop. Luvia's haunting vocals and honest, emotive storytelling are based upon a dissociative state. Inspired by cinematography and film, finding a muse in bold characters and dreamscape visuals, her music has been described as an escape.

BUFFET LUNCH
ME LOST ME
SHAKE CHAIN
Saturday 6 November
Cafe OTO
18-22 Ashwin St, Dalston, London, E8 3DL | Map
7.30pm | £7.00 | Buy tickets
BUFFET LUNCH are a Scottish group who make it their mission to craft satisfyingly imperfect pop songs filled with imagery and humour. The group's elementary parts are Perry O'Bray (Vocals/Keys/Guitar), Neil Robinson (Bass), John Muir (Lead Guitar) & Luke Moran (Drums), united by a shared love of music on the ABBA-to-Beefheart axis. These four ricochet between Glasgow and Edinburgh, creating music that bristles with DIY spirit and upbeat wonkiness. Their tracks are vigorous excursions, meandering into clattersome terrain as often as hiking up into the breezy, melodious foothills. The desire to lead the listener along a curious tale helps tie things together, showcasing a lyrical playfulness that pins down their puzzle of sound. Following on from their excellent 'The Power of Rocks' album (Upset The Rhythm), the band return this November with a vigorous new 7" EP featuring the tracks 'Mild Weather' and 'Cheeks'.
ME LOST ME is the electronic music project of Newcastle based musician Jayne Dent. Described by BBC Radio 6's Tom Robinson as a "brilliant peculiar noise", Me Lost Me delights in experimenting with genre, taking influence from folk, electronica, art pop, ambient and noise music to create a beguiling mix of soaring vocals, synth, field recordings and hypnotic rhythms. Her live shows are atmospheric, dark and playful, with a repertoire that explores storytelling through original songs, improvisations and reworkings of traditional ballads. She recently released her second album 'The Good Noise', out November 2020, was described as 'stunning' and 'remarkable' by NARC Magazine demonstrates a maturing of her sound and a deepening of her exploration of site and experiments with genre.
SHAKE CHAIN are a 4-piece experimental group formed of Artists Kate Mahony (Vocals), Jenna Finch (Drums), Robert Eyres (Guitar/Synth) and Chris Hopkins (Bass Synth) hailing from Goldsmiths College, Nottingham Trent and Wimbledon, University of the Arts. Formed through a love of thought-provoking performance art and a yearning for disruption, they recorded their debut EP 'Neil Yonge and Bob Doylan Live at Hyde Park' in 2019 with sound artist David Carugo at Oxford Brookes University, released by Permanent Slump. Shake Chain provide a fusion of post-punk experimental sampled noise grooves and chaotic lamenting on the current state of things.
PAN AMERICAN
ANRIMEAL
Tuesday 9 November
This show is rescheduled from April 21st & August 10th 2020 & February 17th 2021 original tickets valid, refunds available too. Cafe OTO
18-22 Ashwin St, Dalston, London, E8 3DL | Map
7.30pm | £10.00 | Buy tickets
PAN AMERICAN began during the summer of 1997, when Mark Nelson, guitar player and singer of the legendary Labradford, wanted to explore the possibilities of sampling and computer technology as well as his interests in dub and techno. Mark started recording a full-length album for Kranky at home and at Sound of Music Studios in Richmond, Virginia. The self-titled, debut Pan American album came out on Kranky in early 1998. Nelson continued to work on Pan American material as he worked with Labradford, learning to play pedal steel guitar, releasing singles on European labels and getting some studio time in with engineer Casey Rice. Rob Mazurek from Chicago Underground Trio and Alan Sparhawk and Mimi Parker of Low contributed cornet and vocals, respectively. The resulting album, 360 Business / 360 Bypass, was released by Kranky in North America (and Blast First in Europe) in early 2000.
More singles and album followed, along with the occasional live performance. Nelson's placement behind a synthesizer and mixing desk belied the improvisational nature of the live mix. Between sternum-rattling bass rhythms and Nelson's willingness to challenge an audience of with outbursts of static, Pan American shows were more than the usual knob-twiddling and smooth noodle maps, traded dub undertow for percussive points, field recordings and an ominous drone.
Nelson's latest offering as Pan American, 'A Son' (Kranky 2019), is a return his musical and spiritual beginnings. Spare, subdued, and largely acoustic, A Son unfurls like late summer dusk on the edge of town, expansive but intimate. Motivated by notions of "moving backward" and tracing roots - as well as a couple years of hammered dulcimer lessons - the album's nine songs were written and recorded in his home in Evanston, Illinois, and honed during a solo tour in Europe in 2018. The emphasis on uncluttered arrangements and the centrality of the guitar and vocals reveal these songs as the most direct and emotional statement of his career. Nelson cites everything from June Tabor, The Carter Family, Suicide, and Jimmy Reed as oblique inspirations, though his truest muse was creative self-inquiry: "What does music do, Where does music start? How simple can it be? How honest can it be?"
ANRIMEAL is the recording project of Ana Rita de Melo Alves; singer, songwriter, producer, poet, conjuror, clodhopper and cherub. Hailing from Porto, Ana creates and manipulates digital folk song from her current base in south London, drawing on the post-minimalist principles of texture, limitation and repetition. Lately, she can be found composing around the sound of creaking doors, percolating coffee and whispering toothbrushes, seeking and finding the magic in the domestic and humanity in the inanimate. Ana's debut album Could Divine was released in November 2020, to widespread perked ears from the likes of BBC Radio 6music, BBC Radio 3's Late Junction, The Wire and Electronic Sound. Her latest project (Could Divine, Remembered) is a reimagined, deconstructed companion piece to Could Divine, featuring remixes and reflections spun together with previously unreleased material.

OLD TIME RELIJUN
ORDER OF THE TOAD
Thursday 11 November
New River Studios
199 Eade Rd, Harringay, London, N4 1DN | Map
7.30pm | £8.50 | Buy tickets
OLD TIME RELIJUN are the rarest breed of band. Insatiable, living raw, always on the margins and consistent as hell. You know what to expect and yet never have any clue what's going to come next. Old Time Relijun give sweaty, compulsively danceable performances that never fail to inflame their audience. Their loose swagger belies years of practice, fastidious arrangements and gut-level understanding of how music hits you. Old Time Relijun was born on January 1st, 1995 in a dark and moldy basement in Olympia, Washington. The band stole some popcorn bags, talked a friend out of his inheritance and self-released "Songbook Vol. I" in 1997. They then began their long association with Calvin Johnson's K Records. Between 1999 and 2007, Old Time Relijun toured like monsters, averaging 150 shows a year in the U.S. and Europe, releasing 'Uterus and Fire', 'La Sirena De Pecera', 'Witchcraft Rebellion', 'Lost Light', '2012' and 'Catharsis in Crisis'. The last three albums are known collectively as "The Lost Light Trilogy;" a conceptual triptych integrating poetry, painting, and myth through multiple lyrical and musical threads. The band toured through 2008 and then quietly parted ways. 2021 reunites Old Time Relijun with newfound level of passionate indignation and a deeper musical vocabulary. The classic lineup featuring bandleader Arrington de Dionyso and Aaron Hartman (upright bass), joined by drummer Amanda Spring are primed to return to Europe. Old Time Relijun continue to make music for the revolution from a restless energy that has never settled down.
ORDER OF THE TOAD are a trio from Glasgow. Melodically, Order of the Toad have something of a medieval fixation, filtered through late 60s influences which end up sounding something like Jefferson Airplane - not least in vocalist Gemma "The Wharves" Fleet's powerful lung-force - mixed with British psyche heat.. think Kaleidoscope or even Syd Barrett drug-damaged whimsy. There's no other band doing this in the U.K. that we know of, a musically rich tapestry woven from strands outside current trends. Music available now on Gringo and Reckless Yes!

SHANNON LAY
NAIMA BOCK
Monday 15 November
St Pancras Old Church
Pancras Road, King's Cross, London, NW1 1UL | Map
7.30pm | £12.50 | Buy tickets
SHANNON LAY is a L.A. singer-songwriter whose work is of a plainspoken mysticism that goes to the small, bright truth of things, showcasing her unusual songwriting and quietly commanding voice. Shannon has been dominating the local scene in Los Angeles over the past few years, leaving everyone who witnesses completely breathless.
Shannon's new album, 'Geist', is tender intensity, placeless and ethereal. It exists in the chasms of the present - a world populated by shadow selves, spiritual awakenings, déjà vu, and past lives. "Something sleeps inside us," Lay insists on the opening track, and that's the guiding philosophy throughout. A winding, golden, delicate thread of intuition that explores the unknown, the possibility.
Lay tracked vocals and guitar at Jarvis Tavinere of Woods's studio, then sent the songs out to multi-instrumentalists Ben Boye (Bonnie Prince Billy, Ty Segall) in Los Angeles and Devin Hoff (Sharon Van Etten, Cibo Matto) in New York; trusting their musical instincts and intuition. She then sent those recordings to Sofia Arreguin (Wand) and Aaron Otheim (Heatwarmer, Mega Bog) for additional keys, while Ty Segall contributed a guitar solo on "Shores."
As a whole, Geist is both esoteric and accessible. There's the concise, pared-back cover of Syd Barrett's tilt-a-whirl-esque 'Late Night', while 'Rare to Wake', inspired by Dune, is existential and meditative, a circular guitar riff looping at the core of it. 'Awaken and Allow', is ancient-feeling and mainly a cappella, its melody channels her deep Irish roots, a moment of reflection, before a drop happens - its intensity mirroring the anticipation and anxiety that come with taking the first step to accepting change. 'Geist' is released on October 8th through Sub Pop.
NAIMA BOCK co-founded Goat Girl with friends at age 15, and after releasing their debut album on Rough Trade Records she left the band to explore other musical avenues. Her music now combines folk influenced songwriting with jazzy instrumentation, partially inspired by Naima's childhood growing up in Brazil.

ASTRID SONNE
NEXCYIA
Tuesday 16 November
IKLECTIK
Old Paradise Yard, 20 Carlisle Lane, London, SE1 7LG | Map
7.30pm | £11.00 | Buy tickets
ASTRID SONNE is a Copenhagen-based composer and viola player, using playing and listening as the foundation of her compositional practice. Her third album "outside of your lifetime" (September 2021) is a precisely created record that Sonne arrived at via improvisation, trimming and reassembly. It is made with keys, strings, voice and buttons. Many of the instruments and inputs on the record are carefully processed to efface their personality, so their origins are never exactly clear. One may follow seamless transitions between pure generated oscillating waves and true ten-finger choral organ work. Other tracks present fierce waveforms through a shimmery rotary pulse, heated and perfectly suited for live experience of the music. Hands-on and hands-off effects bleed into each other, and one often can't tell the difference.
The compositions appear like sculptures. With "outside of your lifetime", Astrid Sonne presents physical music, further developing an expression formed through previous releases. Melodies and deliveries that conjures a clear image of movement, like a sound that has and is humanity. A computer can coat that sound, beautifully, but it cannot make it. And physical music sounds different. It doesn't sound like music built from yesterday's ghosts and memories in the machine; it doesn't sound like a forecasting of the future as we worship the tomorrow that technology will bring us. It sounds like today, in the space around us.
NEXCYIA is an African-American/French sound artist and experimental ambient musician based in London and Paris. Working with found sound, Nexcyia weaves together harsh sound design and swooping soundscapes into works that bridge many moods, emotions and places through noise, granular synthesis, textures and rhythms.

THE MICROPHONES
caroline
Tuesday 16 November
EartH Theatre
11-17 Stoke Newington Rd, Dalston, London, N16 8BH | Map
6pm-10pm | £17.00 | Buy tickets
THE MICROPHONES are planning to play a few shows in Europe in November 2021. This will be the first tour by "the Microphones" in 18 years, but as listeners to our last record (Microphones In 2020) will have hopefully heard, that distinction doesn't mean much. This has always been a project steering toward present-moment raw wound engagement, disappointing the nostalgics, splashing into the unfamiliar. It's not a reunion (nothing to reunite) and it's not commemorative. It's a living thing. We're playing our one long song, F#m and D for a super long time, and inviting everyone to come get thumped by it. Who knows what else will happen?
Phil Elverum is an artist and human being from the Pacific Northwest town of Anacortes. His recordings, released variously as The Microphones and Mount Eerie, represent just a portion of his artistic output, which has ranged from running a label and co-organizing festivals to self-publishing books, photography, and painting. But it is for his stunningly original music that he is known best, from the earliest tape experiments of the '90s to the immersive sound-diary of Microphones in 2020. Elverum has never shied from exploring the high mountain passes, finding new ways to sculpt with sound, and trying to communicate the momentary experience of being human as clearly as the water from freshly melted snow.
caroline began in early 2017, evolving out of weekly improvisation sessions. Band members brought together their shared influences, including Midwestern emo, Appalachian folk, minimalist classical and various forms of electronic music, slowly expanding their on-stage membership as the songs developed. Rough Trade released their debut single "Dark blue" in March 2020, followed by "Skydiving onto the library roof" in 2021.

BRIGID MAE POWER (full band show)
MARTA DEL GRANDI
Tuesday 23 November
This show is rescheduled from June 10th & Sept 15th 2020 & April 22nd 2021, original tickets valid, refunds available too. The Lexington
96-98 Pentonville Rd, Angel, London, N1 9JB | Map
7.30pm | £10.00 | Buy tickets
BRIGID MAE POWER paints expansive songs that are effortless, hypnotic and folk-oriented like Judee Sill, Bill Callahan and Sharon Van Etten. The third album from the celebrated singer/songwriter, 'Head Above The Water' is a coming of age opus featuring a ground-breaking amalgamation of traditional folk and country - an engaging blend of strings, bouzouki, piano and Power's distinctive vocal make this an achingly beautiful body of work. Recorded in analogue studio The Green Door in Glasgow with Alasdair Roberts co-producing alongside Brigid and Peter Broderick. It's a continuing tale of everyday survival; more diverse, different, a bigger canvas, with broader brushstrokes. Country and traditional folk rub shoulders, making for a juxtaposition of threads, with added instrumentation from five musicians lured into the studio to provide larger dynamics. After two lauded albums for Tompkins Square, Brigid Mae Power releases her new album on 5th June via Fire Records.
MARTA DEL GRANDI is an award-winning jazz vocalist navigating new territory, crossing borders of genre and style from West Coast '60s to ambient exotica, from plaintive Lynchian etherealism to dramatic Morricone scores. Newly signed to Fire Records, the eclectic Italian-born singer songwriter releases her new album 'Until We Fossilize' on November 5th 2021. Filled with thoughts and emotions, stories, rumours and beliefs, 'Until We Fossilize' is an unraveling of time and distance; a self-produced gem filled with lush strings, electronic ambience and eclectic vocals.

HEN OGLEDD
Tuesday 7 December
Corsica Studios
4 & 5 Elephant Rd, London, SE17 1LB | Map
7.30pm | £14.00 | Buy tickets
HEN OGLEDD A band project comprising Richard Dawson, Rhodri Davies, Dawn Bothwell and Sally Pilkington, Hen Ogledd's meaning comes from the Welsh name for The Old North. Following on from the quartet's previous album Mogic, with its digital overtones and themes of artificial intelligence, Hen Ogledd's second album Free Humans takes a deliberately organic and natural approach. Inspired as much by ABBA as the work of 12th century mystic-composer-naturalist-visionary Hildegard von Bingen, touched equally by the spirits of radical philosophical plumber Mary Midgley and PC Music star Hannah Diamond, as quiet as the paintings of Agnes Martin yet bombastic like a Werner Herzog documentary... it's an album of seamless, glorious contradictions.
Tackling themes of love, friendship, Gaia theory, sewers, the nature of time, human stench, and the thrills of wild swimming, it's remarkable that, given the intense collision of influences and wide-ranging ideas at play, Free Humans somehow coheres into a marvellous whole. Hen Ogledd manages to hold both the tragedy of the wrongs happening in the world and also a sense of hope and liberation in their hands at the same time.

SHOPPING - cancelled!
Monday 14 February 2022
This show was rescheduled from May 5th & Sep 2nd 2020 & May 5th 2021,refunds freely available The Lexington
96-98 Pentonville Rd, Angel, London, N1 9JB | Map
7.30pm | £10.00 | Buy tickets
SHOPPING are propulsive bass lines, primitive disco-not-disco drums and guitar lines sharp as broken glass. The band was formed in 2012 by members Rachel Aggs (guitar), Billy Easter (bass) and Andrew Milk (drums), who've all done time in a plethora of notable UK DIY bands including Trash Kit, Sacred Paws, Current Affairs and Wet Dog. They pull from a well of 70's post-punk with a voraciousness seldom seen these days, bringing to mind the jagged aggression of Gang of Four, the voracious yelp of The Slits and the dance inducing thrust of Delta 5 . Their debut LP 'Consumer Complaints' was released November 2013 in the UK via MILK records and quickly sold out its first pressing. A US re-issue of 'Consumer Complaints' came out in 2015 via Fat Cat records, followed up by their excellent second album 'Why Choose?'. 'The Official Body' followed in 2017, produced by Edwyn Collins and meeting with reviews proclaiming it as exhilarating as it was mesmerising! Now Shopping return on Feb 7th with their new record 'All Or Nothing'.
Written across an intense 10-day period back in February, with sessions spent in London and Glasgow. The songs that emerged are some of Shopping's boldest yet: confident, elastic, streamlined grooves that crackle with energy and intention. Uniting these ten new songs is an expression of tenacity: commitment, leaps of faith and tests of courage. Four albums in, Shopping are as committed and focused as ever, regardless of any distance. As critics have noted, the trio's vision - groove-centered; deeply queer; political by default - place them in a radical lineage of dance, a continuum connecting disco and post-punk to Chicago house and EDM. That spirit of liberation through rhythm is very much present on 'All Or Nothing', says Aggs. "We found ourselves singing about being true to yourself, in an often binary and belligerent digital age, and reclaiming agency when it feels like our personal freedom and privacy is constantly eroding." In an era dominated by spin and surveillance, 'All Or Nothing' invites us to remember what really moves us, in dance and in life.

FUZZ
(Charles Moothart, Ty Segall, Chad Ubovich)
Friday 18 March 2022
This show is rescheduled from July 22nd 2020 & March 31st 2021, original tickets valid, refunds available too Electric Ballroom
184 Camden High St, Camden Town, London, NW1 8QP | Map
6pm-9.45pm | £17.50 | Buy tickets
FUZZ are back! Ty Segall, Charles Moothart and Chad Ubovich's electrifying trio return to London next spring! Fuzz have released three studio albums to date on In The Red, their self-titled release debuting back in 2013, and the more heavy metal influenced II & III dropping in 2015 & 2020 respectively. Moothart and Segall originally formed the group, as Moothart was a touring member and guitarist for the Ty Segall backing band, and later became the drummer of Segall's current touring group. The aim with FUZZ was to take the essential ingredients of the "rock and roll power trio" and put them right out on the chopping block. New album 'III' is a much more honest approach for FUZZ: just three humans getting primitive, staying primitive. The goal was never to reinvent the wheel. Sometimes it's just about seeing how long you can hold on before you're thrown off. It's heavy, chaotically controlled, softly serpentine, and blindingly barbaric. To translate the auditory from ethereal to saliva soaked semantics is to shatter a promise as it's made. In the meantime, Ty, Charles, and Chad walk on. It is what it is.
Presented in collaboration with Parrallel Lines FUTURE ISLANDS SPECIAL GUESTS Friday 25 March 2022 Alexandra Palace
Alexandra Palace Way, London, N22 7AY | Map
6.30pm | £30.00 | Buy tickets
FUTURE ISLANDS are a band whose brilliance was always hiding in plain sight. One viral moment might have catapulted them to worldwide recognition, but they were just doing what they always did – pouring their heart and soul into every moment, and channelling art's great power to spread love and hope. It was, quite simply, who they are. Long, hard years on the road, and the sense of constantly traveling away from something, have shaped the band many ways, both spiritually and physically. Always leaving, never arriving, the horizon an impossible destination to be chased but never caught. Future Islands' new album As Long As You Are is out now on 4AD. This show is the long-awaited return of the band back to London since their run of sold out shows at Brixton Academy back in 2017. This is a 14+ show, under 16's to be accompanied by an adult over the age of 21.

KRISTIN HERSH (Electric Trio)
FRED ABONG
Thursday 21 April 2022
The Garage
20-22 Highbury Corner, Islington, London, N5 1RD | Map
7.30pm | £25.00 | Buy tickets
KRISTIN HERSH, most recognised as the front person for the influential art-punk band Throwing Muses and power trio 50FOOTWAVE, will be touring the UK in Spring 2019 with Rob Ahlers (50 Foot Wave) on drums and Fred Abong (Throwing Muses, Belly) on bass. Throwing Muses first gained traction in the early '80s, playing with similarly singular artists, such as The Pixies and Dinosaur Jr. They continue to release ground-breaking music, most recently with 2013's double CD masterpiece 'Purgatory/Paradise'. Kristin's solo career spun off in 1994 with the release of 'Hips and Makers', a widely acclaimed album that included 'Your Ghost', a duet with R.E.M.'s Michael Stipe. Since then, Kristin has released a steady stream of distinctly individual solo albums, including 2010's 'Crooked', released as her first in the inventive book/CD format for which she is now known.
2016's 'Wyatt at the Coyote Palace', on which Kristin played all of the instruments, received rave reviews; an explosive defined by blistering guitars, powerful drumming and her signature visceral vocal technique. Her poignant true stories bring the listener into what the BBC calls Hersh's "dark and dizzy world". In 2004, Kristin formed the noise rock power trio 50FOOTWAVE, releasing a series of frighteningly intense mini-albums, all available for download free of charge. Their most recent 'Bath White' EP was described as "a series of loud explosions, of velvet like dreams all intermingled at the same time. Bath White takes no prisoners." Kristin's writing career has flourished with the highly acclaimed 'Paradoxical Undressing' (released as 'Rat Girl' in the USA) and the award winning 'Don't Suck, Don't Die', a personal account of her long friendship with the late Vic Chesnutt, as well as the enchanting books which now accompany each of her record releases. Kristin's tenth studio album, 'Possible Dust Clouds' was a highly personalised sociopathic gem delivered as a futuristic rewriting of how music works, a melodious breeze with a tail wind of venomous din. Enveloping the juxtaposition of the concept of 'dark sunshine', a brooding solo record created with friends to expand her off-kilter sonic vision; a squally, squeaky mix of discordant beauty. 'Possible Dust Clouds' is a glorious return to form for one of alternative rock's true innovators.
FRED ABONG will be supporting Kristin on her current UK tour dates. Fred is a friend of Kristin's and former Throwing Muses and Belly bass player. Fred will be touring his new solo acoustic EP, described by himself as sounding like a "ragged Replacements".

JAKE XERXES FUSSELL
Saturday 7 May
This show is rescheduled from May 12th & Sep 8th 2020 & May 7th 2021 at The Lexington, and September 1st at OSLO Hackney, original tickets valid, refunds available too. OSLO Hackney
1A Amhurst Rd, Hackney Central, London, E8 1LL | Map
6.30pm - 10pm | £9.00 | Buy tickets
JAKE XERXES FUSSELL is a singer and guitarist from Durham, North Carolina. Jake's 2015 self-titled debut record, produced by and featuring William Tyler, transmutes ten arcane folk and blues tunes into vibey cosmic laments and crooked riverine rambles. Collaborating with Tyler and engineer Mark Nevers in Nashville was a conscious decision to depart cloistered trad scenes and sonics for broader, more oblique horizons. In 2017 Fussell followed his debut with a moving new album of Natural Questions in the form of transmogrified folk/blues koans. This time these radiant ancient tunes tone several shades darker while amplifying their absurdist humour, illuminating our national, and psychic, predicaments. What in the Natural World features art by iconic painter Roger Brown and contributions from three notable Nathans: Nathan Bowles (Steve Gunn), Nathan Salsburg (Alan Lomax Archive), and Nathan Golub (Mountain Goats). On his most recent album for Paradise Of Bachelors 'Out of Sight', his most finely wrought album yet, Fussell ushers up an utterly transporting selection of traditional narrative folksongs addressing the troubles and delights of love, work, and wine (i.e., the things that matter), collected from a myriad of obscure sources and deftly metamorphosed, Out of Sight contains, among other moving curiosities, a fishmonger's cry that sounds like an astral lament; a cotton mill tune that humorously explores the unknown terrain of death and memory; and a shanty/gospel song equally concerned with terrestrial boozing and heavenly transcendence. Always compelling and deftly impressive, Jake's live shows have become must attend events, so its with great honour that we welcome him back this September to London.