NEWS
BERTIE MARSHALL - 'EXHIBIT'
28 July 2021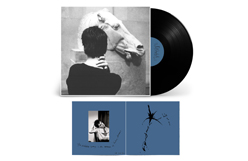 Make an exhibition of yourself! Bertie Marshall is best known as a punk memoirist, his book 'Berlin Bromley' is celebrated as an insider's take on the lurid origins of punk. Bertie wasn't just a face on the scene though, he also made music. Uncanny, mesmerising, affirming music!
From 1980-83, Bertie was the frontman for post-punk boundary-pushers Behaviour Red - they released one single, did a mini-tour and promptly broke up. Their sound was characterised by experimentation and drama, boasting at times tribal drumming, searing vocals, dazed guitars and feedback. Bertie continued sketching out atmospheric compositions afterwards too, walking a tightrope between bewildered pop and gothic folk. Central to everything is Bertie's commanding voice; heartfelt, at times strident, always truthful.
This Halloween, Upset The Rhythm will release the fruits of Bertie Marshall's resolute labour. Entitled 'Exhibit', this debut album gathers Bertie's exuberant songs together for the first time. 'Exhibit' will be released on limited 180g black vinyl, CD and digitally too. Today we're releasing the single 'Shaking Johnny' to whet your appetite!
RATTLE - PERFECT SOUNDS
23 July 2021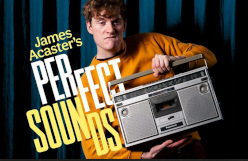 James Acaster invited Isy Suttie onto his Perfect Sounds show to discuss Rattle's "totally engulfing" debut album 'Rattle'. Find out how "drumming is like snowboarding" and how Rattle made a "refreshing change" of an album by "serving their songs first by using percussion as a voice". Total proof that 2016 was the greatest year for music ever!
VAGUE ENOUGH TO SATISFY
21 July 2021
Send those parcels flying! Today we're sharing the exciting news that Philip Frobos will release his debut solo album 'Vague Enough to Satisfy' with Upset The Rhythm on October 1st. This exquisite, lounge-inspired punk album acts as an original soundtrack to his debut novel of the same name (published by Hex Enduction Books).
'No Packages Today' is the sprightly first single from the album, proceeding with a hooky bassline, the cryptic sort that Frobos is known for as a member of Atlanta post-punks Omni. Sounding like the Au Pairs and Suicide refining an obsession with Bowie's 'Lodger', Frobos opines "I'm afraid that you need more than I can offer", bedecked by shuffling beats and burgeoning waves of saxophone. Here's the full video, we promise to treat all pre-orders (including those bundled with the book) a lot better than Philip would seemingly!
'Vague Enough to Satisfy' is available or order now from our webshop.
DARK WORLD COMING!
13 July 2021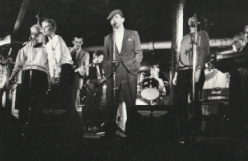 Best news! This September we're releasing 'Dark World' by Normil Hawaiians, a compilation documenting the group's formative years of 79-81. Covering acres of ground from peppy post-punk origins into the progressively wayward, dubbier territories, 'Dark World' gathers the group's energetic 7" singles on Dining Out and Illuminated Records, their metamorphic 'Gala Failed' EP (Red Rhino) and a lively last-minute Peel session from 1980, alongside outtakes, rarities and demos.
'Dark World' is a snapshot of Normil Hawaiians in flux, finding their feet, stretching their limbs. These 22 tracks display all the glittering debris from their magpie's nest of sound. Emergent, hopeful and resistant in both music and ethic.
Upset The Rhythm will release 'Dark World' on LP, CD and digitally on September 24th. It is available to pre-order in our webshop as of… now!
NEW UTR SHIRT & BADGES
12 July 2021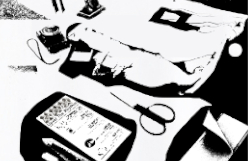 Our brand new 'Tools of the Trade' Upset The Rhythm t-shirt and 'Foggy eye / Foggy moon' badges are now available to purchase in our webshop, oooooooh!
LATEST RELEASES MIXTAPE
LINKS
UPCOMING SHOWS

JAKE XERXES FUSSELL
Wednesday 1 September
This show is rescheduled from May 12th & Sep 8th 2020 & May 7th 2021 at The Lexington, original tickets valid, refunds available too. OSLO Hackney
1A Amhurst Rd, Hackney Central, London, E8 1LL | Map
7.30pm - 11pm | £9.00 | Buy tickets
JAKE XERXES FUSSELL is a singer and guitarist from Durham, North Carolina. Jake's 2015 self-titled debut record, produced by and featuring William Tyler, transmutes ten arcane folk and blues tunes into vibey cosmic laments and crooked riverine rambles. Collaborating with Tyler and engineer Mark Nevers in Nashville was a conscious decision to depart cloistered trad scenes and sonics for broader, more oblique horizons. In 2017 Fussell followed his debut with a moving new album of Natural Questions in the form of transmogrified folk/blues koans. This time these radiant ancient tunes tone several shades darker while amplifying their absurdist humour, illuminating our national, and psychic, predicaments. What in the Natural World features art by iconic painter Roger Brown and contributions from three notable Nathans: Nathan Bowles (Steve Gunn), Nathan Salsburg (Alan Lomax Archive), and Nathan Golub (Mountain Goats). On his most recent album for Paradise Of Bachelors 'Out of Sight', his most finely wrought album yet, Fussell ushers up an utterly transporting selection of traditional narrative folksongs addressing the troubles and delights of love, work, and wine (i.e., the things that matter), collected from a myriad of obscure sources and deftly metamorphosed, Out of Sight contains, among other moving curiosities, a fishmonger's cry that sounds like an astral lament; a cotton mill tune that humorously explores the unknown terrain of death and memory; and a shanty/gospel song equally concerned with terrestrial boozing and heavenly transcendence. Always compelling and deftly impressive, Jake's live shows have become must attend events, so its with great honour that we welcome him back this September to London.

TRASH KIT
ES
NO HOME
Thursday 2 September
100 Club
100 Oxford St, Oxford Street, London, W1D 1LL | Map
7.30pm | £12.00 | Buy tickets
TRASH KIT are Rachel Aggs (guitar, vocals), Rachel Horwood (drums, vocals) and Gill Partington (bass). Three deeply creative individuals who play in a multitude of other groups including Bas Jan, Sacred Paws, Shopping and Bamboo, united by a shared decade of spry musicality that surges through their bodies, hearts and heads with Trash Kit. Their songs once succinct, patchwork post-punk numbers of an honest diary-like nature now tussle more with long-form songwriting, expeditious polyphony and cascades of sung-spoke vocals. Recent tracks like 'Disco' have had their very fabric stretched into smart new shapes, allowing the band to run away with refrains and unlock the dancefloor. Although Trash Kit have their forebears in bands like Sleater Kinney, The Ex and The Raincoats, their sound is still very much their own take on facing forwards and relies as much on the naturalism of an internalised folk music as on their sincerity of vision.
Since forming in 2009, Trash Kit have released two albums for Upset The Rhythm and a selection of singles, 2019 however saw them make their most majestic move yet with their resoundingly huge 'Horizon' album. For this album, carefully crafted through years of playing out live, the band have chased down the distance between what they wanted the record to sound like and its realisation. They've augmented these songs with choral arrangements, piano, saxophone, harp, viola and cello. Pulling ideas from everywhere between the earth and sky, to push themselves further, to go beyond. Aggs' guitar playing for this album was informed by her love of guitar music from Zimbabwe, her cyclical motifs billow with lean Mbira rhythms. Horwood has similarly approached her drumkit with an untamable freedom, allowing it to breathe as a vivid lead instrument. Trash Kit's music is woven with silence and punctuation, and this is where the resonant, driving bass of Partington fits in. The bass has become now central to shaping the melody of this new collection of songs. Trash Kit's approach to life as with music is one of openness, inclusion and potential and Horizon is an album with that in dutiful abundance. It is an album that forever listens for the next moment and will meet you once more at the vanishing point.
ES is Maria Cecilia Tedemalm (vocals), Katy Cotterell (bass), Tamsin M. Leach (drums) and Flora Watters (keyboards). Their 2016 debut EP, Object Relations, released on influential London punk label La Vida Es Un Mus, was described as "mutant synth-punk for our dystopian present" (Jess Skolnik, Bandcamp, Pitchfork). The band has since become a vital presence in London's underground DIY music scene, as well as having toured the UK with the Thurston Moore Group in 2017. 'Less of Everything'. The title of Es' first full length LP could be interpreted as a manifesto pledge, an outright demand or a purely literal sonic descriptor of the London quartet's glacial form of punk rock music. This tension between intent and interpretation has been a fundamental element of the group's output from their formation. The dynamic between Cotterell's bass and Watters' keyboard is at the heart of Es' sound: intertwining sub-zero melodies, gothic anarcho-punk influences and some kind of entirely unlocatable aquatic component. When combined with Leach's precise drumming, the outcome is original and immediately recognisable. This provides the perfect backdrop for Tedemalm's relentless, pointed vocal style. While comparable 'cold' sounding groups might affect an impersonal, safer mode of lyrical or vocal detachment, Tedemalm's strategy is to "push the lyrics as far as I can thematically until they become absurd … overly dramatic ... while still being sincere in the feeling they're trying to invoke. 'Less of Everything' was released last year by Upset The Rhythm.
NO HOME is the lo-fi rock solo project of Charlotte Valentine, who fuses the grunge and ambient songs of early 00s new york rock, with an urgent, captivating call to self preservation. Having enthralled audiences at Decolonise Fest and support slots with Downtown Boys, Moor Mother and Big Joanie, No Home's recordings are full of unease and disorientation, modal melodies interwoven with rolling rhythmic noise. Valentine's powerful voice and experimental song structures dilate and expand time, pushing against the boundaries of genre and resisting enclosure. Surviving under capitalism is a drag—it's the oldest story in rock'n'roll—but No Home captures the weight of its dehumanization in a uniquely visceral way.

GAD WHIP
FATHERFIGURES
SEAN SMITH (DJ)
Friday 15 October
PinUps
1 Tolpuddle Street, Angel, London, N1 0XT | Map
7.30pm | £7.00 | Buy tickets
GAD WHIP formed in 2014 and blend avant-garde sensibilities with a contemporary take on the place where DIY culture meets post-punk. Hints of deconstructed garage rock and interstellar voyaging through sweat drenched waking dreams. Immediate, powerful, confounding and kept in place by wry, sometimes observational, semi-spoken vocals. This is music primed perfect for any 21st century meltdown in a suburban sprawl. Their music has been released by a range of labels, from NYC's Ever/Never Records, Germany's X-Mist Records, Canada's Arachnidiscs Recordings and UK/Poland based Fourth Dimension Records.
FATHERFIGURES released their debut album 'Any Time Now... And High Time Too' in spring 2021. What do they sound like? Post-punk; exhaust fumes seeping from a neighbour's garage after nightfall; the gnawing of unresolved disputes with real and imagined foes; the inner voices arguing amongst themselves until one walks off in disgust. That sort of thing.

NIGHTSHIFT
Friday 29 October
New River Studios
199 Eade Rd, Harringay, London, N4 1DN | Map
7.30pm | £7.00 | Buy tickets
NIGHTSHIFT formed in 2019 in the ecosystem of Glasgow's current indie scene. The city's fertile & creative group of musicians have been committed to pushing the boundaries of and blurring the lines between DIY, punk, experimentalism and indie pop for decades now. Nightshift fit right in, featuring members from current indie stalwarts Spinning Coin, 2 Ply and Robert Sotelo. The band was formed by David Campbell (guitar), Andrew Doig (bass), Eothen Stearn (keyboards/vocals) & Chris White (drums) as a "No Wave/No New York/early Sonic Youth/This Heat-esque" group, but their sound quickly evolved once guitarist/vocalist/clarinetist Georgia Harris joined (as the band was writing 'Zöe'). Nightshift self-released a full-length cassette on CUSP Recordings in early 2020, laying the foundation of their sound; hypnotic, melodic, understated indie post-punk with hooks that stick around long after you've heard them.
Unlike the band's previous album, the songs on 'Zöe' weren't conceived live in the band's practice space, but rather pieced together and recorded remotely during quarantine lockdown. The isolation actually allowed for an openness and creativity to flow and many of the songs took on radically different forms from when they were originally envisioned. Vocalist & primary lyricist Eothen Stearn says "The process of writing these songs separately during lockdown was a kind of exquisite corpse - I liked this gesticulation of reaching out to one another and responding. Building up the next layer and passing it on."Stearn says "poetic restraints" to writing & Eno & Schmidt's Oblique Strategies concepts were on their mind when composing the words to the songs, and highlights the influence of author Rosi Bradiotti's book 'The Posthuman'. 'Zöe' kicks off with 'Piece Together', a mesmeric song anchored by the band's chanted vocals and serpentine guitar licks. 'Spraypaint the Bridge' showcases Harris' clarinet in an unexpected & delightful melodic shift during the song's anti-chorus. Elsewhere tunes like the swooning 'Infinity Winner' and 'Outta Space's minimalist, slinky rhythm swirl in a late-night vibe, while 'Make Kin' ruminates on "Looking to kinship as a way of engaging with entangled environmental and reproductive issues... how a band is a bond" and lurches forward with kinetic guitar strangling & staccato rhythmic percussion from White & Doig. 'Power Cut' is the album's centerpiece, luring the listener into involuntary movement with its waves of harmonies, synth drones and metronomic pulse, until they all come crashing down in the song's dissonant midsection.
The band acknowledges the whiffs of nostalgia prevalent in 'Zöe's songs, and the nature of writing & recording the album is soaked in the self-work, reflection & reevaluations involved not only personally but creatively in each member's lives. Consequently, 'Zöe' has become a collection of sketches of hope, growth, awareness of the power of the world & the power of self and possibility.

BERTIE MARSHALL - 'Exhibit' album launch
Saturday 30 October
Cafe OTO
18-22 Ashwin St, Dalston, London, E8 3DL | Map
7.30pm | £10.00 | Buy tickets
BERTIE MARSHALL is a writer/ performer. He is also an acclaimed memoirist, most well known for his book 'Berlin Bromley' (2006) about his transformation from Bertie, an anxious, androgynous, depressed teenager, into Berlin, a teenager who would reject suburban values and become a founding member of punk's "Bromley Contingent", alongside Siouxsie Sioux, Steven Severin, and Billy Idol. He's currently working on 'Looking: Backwards To Go Forwards', picking up from where 'Berlin Bromley' left off. His other books include the debut novel 'Psychoboys' (1997), 'Nowhere Slow' (2014), 'From Sleepwalking to Sleepwalking' (2016), 'Wild - re write' (2017), 'The Peeler' (2018) and 'Pete's Underpants' (2019). In 2015 the British Library purchased his writing archive.
From 1980-83, Bertie was the frontman for post-punk boundary-pushers Behaviour Red - they released one single (favourably played by John Peel), did a mini-tour and broke up. At various times Behaviour Red featured Noel Blanden of Normil Hawaiians and fine artist Nicola Tyson. Their sound was characterised by looseness and freedom, boasting at times tribal drumming, streams of vocals, dazed guitars and feedback. Bertie continued sketching out atmospheric compositions afterwards too, walking a tightrope between bewildered pop and gothic folk. Central to everything is Bertie's commanding voice; heartfelt, impassioned and masterfully leading you through the story.
Bertie became interested in spoken word and performance poetry in the 90s, which then led him into writing and performing in his own plays and devised theatre pieces. He did regular readings and performances in NYC and began writing books inspired by the visceral talents of Acker & Burroughs. Having lived in Berlin, San Francisco, and Brittany, Bertie now lives in London. October 29th sees Upset The Rhythm release 'Exhibit' by Bertie Marshall, collecting for the first time his songs and spoken word tracks from this fertile period of the 80s-90s. This show will be its timely album launch featuring Bertie reunited with many original musical collaborators.

BUFFET LUNCH
ME LOST ME
SHAKE CHAIN
Saturday 6 November
Cafe OTO
18-22 Ashwin St, Dalston, London, E8 3DL | Map
7.30pm | £7.00 | Buy tickets
BUFFET LUNCH are a Scottish group who make it their mission to craft satisfyingly imperfect pop songs filled with imagery and humour. The group's elementary parts are Perry O'Bray (Vocals/Keys/Guitar), Neil Robinson (Bass), John Muir (Lead Guitar) & Luke Moran (Drums), united by a shared love of music on the ABBA-to-Beefheart axis. These four ricochet between Glasgow and Edinburgh, creating music that bristles with DIY spirit and upbeat wonkiness. Their tracks are vigorous excursions, meandering into clattersome terrain as often as hiking up into the breezy, melodious foothills. The desire to lead the listener along a curious tale helps tie things together, showcasing a lyrical playfulness that pins down their puzzle of sound. Following on from their excellent 'The Power of Rocks' album (Upset The Rhythm), the band return this November with a vigorous new 7" EP featuring the tracks 'Mild Weather' and 'Cheeks'.
ME LOST ME is the electronic music project of Newcastle based musician Jayne Dent. Described by BBC Radio 6's Tom Robinson as a "brilliant peculiar noise", Me Lost Me delights in experimenting with genre, taking influence from folk, electronica, art pop, ambient and noise music to create a beguiling mix of soaring vocals, synth, field recordings and hypnotic rhythms. Her live shows are atmospheric, dark and playful, with a repertoire that explores storytelling through original songs, improvisations and reworkings of traditional ballads. She recently released her second album 'The Good Noise', out November 2020, was described as 'stunning' and 'remarkable' by NARC Magazine demonstrates a maturing of her sound and a deepening of her exploration of site and experiments with genre.
SHAKE CHAIN are a 4-piece experimental group formed of Artists Kate Mahony (Vocals), Jenna Finch (Drums), Robert Eyres (Guitar/Synth) and Chris Hopkins (Bass Synth) hailing from Goldsmiths College, Nottingham Trent and Wimbledon, University of the Arts. Formed through a love of thought-provoking performance art and a yearning for disruption, they recorded their debut EP 'Neil Yonge and Bob Doylan Live at Hyde Park' in 2019 with sound artist David Carugo at Oxford Brookes University, released by Permanent Slump. Shake Chain provide a fusion of post-punk experimental sampled noise grooves and chaotic lamenting on the current state of things.
PAN AMERICAN
Tuesday 9 November
This show is rescheduled from April 21st & August 10th 2020 & February 17th 2021 original tickets valid, refunds available too. Cafe OTO
18-22 Ashwin St, Dalston, London, E8 3DL | Map
7.30pm | £10.00 | Buy tickets
PAN AMERICAN began during the summer of 1997, when Mark Nelson, guitar player and singer of the legendary Labradford, wanted to explore the possibilities of sampling and computer technology as well as his interests in dub and techno. Mark started recording a full-length album for Kranky at home and at Sound of Music Studios in Richmond, Virginia. The self-titled, debut Pan American album came out on Kranky in early 1998. Nelson continued to work on Pan American material as he worked with Labradford, learning to play pedal steel guitar, releasing singles on European labels and getting some studio time in with engineer Casey Rice. Rob Mazurek from Chicago Underground Trio and Alan Sparhawk and Mimi Parker of Low contributed cornet and vocals, respectively. The resulting album, 360 Business / 360 Bypass, was released by Kranky in North America (and Blast First in Europe) in early 2000.
More singles and album followed, along with the occasional live performance. Nelson's placement behind a synthesizer and mixing desk belied the improvisational nature of the live mix. Between sternum-rattling bass rhythms and Nelson's willingness to challenge an audience of with outbursts of static, Pan American shows were more than the usual knob-twiddling and smooth noodle maps, traded dub undertow for percussive points, field recordings and an ominous drone.
Nelson's latest offering as Pan American, 'A Son' (Kranky 2019), is a return his musical and spiritual beginnings. Spare, subdued, and largely acoustic, A Son unfurls like late summer dusk on the edge of town, expansive but intimate. Motivated by notions of "moving backward" and tracing roots - as well as a couple years of hammered dulcimer lessons - the album's nine songs were written and recorded in his home in Evanston, Illinois, and honed during a solo tour in Europe in 2018. The emphasis on uncluttered arrangements and the centrality of the guitar and vocals reveal these songs as the most direct and emotional statement of his career. Nelson cites everything from June Tabor, The Carter Family, Suicide, and Jimmy Reed as oblique inspirations, though his truest muse was creative self-inquiry: "What does music do, Where does music start? How simple can it be? How honest can it be?"

OLD TIME RELIJUN
Thursday 11 November
PinUps
1 Tolpuddle Street, Angel, London, N1 0XT | Map
7.30pm | £8.50 | Buy tickets
OLD TIME RELIJUN are the rarest breed of band. Insatiable, living raw, always on the margins and consistent as hell. You know what to expect and yet never have any clue what's going to come next. Old Time Relijun give sweaty, compulsively danceable performances that never fail to inflame their audience. Their loose swagger belies years of practice, fastidious arrangements and gut-level understanding of how music hits you. Old Time Relijun was born on January 1st, 1995 in a dark and moldy basement in Olympia, Washington. The band stole some popcorn bags, talked a friend out of his inheritance and self-released "Songbook Vol. I" in 1997. They then began their long association with Calvin Johnson's K Records. Between 1999 and 2007, Old Time Relijun toured like monsters, averaging 150 shows a year in the U.S. and Europe, releasing 'Uterus and Fire', 'La Sirena De Pecera', 'Witchcraft Rebellion', 'Lost Light', '2012' and 'Catharsis in Crisis'. The last three albums are known collectively as "The Lost Light Trilogy;" a conceptual triptych integrating poetry, painting, and myth through multiple lyrical and musical threads. The band toured through 2008 and then quietly parted ways. 2021 reunites Old Time Relijun with newfound level of passionate indignation and a deeper musical vocabulary. The classic lineup featuring bandleader Arrington de Dionyso and Aaron Hartman (upright bass), joined by drummer Amanda Spring are primed to return to Europe. Old Time Relijun continue to make music for the revolution from a restless energy that has never settled down.

THE MICROPHONES
Tuesday 16 November
EartH Theatre
11-17 Stoke Newington Rd, Dalston, London, N16 8BH | Map
6pm-10pm | £17.00 | Buy tickets
THE MICROPHONES are planning to play a few shows in Europe in November 2021. This will be the first tour by "the Microphones" in 18 years, but as listeners to our last record (Microphones In 2020) will have hopefully heard, that distinction doesn't mean much. This has always been a project steering toward present-moment raw wound engagement, disappointing the nostalgics, splashing into the unfamiliar. It's not a reunion (nothing to reunite) and it's not commemorative. It's a living thing. We're playing our one long song, F#m and D for a super long time, and inviting everyone to come get thumped by it. Who knows what else will happen?
Phil Elverum is an artist and human being from the Pacific Northwest town of Anacortes. His recordings, released variously as The Microphones and Mount Eerie, represent just a portion of his artistic output, which has ranged from running a label and co-organizing festivals to self-publishing books, photography, and painting. But it is for his stunningly original music that he is known best, from the earliest tape experiments of the '90s to the immersive sound-diary of Microphones in 2020. Elverum has never shied from exploring the high mountain passes, finding new ways to sculpt with sound, and trying to communicate the momentary experience of being human as clearly as the water from freshly melted snow.

BRIGID MAE POWER (full band show)
Tuesday 23 November
This show is rescheduled from June 10th & Sept 15th 2020 & April 22nd 2021, original tickets valid, refunds available too. The Lexington
96-98 Pentonville Rd, Angel, London, N1 9JB | Map
7.30pm | £10.00 | Buy tickets
BRIGID MAE POWER paints expansive songs that are effortless, hypnotic and folk-oriented like Judee Sill, Bill Callahan and Sharon Van Etten. The third album from the celebrated singer/songwriter, 'Head Above The Water' is a coming of age opus featuring a ground-breaking amalgamation of traditional folk and country - an engaging blend of strings, bouzouki, piano and Power's distinctive vocal make this an achingly beautiful body of work. Recorded in analogue studio The Green Door in Glasgow with Alasdair Roberts co-producing alongside Brigid and Peter Broderick. It's a continuing tale of everyday survival; more diverse, different, a bigger canvas, with broader brushstrokes. Country and traditional folk rub shoulders, making for a juxtaposition of threads, with added instrumentation from five musicians lured into the studio to provide larger dynamics. After two lauded albums for Tompkins Square, Brigid Mae Power releases her new album on 5th June via Fire Records.

SHOPPING
Monday 14 February 2022
This show is rescheduled from May 5th & Sep 2nd 2020 & May 5th 2021, original tickets valid. The Lexington
96-98 Pentonville Rd, Angel, London, N1 9JB | Map
7.30pm | £10.00 | Buy tickets
SHOPPING are propulsive bass lines, primitive disco-not-disco drums and guitar lines sharp as broken glass. The band was formed in 2012 by members Rachel Aggs (guitar), Billy Easter (bass) and Andrew Milk (drums), who've all done time in a plethora of notable UK DIY bands including Trash Kit, Sacred Paws, Current Affairs and Wet Dog. They pull from a well of 70's post-punk with a voraciousness seldom seen these days, bringing to mind the jagged aggression of Gang of Four, the voracious yelp of The Slits and the dance inducing thrust of Delta 5 . Their debut LP 'Consumer Complaints' was released November 2013 in the UK via MILK records and quickly sold out its first pressing. A US re-issue of 'Consumer Complaints' came out in 2015 via Fat Cat records, followed up by their excellent second album 'Why Choose?'. 'The Official Body' followed in 2017, produced by Edwyn Collins and meeting with reviews proclaiming it as exhilarating as it was mesmerising! Now Shopping return on Feb 7th with their new record 'All Or Nothing'.
Written across an intense 10-day period back in February, with sessions spent in London and Glasgow. The songs that emerged are some of Shopping's boldest yet: confident, elastic, streamlined grooves that crackle with energy and intention. Uniting these ten new songs is an expression of tenacity: commitment, leaps of faith and tests of courage. Four albums in, Shopping are as committed and focused as ever, regardless of any distance. As critics have noted, the trio's vision - groove-centered; deeply queer; political by default - place them in a radical lineage of dance, a continuum connecting disco and post-punk to Chicago house and EDM. That spirit of liberation through rhythm is very much present on 'All Or Nothing', says Aggs. "We found ourselves singing about being true to yourself, in an often binary and belligerent digital age, and reclaiming agency when it feels like our personal freedom and privacy is constantly eroding." In an era dominated by spin and surveillance, 'All Or Nothing' invites us to remember what really moves us, in dance and in life.

FUZZ
(Charles Moothart, Ty Segall, Chad Ubovich)
Friday 18 March 2022
This show is rescheduled from July 22nd 2020 & March 31st 2021, original tickets valid, refunds available too Electric Ballroom
184 Camden High St, Camden Town, London, NW1 8QP | Map
6pm-9.45pm | £17.50 | Buy tickets
FUZZ are back! Ty Segall, Charles Moothart and Chad Ubovich's electrifying trio return to London next spring! Fuzz have released three studio albums to date on In The Red, their self-titled release debuting back in 2013, and the more heavy metal influenced II & III dropping in 2015 & 2020 respectively. Moothart and Segall originally formed the group, as Moothart was a touring member and guitarist for the Ty Segall backing band, and later became the drummer of Segall's current touring group. The aim with FUZZ was to take the essential ingredients of the "rock and roll power trio" and put them right out on the chopping block. New album 'III' is a much more honest approach for FUZZ: just three humans getting primitive, staying primitive. The goal was never to reinvent the wheel. Sometimes it's just about seeing how long you can hold on before you're thrown off. It's heavy, chaotically controlled, softly serpentine, and blindingly barbaric. To translate the auditory from ethereal to saliva soaked semantics is to shatter a promise as it's made. In the meantime, Ty, Charles, and Chad walk on. It is what it is.
Presented in collaboration with Parrallel Lines FUTURE ISLANDS SPECIAL GUESTS Friday 25 March 2022 Alexandra Palace
Alexandra Palace Way, London, N22 7AY | Map
6.30pm | £30.00 | Buy tickets
FUTURE ISLANDS are a band whose brilliance was always hiding in plain sight. One viral moment might have catapulted them to worldwide recognition, but they were just doing what they always did – pouring their heart and soul into every moment, and channelling art's great power to spread love and hope. It was, quite simply, who they are. Long, hard years on the road, and the sense of constantly traveling away from something, have shaped the band many ways, both spiritually and physically. Always leaving, never arriving, the horizon an impossible destination to be chased but never caught. Future Islands' new album As Long As You Are is out now on 4AD. This show is the long-awaited return of the band back to London since their run of sold out shows at Brixton Academy back in 2017. This is a 14+ show, under 16's to be accompanied by an adult over the age of 21.