NEWS
RELEASING THE POWER OF ROCKS
7 May 2021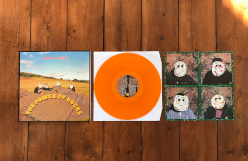 Did you know there are eleven differently flavoured songs to choose from the Buffet Lunch? Blow the dust off that large plate and form an orderly queue because the Scots magpie-minded post-punks release their debut album on Upset The Rhythm today! Buffet Lunch line their nests with only the finest skittish riffage, poignant tangents and leaping absurdity. 'The Power of Rocks' is the glorious upshot, a goliath of wonky pop, frolicking in the melodic landslide of our dormant cerebella.
Available now on orange vinyl and digitally, 'The Power of Rocks' brims with nervy energy throughout its peculiar patchwork. These songs are gleefully led by a giddy compass but they also own their fair share of emotional heft at times too. 'The Power of Rocks' can be found looming in all the best record shops now and also in our very own webshop here.
DISCO SEAWEED
20 April 2020
Buffet Lunch unveil their new video for 'Bladderwrack', swimming and singing among the seaweed lapping the casio coast! Premiered today kindly by the brilliant Beats Per Minute. 'Bladderwrack' appears on Buffet Lunch's imminent debut album 'The Power of Rocks', out May 7th.
BERNIE SAID LISTEN!
26 March 2020
Listen to me, listen to me! Buffet Lunch return with another new single from their forthcoming 'The Power of Rocks' album, here's 'Said Bernie' premiered today on the excellent Ears To Feed!
GET YOUR MOVE ON!
24 March 2020
We're releasing a new 7" EP by Glasgow group Kaputt this May! High-tempo, bright, danceable pop hooks and technical, polyphonic rhythms abound. 'Movement Now' is available now on all streaming platforms and captured wondrously in this eye-popping video by Tash Lizak!
BEHAVIOUR RED
22 March 2021
Joy of joys! Happy to declare Upset The Rhythm will be working with the inimitable Bertie Marshall on a compilation later this autumn entitled 'Exhibit'. This will gather together the jewels & gems of his Behaviour Red project over the years. A brand new interview with Bertie just appeared in GQ mentioning the release and his forthcoming memoir too .
I'D PEBBLEDASH THAT!
3 March 2021
Get ready to dance to your favourite derogatory demographics! Here's Buffet Lunch's befuddlingly brilliant video for 'Pebbledash', out now digitally and taken from their scorching debut album 'The Power of Rocks', released May 7th through Upset The Rhythm.
THE POWER OF ROCKS
27 January 2020
Power up! Our first new release of 2021 will be a debut album of odd-pop from Scottish group Buffet Lunch! Punchy, often thoughtful and pleasingly surreal at times 'The Power of Rocks' is an album filled with imagery and humour, packed with zestful tunes and lyrical weight too. Buffet Lunch's songs are vigorous excursions, meandering into clattersome terrain as often as hiking up into the breezy, melodious foothills. The desire to lead the listener along on a curious tale helps tie things together. This is a debut LP of wide-ranging and personal themes, from irritation with out of touch politicians, to love letters to seaside living, to even the frailty and confusion of old age. No stone left unturned, if you pardon the pun. 'Red Apple Happiness' is the first single taken from the album, it's befuddlingly magnificent video (made by Iain McCall) just premiered on For The Rabbits.
'The Power of Rocks' is available to pre-order now through our online shop on limited 180g orange vinyl!
LATEST RELEASES MIXTAPE
LINKS
UPCOMING SHOWS

SOFIA PORTANET
Friday 5 March (POSTPONED - new date TBC)
PinUps
1 Tolpuddle Street, Angel, London, N1 0XT | Map
7.30pm | £8.50 | Buy tickets
SOFIA PORTANET works in a cool, measured fashion, allowing the Berlin-based pop auteur to sketch out a vivid, enticing sonic universe. Born on the 9th November 1989, Portanet entered the world as the wall was brought down - now she's kicking new walls and barriers by re-inventing Neue Deutsche Welle for a new generation. Singing in English, French and German, Portanet has been taking their sound international with performance in USA and Europe since signing to Berlin label Duchess Box Records. Since releasing her debut single in 2018, she has become one of the most interesting newcomer artists in Germany with praise garnered including "Best newcomer for 2019" from Klaus Fiehe and "Germany's next big international popstar" from Lauren Laverne. Brand new album 'Freier Geist' is a record that proudly wears its influences of German music from 70s and 80s with inspirations from Ingrid Caven, Hildegard Kneef, Ideal as well as international artist such as Yma Sumac and John Maus. The album was written by Sofia Portanet and her collaborating producer Steffen Kahles at their Berlin studio. Reminiscent of 'Heroes' era Bowie and Kate Bush, Portanet's music shines bright with an austere glamour.

FUZZ
(Charles Moothart, Ty Segall, Chad Ubovich)
Wednesday 31 March (POSTPONED - new date in 2022 TBC)
This show is rescheduled from July 22nd 2020, original tickets valid, refunds available too. Electric Ballroom
184 Camden High St, Camden Town, London, NW1 8QP | Map
7pm | £17.50 | Buy tickets
FUZZ are back! Ty Segall, Charles Moothart and Chad Ubovich's electrifying trio return to London this summer! Fuzz have released two studio albums to date on In The Red, their self-titled release debuting back in 2013, and the more heavy metal influenced II dropping in 2015. Moothart and Segall originally formed the group, as Moothart was a touring member and guitarist for the Ty Segall backing band, and later became the drummer of Segall's current touring group The Freedom Band. Regarding their sophomore album Ubovich stated in an interview with La Weekly: "We all kind of did something we've never done before, which was write together as a band. That was a first for all of us. Usually in our respective projects it's all about writing on our own, and that process. This time we tried something definitely new." Look out for a new release entitled this summer too! It will be heavy, chaotically controlled, softly serpentine, and blindingly barbaric. To translate the auditory from ethereal to saliva soaked semantics is to shatter a promise as it's made. In the meantime, Ty, Charles, and Chad walk on. It is what it is. Just like everything else.

JAKE XERXES FUSSELL
Wednesday 1 September
This show is rescheduled from May 12th & Sep 8th 2020 & May 7th 2021 at The Lexington, original tickets valid, refunds available too. OSLO Hackney
1A Amhurst Rd, Hackney Central, London, E8 1LL | Map
7.30pm - 11pm | £9.00 | Buy tickets
JAKE XERXES FUSSELL is a singer and guitarist from Durham, North Carolina. Jake's 2015 self-titled debut record, produced by and featuring William Tyler, transmutes ten arcane folk and blues tunes into vibey cosmic laments and crooked riverine rambles. Collaborating with Tyler and engineer Mark Nevers in Nashville was a conscious decision to depart cloistered trad scenes and sonics for broader, more oblique horizons. In 2017 Fussell followed his debut with a moving new album of Natural Questions in the form of transmogrified folk/blues koans. This time these radiant ancient tunes tone several shades darker while amplifying their absurdist humour, illuminating our national, and psychic, predicaments. What in the Natural World features art by iconic painter Roger Brown and contributions from three notable Nathans: Nathan Bowles (Steve Gunn), Nathan Salsburg (Alan Lomax Archive), and Nathan Golub (Mountain Goats). On his most recent album for Paradise Of Bachelors 'Out of Sight', his most finely wrought album yet, Fussell ushers up an utterly transporting selection of traditional narrative folksongs addressing the troubles and delights of love, work, and wine (i.e., the things that matter), collected from a myriad of obscure sources and deftly metamorphosed, Out of Sight contains, among other moving curiosities, a fishmonger's cry that sounds like an astral lament; a cotton mill tune that humorously explores the unknown terrain of death and memory; and a shanty/gospel song equally concerned with terrestrial boozing and heavenly transcendence. Always compelling and deftly impressive, Jake's live shows have become must attend events, so its with great honour that we welcome him back this May to London.
PAN AMERICAN
Tuesday 9 November
This show is rescheduled from April 21st & August 10th 2020 & February 17th 2021 original tickets valid, refunds available too. Cafe OTO
18-22 Ashwin St, Dalston, London, E8 3DL | Map
7.30pm | £10.00 | Buy tickets
PAN AMERICAN began during the summer of 1997, when Mark Nelson, guitar player and singer of the legendary Labradford, wanted to explore the possibilities of sampling and computer technology as well as his interests in dub and techno. Mark started recording a full-length album for Kranky at home and at Sound of Music Studios in Richmond, Virginia. The self-titled, debut Pan American album came out on Kranky in early 1998. Nelson continued to work on Pan American material as he worked with Labradford, learning to play pedal steel guitar, releasing singles on European labels and getting some studio time in with engineer Casey Rice. Rob Mazurek from Chicago Underground Trio and Alan Sparhawk and Mimi Parker of Low contributed cornet and vocals, respectively. The resulting album, 360 Business / 360 Bypass, was released by Kranky in North America (and Blast First in Europe) in early 2000.
More singles and album followed, along with the occasional live performance. Nelson's placement behind a synthesizer and mixing desk belied the improvisational nature of the live mix. Between sternum-rattling bass rhythms and Nelson's willingness to challenge an audience of with outbursts of static, Pan American shows were more than the usual knob-twiddling and smooth noodle maps, traded dub undertow for percussive points, field recordings and an ominous drone.
Nelson's latest offering as Pan American, 'A Son' (Kranky 2019), is a return his musical and spiritual beginnings. Spare, subdued, and largely acoustic, A Son unfurls like late summer dusk on the edge of town, expansive but intimate. Motivated by notions of "moving backward" and tracing roots - as well as a couple years of hammered dulcimer lessons - the album's nine songs were written and recorded in his home in Evanston, Illinois, and honed during a solo tour in Europe in 2018. The emphasis on uncluttered arrangements and the centrality of the guitar and vocals reveal these songs as the most direct and emotional statement of his career. Nelson cites everything from June Tabor, The Carter Family, Suicide, and Jimmy Reed as oblique inspirations, though his truest muse was creative self-inquiry: "What does music do, Where does music start? How simple can it be? How honest can it be?"

BRIGID MAE POWER (full band show)
Tuesday 23 November
This show is rescheduled from June 10th & Sept 15th 2020 & April 22nd 2021, original tickets valid, refunds available too. The Lexington
96-98 Pentonville Rd, Angel, London, N1 9JB | Map
7.30pm | £10.00 | Buy tickets
BRIGID MAE POWER paints expansive songs that are effortless, hypnotic and folk-oriented like Judee Sill, Bill Callahan and Sharon Van Etten. The third album from the celebrated singer/songwriter, 'Head Above The Water' is a coming of age opus featuring a ground-breaking amalgamation of traditional folk and country - an engaging blend of strings, bouzouki, piano and Power's distinctive vocal make this an achingly beautiful body of work. Recorded in analogue studio The Green Door in Glasgow with Alasdair Roberts co-producing alongside Brigid and Peter Broderick. It's a continuing tale of everyday survival; more diverse, different, a bigger canvas, with broader brushstrokes. Country and traditional folk rub shoulders, making for a juxtaposition of threads, with added instrumentation from five musicians lured into the studio to provide larger dynamics. After two lauded albums for Tompkins Square, Brigid Mae Power releases her new album on 5th June via Fire Records.

SHOPPING
Monday 14 February 2022
This show is rescheduled from May 5th & Sep 2nd 2020 & May 5th 2021, original tickets valid. The Lexington
96-98 Pentonville Rd, Angel, London, N1 9JB | Map
7.30pm | £10.00 | Buy tickets
SHOPPING are propulsive bass lines, primitive disco-not-disco drums and guitar lines sharp as broken glass. The band was formed in 2012 by members Rachel Aggs (guitar), Billy Easter (bass) and Andrew Milk (drums), who've all done time in a plethora of notable UK DIY bands including Trash Kit, Sacred Paws, Current Affairs and Wet Dog. They pull from a well of 70's post-punk with a voraciousness seldom seen these days, bringing to mind the jagged aggression of Gang of Four, the voracious yelp of The Slits and the dance inducing thrust of Delta 5 . Their debut LP 'Consumer Complaints' was released November 2013 in the UK via MILK records and quickly sold out its first pressing. A US re-issue of 'Consumer Complaints' came out in 2015 via Fat Cat records, followed up by their excellent second album 'Why Choose?'. 'The Official Body' followed in 2017, produced by Edwyn Collins and meeting with reviews proclaiming it as exhilarating as it was mesmerising! Now Shopping return on Feb 7th with their new record 'All Or Nothing'.
Written across an intense 10-day period back in February, with sessions spent in London and Glasgow. The songs that emerged are some of Shopping's boldest yet: confident, elastic, streamlined grooves that crackle with energy and intention. Uniting these ten new songs is an expression of tenacity: commitment, leaps of faith and tests of courage. Four albums in, Shopping are as committed and focused as ever, regardless of any distance. As critics have noted, the trio's vision - groove-centered; deeply queer; political by default - place them in a radical lineage of dance, a continuum connecting disco and post-punk to Chicago house and EDM. That spirit of liberation through rhythm is very much present on 'All Or Nothing', says Aggs. "We found ourselves singing about being true to yourself, in an often binary and belligerent digital age, and reclaiming agency when it feels like our personal freedom and privacy is constantly eroding." In an era dominated by spin and surveillance, 'All Or Nothing' invites us to remember what really moves us, in dance and in life.