NEWS
MACHINE, MACHINE, MACHINE!
23 March 2020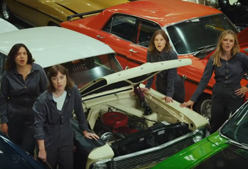 PRIMO! put in some serious elbow grease with their new video for 'Machine'! Premiered by The Line Of Best Fit, 'Machine' is taken from the Melbourne band's forthcoming album 'Sogni' out April 17th!
NATION OF WEBSHOP-KEEPERS
20 March 2020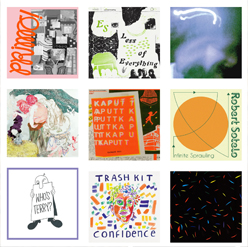 Whilst our live events are temporarily up in the air due to COVID-19, I'm happy to say that our webshop is still very much open for business. We have pre-order links up for forthcoming albums from Es and Primo! Both increds! Plus recent releases in stock now from Handle, Kaputt and Robert Sotelo, not to mention over 100 excellent back catalogue titles too. Hit our virtual crates and we'll send you some vital sparks of life through the mail!
HANDLE - 'IN THREES' OUT NOW
6 March 2020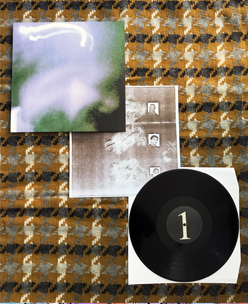 Handle's next-level incredible debut album 'In Threes' is released today on LP, CD and digitally! 'In Threes' is an exercise in twisting post-punk into a wound-up spring. This is kinetic, instinctual future music of the highest degree! Elastic bass, an all-consuming dance riot of drums and percussion and an impressionistic lyrical flow that bobs and weaves throughout.
Available now from Upset The Rhythm & our friends Maternal Voice too! Listen to 'Step By Step' premiered by God Is In The TV.
HANDLE - 'RUBBER NECKS' PREMIERED
26 February 2020
"Handle are pushing at the boundaries of accessibility with 'Rubber Necks,' creating deranged punk that is essentially pop at heart, and yet world's away from anything we'd classify as such. It's brilliant!" New track premiered by Post-Trash! Debut album 'In Threes' is out March 6th on LP, CD and digitally.
PRIMO - 'SOGNI' ANNOUNCED
14 February 2020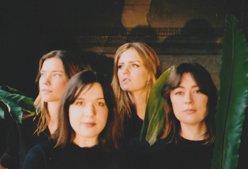 Primo's incredible second album of breezy and terse, chorus and verse 'Sogni' is truly dreamy ('Sognante')! LP release announced for April 17th, new track 'Best & Fairest' shared by the awesome folks at Raven Sings The Blues Available to pre-order (including a special orange limited vinyl version) in our webshop as of... now!
ES - 'LESS OF EVERYTHING'
6 February 2020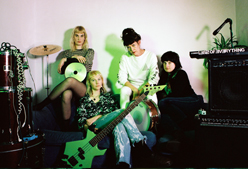 Joy of joys, Es' debut album 'Less Of Everything' will be released through Upset The Rhythm on April 3rd! The London quartet have coined an uncanny sound, sort of an icy DIY punk creeping with gothic influence and nuanced intensity. 'Less of Everything' revels in pointed anarcho tension and sub-zero twists of almost aquatic melody, its wondrously impactful and eldritch in equal measure. Check out the video for lead track 'Chemical' now, premiered by God Is In The TV!
'Less Of Everything' is available to pre-order in our shop now.
TRASH KIT ON TOUR
22 January 2020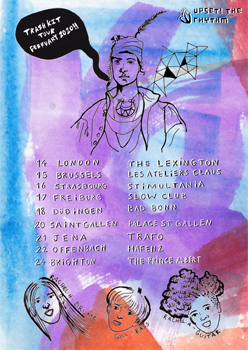 Trash Kit are heading out on a European tour this Feb! You know where to be! Look out London, Feb 14th at The Lexington with Handle! x
HANDLE - 'IN THREES'
14 December 2019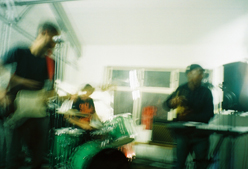 Time for some good news then! Our first release of 2020 will be Handle's debut album 'In Threes'! Incorporating a diverse range of influences, from samba to no wave, Handle, a three-piece from Manchester make a uniquely minimal sound, buoyed by a startling poetic tenacity. Handle are made up of Giulio Erasmus and Nirvana Heire (former members of D.U.D.S) and Leo Hermitt, a genderqueer multidisciplinary artist. With this project they've trained their focus on looping, hypnotic synth lines, clangorous percussion and expeditious vocals that cordially sprint. 'In Threes' will be released on LP/CD and digitally through Upset The Rhythm and Maternal Voice on March 6th. Check this! 'Punctured Time' just premiered by Brooklyn Vegan!
LATEST RELEASES MIXTAPE
LINKS
UPCOMING SHOWS

Upset The Rhythm & SA Recordings present...
LEA BERTUCCI - 'Acoustic Shadows' release party!
RHODRI DAVIES
Tuesday 14 April (POSTPONED)
This show is postponed, new date forthcoming, all tickets valid for the new date, refunds available too. Ecology Pavilion
Mile End Park, off Haverfield Rd, Grove Rd, Mile End, London, E3 5TW | Map
7pm-10pm | £6.00 | Buy tickets
LEA BERTUCCI is an American composer and performer whose work describes relationships between acoustic phenomena and biological resonance. In addition to her instrumental practice, (alto saxophone and bass clarinet), her work often incorporates multi-channel speaker arrays, electroacoustic feedback, extended instrumental technique and tape collage. Deeply experimental, her work is unafraid to subvert musical expectation. Her discography includes a number of solo and collaborative releases on independent labels and last year she released the critically acclaimed 'Metal Aether' on NNA tapes, as well as a commission for percussion ensemble Tigue and a second edition of her much anticipated graphic score book, 'The Tonebook', on Inpatient Press. She has performed extensively across the US and Europe with presenters such as The Kitchen, PS1 MoMA, Blank Forms, The Walker Museum, Roulette, ESS Chicago, Sound of Stockholm Festival, and the Le Guess Who Festival. She is a 2016 MacDowell Fellow in composition and a 2015 ISSUE Project Room Artist-in-Residence.
To celebrate the release of Lea Bertucci's forthcoming LP and Sample Library 'Acoustic Shadows', London label SA Recordings are teaming up with Upset the Rhythm to host a record release party at The Ecology Pavilion - a curved, glass-walled space set amid lakes and reed beds in Mile End Park. 'Acoustic Shadows I-III' was a series of site-specific musical performances and a sound installation that took place in the enclosed hollow body of the Deutzer bridge in Koln, Germany, 2018. Spanning approximately 440 meters across the Rhine river, the extraordinary acoustics and rich existing aural architecture of this site became crucial components of the installation and musical compositions. 'Acoustic Shadows' the album utilises the "natural processing of sound", direct audio sources provided by Bertucci and percussionists, tram noise from the bridge and voices of visitors to the installation coalesce with the space's own reverberations and resonances, creating two sonically opulent compositions. "The LP is best listened to at loud volumes and on good speakers in order to feel the mesmeric power of sound in space", suggests Bertucci.
RHODRI DAVIES was born in 1971 and lives in Swansea, South Wales. He plays harp, electric harp, live-electronics and builds wind, water, ice, dry ice and fire harp installations. He has released four solo albums: Trem, Over Shadows, Wound Response and An Air Swept Clean of All Distance. His regular groups include: HEN OGLEDD, Cranc, a duo with John Butcher, The Sealed Knot, Common Objects and a trio with John Tilbury and Michael Duch. He has worked with the following artists: David Sylvian, Jenny Hval, Derek Bailey, Mark Fell, Kahimi Karie, Laura Cannell, Lina Lapelyte, Sachiko M, Bill Orcutt, Jim O'Rourke, Christian Marclay and David Toop. In 2008 he collaborated with the visual artist Gustav Metzger on 'Self-cancellation', a large-scale audio-visual collaboration in London and Glasgow. New pieces for solo harp have been composed for him by: Eliane Radigue, Philip Corner, Phill Niblock, Ben Patterson, Christian Wolff, Alison Knowles, Mieko Shiomi and Yasunao Tone. In 2012 he was the recipient of the Foundation for Contemporary Arts, Grants to Artists Award, since 2016 he is a Chapter Associate Artist and in 2017 he received a Creative Wales Award.

Upset The Rhythm & The Barbican present...
LANKUM
SHIRLEY COLLINS & IAN KEAREY
CAROLINE
Wednesday 15 April (CANCELLED)
This show is cancelled due to the COVID-19 outbreak, refunds available. Barbican Hall
Silk St, Barbican, London, EC2Y 8DS | Map
7.30pm | £17.50-22.50 | CANCELLED
LANKUM follow up their storming concert at The Dome last year with a special performance at The Barbican showcasing the contemporary folk band's expanded line-up. New album 'The Livelong Day' has seen Lankum compared to The Pogues for a new generation and blends alternative folk and psychedelia to cement their reputation as one of the most talked about groups to emerge from Ireland in decades. The Dublin four piece - brothers Ian Lynch, Daragh Lynch alongside Cormac Mac Diarmada and Radie Peat - call the record a 'songbook for the people'. Featuring re-workings of folk standards such as 'The Wild Rover' and 'Katie Cruel', they honour the sacredness of traditional Irish songs, but allow them to metamorphose, to grow and breathe, alongside originals written by the band. Presented in association with The Barbican. This is an all ages event.

BONNIESONGS
YUMI AND THE WEATHER
GARRET MOORE
Wednesday 22 April (POSTPONED)
This show is postponed, new date forthcoming, all tickets valid for the new date, refunds available too. Shacklewell Arms
71 Shacklewell Lane, Dalston, London, E8 2EB | Map
7.30pm | £6.50 | Buy tickets
BONNIESONGS, aka art-folk virtuoso Bonnie Stewart, released her debut album Energetic Mind in September 2019 via Small Pond and Art As Catharsis. For a peck of audiences in Australia over the past couple of years, Stewart has been one of those subtly transcendent artists. Described as "dreamy experimental indie folk", she's steadily been creating an ever-broadening platform for her unique sound amongst the Sydney songwriting scene. On much of her earlier material, Stewart's sweet, ghostly vocals sail over the polyrhythmic backgrounds created between her mandolin, percussion and vocal loops, while her imaginative lyrics tell diverse and dreamlike stories of treehouses, mice, birds, flying and video games. Her four track debut EP Strings (2018) was released on Art Is Catharsis, a bold collaboration with friends Sascha Bota and Freya Schack-Arnott. Six days after a one-off performance as a trio, they made a recording of their experimental, textural and improvised variations on Bonnie's songs. The record was influenced by Jim Black's improvised jazz record AlasNoAxis, drawing comparisons to Joanna Newsom, Cat Power, and Bjork, and was widely praised for challenging conventions of modern Australian music.
YUMI AND THE WEATHER first emerged in 2013 with her critically acclaimed 'All We Can' EP, since then she has spent the past few years perfecting a unique blend of electrifying technicolour psych-pop, finally emerging with their long-awaited full length offering (released via the MIOHMI RECORDS imprint). Armed with this new arsenal of unrelentingly catchy and stirring pieces of music, Yumi are ready to continue their path of destruction (which has included a stint supporting British Sea Power, a slot at Secret Garden Party, Bad Pond Festival and heavy radio support from BBC 6 Music's Shaun Keaveny, Nemone and Radio X's John Kennedy.

PROTOMARTYR
Monday 27 April
Peckham Audio
133 Rye Ln, Peckham, London, SE15 4ST | Map
7.30pm | £15.00 | SOLD OUT
Tuesday 28 April
The Lexington
96-98 Pentonville Rd, Angel, London, N1 9JB | Map
7.30pm | £15.00 | SOLD OUT
PROTOMARTYR return to London this April for two intimate shows showcasing their forthcoming new album! Protomartyr play a taut, austere rock that's been incubated in a freezing Detroit warehouse littered with beer cans and cigarette butts and warmed occasionally by space heaters. Short songs made for short practices, as the band learned quickly not to waste time. Despite the cold, Protomartyr emerged with a sound that is idiosyncratic but relatable, hooky but off-kilter. With respect to the local predecessors, this isn't the primitive stomp of The Dirtbombs or The Stooges' greasy roar. Punk works, kind of, even if it leaves the hardcore kids confused. Post-punk suggests something too retro; indie rock, something too precious. What Protomartyr is, is "stuck between the cracks." If that's the case, though, they aren't alone. Protomartyr's economical rock elicits comparisons to possible antecedents like Pere Ubu or The Fall as well as local contemporaries like Frustrations or Tyvek. Singer Joe Casey's dry declarative snarl serves as a reliable anchor, granting his bandmates (guitarist Greg Ahee, drummer Alex Leonard and bassist Scott Davidson) the opportunity to explore textures and reinforce the rhythm section. This is never more apparent than on the band's last record entitled 'Relatives In Descent', out through Domino. 12 tracks dealing with the unknowable nature of truth and the existential dread that often accompanies that unknowing, an album as sinuous as it is allusive, dense and dizzyingly on the mark.

OLD TIME RELIJUN
PROTO IDIOT
SHAKE CHAIN
Wednesday 29 April (POSTPONED)
This show is postponed, new date forthcoming, all tickets valid for the new date, refunds available too. Pin Ups (The Islington)
1 Tolpuddle Street, Angel, London, N1 0XT | Map
7.30pm | £8.50 | Buy tickets
OLD TIME RELIJUN are the rarest breed of band. Insatiable, living raw, always on the margins and consistent as hell. You know what to expect and yet never have any clue what's going to come next. Old Time Relijun give sweaty, compulsively danceable performances that never fail to inflame their audience. Their loose swagger belies years of practice, fastidious arrangements and gut-level understanding of how music hits you. Old Time Relijun was born on January 1st, 1995 in a dark and moldy basement in Olympia, Washington. The band stole some popcorn bags, talked a friend out of his inheritance and self-released 'Songbook Vol. I' in 1997. They then began their long association with Calvin Johnson's K Records. Between 1999 and 2007, Old Time Relijun toured like monsters, averaging 150 shows a year in the U.S. and Europe, releasing 'Uterus and Fire', 'La Sirena De Pecera', 'Witchcraft Rebellion', 'Lost Light', '2012' and 'Catharsis in Crisis'. The last three albums are known collectively as The Lost Light Trilogy; a conceptual triptych integrating poetry, painting, and myth through multiple lyrical and musical threads. The band toured through 2008 and then quietly parted ways. 2020 reunites Old Time Relijun with newfound level of passionate indignation and a deeper musical vocabulary. Old Time Relijun continue to make music for the revolution from a restless energy that has never settled down.
PROTO IDIOT is a garage pop band starring Callum Darley, Michael Seal and Andrew Anderson. Since 2007 they've released half a dozen LPs on labels like Slovenly, Third Uncle and Bad Paintings, with their latest album Find Out For Themselves hitting the shelves in 2019. Originally the band was a solo side project for Hipshakes/Freak Genes guitarist Andrew, who was accompanied by members of CoCoComa and Negative Scanner for various recordings and gigs. Records out on Trouble in Mind, Slovenly, OddBox and Red Lounge.
SHAKE CHAIN formed through a love of thought provoking performance art and a yearning for disruption so they were never going to be your average run of the mill project and the band have delivered unpredictable live shows across London and Oxford since their recent inception. Having recorded their debut EP 'Neil Yonge and Bob Doylan Live at Hyde Park' (on the day of Neil Young & Bob Dylan Live at Hyde Park) last Summer, with sound artist David Carugo and released by Permanent Slump, the group enter 2020 with a fresh heap of material to take into the studio and on the road around the UK in April. Catch them in the field with their not-to-be-missed fusion of post-punk grooves and chaotic lamenting on the current state of things.

LUNGBUTTER
MICHAEL
ADULKT LIFE
Thursday 30 April
The Victoria
451 Queensbridge Rd, Dalston, London, E8 3AS | Map
7.30pm | £7.00 | Buy tickets
LUNGBUTTER is the Montréal-based trio of Ky Brooks, Kaity Zozula, and Joni Sadler. The three friends have been mainstays of the vibrant experimental noise/rock community in the city for several years, having put in time as members of numerous bands including Femmaggots, Harsh Reality, Caymans, Nennen, Wreckage With Stick and Nag. Lungbutter's minimal guitar-drums-voice configuration is rooted in a visceral, ascetic punk idiom, refracted variously by free-noise, sludge rock and slowcore. Zozula marshals chaotic motifs of full-spectrum distorto-guitar, occupying a huge tonal space from low-end bass to paint-peeling treble, redolent of blown-out Melvins/Flipper fuzz and equally indebted to the frenetic dissonance of Keiji Haino or Merzbow. Song structures coalesce around guitar riffs of shifting tempos and the backbone of Sadler's muscular, deliberate drums, while Brooks' voice – at once mantric and declarative – deconstructs one brilliant lyrical theme after another, dancing along the knife-edge of dispassionate acerbic examination and wide-eyed cathartic revelation.
MICHAEL (the band, none of whom are called Michael) emerged from the smoking carcass of Underground / Psych legends Bad Guys. Based in London but more a multinational affair (members hailing from Hungary, Canada) the band have already begun to make waves in bigger ponds. Their debut album Tell your Friends is released on Evil Blizzard's own label Crackedankles. Mixing surrealist lyrical themes with the heaviest of heavy riffs, the album features the singles Success and Sole Trader, which sold out of their vinyl pressings within hours of release.
ADULKT LIFE is Chris (ex-Huggy Bear), John & Kevin (both ex-Male Bonding) and Sonny (ex-professional free runner). Adulkt life are too old- and too young, but full of love, blood, disappointment and rage! Come and shake with disbelief!

IAN WILLIAM CRAIG
Friday 1 May (CANCELLED)
This show is cancelled due to the COVID-19 outbreak, refunds available. EartH Kitchen
11-17 Stoke Newington Rd, Dalston, London, N16 8BH | Map
7.30pm | £12.00 | CANCELLED
IAN WILLIAM CRAIG moves you over shifting tectonic plates of operatic improvisations, fields of tape hiss, haunting pastoral melodies and billowing clouds of becoming. Drawing out analogies between his dual practices of music and print-making, Ian's work is deeply informed by a narrative of impermanence, "notions of life as an act of becoming, and beauty within degradation and deterioration - these have been kernels that I've been really drawn to... When I listen back to my compositions and I look at the art I create, there's some kind of aesthetic drive or core that I seem to constantly orbit... these becoming forms and notions of decay and circling." Blending choral, ambient and noise influences together into this customised array of tape decks, Craig focuses on a combination of classical vocal training and process-based uncertainty, His music delivers an elegant balance between theatrical and ambient sentiments, by combining the essence of a choral album from Angel Records or Deutsche Grammophon with the distorted spontaneity of experimental home-recording and the likes of Fennesz or William Basinski.
Signing to FatCat's post-classical imprint 130701 in 2016, Ian's debut album for the label, 'Centres', was released to widespread critical acclaim, and was followed by his debut UK/European tour. The album made numerous end of year lists, and in 2017 was followed by another EU tour and the release of the 'Slow Vessels' EP, a collection of six tracks from 'Centres' re-recorded as acoustic versions. 2018 saw the release of 'Thresholder' a brilliant collection of material collected together to form a between-albums release. Craig's new album 'Red Sun Through Smoke' is due out this March. Forged from an intense, bewildering slew of emotions, the album is embedded with incredible beauty, sadness and depth. 'Red Sun Through Smoke' is a profoundly moving album, a standout record in a prolific body of work that shows no sign of faltering.

SHOPPING
Tuesday 5 May
The Lexington
96-98 Pentonville Rd, Angel, London, N1 9JB | Map
7.30pm | £10.00 | Buy tickets
SHOPPING are propulsive bass lines, primitive disco-not-disco drums and guitar lines sharp as broken glass. The band was formed in 2012 by members Rachel Aggs (guitar), Billy Easter (bass) and Andrew Milk (drums), who've all done time in a plethora of notable UK DIY bands including Trash Kit, Sacred Paws, Current Affairs and Wet Dog. They pull from a well of 70's post-punk with a voraciousness seldom seen these days, bringing to mind the jagged aggression of Gang of Four, the voracious yelp of The Slits and the dance inducing thrust of Delta 5 . Their debut LP 'Consumer Complaints' was released November 2013 in the UK via MILK records and quickly sold out its first pressing. A US re-issue of 'Consumer Complaints' came out in 2015 via Fat Cat records, followed up by their excellent second album 'Why Choose?'. 'The Official Body' followed in 2017, produced by Edwyn Collins and meeting with reviews proclaiming it as exhilarating as it was mesmerising! Now Shopping return on Feb 7th with their new record 'All Or Nothing'.
Written across an intense 10-day period back in February, with sessions spent in London and Glasgow. The songs that emerged are some of Shopping's boldest yet: confident, elastic, streamlined grooves that crackle with energy and intention. Uniting these ten new songs is an expression of tenacity: commitment, leaps of faith and tests of courage. Four albums in, Shopping are as committed and focused as ever, regardless of any distance. As critics have noted, the trio's vision - groove-centered; deeply queer; political by default - place them in a radical lineage of dance, a continuum connecting disco and post-punk to Chicago house and EDM. That spirit of liberation through rhythm is very much present on 'All Or Nothing', says Aggs. "We found ourselves singing about being true to yourself, in an often binary and belligerent digital age, and reclaiming agency when it feels like our personal freedom and privacy is constantly eroding." In an era dominated by spin and surveillance, 'All Or Nothing' invites us to remember what really moves us, in dance and in life.

ESCAPE-ISM
(Ian Svenonius of Chain & The Gang, The Make-Up)
BARRY
Thursday 7 May
Space 289
Railway Arches, 289 Cambridge Heath Rd, E2 9HA | Map
7.30pm | £11.00 | Buy tickets
ESCAPE-ISM is the nom de guerre of mythic rock 'n' roll provocateur / theorist / revolutionary Ian Svenonius (performer, author, filmmaker, etc). Svenonius is known for his work in the music groups The Make-Up, Chain & The Gang, XYZ, Weird War and author of underground bestsellers such as The Psychic Soviet, Supernatural Strategies for Making a Rock 'n' Roll Group, and Censorship Now! Recognised by Performer Magazine as the "greatest performer on the planet", Svenonius is profound, prophetic, perverse, and poetic. His debut solo album an 'Introduction to Escape-ism' was released through Merge last year and teamed up a drum machine, guitar, cassette player, and a single voice singing out... for a way out. Svenonius' songs cry out for love, justice, redemption and insurrection, they stomp on convention and clobber notions of what music can be. Live, Escape-ism a new paradigm of performance: raw, gestural, idiotic, sublime, revolutionary, poetic, faux naif, unknowing, a drainage pipe that leads to who knows where.
'The Lost Record' is Escape-ism's latest album on Merge and is already a classic, destined to bewitch the minds, hearts, and dancing shoes of any rock 'n' roll fan who happens to discover it, for as long as such creatures exist. Without the high-octane hype machine of the mind-control minstrels who hypnotize the hapless through the mass media, 'The Lost Record' is bound for inevitable obscurity, but-with its timeless tunes, poignant message, and innovative sound-rediscovery and immortal status is equally assured! Music enthusiasts will be thrilled to be the ones clever and kind enough to have rescued this platter from oblivion.
BARRY took a while, but after a lifetime on the fringes of the music scene, as performers, designers, agitators, but predominantly as fans, the collective members of the band decided to make the leap onto the stage. Gathering what equipment that was to hand, Casio keyboards, Fender Squiers purloined for cheap off ebay, treasured instruments collected over time, the band decamped to Super Unison studios in Peckham to see what magic would happen. And magic did happen, with varying levels of skill & proficiency, the songs tumbled out & roused to life. Few rules were set, just the desire to create songs that Barry as a band would enjoy, a live show that if they were to stumble across it would make them laugh & dance. Songs covering the key issues of our time: the profound mundanity of capitalism, social anxiety, how the government's disregard for its people trickles down to man's disregard to its environment & most importantly what was gay sex like in ancient times. Potty mouthed, but never profane. Angry but kind. Crippled with anxiety but singing their fucking hearts out for you. This all culminated in a sold out tape on Permanent Slump & international radio hit with "Stretch Your Legs" plus an invite from Marc Riley to record a 6Music session at the legendary BBC Maida Vale studios.

JAKE XERXES FUSSELL
Tuesday 12 May
The Lexington
96-98 Pentonville Rd, Angel, London, N1 9JB | Map
7.30pm | £9.00 | Buy tickets
JAKE XERXES FUSSELL is a singer and guitarist from Durham, North Carolina. Jake's 2015 self-titled debut record, produced by and featuring William Tyler, transmutes ten arcane folk and blues tunes into vibey cosmic laments and crooked riverine rambles. Collaborating with Tyler and engineer Mark Nevers in Nashville was a conscious decision to depart cloistered trad scenes and sonics for broader, more oblique horizons. In 2017 Fussell followed his debut with a moving new album of Natural Questions in the form of transmogrified folk/blues koans. This time these radiant ancient tunes tone several shades darker while amplifying their absurdist humour, illuminating our national, and psychic, predicaments. What in the Natural World features art by iconic painter Roger Brown and contributions from three notable Nathans: Nathan Bowles (Steve Gunn), Nathan Salsburg (Alan Lomax Archive), and Nathan Golub (Mountain Goats). On his most recent album for Paradise Of Bachelors 'Out of Sight', his most finely wrought album yet, Fussell ushers up an utterly transporting selection of traditional narrative folksongs addressing the troubles and delights of love, work, and wine (i.e., the things that matter), collected from a myriad of obscure sources and deftly metamorphosed, Out of Sight contains, among other moving curiosities, a fishmonger's cry that sounds like an astral lament; a cotton mill tune that humorously explores the unknown terrain of death and memory; and a shanty/gospel song equally concerned with terrestrial boozing and heavenly transcendence. Always compelling and deftly impressive, Jake's live shows have become must attend events, so its with great honour that we welcome him back this May to London.
FRAN
Friday 29 May
Pin Ups (The Islington)
1 Tolpuddle Street, Angel, London, N1 0XT | Map
7.30pm | £7.00 | Buy tickets
FRAN aka Maria Jacobson began writing songs during a time of great personal upheaval. Working as an actor at a summer repertory theatre in rural Indiana after a disillusioning stint in the Chicago theatre scene and a series of failed relationships, she bought a guitar and taught herself to play. Through this instrument and her voice, she discovered a way to process the experience of recent events and draw ambiguities closer to conclusions. Landing an English teaching job with sparse hours in a small city in Mexico afforded the time and space to develop as a songwriter: playing and writing all night until it became clear that a body of work was forming, she then returned to Chicago to form a band. 'A Private Picture', the debut album by Fran (out now on Fire Talk), delivers a collection of extremely personal experiences that have been distilled and abstracted to the point that you can see yourself in their imagery, it's a conversation. It's a mature and clear-eyed sound that features some of the wit, complexity, and R.O.C.K. you might expect from Aimee Mann or the Pretenders. At the dead center of the sound is Jacobson's voice. A voice true and full, ranging from an almost-whisper to a pitched scream and soaring to incredible heights.

BRIGID MAE POWER (full band show)
Wednesday 10 June
The Lexington
96-98 Pentonville Rd, Angel, London, N1 9JB | Map
7.30pm | £10.00 | Buy tickets
BRIGID MAE POWER paints expansive songs that are effortless, hypnotic and folk-oriented like Judee Sill, Bill Callahan and Sharon Van Etten. The third album from the celebrated singer/songwriter, 'Head Above The Water' is a coming of age opus featuring a ground-breaking amalgamation of traditional folk and country - an engaging blend of strings, bouzouki, piano and Power's distinctive vocal make this an achingly beautiful body of work. Recorded in analogue studio The Green Door in Glasgow with Alasdair Roberts co-producing alongside Brigid and Peter Broderick. It's a continuing tale of everyday survival; more diverse, different, a bigger canvas, with broader brushstrokes. Country and traditional folk rub shoulders, making for a juxtaposition of threads, with added instrumentation from five musicians lured into the studio to provide larger dynamics. After two lauded albums for Tompkins Square, Brigid Mae Power releases her new album on 5th June via Fire Records.

FUZZ
(Charles Moothart, Ty Segall, Chad Ubovich)
Wednesday 22 July
Electric Ballroom
184 Camden High St, Camden Town, London, NW1 8QP | Map
7pm | £17.50 | Buy tickets
FUZZ are back! Ty Segall, Charles Moothart and Chad Ubovich's electrifying trio return to London this summer! Fuzz have released two studio albums to date on In The Red, their self-titled release debuting back in 2013, and the more heavy metal influenced II dropping in 2015. Moothart and Segall originally formed the group, as Moothart was a touring member and guitarist for the Ty Segall backing band, and later became the drummer of Segall's current touring group The Freedom Band. Regarding their sophomore album Ubovich stated in an interview with La Weekly: "We all kind of did something we've never done before, which was write together as a band. That was a first for all of us. Usually in our respective projects it's all about writing on our own, and that process. This time we tried something definitely new." Look out for a new release entitled this summer too! It will be heavy, chaotically controlled, softly serpentine, and blindingly barbaric. To translate the auditory from ethereal to saliva soaked semantics is to shatter a promise as it's made. In the meantime, Ty, Charles, and Chad walk on. It is what it is. Just like everything else.
PAN AMERICAN
Monday 10 August
This show is rescheduled from April 21st, original tickets valid, refunds available too. Cafe OTO
18-22 Ashwin St, Dalston, London, E8 3DL | Map
7.30pm | £10.00 | Buy tickets
PAN AMERICAN began during the summer of 1997, when Mark Nelson, guitar player and singer of the legendary Labradford, wanted to explore the possibilities of sampling and computer technology as well as his interests in dub and techno. Mark started recording a full-length album for Kranky at home and at Sound of Music Studios in Richmond, Virginia. The self-titled, debut Pan American album came out on Kranky in early 1998. Nelson continued to work on Pan American material as he worked with Labradford, learning to play pedal steel guitar, releasing singles on European labels and getting some studio time in with engineer Casey Rice. Rob Mazurek from Chicago Underground Trio and Alan Sparhawk and Mimi Parker of Low contributed cornet and vocals, respectively. The resulting album, 360 Business / 360 Bypass, was released by Kranky in North America (and Blast First in Europe) in early 2000.
More singles and album followed, along with the occasional live performance. Nelson's placement behind a synthesizer and mixing desk belied the improvisational nature of the live mix. Between sternum-rattling bass rhythms and Nelson's willingness to challenge an audience of with outbursts of static, Pan American shows were more than the usual knob-twiddling and smooth noodle maps, traded dub undertow for percussive points, field recordings and an ominous drone.
Nelson's latest offering as Pan American, 'A Son' (Kranky 2019), is a return his musical and spiritual beginnings. Spare, subdued, and largely acoustic, A Son unfurls like late summer dusk on the edge of town, expansive but intimate. Motivated by notions of "moving backward" and tracing roots - as well as a couple years of hammered dulcimer lessons - the album's nine songs were written and recorded in his home in Evanston, Illinois, and honed during a solo tour in Europe in 2018. The emphasis on uncluttered arrangements and the centrality of the guitar and vocals reveal these songs as the most direct and emotional statement of his career. Nelson cites everything from June Tabor, The Carter Family, Suicide, and Jimmy Reed as oblique inspirations, though his truest muse was creative self-inquiry: "What does music do, Where does music start? How simple can it be? How honest can it be?"
NAP EYES
Wednesday 19 August
This show is rescheduled from April 15th, original tickets valid, refunds available too. MOTH Club
Old Trades Hall, Valette St, Hackney, London, E9 6NU | Map
7.30pm | £12.00 | Buy tickets
NAP EYES, after eight years and four albums deep, find their artistic arc tracing a line alongside frontman Nigel Chapman's daily tai chi practice. Those first years and albums are the cold mornings in the park: the measured movements, the joint aches, the self-doubt. With each new release, an incremental and invigorating step forward. And with the end of each album and tour, a return to the beginner's practice. And now, 'Snapshot of a Beginner', Nap Eyes's boldest, most concentrated and most hi-fi album to date, a study of that repeated return and all that it can teach you. The music still brings to mind the bucolic ennui of the Silver Jews and Daniel Johnston's jittery naivete. But the new sheen and maturity also now brings to mind the wide-angle appeal of The Jayhawks and the addictive brightness of Green Day's Kerplunk!Which brings us to the new album's lead single, 'Mark Zuckerberg.' Against crunchy and echo-laden guitars seasoned with pedal steel, Chapman begins by inquiring, "Is Mark Zuckerberg a ghost? Maybe, maybe, Where are his hands and why don't you ever see them in public?" By the end, it's morphed into a Belle And Sebastian song and Chapman has found his way to a mantra: "Transcendence is all around us." The journey from point A to point B is both short and rewarding. 'Snapshot of a Beginner' is released by Jagjaguwar on March 27th!