PHOTOS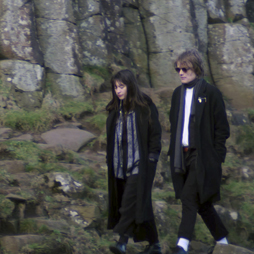 HI RES DOWNLOADS





Photo 1 by Bohdan Cap, Photo 2 by Aurora Horwood, Photo 3 by Hattie Ladd, Photo 4 by Sylvain Deleu, Photos 5-8 by Bamboo, Photos 9-11 by Jack Baraclough
ABOUT BAMBOO
BAMBOO is a sublime new project from Nick Carlisle (of Peepholes, Don't Argue) and Rachel Horwood (of Trash Kit, Halo Halo). Their music is vivid and deeply poignant, locking into a magnetic attraction between Rachel's flawlessly resonant folk cadence and Nick's pristine synth pop production.
Far from being a one off, or dare we say side-project, BAMBOO is very much a fully realised pursuit, with the band working on multiple records simultaneously from their Brighton and London base camps. 'Prince Pansori Priestess' was the first album to see the light from this pairing of talents. Whilst 2017's follow up 'The Dragon Flies Away' and new album 'Daughters Of The Sky' (2019) have both met with much deserved praise.
BAMBOO RELEASES

DAUGHTERS OF THE SKY

UTR114 | LP / CD | 10 tracks, 44 minutes | Buy
The album was written and recorded over a two year period where ideas and arrangements were allowed to slow-cook and develop over time, in contrast with the last album 'The Dragon Flies Away' which came together relatively quickly for the duo. The music comprises the usual (for Bamboo) mix of Horwood's flawlessly resonant folk cadence and Carlisle's pristine synth production, whilst TR808 drum machines and samples lock together with acoustic drums, themselves often given the 'Tony Visconti' Eventide Harmoniser treatment of Berlin-era Bowie albums. Ancient ARP synthesisers and Mellotron flutes and horns sit next to contemporary digital sounds and samples in a hauntological tapestry over which Horwood can intone her sometimes mournful, often uplifting vocals.
The first single taken from the album, 'Weeping Idols', released March 29th reflects upon a recurring theme of religious dogma and spiritual entrapment, and is accompanied by a stunning video shot by Jack Barraclough around the North Coast of Northern Ireland, taking in the Giant's Causeway and the Kinbane Castle ruin. Carlisle's infectiously colourful synth riffs and pop production, featuring sun-burst harp playing from Brighton-based singer/multi-instrumentalist Emma Gatrill, contrasts sharply with the darker tone of Horwood's lyric, jarring in a way reminiscent of 'You Have Placed A Chill On My Heart' by The Eurythmics.
Although 'Daughters Of The Sky' breaks away from the storybook concept format of The Dragon Flies Away, in that sense being more similar to Bamboo's debut album 'Prince Pansori Priestess', there are still recurrent themes that run through the album such as motherhood, the cyclical nature of life, emancipation and liberation. "Branches dancing, bud stems growing, fibres swaying, arms unfurling" Horwood sings in The Deku Tree, a song which roots motherhood in nature's eternal cycle of birth and death. In the title track we see two perspectives of women spanning time and geography, Horwood drawing inspiration from the personal and also political. In 1917 a Russian match stick worker looks out of her window dreaming for a better life; in 2019 a Filipino maid in Hong Kong yearns to return to the children she has left behind. Both share a revolutionary spirit, protesting and fighting for a new world.
What might be the centrepiece of the album, 'East Of The Sun / West Of The Moon', an 11 minute epic, begins with a serene, desolate ambient intro which eventually transports us over the waves to some unknown land. Here we track the journey of a displaced people who are rejected from pillar to post, prevented from crossing over political lines, judged by fellow humans by their few differences over their myriad similarities. "And we all walk a different pace, though we end up in the same place" sings Horwood, as the song's new-found rhythm seems to break apart again and slowly splinter away in different directions, the fragments hanging in the air as a new section emerges featuring a rare lead vocal from Carlisle.
Bar the brief instrumental coda 'Tenebrae', the album ends on an optimistic note with 'A World Is Born', an upbeat song of renewal. Horwood sings of the creation of a new world for a new generation, out of the ashes of a society stagnating under the collapsing weight of late capitalism. Saxophones provided by Emma Gatrill (her second guest appearance on the album) answer each vocal line in call and response style over more harmonised drums reminiscent of Bowie's 'Low'. Carlisle originally wrote the music following the death of Bowie, and Horwood added some Prince-like backing vocals (Prince having been name-checked in the title of the first Bamboo album). Although her lyric makes no reference to the loss of these giants, their influence hang over the song in a way which can only add to the sense of hope and rebirth, a sense which is indeed felt throughout the album.

THE DRAGON FLIES AWAY

UTR088 | LP / CD | 8 tracks, 35 minutes | Buy
Initially released last winter on a limited run of 50 cassettes with an accompanying zine designed by Horwood, 'The Dragon Flies Away' tells a story loosely associated with the Hannya demon mask of Noh theatre plays such as Dojoji, and reflects the range of emotion the Hannya mask is capable of displaying: obsession, jealousy, sorrow and rage. 'The Dragon Flies Away' presents its story in two acts and is now presented newly re-mastered with a gatefold sleeve and lyric / artwork sheet. Horwood's evocative paintings are given centre stage with the packaging, allowing the album's story to grow beyond sound, making the journey all the more immersive.
Vivid and deeply poignant, Bamboo's music locks into a magnetic attraction between Horwood's flawlessly resonant folk cadence and Carlisle's pristine synth production. 'Hannya' opens the album in reflective mood with Rachel's mournful vocal and echoing banjo that gets swept up by flourishes of percussion and synth-flute vistas. 'Always Running' follows, living up to its name with its propulsive beat and plucked rhythm, building to a chase for Rachel's dramatic vocal turn. 'Like A Sparrow' is a beautifully realised track sounding as vulnerable and vociferous as a Kate Bush song. "He's got a path, it's straight and narrow, there's no flying off like a sparrow" sing Carlisle and Horwood resolutely in unison. 'Wake Up Your Heart' delights in pools of pitch-shifted melody and primal vision. Whilst the final two tracks on the album embrace Carlisle's cascading synth lines as pure as ice flows, augmented gong passages and fragile yet impassioned vocalisations.
In regards to the lyrical content of the album Horwood initially based the album around the Japanese Hannya folktale, however as her research into that tale developed she came across a similar story about the scholar monk Uisang and his intended partner Myo Hwa which formed a Korean version of the story only with a transformative ending in which Myo Hwa becomes a dragon through the strength of her love for Uisang. The conclusion of 'The Dragon Flies Away' is similarly about realising unknown potentials and becoming more confident. However the album is also about self-reflection, turning its focus onto the two sides of a conflicted personality rather than a love story gone wrong. Overall the album feels cinematic with its ability to hold the listeners hand and lead them through another world never faltering. It is ambitious and heavy on concept without ever becoming overwrought, preserving its delicate personal tone and lush, spacious sound throughout.
During the writing and subsequent release of their debut album, Prince Pansori Priestess, on Upset The Rhythm in December 2015 (5 stars - Record Collector magazine), The Dragon Flies Away was recorded between Spring 2015 and Summer 2016. Bamboo intend to perform this album live in full, and to explore the theatrical potential suggested by the music.

PRINCE PANSORI PRIESTESS

UTR075 | LP / CD (with Live at Cafe OTO bonus tracks) | 10 tracks, 41 minutes | Buy
'Prince Pansori Priestess' was recorded between spring 2014 to spring 2015, this was before the band expanded to a four piece for live performances, showcasing BAMBOO as a very original duo with a sound-world very much their own. The title references a Korean genre of musical storytelling alongside notions of majesty and faith that are all streams that weave their way through the record.
'Auroch' opens this debut album and slowly unpacks all the qualities that make BAMBOO such an incredible band. At first the pitched-banjo paces out a chiming circle allowing Rachel's entrancing vocal to follow the line, then Nick's pristine beats and synth clusters blossom into almost sub-aqua realms of lush swirling melody. "Made me feel like I'm the stone that drowned you in this well" sings Rachel cyclically throughout 'Stone', an aching song of self-reflection set amidst flourishes of reverberating keyboard that at times sound like gamelan, at others like fireworks in the daylight. There are strong parallels to be made between their desire to let a story unfold in their work and the questing nature of the music itself. Central to this sound is the meeting of the warmer tones evident in the vocals, acoustic drums and banjo with the immaculate, spatial nature of the synths and beatscapes. It feels very pure, prismatic and even mystical at moments without losing any of its human touch.
'Hexagonal' appears to conjure Kate Bush using a ritual of cycling waves of sound, sparks fly, crystals form and a thawing is felt within. "It's real" Rachel affirms over and over, revolving to mesmeric effect. 'Sangokushi Love Theme' was written by Haruomi Hosono of Yellow Magic Orchestra, and in the hands of BAMBOO begins to shine with even brighter colours. The all-encompassing sensitivity conveyed in the track is enough to lift you into the clouds before falling as snow on a distant mountain. It's beautiful, serene and nothing short of spellbinding. The kinetic virtuosity displayed on 'Khene Song' and 'On Bohol' are also worthy of note. There's a robust propulsion at play, unafraid to use silence to punctuate the speeding marimbas and dense strata of analog drone.
'Be Brothers' is another highlight from the second half of the album. The first part of the song begins very vulnerably, "Can't look back, can you see, something over there looks pretty good to me" admits Rachel honestly over her fragile plucked banjo motif, a sense of hope returning grows, underscored by drifts of blushing ambience. Halfway through and the percussion picks up, allowing the rippling synths to walk hand in hand with Roedelius towards the horizon. Verity Susman (of Electrelane) guests towards the end of the 'Be Brothers' on saxophone, helping the song reach its more resolved future. 'Prince Pansori Priestess' is an album born of first fruits and tastes all the sweeter for it. There's no finding of feet, just an effortless acknowledgement that both their planets have aligned. BAMBOO hit the ground running with this debut record, sounding as unique and mercurial as the gift of song itself.
LINKS
PRESS
THE SKINNY
LOUD & QUIET
ALL MUSIC
20 JAZZ FUNK GREATS
UNCUT
BEAUTIFUL FREAKS
20 JAZZ FUNK GREATS
CIRCUIT SWEET
RECORD COLLECTOR
NOISEY
EXEPOSE
GOOD MUSIC MATTERS
FACT
THE GIRLS ARE
NOTES ON SOUNDS
20 JAZZ FUNK GREATS
CLASH
VIDEOS
DAUGHTERS OF THE SKY
WEEPING IDOLS
A WORLD IS BORN
STONE
HEXAGONAL