PHOTOS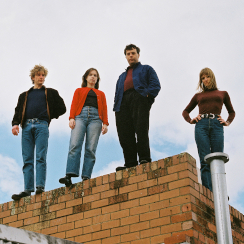 HI RES DOWNLOADS





Photos by Matt Shaw.
ABOUT THE TOADS
THE TOADS ask the question and already know the answer. "Are we having fun yet? Living in the grey zone"? There's many a wry smile, often packed with gallows humour, shared on the Melbourne groups' debut album 'In the Wilderness'. Navigating the dross of modern life, whilst keeping one foot in a dream is the key to their nervy post-punk scuffle. Featuring members of The Shifters, The Living Eyes and Parsnip you'd be forgiven for guessing what The Toads sound like, but their mordant step and minor-key enchantment makes for an intriguing parry.
The Toads hatched after a short period of domestic readjustment mid-2021. Billy Gardner (guitar) found himself in need of a roof after his home was consumed by fire, and was kindly hosted by friend Stella Rennex (bass). Elsie Retter (drums) was a regular visitor to the house and after seeing Miles Jansen (vocals) tear it up with his other band at the local bowls club, they invited him along to sprinkle his deadpan musings across their fledgling sound. Pretty quickly they hit on their direction; a savvy, snappy lo-fi pop as openhearted as it is brooding.
After playing some formative shows, including a debut at Jerkfest in 2022, The Toads set about recording five songs mid-year for a tentative EP. Realising the songs were too long to fit on a 7", they booked in another recording session the following September to extend the EP to 12". Two tracks' chords structures were fleshed out with new melodies and arrangements, and by this point The Toads were surprised to find they had an album's worth of material. 'In The Wilderness' is a beguiling record, full of twists and turns. It's arch, resilient, thoughtful and straight-at-your-head catchy to boot.
THE TOADS RELEASES

'IN THE WILDERNESS'

UTR155 | LP | 10 tracks | Buy
'Nationalsville' opens the album, a rollicking toe-tapper of jaunty riffs, sprightly bass bounce and drums that get the blood pumping. Singer Miles' relentless observations spool through the song stitching together a glammy rush of monotony. 'Tale of a Town Split in Two' takes a similar approach, hooky yet melodic, with the vocal delivery racing in hot pursuit. 'Two Dozen Functions' is equally upbeat, with brawling guitars and vocal line that saws it's way through. 'Wandering Soul' and 'The Next Door' offer some breathing space as ruminative vignettes, whilst 'Sir Francis Drake' shimmers with shambling charm. 'Ex-KGB' is a more plaintive mid-tempo shuffle, a downcast moment of reflection that unfurls into grandeur ultimately.
It's fitting that the title track 'In The Wilderness' draws this record to a close, being the peak of their invention so far. Drums pound and tumbling bass-lines sprint among the crisply stabbing guitar phrases and soaring horns outro. It's a survivalist epic of hard-worn wisdom, ambling and restless. "I open up the door trying to get all of us through" sings Miles, becoming progressively more dizzy and despondent. There is a sense of toughing it out that never falters though and this is the essence of what The Toads do best. They push onwards into the darkness and keep their appetite, pulling us all into the light.
The Toads' 'In the Wilderness' will be out June 9th through Upset The Rhythm and Anti Fade Records.
LINKS
PRESS
RAVEN SINGS THE BLUES
BACKSEAT MAFIA
GIMMIE GIMMIE GIMMIE ZINE
NORTHERN TRANSMISSIONS
AUSTIN TOWN HALL
BROOKLYN VEGAN
VIDEOS
NATIONALSVILLE