PHOTOS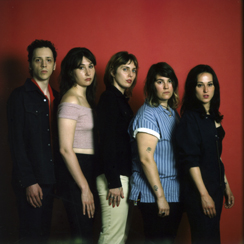 HI RES DOWNLOADS



Photo 1 & 2 by Colin Medley
ABOUT DARLENE SHRUGG
DARLENE SHRUGG is unabashedly a rock 'n roll band. Formed in Toronto in 2013, it's something of a local enigma; Darlene more or less abstains from an internet presence, and its public performances are sporadic at best. Now, over two, reticent years, Darlene has completed an LP, coaxing out an imaginatively produced debut album of brash theatricality and uninhibited Rock and Roll.
Darlene represents collaborative convergence. The band was conceived initially by Maximilian Turnbull (formerly Slim Twig) and Simone TB, who played together for ten years as art-punk duo, Tropics. Seemingly having exhausted the limits of their angular, hermetic approach, they felt it time to broaden horizons. They invited Meg Remy, creative force behind the critically lauded U.S. Girls project, to compose lyrics and vocal melodies for a new band's repertoire. It was quickly apparent that Remy should also perform in the band, at which point both Carlyn Bezic and Amanda Crist, known for their electro-pop duo, Ice Cream, also joined. An interesting dynamic developed. Turnbull & TB generated instrumentals for Remy to write to. Furnished with lyrics and melodies, the songs were then arranged by the entire group. This work and a schedule of infrequent live shows continued for a couple of years until Young Guv, of Fucked Up fame, cajoled the band into a studio with engineer-producer Steve Chahley to finally record some of the exciting new tunes.
DARLENE SHRUGG RELEASES

'DARLENE SHRUGG'

UTR101 | LP | 9 tracks | Buy
A certain alchemy has helped to establish the unique force found on the debut album: four women, one man; four Canadians and an American; musical collaborations stretching back to nascent high school years; punk exuberance meeting studio finesse. Darlene exudes an easy confidence in combining the raw, blunt power of the bands writing and arrangements with Turnbull & Chahley's layered and, at times, elaborate production. The concise blast of their self-titled debut seeks to compress, absorb and invert the energy of classic rock. They profane, as much as pay tribute to a lineage of foundational bands, arguably stemming from Black Sabbath and Alice Cooper through Thin Lizzy, and on through the boy's club fantasy of early 2000's, 'raw' rock revival bands, like The Strokes or The Hives. Gauche rock moves are ransacked and transformed with the glee of an amateur cast production of the Rocky Horror Picture Show. All of this unfolds in less than half an hour, leaving time for a detour into the sublime with album centrepiece, Strawberry Milk, an interstellar power ballad turned meditation on Eve, and the confrontation between sex and eternity.
With their glammed-up, high intensity live show featuring all members contributing vocals (save drummer TB), Darlene Shrugg seems not to rebut so much as disregard the notion of Rock's diminished cultural capital. Their diverse brand of hard rock resists genre pigeon-holing. They fan out an array of stylistic threads, which they might later choose to follow up, or perhaps just as likely, skip past. They've laid waste to the Toronto underground. Now, they're hungry for more.
LINKS
PRESS
PITCHFORK
LOUD & QUIET
TINY MIX TAPES
RIDE THE TEMPO
VIDEOS
'INHERIT THE WIND'
'FIRST WORLD BLUES' / NOISEMAKERS
'WAH WAH' / NOISEMAKERS SESSION