PHOTOS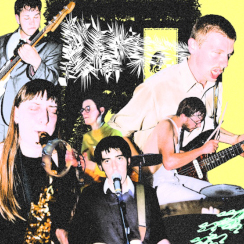 HI RES DOWNLOADS



Photos by Kaputt
ABOUT KAPUTT
KAPUTT are a recently hatched post punk act from Glasgow, Scotland. Numbering six, Kaputt feature Cal Donnelly on guitar and vocals, Curtis Halling on guitar, whilst Chrissy Barnacle also sings and plays saxophone. Tobias Carmichael is responsible for bass, whilst Rikki Will and Emma Smith cover drums and percussion respectively.
Racing away from the playful torn edge of no-wave song, Kaputt blurt out tracks with twitchy charisma, their catchy riffs circle with relish, allowing timely sax stonks and stop-start rhythms to drive things on. Vocals leap, guitars bluster and always the saxophone snakes, hypnotically drawn through the erratic beat. There's a riot of fun at play in their febrile racket, but there's also some deeply cerebral grooves and choice lyrical concerns evident too.
KAPUTT RELEASES

'MOVEMENT NOW / ANOTHER WAR TALK'

UTR137 | 7" | 2 tracks, 8 minutes | Buy
Those masses are on the move again! Sterilised in step, rusted in thought and white behind the eyes, they march and bark and bite without acceleration, digging in their heels on a tired old spot. They're not running, and they'll never run for you, so if you're not satisfied in trusting the stagnant, break the rot and tailor the world to your own speed! Kaputt's new EP 'Movement Now/Another War Talk', by throwing onus on a society of lethargy, uses velocity, both conceptually and in instrumentation, as a solution for the unifying phrase "I WANT MORE".
Glasgow post-punk six-piece Kaputt aren't strangers to directing their explosive energy and maximalist vibrancy in name of allegory and critique. Their 2019 debut album on Upset the Rhythm 'Carnage Hall' confidently deconstructed themes of surveillance, paranoia, and cultural identity through a sonic lens of high-tempo, bright, danceable pop hooks and technical, polyphonic rhythms which border on the bombast of Zeuhl.
New EP 'Movement Now/Another War Talk' continues the synthesis of animation and discontent with an ethos that exemplifies post-punk's most original and guiding purpose: casting aside the rigid, signifying fashions of modern performative genre tropes and instead combining a vast fluidity of influence, tone and style to create something as unique and personal as it is counter-cultural. The result is a release that responds to the apathy of our current situation with a positive thesis, breathing life into the lived-in, bursting through every vessel, leaving nothing unturned.
'Movement Now' enters with the distinct high-low drive of guitar whines and racing low toms, emblematic of the presence one feels when pushing past bodies in a heaving DIY venue, but it is not afraid to play with expectations. When the song thematically opens out, disrupts convention and progressively rebuilds upon itself, the track, a comment on the ever-lagging pace that jaded, old values take to transform, transitions from a goth aesthetic to the optimism characteristic of any indie heavyweight.
'Another War Talk' shines in production and composition as arguable one of the best examples of distilling the band's manic live energy into a studio recording. The divergent vocal duality of Cal D. and Chrissy B. accompanied by competing percussionists and dynamic saxophone lines encapsulates the performative strengths that has allowed the band to become a constant highlight in Glasgow's ever exciting DIY scene. It is, in essence, the naturalness by which six passionate voices can combine into one vision so seamlessly, which one who has not experienced the band live should take away from the track for now in anticipation of the future. 'Movement Now/Another War Talk' will be released on May 14th as a limited edition blue vinyl 7" and also digitally through Upset The Rhythm.

'CARNAGE HALL'

UTR126 | LP | 13 tracks | Buy
The songs on 'Carnage Hall', Kaputt's debut album released by Upset The Rhythm this September, were all written in Glasgow between 2016-2018. Following on from the independence referendum and the subsequent Brexit vote these songs couldn't help but be influenced by the maelstrom of political hypocrisy and confusion in the air. Other themes prevalent on this energetic corkscrew of an album include the offbeat happenchance of life in 2019, notions of surveillance, identity (personal as well as the biscuit-tin styled persona of the Scottish Highlands), industrialisation and family. There's a lot of room left for things to turn quietly surreal too. Title track 'Carnage Hall' is about an alternative dimension in which Judy Garland's famous Carnegie Hall show, (one of the group's favourite albums), was a total bust rather than the roaring success it proved to be. In deciding to call the record 'Carnage Hall' the band wanted to reflect on this "deeply uncertain and deeply unstable, odd political time... maybe we are all in an alternative dimension, all living in the Carnage Hall at this moment" alludes Donnelly.
Album opener 'Rats' with its refrain of "it's so much darker now" is a crumpled twist of song. Explosive, ruminative and content to bemuse with a loose political allegory drawn out from a dank pet shop. 'Accordion' lilts with more breezy tendency, "forward, forward, I'm always moving forward" they collectively sing as if affirming their musical manifesto. Kaputt excel at fidgety, speedy outpourings of ideas, their songs zap by, multifaceted and bejewelled with detail and colour. 'Parsonage Square' is another great example of this, it's a song about public access, panopticons and paranoia hurtled into a motley rip of melody that feels very much like a fairground ride being cranked up a gear. Meanwhile 'Suspectette' concerns itself with Mary Weiss of the The Shangri-Las' FBI file. 'Think About Your Face' investigates those certain grimaces made in passionate embrace. Bizarre and wonderfully outlandish, Kaputt enjoy keeping things as unpredictable as the tempo of each song.
Kaputt are skilled practitioners of emotional sleight of hand too, whilst each song on 'Carnage Hall' whirls by in frenzied fashion, burning bright with purpose, the group's lyrics pull you into people's lives, often damaged, often running low on options. 'Highlight' is an a-grade anthem doubling up as an eulogy for shipbuilding, 'Drinking Problems Continue' parts 1 and 2 are about Ullapool and generational holidays spent watching "the sun set on the ferry". "This could be your life" attest Kaputt on the deliriously labyrinthine 'Very Satisfied'. 'Carnage Hall' is an empathic album dealing with memory and place, but most importantly with people. "Swallow your thumbprints" demand the band in rampant stomper 'Hi, I'm The Wasp'. Maybe this is all the push we need to drop tired notions of belonging. This record asks us to clasp dear what makes us connect with each other over division. It's searching for an open window to slip through away from Carnage Hall and into the next parallel world, one where we have a chance.
'Carnage Hall' was recorded and mixed by Luigi Pasquini in Anchor Lane Studios in Glasgow in spring 2019, before being mastered this summer by John Hannon at No Studios. Caio Wheelhouse worked with the band on the artwork. 'Carnage Hall' is now available on limited 180g black vinyl and digitally through Upset The Rhythm.
LINKS
PRESS
CLASH
HARAKIRI DIAT
AUSTIN TOWN HALL
LET IT HAPPEN
THE SKINNY
POST-TRASH
RAVEN SINGS THE BLUES
CLASH
THE SKINNY
IS THIS MUSIC?
GOLD FLAKE PAINT
VIDEOS
'GONE WEST'
'MOVEMENT NOW'
'VERY SATISFIED'
'FEED MY SON'
'SUSPECTETTE'