PHOTOS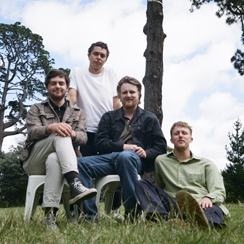 HI RES DOWNLOADS








Photos 1-4 by Chelsea King, Photos 5-6 by Jess Meadows
ABOUT VINTAGE CROP
VINTAGE CROP serve to serve again. Over the last four years the Geelong group have become a burgeoning force in the Australian punk scene. Their burly, brusque yet supple songs have evolved from the garage rock of 2017's 'TV Organs' album into the post-punk panic attack of last year's 'Company Man' EP. Now they've sculpted their sound further, the barrage now offset with robust songwriting, their full-pelt bounce tempered with flailing guitar lines and sardonic commentary. Bringing to mind Wire tackling tracks from early 7"s by The Yummy Fur, it's an inspired approach, both striking and effortlessly mirthful. Vintage Crop still dish-up plenty of commanding stomp, their lyrics remain as keen-eyed as ever, but now they're unafraid to mess with the tempo and drive their point home. Geelong's favourite sons Vintage Crop return this summer with their much-anticipated fourth album, 'Kibitzer'.
VINTAGE CROP RELEASES

'SPRINGTIME'

UTR156 | 7" | 2 tracks | Buy
Returning once again via Geelong, Australia; Vintage Crop offer up their new single 'Springtime'. With 2022's 'Kibitzer' album still looming large in the rear-view mirror, the band now speed ahead once more with this two-track seasonal treat.
'Springtime' exhibits the band's growing strength in harmonic arrangement, whilst staying true to their taut roots - allowing the lyrics to shimmer. Following the arc of a relationship on the rocks and both people coming to terms with their situation, the song is a rare moment of vulnerability for the band that demonstrates their range. The flip side of the EP sees 'Mercenary' deliver the sort of post-punk punch that fans have come to expect from the band. Brutish, brash & refusing to sit still; all the makings of a classic Vintage Crop number. Paired with lyrics exploring the online music scene, the track pokes fun at the "Internet Sound" that now dominates the underground. Springtime is a firm foot forward for Vintage Crop.
The new single is available as a 7" through Upset the Rhythm, out September 8.

'KIBITZER'

UTR147 | CD/LP | 10 tracks | Buy
Running with the ball that 2020's "Serve To Serve Again" punted forward, this album marks another energetic break towards the goal for Vintage Crop. 'Kibitzer' sees the band define their field of play, more melodic at times, still bruising, forever droll. These ten tracks of 'snappy as elastic' Australian punk are packed with tensile riffage, hefty beats and witty refrains of everyman curiosity.
'Kibitzer' was written in quick response to their critically lauded 'Serve To Serve Again' album. Harsh guitars, a brutish rhythm section and a knack for always having the right words at hand are still abundant, but this time Vintage Crop's songs expand upon their forceful nature with greater harmonic arrangement. It was recorded by Jasper Jolley in one single session on a former apple orchard in Geelong, a backdrop that mirrors the band's own organic growth whilst highlighting their willingness to approach capturing their own sound their own way. The album was then mixed and mastered by Mikey Young.
'Kibitzer' delves into themes of identity, resilience and acceptance; some of the more upbeat notions that the band have dealt with to date. 'Casting Calls' opens the record, slamming through the speakers with gusto and setting the tone for the following 30 minutes. "It's rolling, we're rolling, we're winding back the tape, we're getting better with each take" sings lead songwriter Jack Cherry. Accepting your limitations and taking pride in your work are key themes on 'Kibitzer'. In fact ideas around learning, growing and being able to take things in your stride are strongly felt through their entire body of work. These themes hit home with the album's title too, with Cherry feeling that 'Kibitzer' is an apt way to describe a lot of the band's focus. "I feel like a lot of our lyrics over the years have been our unsolicited opinions on other people's situations, the very definition of the word Kibitzer. So for this record we wanted to lean into that tendency by acknowledging it and even go as far as stamping it on the album cover."
Musically the band have expanded their palette on this album; exploring a world of rhythmic harmony and a newfound vocal melodicism. There's also greater lyrical elaboration and considered song structures at play. 'The Duke' is a mob of rollicking chants and heavy hitting, catchy to the core. 'The Bloody War' is a more sanguine reflection of tumbling drums, struck chords and shrill keyboard warble. "He's got the keys to the universe and they're hanging from his belt loop, his wit is as quick as lightning, his disapproving gaze is the thunder that follows" pipes Cherry on 'Double Slants', guitars chiming through the hubbub. 'Hold The Line' turns the wry amusement of dealing with cold callers into a fidgety anthem of knowing frustration. Whilst 'Switched Off' even welcomes the introduction of horns (courtesy of Heidi Peel) to the group's repertoire, ushering in an unexpected serenity into their tough sound.
'Kibitzer' is the giant leap forward Vintage Crop have been striving for; but you don't need our unsolicited opinion on that, listen yourself, "put it on repeat"! 'Kibitzer' is proudly released by Anti Fade records & Upset The Rhythm on LP, CD and digitally on June 24th.
'SERVE TO SERVE AGAIN'

UTR131 | CD/LP | 12 tracks | Buy
'Serve To Serve Again' is Vintage Crop's third full-length album. It was recorded by Mikey Young after a year of playing solid shows, including tours in Europe and the UK alongside Louder Than Death and URSA and some of the band's biggest shows to date in Australia with Amyl & The Sniffers, R.M.F.C. and The Stroppies. This allowed Vintage Crop to nail the songs live before committing them to tape, pulling and pushing ideas, stretching them into new-found territories.
'First In Line' races off the blocks with its sawtooth riff and splintered beat, all jagged edges and ragged vocals. Quickly follow a pair of totemic bruisers in the guise of 'The Ladder' and 'The North', both brimming with a nigh anthemic quality, confident in their faculty to rouse the rabble. 'Jack's Casino' is a lurching romp about gambling, 'Streetview' is similarly propellent, only choosing to meander and divert itself with cryptic trips around the neighbourhood: "He only moved to that side of town because the postcode is worth it's weight in gold".
There's no better poised nod to frustration than 'Gridlock' - "the hustle and bustle of inner-city traffic is driving me nuts because the radios on static". Guitar lines entwine and wriggle wildly free from the song's pouncing rhythm and potent vocal, making for the most vigorous of rackets. 'Just My Luck' prowls with a shared thrumming verve, whilst 'Everyday Heroes' closes out the album with measured flair. Skewed and fervent, rangy at times yet always assured in its intent 'Serve To Serve Again' is long-legged leap for Vintage Crop into the delirious now. These songs strive to make sense of futility, they criticise the chain of command, question privilege and most importantly make us want more from life. Now all we have to do is turn up the volume!
'Serve To Serve Again' was be released by Upset The Rhythm on limited edition vinyl (180g) and digitally on August 7th 2020. Our friends at Anti Fade are releasing an Australian pressing too!
LINKS
PRESS
POST-TRASH
LOUD & QUIET
GIMMIE ZINE
MAXIMUM ROCK-N-ROLL
TROUBLE JUICE
RECORD TURNOVER
POST-TRASH
RAVEN SINGS THE BLUES
WEIRDO WASTELAND
LIVE EYE TV
AUSTIN TOWN HALL
POST TRASH
BROOKLYN VEGAN
VIDEOS
'THE BLOODY WAR'
'DOUBLE SLANTS'
'THE NORTH'
'GRIDLOCK'
'LIVE'