PHOTOS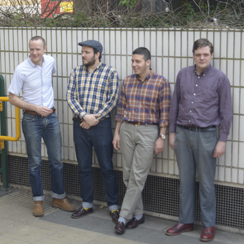 HI RES DOWNLOADS



Photos by Hygiene
ABOUT HYGIENE
HYGIENE released a slew of singles and an LP on various DIY labels in the US and the UK at the turn of the decade, now the London post-punk stalwarts return from hiatus with their sophomore effort, 'Private Sector'. Where their debut LP 'Public Sector' (2011, La Vida Es Un Mus) reflected a nostalgic longing for an unrealised socialist modernist utopia, 'Private Sector' finds them confronting the grim realities of the present.
HYGIENE RELEASES

'PRIVATE SECTOR'

UTR117 | LP | 12 tracks | Buy
Hygiene rail against the neoliberal madness of utility cartels, tax havens and privatised railways, seizing the moment as the current period of interregnum sees the old ideological certainties come into question. Proving nostalgia to be an inescapable trap, the band continue to hearken back to the kind of post-punk that existed before anybody knew to affix the 'post' prefix. 'Private Sector' (out May 24th through Upset The Rhythm) has the signature Hygiene sound, mixing brooding melodies with a choppy, aggressive approach and a restricted pop sensibility. However, this ever-so-slightly-more mature record finds the band taking advantage of the musicianship of their friends, mixing in the odd viola, glockenspiel, piano and keyboard. Recommended for fans of Real Ale, British Rail Class 55 Deltics, Euston station and Jeremy Corbyn.
LINKS
PRESS
THE QUIETUS
DUSTED MAGAZINE
HELLO GOODBYE
NORMAN RECORDS
THE TEMPOHOUSE
ALL MUSIC
ROUGH TRADE
VIDEOS
'REPLACEMENT BUS'
'ENGLISH DISEASE'
'LIVE AT UPSET THE RHYTHM'