PHOTOS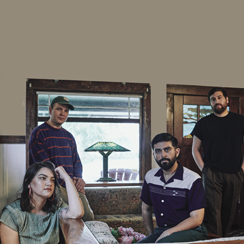 HI RES DOWNLOADS



Photos by Dan Monick
ABOUT LUNCH LADY
LUNCH LADY are a sparky group from Los Angeles redolent of the desert heat, pining hearts and that chorus-soaked cloak of sound held dear by followers of British early 80s post-punk. Numbering four, Lunch Lady consist of Rachel Birke (vocals), Juan Velasquez (guitar), Victor Herrera (bass) and Robert Wolfe (drums). The band began in 2017 when Velasquez asked Birke if she'd like to start a new music project with him, their respective other groups Abe Vigoda and Heller Keller having co-existed in LA's DIY orbit. Birke explains that they "immediately decided upon making the new band a kind of love letter to Kitsch." Lunch Lady's dreamy punk forays into country ballad territory certainly swoop into sentiment, but its the melancholy of artifice that defines their outlook. "I like the way Susan Sontag explains Kitsch as being something that lacks the context or materials to reach the effect it sets out to achieve. Also that tragic aspect of Kitsch, we loved the futility of how literal it is, we wanted to evoke that with our band name and definitely my lyrics" illuminates Birke further.
Lunch Lady swiftly recorded a demo and started playing live, their music began to grow into sun-warped vignettes, often miniaturist character-studies in outlook. These songs are studded with unquiet recollection, all delivered with a curious objectivity that pulls the listener into the circle. Birke's vocal is unhurried and assured, pressing her characters' motives and words into the sprightly guitar trails and jogged rhythms that characterise the sound of the band. During the summer of 2018, Lunch Lady had assembled the tracks for their debut album, which they took into the studio towards the year's close. Lunch Lady's debut album, 'Angel' was recorded at Gauchos Electronics, a key studio in the history of Los Angeles punk and the place where many of their peers had laid down albums previously, including Gun Outfit, Feels, Ty Segall and No Age. Pascal Stevenson produced the album, whilst Scott Cornish helped engineer and mix. Mikey Young then mastered this vibrant record.
LUNCH LADY RELEASES

'ANGEL'

UTR123 | LP | 12 tracks | Buy
'Angel' is an album of resounding yearning, of cold fire and hot, sticky blood. It's an album of troubled tales, buried hearts and wandering homeward. Throughout, Birke's narrative-heavy lyrics keep things themed and theatrical. This is most strongly felt on cinematic swirls of song like 'Preacher Man' and clicky, strummer 'Sweet One'. The stunning track 'Dolores' creeps and ranges around under a dark cloud of disclosure. Struck chords hang in the air like smoke whilst Birke intones "you say he's a bad man, and a killer too, and you tell me like I don't know." Birke wrote those lyrics from the perspective of the female character in Eddie Noack's serial-killer C&W jaunt of the same name. The song rattles with craving, whilst the guitars wheel and loop, strident drums pinpointing. 'Window' whirls by with all the flourish of a card trick. Drums tumble whilst the guitar line twists through the taut stretch and sprint of the bass turns. Birke's low-slung yet smouldering vocal confesses that "my hands are as clean as a remembered thing, my hands are as clean as I want them to be."
Thematically, Lunch Lady's debut cascades with crumpled wishes and hotly recalled visions. Throughout writing the lyrics for the album Birke spells out that she's "been trying to tackle my own feelings about nostalgia, especially that romanticisation of one's own childhood. The album's also about that painful feeling of looking at a family album and trying to reconcile yourself with the kid you see in the photograph. 'My Dead Dog' is about that and became one of my favourite songs on the album for that reason." The album swims with a type of anxious nostalgia. Birke's cover art of a flaming Cadillac falling through the sky is a case in point. "I never had a love like the love that I never had" sings a resigned Birke towards the summit of 'My Dead Dog'. Whilst 'Preacher Man' addresses the problem of nostalgia more on a cultural level, a host of avenging angels, sisters in white robes and gun-toting men crop up elsewhere via the cool detachment of time passed. You get the feeling that Lunch Lady prefer to face these dangers face on. They seem most at home staring down the uneasy. See the simmering clamour of 'Young Bride' and 'Sister' with its swooning bloom of melody for further evidence. This sense of fight or flight is keenly felt in 'Snakes' too. Herrera's bassline nags at Wolfe's beat, whilst Velasquez's chiming guitar spills wistfully. "Cold sweat, smooth hands, hot blood. Your babes are crying, your life's cast in iron now" evokes Birke in a sweetly hushed vocal as relaxed as casual conversation.
Lunch Lady turn on all the lights in this haunted house of an album. Each room populated by a vividly drawn cast of whispered hopes and threatening dreams. 'Angel' is an album that murmurs like a river down the staircase, exploding with unexpected melodrama, brandishing it's desire like a weapon. Let it take you by the hand and guide you out into the night. Out into the glimmer, before the stars go out and the warmth of the sun returns to cool passions.
LINKS
PRESS
LOUD & QUIET
POST-TRASH
TEMPO HOUSE
BROOKLYN VEGAN
PENNY BLACK MUSIC
BIRTHDAY CAKE BREAKFAST
BEATS TO THE BAR
DUSTED MAGAZINE
VIDEOS
'WINDOW'
'SWEET ONE'
'DEEPER'