MEDIA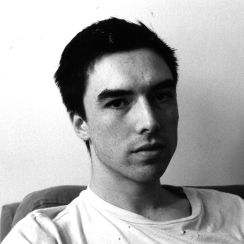 HI RES DOWNLOADS





Photographs by Ed Templeton.
BIOGRAPHY
BARR is the project of LA / NYC's wandering pop dynamo Brendan Fowler, in which he half-sings over half-tunes, creating a set of confessional songs that challenge the listener's preconceptions of what's music and what's spoken word.
Holding articulate dialogues with himself, the listener and various third parties, Brendan's words are backed by deceptively simple, yet emotionally disarming melodies, formed from a sparse arrangement of bass, drums, piano and sometimes xylophone. This minimal aesthetic is the perfect platform for candid and exploratory songs about love, absence, realisation and experience.
Brendan's work combines his skills as a storyteller, his willingness to go out on a limb and be personal, and most importantly his desire to inspire others to make art. Aside from BARR, Brendan edits the arts journal ANP Quarterly, with acclaimed skate photographer Ed Templeton, helps run the ace DoggPony label, and plays in New England Roses with JD Sampson of Le Tigre, as well as Car Clutch with Ethan Swan.
Brendan's vital live shows have graced galleries and museums world-wide, as well as the rock clubs and living rooms of North America, on tours with Tracy & the Plastics, The Quails, This Song Is A Mess But So Am I and The Evens, as well as with Brendan's high school friends Animal Collective.
RELEASES

'SUMMARY'

UTR010 | CD / LP | 9 tracks, 32 mins | 12 Mar 2007 | Buy
'Summary' is "a document of the body as a record" - an intensely individual attempt to codify the emotional upheaval of a traumatic five months around the summer of 2006. The songs record the idiosyncratic nature of thought processes, with the repetitive melodies and stream of consciousness lyrics, capturing exactly the indirect speech and leaps of logic that occur in one's head.
As a result, 'Summary' is BARR's darkest and most complex record yet. Impassioned and articulate, it trawls the depths of relationships and explores the potential of catharsis. As Brendan says in the first single from the record - the aptly named "The Song Is The Single" - it is "a conduit to give out a feeling in a compact form". The body and the record become one and the same.
Over the course of the nine songs, the listener's comfort zone is stretched to its elastic limit and beyond. From the indescribably dark "Complete Consumption Of Us Both" - which deals with the emotional pain of a break-up and its transition into a "nervous working present" - to the rallying cry of "Half Of Two Times Two" - which contemplates the relationship between the personal and the political, and wonders at the scale of one's place in the world.
With 'Summary', Brendan has written an album that sounds like no other - a classic piece of work that is all-encompassing in its ability to affect. Whether via the dramatic simplicity of the music or the raw and expressive lyrics, it is an album that speaks to everyone, a body and a record of us all.

'BEYOND REINFORCED JEWEL CASE'

UTR005 | CD / LP | 16 tracks, 32 mins | 14 Nov 2005 | Buy
'Beyond Reinforced Jewelcase' was BARR's debut release in Europe, following an album and numerous EPs stateside. Through the albums 16 tracks, Brendan tackles a multitude of unusual topics. The conversational flow of a typical BARR song beats it's own bizarre lyrical path, taking in artistic processes, psychological disorders, popular music, the human condition, family, and of course, Brendan himself. Each song is very much like a thought-provoking discussion with someone you feel you've known, and want to know, forever.