PHOTOS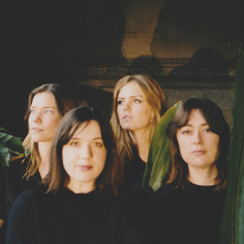 HI RES DOWNLOADS







Photos by Primo, except 5th photo by Robyn Daly
ABOUT PRIMO
PRIMO! are Xanthe Waite, Violetta DelConte Race, Suzanne Walker and Amy Hill. As a quartet from Melbourne writing up-tempo, terse chorus and verse, Primo! make use of two guitars, bass, drums, sound effects and a group vocal sensibility to ornament their enquiries into deconstructed punk and indie rock. Their songs chime and charm, sounding at times bountiful, at others brittle, always buoyant with attention to detail.
PRIMO RELEASES

'SOGNI'

UTR129 | LP | 12 tracks | Buy
Drawing from a collective musical lexicon as seen in 'Amici', 'Sogni' (which translates from the Italian as 'Dreams') reflects on themes of decision-making, change, time, heartbreak and the practicalities of work and daily life. Primo's music is a study of duality, weaving through these themes with an idiosyncratic delivery that is punctuated by post-punk sensibilities, upbeat jangle and unexpected electronic flourishes.
'Sogni' sees the introduction of Amy Hill on bass, adding to the original trio of Suzanne Walker (drums), Violetta Del Conte-Race and Xanthe Waite (guitars). There's a freshness here, a breaking of new territory that's a testament to the group's collaborative work ethic and experience in their associated bands. Spanning just under 30 minutes, 'Sogni''s twelve songs were conceived collectively in the rehearsal room and perfected in a live setting, before being recorded to an 8-track with Al Montfort across a number of home studios in Melbourne.
The resulting LP comes with a languid and fluid pace. Opener 'Things To Do' sets the tone for Sogni, a record that reflects Primo's day-to-day life, with sharp lyrics and a chiming encouragement. 'Perfect Paper' propels the album into cruise, with splintering guitars, 'Machine' highlights the work-hierarchy struggle ("you told me just what I should do / but the problem is you're only human / and I just can't listen to you / machine, machine, machine"). 'Best and Fairest' questions the idea of an ideal life, while 'Love Days' reflects on past relationships and 'Diamond Day' deals in accidentally being swept up in love. Before long, the LP is wrapped up with a hazy and intimate final track, 'Reverie'.
Primo! are making guitar music that explores the boundaries of everyday life with calm levity, tilted grace and grit. Catch them touring Sogni in 2020!

'AMICI'

UTR109 | LP/CD | 10 tracks | Buy
'Amici' is Primo's debut album, following on from their split 7" last year and a cassette of early work entitled 'Primo Cassetto' from 2016 on Hidiotic. 'Amici' was recorded and mixed by friend Al Montfort through 2017. The collected songs reference the 40-hour working week, the city, bureaucracy, walking, a mirage and a ghost. In form the songs are short and purposeful, "leaving footsteps in the snow" much like the protagonist of their wistful invocation to 'Daphne'.
A sense of haste and motion is imbued through Primo's songs, linking up with the album's lyrical themes of acute observation, mindful conservancy and the dislocated meaning behind modern life. "Got the paper, got the pen, got the deadline, in the line, out of traffic, got the stapler" they sing united on 'Future'. 'Bronte Blues' is a similar rapid tumble of melody and problem solving, detonated by the line "you're a magnetic strip, living on borrowed chips". The vocal clarity of these tracks place Primo promptly in our own heads, the band's intriguing lyrics springing forth like our very own flights of fancy. There's an honesty and emotional distance at play in these songs too, with their instructions, lists and procedures leaking into our semblance of self. "Tell me more, tell me more" voice the band throughout 'Disco Eyeballs'. The quest to lucidly understand underpins the whole record.
Primo take you from A-to-B with their songs, from the appetite of another place to the bird's eye view. 'Family Dinner Club' deals with anonymity and suburbia, whilst 'Ticking Off A List' admits "there's a fogginess to some beauty, you look outside, I can't know what you see" before urging us to take to the footpath. 'You've Got A Million' races all over town, whilst 'Closed Tomorrow' talks of a "a car going by, one day out of life, going home or to another man-made space". These songs are alive and inquisitive, chasing down questions for answers long sped-away, amidst minimalist shuffle beats and ringing-out chords. 'Amici' is a triumph of the underplayed, its small details pull focus, allowing the album to treat us to unexpected truths in plain sight.
Primo's newest member since 2018 is Amy Hill, who also plays in Terry and Constant Mongrel, on bass. Outside of Primo, Xanthe and Violetta both have lent their guitar skills to Terry and The Shifters respectively, whilst Suzanne works in film too. The band's debut album 'Amici' will be released as LP and CD on Upset The Rhythm on July 13th and followed up in August with a European tour.
LINKS
PRESS
PITCHFORK
DUSTED
AT THE BARRIER
NME
RAVEN SINGS THE BLUES
THE LINE OF BEST FIT
TOM TOM MAG
WICKEDD CHILDD
INDIE MUSIC
RAVEN SINGS THE BLUES
AUSTIN TOWN HALL
WEIRDO WASTELAND
PITCHFORK
ALL MUSIC
BEATS TO THE BAR
GORILLA VS BEAR
WEIRDO WASTELAND
VIDEOS
PRIMO - MACHINE
PRIMO - DIAMOND DAYS
PRIMO - MIRAGE