PHOTOS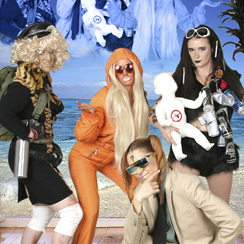 HI RES DOWNLOADS



Band photos by Ravioli Me Away.
ABOUT RAVIOLI ME AWAY
RAVIOLI ME AWAY are Sian Dorrer, Rosie Ridgway and Alice Theobald and more recently, have recruited Monika Kroll as an intermittent member. Un-defined by genre, Ravioli Me Away's high energy, dangerously ambitious and delusional jazzy-post-pop-punk-hip-funk sound with stylistically schizophrenic motifs span all-known past, present and future human cultures and sub-cultures. This is social realism soaked through with a heady dose of fantasy, idiosyncratic poetics, keyboard flurries and vocal vicissitudes described as "vintage drag-queen Bananarama Youtube footage played with twice the sass and in double time with an incredulous broadband connection reflected in the eyes of a much overworked and downright exhausted Julie Burchill on acid."
Since forming in January 2013, they have performed extensively at various events, venues, festivals and galleries in the UK, France, Switzerland, Germany, Czech-Republic and Holland. They have also recorded and released records and appeared on radio shows on 6 Music, Resonance FM and NTS Radio. In 2014 RMA released their first 12" LP 'The Inevitable Album' on Good Job Records, had a split 180 gram vinyl record released by independent label Upset The Rhythm, and a Limited Edition tape of live recorded material produced by Ben Wallers of The Country Teasers/The Rebel released on Neen Records. This November, RMA will release their second album, 'Living is a Myth' with Upset The Rhythm.
RAVIOLI ME AWAY RELEASES

'LIVING IS A MYTH'

UTR087 | LP | 10 tracks | Buy
'Living is a Myth' is an incredible album, exploring symptoms of society through its overlapping patterns of ideas and music. Always inventive, clatter-some drumbeats drive the songs ever onwards, whilst the bass plunges through the fantastical worlds emerging from the woozy pools of formidable keyboard tone. RMA see themselves as agents, pointing out phenomenon and responding to it. This is conducted largely through the band's contagious approach to song. Melody and reiteration are at the forefront, with Dorrer's wordplay and sublime delivery racing through the songs with effortless style. Ridgway and Theobald also contribute stunning vocals, often unpinning the songs with surreal refrains and caustic angles. Moving onto the topics covered on the album, Ravioli Me Away have mutual interests in identity, politics, human relationships, love, gender, class and current affairs, and use their songs as a means to explore, debate and express such interests, using metaphor, cliched pop references and repetition.
The gatefold LP will be accompanied by an A1 poster of the band, an orange slice of vinyl and a lyric book with download code. "I'm nostalgic for now, I traveled far ahead, I'm looking back with great affection - at this moment" sing RMA on the album's title track. It's hard to imagine a lyric that more perfectly encapsulates what RMA are all about. Ravioli Me Away provide the commentary to our internal narrative as we edge through life from one nostalgic moment to the next. They witness, comment and thus help us identify the means by which we must escape ourselves.
LINKS
PRESS
THE NAME OF THE NEXT SONG
VIDEOS
GOBLIN TOWN
CAT CALL