MEDIA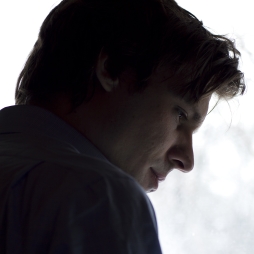 HI RES DOWNLOADS


















Photographs 7 - 10 by Jennifer Juniper Stratford.
Photographs 11 - 12 by Claire Titley.
Photographs 13 - 15 by Peter Carter.
BIOGRAPHY
JOHN MAUS lives in his birthplace of Austin, Minnesota. Whilst working towards his PhD in Political Science he also composes music that taps into melancholic fantasy and affirms that we are all truly alive. Questing synthesisers, tensely strung bass lines and chasing drum machines provide the perfect backdrop for John's deeply resonant reverb-drenched vocal.
Born in the decade of synth pop and sharing his birthday with George Frideric Handel, John started making music when Nirvana posters went up on every teenager's wall. It's this curious conflux of influences that partially helps to describe John's music. It's a world where the Germs jam with Jerry Goldsmith, Cabaret Voltaire relocate to Eternia and Josquin des Prez writes a new score for RoboCop. The confrontation of punk, the fleeting poignancy of 80s movie soundtracks, the insistent pulse of Moroder and the spirituality of Medieval and Baroque music all find salvation in John Maus.
After a spell working alongside Ariel Pink and Gary War in Haunted Graffiti, 2006 saw the release of John's debut album proper through Upset The Rhythm.
RELEASES

'WE MUST BECOME THE PITILESS CENSORS OF OURSELVES'

UTR049 | CD / LP | 11 tracks, 32 mins | Buy
Third album 'We Must Become The Pitiless Censors Of Ourselves' breaks new ground for Maus. The shirt pulling and air punching of his impassioned live performance is finally captured in all its frenzied appeal alongside a tender inner space. After stretching muscles with opener "Streetlight", arpeggiators bubble up to new levels with "Quantum Leap", a song full of dead zones, glancing slaps and oscillating solos.
"Heart to heart, mind to mind, we are the ones who seem to travel through time," intones Maus resolutely through the mist. John's lyrics are as likely to touch upon themes of Cronenberg gore just as much as the musings of Jacques Rancière. It's this no-brow approach that makes things interesting, casting Maus as a savant and allowing his music to startle us in ways whereby we open up to the unimaginable.
John's preoccupation with truth, love and eternity are perfectly suited to this treatment as seen with "And The Rain" and the softly cascading "Keep Pushing On". The songs are devastatingly catchy, saturated with keyboards and overflowing with Maus' allegorical summons. The hypnotic fugue "We Can Break Through" treads new territories into minimalism for Maus, seeing the phrase "Break through this" repeated almost like a mind control procedure scored by Bach and Suicide.
'Pitiless Censors' as an album displays a more delicate touch than its predecessors. "Hey Moon" is John's first duet, performed with Molly Nilsson, who originally wrote the song. It's a serene elegy that subtly weaves an impression of nocturnal loneliness and romantic dreams.
Closing track "Believer" is equally evocative with its bells, choral soaring and echoing sentiment. Of course, a John Maus album wouldn't be a John Maus album without the same anthemic genius and dark humour that we've seen previously with songs like "Maniac" and "Rights For Gays" and this new album finds its succour in "Cop Killer". The eerie waltz-time offspring of Body Count's controversial 90s protest track, it is dystopian, bleak and ridiculous and, in short, classic Maus.
Unlike the last two albums, 'Pitiless Censors' looks towards the future in all its absurdity. It's a record where promise takes the lead for the first time, providing a counterpoint to John's default existential calling. The cover of "Pitiless Censors" depicts an airbrushed lighthouse, thrashed by wave after wave, bringing to mind Beckett's quote "Unfathomable mind: now beacon, now sea."
The everyday realm where our lives seem both familiar and equally strange is where John Maus resides. His surreal touch is disarming, opening our eyes to the reality outside the four walls. Perhaps we're all like "the human being who finds himself in the locker" in "Head For The Country" in that, if we surprise ourselves and open the door, we can let the light in despite the storm.

'LOVE IS REAL'

UTR015 | Digipack CD / LP | 14 tracks, 46 mins | Buy
John Maus' second album 'Love Is Real' is an apocalyptic journey through the nostalgic streets of our home towns deep into the recesses of the human heart. It is a map of self discovery, rejection and escapism captured across 14 songs of melancholic baroque pop music. Similar in style to his 2006 debut 'Songs', the album is a mixture of exploratory synthesiser theatrics, tensely-strung bass lines and insistent drum machine clicks and pops, all set off by John's deeply resonant reverb-drenched vocal. 'Love Is Real' is a more reflective and realised effort than 'Songs' however, focusing its attentions on impulsive song writing and inspired musicianship, replacing the reminiscent feel of the first record with genuine poignancy.
'Love Is Real' is an album of contrast, of obscurity and familiarity, of darkness and light. Moments of intense disco anxiety warning against the sin of avarice - "Too Much Money" - find themselves rubbing shoulders with romantic virtuoso fugues - "Green Bouzard". The juxtaposition of the buoyant 80's synth pop alongside John's sombre, sometimes even morose lyrics is another good example of this tension. "Without you girl, I'm going over the edge" Maus sings over the four-to-the-floor dance rhythm of the album's prescient closer 'Times Is Weird'. Over the fantastical keyboard gymnastics of 'The Whole World's Coming Apart' John finds relief in repeatedly confessing "This is my nightmare, my nightmare". It's contrasts like these which point towards John's preoccupation on this album with confused emotions and misunderstood intentions.
Whilst 'Love Is Real' maintains the same anthemic genius and sense of humour that it's predecessor revelled in - the impassioned 'Rights for Gays' being perhaps the most neurotic example - this album finds its strength in its more delicate and revealing moments. The superbly mournful 'Do Your Best' is an elegiac paean to true love - "Reach out your hands to the one alone, in the city tonight" croons Maus to baritone abandon, sounding like a man resisting his own best advice. Similarly 'Tenebrae', the album's tour de force, follows the grand tradition of many classical composers who have tried to convey the suffering, 'great noise' and joy of the Holy Week in music over the last 300 years. It is a stately and majestic song which soars and pulses into inevitable splendour becoming the focal point of this remarkable album.
'Love Is Real' is a record about facing the demons within, searching through eternity and finding hope in the darkness of these uncertain times. It's about never giving up and holding out for the one you love. Put simply it can only be an album by John Maus.

'SONGS'

UTR003 | CD / LP | 16 tracks, 54 mins | Buy
'Songs' is Maus' debut, his life work, which was written and recorded at home over the course of five years. It's a twisted baroque pop record that brings to mind early 80's hits and coming-of-age movie soundtracks. Almost entirely electronic, the Maus sound is created from synthesisers, drum machine, bass and his remarkable vocals, which are pitched somewhere between Ian Curtis and Jim Morrison.
The record is a manic lo-fi masterpiece, which blurs addictive melodies, emotive lyrics and dreamy soundscapes to memorable effect. Permeated by feelings of intense nostalgia, with this album Maus has created a testimony to lost romance and to longing. These combine in such a way to make the listener feel as through they have stumbled across a lost classic. Ambitious in his musical and thematic scope, Maus touches upon timeless subjects such as the conflict between the mind and body, unrequited love, death and eternity.
LINKS
PRESS
THE WIRE
THE QUIETUS
DROWNED IN SOUND
THE LINE OF BEST FIT
MOJO
NME
THE INDEPENDENT
LOUD AND QUIET
THE FLY
THE STOOL PIGEON
ART REVIEW
DAZED & CONFUSED
CMU DAILY
THE GUARDIAN
NEW YORK TIMES
NEW YORK TIMES
LOUD AND QUIET
MOJO
FACT
FACT
THE WIRE
THE GUARDIAN
THE FLY
VICE
TIME OUT
Q
SPIN
BOWLEGS MUSIC
ELECTRONIC BEATS
BBC
PITCHFORK
DROWNED IN SOUND
THE QUIETUS
MOJO
NME
Q
TIME OUT
VICE
THE QUIETUS
TINY MIX TAPES
THE QUIETUS
THE 405
ELECTRONIC BEATS
FACT
LOUD AND QUIET
WHEEL SCENE
UNCUT
THE WIRE
THE SKINNY
STOOL PIGEON
NME
DAZED & CONFUSED
FACT
THE WHAT WHERE WHEN
SPEX
NARC
DAZED & CONFUSED
ROCK A ROLLA
PLAN B
XLR8R TV
DROWNED IN SOUND
UNCUT
TIME OUT
PLAN B
THE WIRE
THE WIRE
VICE
FACT
ALTERNATIVE ULSTER
PLAN B
ROCK SOUND
STOOL PIGEON
UNCUT