PHOTOS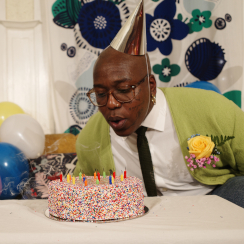 HI RES DOWNLOADS




Photos by Oliver Yan, 2023.
ABOUT BRONTEZ PURNELL
BRONTEZ PURNELL has been making music since the '90s. The Southern-raised, Oakland-based American musician and writer has centred his queerness and Blackness in projects Gravy Train!!! and Younger Lovers as well as in his award-winning books '100 Boyfriends' and 'Since I Laid My Burden Down'. He is also a dancer, film maker and choreographer.
Hot on the heels of recent 7" singles for Sub Pop, PPM and his first solo electronic record 'No Jack Swing' (Dark Entries / Papi Juice), Brontez returns in DIY-punk band formation for a new album entitled 'Confirmed Bachelor', out Nov 10th on Upset The Rhythm. These twelve songs presented are of the no-time-wasted variety. Fuzzed-out pop songs, hotly delivered from the heart, often sassy, sometimes sappy, always snappy! Brontez's band includes the multifaceted talents of Vice Cooler (who also produced and mixed the album), Sean Teves (of Younger Lovers) on drums, Kevin Preston (Prima Donna, Green Day) on guitar, Aaron Minton (Prima Donna) on piano and saxophone, and Laena Myers-Ionita on violin. The album was recorded in Los Angeles at The VCR earlier this year.
BRONTEZ PURNELL RELEASES

'Confirmed Bachelor'

UTR159 | LP | 12 tracks | Buy
'Bachelors Theme' opens 'Confirmed Bachelor' and sets the scene perfectly with the heady, rush along swoon of it all. Jagged riffs, bubblegum bounce and Brontez's vocal effortlessly racing to dizzying effect. "That's when I heard the doctor singing to me, "Son; you got all those boys in love, I wish I knew what you were saying to them. Their storming castles are coming for you!" It's a tour de force of bop and bravado. This is what the album does so well, it sweeps you off your feet first, making its lyrical disclosures all the more affecting.
'Rude Life' begins in lilting, measured contemplation. "You're the rudest boy I know, and I've a real rude life" confesses Brontez as the violin laces through his vocal. This is all shook up at the halfway mark though when the adrenaline kicks in and the drums pummel. 'Sky Opens Up' similarly dials up the tumbling, careening clamour and energy buzz. 'Hellish Banger' is more of slow dance meets grunge reverie. The album also boasts an amazing spiralling auto-tuned cover of The Amps 'Bragging Party'. 'No Cigarettes / Stay Monkey' is pulse-grabbing rally of unadorned declarations split into two fleeting sketches.
'Hey Boy' and 'Boy With Butterfly Wings' are more reflective in intent, both yearning and unapologetically poetic. In fact the little details observed in the lyrics across the whole album are quietly elegiac; winter nights, electric bills, ticking clocks and many allusions to hauntings only lending pathos to the love-drunk / lovelorn axis of the record. 'Confirmed Bachelor' is a hot wonder, upbeat, witty and ever-lively only with a forlorn core, a resolute focus and defiant honesty. It's a rare triumph, a record you can dance your Friday night away to, whilst the songs' subtly work on your emotions from the inside out.
LINKS
PRESS
GOD IS IN THE TV
AUSTIN TOWN HALL
OFFICE MAGAZINE
INTERVIEW MAGAZINE
ROLLING STONE
VIDEOS
BACHELORS THEME
STAY MONKEY