MEDIA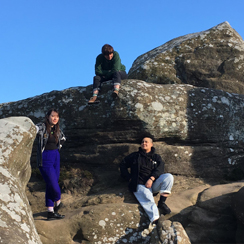 HI RES DOWNLOADS







Photographs 1-3 by Samuel Mitchell.
BIOGRAPHY
TRASH KIT are Rachel Aggs (guitar, vocals), Rachel Horwood (drums, vocals) and Gill Partington (bass). Three deeply creative individuals who play in a multitude of other groups including Bas Jan, Sacred Paws, Shopping and Bamboo, united by a shared decade of spry musicality that surges through their bodies, hearts and heads with Trash Kit. Their songs once succinct, patchwork post-punk numbers of an honest diary-like nature now tussle more with long-form songwriting, expeditious polyphony and cascades of sung-spoke vocals. This new focus began with their last album 'Confidence' (2014) and has now grown into something exhilarating and rapturous. New songs like 'Disco' have had their very fabric stretched into smart new shapes, allowing the band to run away with refrains and unlock the dancefloor. Although Trash Kit have their forebears in bands like Sleater Kinney, The Ex and The Raincoats, their sound is still very much their own take on facing forwards and relies as much on the naturalism of an internalised folk music as on their sincerity of vision.
Since forming in 2009, Trash Kit have released two albums for Upset The Rhythm and a selection of singles, this July however they make their most majestic move yet with their resoundingly huge Horizon album. For this album, carefully crafted through years of playing out live, the band have chased down the distance between what they wanted the record to sound like and its realisation. They've augmented these songs with choral arrangements, piano, saxophone, harp, viola and cello. Pulling ideas from everywhere between the earth and sky, to push themselves further, to go beyond. Aggs' guitar playing for this album was informed by her love of guitar music from Zimbabwe, her cyclical motifs billow with lean Mbira rhythms. Horwood has similarly approached her drumkit with an untamable freedom, allowing it to breathe as a vivid lead instrument. Trash Kit's music is woven with silence and punctuation, and this is where the resonant, driving bass of Partington fits in. The bass has become now central to shaping the melody of this new collection of songs.
RELEASES
'HORIZON'

UTR110 | LP/CD | 11 tracks | Buy
Lyrically the album has edged into an exemplary construct of the personal politic and the profound, quiet, almost unnoticed observations that we all make through each day without realising their true significance. Horizon finds itself abrim with themes, especially the notion of looking to the future, "personally as well as to the future of the band, the future of marginalised people making music, political futures, trying to imagine and re-imagine our world, thinking about what possibility and change sound like" attests Aggs. 'Coasting' which opens the album is concerned with "the end of the world and also the afterlife" and was written after Aggs read 'The Parable of the Sower' by the Afro futurist sci-fi writer Octavia Butler, a novel set in an apocalyptic California and featuring a protagonist in search of change and renewal. "When all this ends, without warning, where will we be?" sing Horwood and Aggs in robust unison. 'Sunset' draws on similar themes of ending and salvation, and proves equally ruminative. 'Dislocate' on the other hand is an upbeat sprint of spinning guitar and piano riffs showcasing both Rachels' overlapping vocal magnetism.
Pivotal to this new album, 'Horizon' is sleeping giant of a title track, forever reaching out and intensifying throughout its lively five-minute lesson in reinforcement. "'Horizon' is quite literal I think, I was thinking about the edge of the earth - how people interpret the planet, how you can sometimes forget the enormity of the world and the universe and how small that can make you feel" Aggs continues. 'Every Second' was written in the aftershock of Trash Kit's tour with The Ex on their big convoy anniversary tour (with Thurston Moore, Fendika, Peter Brotzmann and Han Bennink). Aggs sheds further light on the songs' significance: "We played some really big venues on this trip and whilst it was challenging we learnt lots about improvising on stage, how to hold your own in that kind of environment. 'Every Second' is about how you never get to actually see yourself play live and how you have to not think about that in order to really embody it? The 'chorus' is also about feeling accepted into a scene of 'serious' improv music and how that affected our confidence as musicians who get tokenised a lot."
'See Through' sounds pointed and surly, urging us to "transcend, break down" outdated categories and patterns of thought that only restrict. Partington's bassline plummets heavily to hammer this home, making it one of the most affecting songs from the album. Meanwhile 'Get Out of Bed' deals with "being an overachiever and the struggle to overcome self doubt, get motivated, never feeling like you've done enough" Aggs admits. Whilst "the chorus is the flip side looks at how creating something beautiful, cathartic or fun can be an end in itself." A strong undercurrent throughout Horizon concerns itself with the freeing up of power to make our own definitions, in this case how we can decide what truly makes us feel like we've achieved something.
Some of the final lyrics for the album were composed by Horwood for the choral parts on 'Traffic Lights'. Those include the lines "we play in tune not touching, we play in time not listening, your music inside my body in my heart and my head!" Horwood wanted these lines to highlight her understanding of the musical friendship that she shares with Aggs and Partington, and to draw on "how powerful and good it feels to make something with other people, to sing with other people." With this album Trash Kit have become intoxicated with collaboration and with Emma Smith and Serafina Steer contributing viola and harp to certain songs, and Dan Leavers adding his saxophone touches to 'Every Second', 'Horizon', 'Sunset', 'Disco' and 'Traffic Lights' that proves an triumphant decision. It goes further than that though as the band collaborate with their audience too, stepping in time to each other's impulse, giving and taking cues, building things up from new foundations. Trash Kit's approach to life as with music is one of openness, inclusion and potential and Horizon is an album with that in dutiful abundance. It is an album that forever listens for the next moment and will meet you once more at the vanishing point.

'CONFIDENCE'
UTR061 | CD / LP | 11 tracks, 29 minutes | Buy
As a follow up to their exuberant debut album, 'Confidence' sticks with the "play it all live" pluck we've come to expect from Trash Kit. There's a minimal bent, a lyrical directness, an unadorned ethic that all evokes the sense that the song is being written at the same time as it's performed. Yet whilst the first album at times felt too fleeting, its succinct songs flashing by so fast, 'Confidence' is startlingly more assured, allowing ideas to develop, conclusions to be gathered.
Tracks like "Hair," "Skin" and "Boredom" embrace dynamics like never before. Their clatter and chime are complimented through subtler passages of introspection and the occasional noisy breakdown, with snare and cymbals approaching roar. Ros is joined by her previous bandmate Verity Susman (of Electrelane) on a few tracks including the adventurous "Shyness" and lead single "Medicine," lending some fluently inventive saxophone flourishes. It all adds to the heady, sensation of free-falling through the album. A feeling that the horizon has become broader.
"Beach Babe" dashes away with the start of the album. "We spent the summer waiting for summer to come, if we keep waiting we'll be waiting for summer til it's gone," declares Aggs over some decidedly racing drums, her guitar riff playfully leaping out in front of the rooted low-end. "Big Feeling" is a patchwork rush of staccato chords, elastic bass and brisk drum fills, all set off by the band's wordless vocalisations which feature on many of the songs when words can't get close enough.
"Leaves" meanwhile is a more tender rumination, beginning with nature. "Sun shines in through the leaves, this warm glow. That way you look at me, I just know," harmonise Aggs and Horwood. Towards the end of the song, its title shifts meaning though. as we hear that it all lLeaves me speechless, leaves me speechless, try to hide all this but somehow you already know." This delight in dual meaning is present in the album's title too, with Aggs admitting that she liked the ambiguity of it. Her diary entry-like lyrics are seemingly spoken to you in confidence and trust, as well as embracing ideas of self-belief.
'Confidence' is a robust album with several themes at its heart that keep reappearing. Lyrically the tracks deal with identity, miscommunication, the passing of time and listening closer. Trash Kit are unmatched at making the personal poetic and vice versa, they never become overwrought, they just keep things honest and follow their natural course. Overall a feeling that you must run with the moment and trust in yourself emerges, echoed brilliantly through the instrumentation. There's a restless energy that abounds, a momentum growing stronger, an alchemy at play between each member of Trash Kit and between each song on 'Confidence'. It's this reason why we should listen closer, listen to the sum of the parts, listen to ourselves. One day we'll find gold where once there was only hope.

'TEENAGERS / HOW DO YOU DO?'
UTR041 | 7" | 2 tracks, 5 minutes | Buy
Trash Kit return with a new 7" single bearing two of their finest tracks yet. 'Teenagers' is a triumph of immediacy, mixed emotions and thunderstorms, whilst double A-side 'How Do You Do?' is ultimately poignant with its mixture of handclaps and twisting melody. "Will I remember her this September when it gets wet? Break me up, sweep me up," sings Rachel looking backwards with different eyes.
The 7" is limited to 500 copies on transulcent orange vinyl. The digital version is accompanied by an exclusive song entitled 'Happy New Year', taken from the same session as their album and included recently on their tour-only cassette compilation.

'TRASH KIT'

UTR036 | CD / LP | 17 tracks, 26 minutes | Buy
With their self-titled debut album, Trash Kit have successfully captured their narrative enthusiasm without losing any charm.
There's a stripped back quality to their music that packs the bravest of punches. Both Rachels tangle their vocals with each other whilst expressive drumbeats and impulsive guitar lines pin down the songs.
Agg's guitar playing is as much informed by African fingerstyle patterns as the percussive attitude of various no wave shredders. It often sounds like the guitar lines leap just ahead of the pursuing drums like a musical chase.
Horwood approaches her rhythms with an untamed freedom, pushing them forward into the realms of lead instrument. With the inclusion of handclaps, tattered cymbals and Djembe - played with a stick as part of the kit - her vivid drumming sounds nothing short of gripping.
Trash Kit's music is full of pauses, flips and punctuation, this is where Ros Murray and her resonant, spirited bass work finds the perfect balance.
The album, recorded in just a handful of days, sees them skip-rope through 17 of their colourful compositions, even finding time to work in passages of violin, noisy freak-outs and some saxophone touches courtesy of guest musician, Verity Susman. The group vocals and wordless singing that weaves through the album are another key part of the band, allowing them to express the uncertain in a way which showcases their boundless delight in making music in its most fun and natural form.
Lyrically, their songs deal with identity and honesty and with a result they find their own voice stronger than they thought. Their poignant songs tackle a wide range of issues, in a personal way. "It's at your fingertips, take this moment, don't forget a single word that was spoken" sings Rachel A in "Fame" and ,in truth, that's how Trash Kit approach each song, with total sincerity and directness.
It's easy to find yourself in their music and get caught up in the moment. Tracks like "New Face"and "Bad Books" fly by with all the rush of endorphins, whilst other songs such as "Freetime" embark on more pensive adventures. "Filipino Song" takes its inspiration from the drumbeat of a traditional Filipino folk dance and, whilst celebrating a diversity of ideas, it also reflects on that feeling of otherness that comes with being mixed race.
'Trash Kit' is an album with a lot to say, but its overall sentiment of remaining true to yourself never loses clarity. "Cadets" is a raucous call to arms exercise in the power of the catchy hook, whilst "Natascha" and "Tattoo" are altogether more sensitive affairs, exposing a certain vulnerability and candor the band wear like a badge of pride.
Trash Kit take risks with - and inside - their songs, and it's exactly this attitude which frees up their music and makes them sound so compelling and different. Trash Kit are a band who turn the personal into the poetic, who make the everyday radical, and, for that, they sound truly original.
LINKS
PRESS
THE GUARDIAN
THE LINE OF BEST FIT
UNCUT
THE SKINNY
LOUD & QUIET
M MAGAZINE
POST-TRASH
THE FADER
RECORD COLLECTOR
THE LINE OF BEST FIT
ROCK FEEDBACK
PITCHFORK
ROCK SOUND
THE INDEPENDENT
THE SUNDAY TIMES
UNCUT
NOTION
NME
ARTROCKER
THE QUIETUS
MIDDLEBOOP
VICE
FLUX
MUSIC OMH
DAZED & CONFUSED
LOUD & QUIET
20 JAZZ FUNK GREATS
ARTROCKER
WEARS THE TROUSERS
REMOTE GOAT
LOW RISE
VICE
A NEW BAND A DAY
PINGLEWOOD
FADER
NEU MAGAZINE
VIDEOS
'HORIZON'
'MEDICINE'