PHOTOS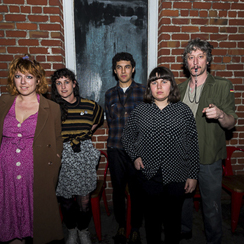 HI RES DOWNLOADS




Photos 3 and 4 by Alejandra Alaca
ABOUT THE WORLD
THE WORLD are five people from Oakland, California who write rambunctious dance music with a post punk tool kit and an insightful yet short attention span. Their songs typically clock in around two minutes long and are a wild head-rush of Amber Sermeno's funk-minded bass lines and shuddering dubbed-out guitar courtesy of Andy Jordan. Amber also sings alongside Elyse Schrock, who anchors their propulsive songs with some supremely robust drumming. The steady beat is bolstered by Stanley Martinez's flurrying saxophone melodies and Alexa Pantalone's expansive bongo rhythms. Alexa also plays sax on half of the songs too, contributing further to the complex interplay of instruments that make The World's music so immediate, compelling and groove conscious.
The World sound like the future erupting out of all your favourite DIY punk 7"s simultaneously. There's the infectious momentum of Essential Logic driving things ever forward, the arty minimalism of Lilliput underscoring the band's lyrical subject matter. Whilst the instinctual songwriting of Swell Maps pervades alongside the manic humour and inclusiveness of Splodge. The World use all these lightning rods as jumping on points to hurtle us all into a new dimension very much of their own making. This upsurge of energy and vision has now been skillfully captured on the band's debut LP 'First World Record', out this October 6th on Upset The Rhythm.
THE WORLD RELEASES

'FIRST WORLD RECORD'

UTR099 | LP | 12 tracks | Buy
'First World Record' follows on from their well-received debut 7" EP 'Managerial Material' which was also recently released by Upset The Rhythm. 'First World Record' was recorded by Brett Eastman (a member of Andy Human And The Reptoids, along with Andy Jordan). Brett also helped mix the album with the band before being mastered by Mikey Young. 'Hot Shopper' is the exhilarating opener from the album. "You've got the whole world in your hands, check those coupons!" urge the band amid the insistent pulse, whirl and bop of the band's inimitable sound. Sticking with matters of temperature, 'Some Like It Hot' follows with icy stammering guitar and a soaring spree of saxophone. "Old hygge creatures in the ice age, iguanas in a cot, what else do you expect when you boil that pot?" they question throughout this rock-solid dancefloor quake of a track.
Throughout their debut album The World never lose the thread of their argument, which mainly lines up the many unthinking elements of modern life in its cross hairs. 'Namaste' calls out the "culture muck" of short-sighted faddish behavior, whilst others disappear "never to return" on the 'La La Coach'. However, The World never become didactic, there's always a surreal dark sense of humour running through their songs, touching on the everyday absurdity of existing after meaning. This perhaps is best delivered up on the album's closing track and lament 'I Fell in Love with a Slumlord'. Drums tumble and jog along with the jubilant sax work whilst the band profess their secret love for the aforementioned property owner. "He sneaks around in desert camos, what's he up to? Nobody knows. But how I wish he'd go and spy on me!" they ruefully confess. In this current climate of cool-trading, cheese omelets and ghost town guilt we only have The World to rely on as our true guides to a better place, a better world. Now let's go there!

MANAGERIAL MATERIAL

UTR080 | 7" EP | 4 tracks, 10 minutes | Buy
We're in Leeds in 1979. Kingston, 1968. Or is it Athens, Georgia in 1982? No, no, it's none of the above. Here we are in Oakland, California. The year is 2016 and The World offer the only glimmers of hope in a city rapidly transforming into a wasteland of artisanal toast and succulent shops right before our very eyes. They've awed all those who have seen them play in San Francisco basements, beach town bars, crowded East Bay lofts - who knew the sight of bongos could be so titillating? And now The World is ready for the world. Their debut 7" is all double sax attack, the tremolo of dub guitar, and those spare and sturdy drums, anchored by the gravitational pull of Amber's propulsive bass. Every member of this band feels like the secret weapon, and together, the combination is deadly, the particular alchemy of musicians (the best musicians) who voraciously consume music of all kinds. Members have done time in Andy Human and the Reptoids, Pang, and Penny Machine-devotees of all those will find much to like here. The World's a post-punk band, sure, but they're also a dance group, a wild and revolutionary art collective, sounds from the past catapulted to the future. Today your love, tomorrow The World.
Written by Grace Ambrose.
LINKS
PRESS
BROOKLYN VEGAN
NOISEY
NOISEY
RAVEN SINGS THE BLUES
NOISEY
PITCHFORK
IN BED WITH MARADONA
VIDEOS
THE WORLD - NAMASTE
THE WORLD - MANAGERIAL MATERIAL EP
THE WORLD / WARM BODIES - LIVE TAPE