PHOTOS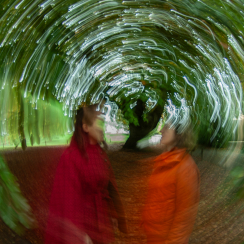 HI RES DOWNLOADS










Band photos by Simon Parfrement.
ABOUT RATTLE
RATTLE is an ongoing musical project concerned with experiments in rhythm, metre and tension. Katharine Eira Brown & Theresa Wrigley make up the Nottingham duo who with just drums and occasional vocalisations weave an expanse of percussive vortices. Their songs swirl and envelop with all the physicality and drama of another world pulling together around its own shifting centre of gravity. The drum beats phase and sidestep, they trade accents and overlap, providing a suitably alive terrain for the vocals to explore similar tendencies of pattern. Rattle's debut album was released in 2016 through Upset The Rhythm / I Own You and was greeted with much critical praise, this often singled out their hypnotic minimalism and ecstatic regard for the dance floor. The following six months saw Rattle support Animal Collective on their UK tour before heading out around Europe with The Julie Ruin. Rattle used these opportunities to try out new material and unconsciously began writing their next album. Brown recalls that "hearing our drums in these larger venues, with amazing sound, made us excited about how beautiful and magic the drums sounded, we were quite spellbound by how they were able to fill a venue so completely."
The duo formed quite by accident in Nottingham in 2011, where Katharine and Theresa knew each other from playing in other local bands. Katharine was a guitarist who had recently started playing drums in the band Kogumaza and Theresa is the enthralling drummer from Fists. They originally met up to skill swap guitars and drums but soon enough they found they were having more fun with a double drum set-up and started making the sound of their first song 'Boom', which became a blueprint for their new band's sound. As Katharine explains; "It seemed obvious right from the start that nothing else was going to be required in terms of instruments."
They wanted to find a band name that was onomatopoeic and Rattle fit perfectly. Their set-up remained roughly the same as from that very first rehearsal. The minimal framework meant that they had to use their imagination and think of different ways to create new songs using the same simple ingredients. They honed their sound live, with the drums set up facing each other which allowed a dramatic interplay between the players, lending a theatrical element to their performances.
RATTLE RELEASES

'SEQUENCE'

UTR108 | CD/LP | 4 tracks | Buy
'Sequence' was written in much the same way as their debut, with the duo facing each other over their shared palette of drums, allowing songs to develop naturally and suggest their own direction. However, Brown and Wrigley were more confident of what they wanted to achieve with this follow up, having already proven the concept watertight through their debut and subsequent concerts. They knew they could wrestle songs out of the silence with such a setup, so afforded themselves greater time to explore extended, long-form composition. 'Sequence' is composed of four tracks, each clocking in around 10 mins or over and focused squarely on a deeper resonance with the creative act, illustrative of how ideas build from scratch, of how music can grow out of repetition. Recorded at JT Soar in Nottingham with Phil Booth and Mark Spivey (Rattle's live sound engineer), the album developed out of these four points, with Rattle honing their sound with detail. Everything was stripped back to just the drums and Brown's voice. Percussion flourishes were deemed unnecessary, overdubbed layers of vocals were kept to a minimum. As a result, this quartet of songs are more meditative and aware than previous efforts, with the duo's attentions spent tapping into each track's potential, mapping out expeditions in tempo and making much of the journey over destination.
'DJ' is the first part of the album to unfold, its insistent, rotating beat slowly morphs into an avalanche of shimmering cymbals, before a plateau of echoed rim shots cools all to the core. Throughout, Brown's wordless singing tethers the song to its atmosphere, an effect similarly employed to perfection in 'Disco' which follows. 'Signal' unfurls as an odyssey of rhythm, it's tumbling beat, punctuated by shivers of hi-hat bluster and mesmeric tom fills. "Put your ear to the ground, it's an incredible sound" confesses Brown in her most telling lyric from the album, leaving you convinced that Rattle are somehow channeling all this music from a quiet, elemental other-place. 'The Rocks' concludes the record with sparse assurance, it's an exercise in magnified scope and altered states. Wrigley and Brown divide duties across all these tracks, with the cadenced, dynamic shifts of hi-hat and cymbal being Theresa's domain, whilst Katharine holds down the toms and snare. Brown notes that "each song can be seen as representing a different drum in my set up". 'DJ' is an exploration of her snare, whilst 'Disco', 'Signal' and 'The Rocks' are based around the floor tom, rack tom, and bass drum respectively. All of this is complemented further through the production interventions of Mark Spivey, who wanted to capture Rattle's huge live sound on tape for this album with all its incurred dub-delay trippiness, taming and melding.
'Sequence' is a liminal album, thoughtfully crafted with themes of transition and realisation at its heart. It feels like a trance or ritual if you give yourself to the recording. It urges you to step outside and listen deeper. Rattle are seeking out a vivid array, an order from the noise, a pattern that unlocks the next. This album is the nurturing of intention and when we walk to its beat we arrive anew. 'Sequence' will be released on November 2nd by Upset The Rhythm on LP, CD and digitally.

'RATTLE'

UTR082 | CD/LP | 11 tracks | Buy
When it came to recording the album it made absolute sense to bring in their regular live sound engineer Mark Spivey (also of Kogumaza) who has been working closely with the band from the beginning. Live, he adds additional effects and manipulations from the sound desk and these techniques were transferred over to a studio setting at The Big Mouse House, in Sneinton, Nottingham (in the studio owned by Tony Doggen, of Spiritualized and coincidently where Jake Bugg recorded his new album). A lot of time and attention was taken to get the best sound possible from the drums in the room. As Mark explains: "We wanted the record to be and sound very real, and to sound like what it is, which meant (by definition) that it needed to sound unlike anything else."
Although the pair listen to a vast array of musical styles, it's almost impossible to reference directly to any influences as the band sound so utterly unique. Having such an a-typical set-up means that it's really difficult to sound like a typical guitar band. As the band point out; "Music can be so steeped in obvious references to other bands and eras that it can become a bit choking."
Having mostly played in experimental or avant-rock settings Rattle first discovered that they could make their awkward audiences dance with opening track 'Trainer (Get You)', which was specifically designed to make the listener move in some way. Whereas other songs embrace different moods, for example 'Starting' has a sense of urgency and a repeated lyric phrase that becomes a mantra, and 'Click' is more soothing and meditative. The high hat and cymbal hits in 'Sorcerer' have a sword-fighting feel and 'Stringer Bell' is more of a cocktail song from a 1950s city apartment.
Often starting by picking out the ghost notes from the drums to develop a melody, the song then reveals itself in rounds and harmonies with layer upon layer of rhythm and vocal, lending a choral feel to some of the tracks. Rattle effortlessly blend the avant-garde with irresistible melodies and hypnotic drum beats, using rhythm and harmony to create a refreshing sound that is utterly new - a pretty rare feat these days when we're saturated with so much music. Their live shows conjure all the magic and excitement from their exhilarating creative process, allowing the audience to share in the very special bond between the duo as they dazzle with their drumming skills.
LINKS
PRESS
JAMES ACASTER'S PERFECT SOUNDS
THE QUIETUS
DROWNED IN SOUND
FREQ
NARC
RAVEN SINGS THE BLUES
THE QUIETUS
MOJO
LOUDER THAN WAR
THE WIRE
LEFT LION
NARC
THE QUIETUS
GOD IS IN THE TV
DROWNED IN SOUND
THE SKINNY
M MAGAZINE
GOLD FLAKE PAINT
THE GIRLS ARE
M MAGAZINE
CLASH
VIDEOS
DJ
SIGNAL
TRUE PICTURE
STRINGER BELL
STARTING
ELEGANT IN THE MOUTH - Live at Supersonic