NEWS
NO BABIES NEW ALBUM!
12 February 2018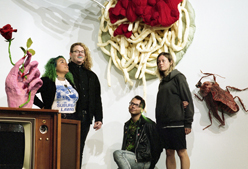 Brilliant news! Oakland, CA's No Babies are back in business with a brand new album entitled 'Someone To Watch Over Me'. Upset The Rhythm will be releasing the LP next month on March 9th on red/blue marbled vinyl. 'Someone To Watch Over Me' follows on from the band's 2011 debut and its fleet of successive empowering/imploding 7"s. Here's an exclusive track to check out called 'The Weight', featuring Victoria M. Ruiz (of Downtown Boys) on backing vocals.
'Someone To Watch Over Me' is available pre-order now in our webshop here
RADIO SHOW - EPISODE FIVE
30 January 2018
Alright then! Here's Upset The Rhythm's brand new radio show for January, episode number five for arts hub CAMP. Two terrific hours that speed by in the company of Minimal Man, David Nance, No Babies, Yeah You and Dancing Did. We've even included some recent field recordings from our Moor Mother and No Home concert, listen up and listen loud!
THE GREEN CHILD RELEASED
19 January 2018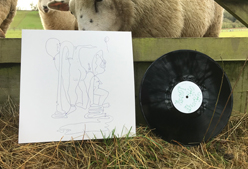 Today our new release from The Green Child sprints into a world of future sound. Broadly retro-futuristic in scope, verdant acres of lushly evocative synthesizers and blippy drum machines underpin most of their upbeat yet decidedly uncanny songs. Whilst, Raven's measured vocal flits like a will-o'-the-wisp through the tracks, proffering a guiding hand as she walks us through the often eerie, electronic concoctions.
'The Green Child' is released today through Upset The Rhythm on 180g black vinyl. It is available in all good shops and directly through our webshop here
RADIO SHOW - EPISODE FOUR
29 December 2017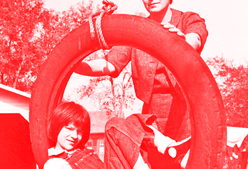 Hey 2017! Before the year bows out, here's the fourth episode of our radio show for CAMP Radio. 120 minutes of lots of our favourite music from Arthur Lee Harper to Yura Yura Teikoku, including some recent live snippets from Richard Dawson and Spirit Fest, enjoy!
THE GREEN CHILD
11 December 2017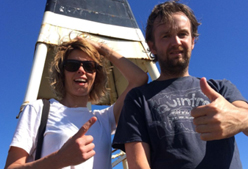 Noisey just helped us announce out next record, The Green Child's self-titled debut album, by premiering colossal closing statement 'Destroyer'! The Green Child is the long distance musical collaboration of Mikey Young and Raven Mahon, who met in 2013 when their bands, Total Control and Grass Widow played a show in Oakland, California. They started writing songs together in Australia in 2014 and the project has been on a slow burn since. 'The Green Child' is due for release on January 12th through Upset The Rhythm on 180g black vinyl, accompanied by some spirited sleeve design by James Vinciguerra.
MORE WEALTH THAN MONEY
8 December 2017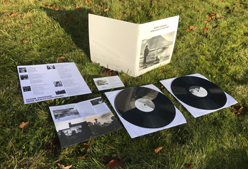 What a brilliant day, flecked with snow and ice and sharp winter light. Thirty-five years ago Normil Hawaiians released their debut album 'More Wealth Than Money', today we're thrilled to re-release this stunning album so it can stride out into its unique field of sound again. 'More Wealth Than Money' takes the listener on a quest over its four sides of vinyl as the group's communal take on post punk starts sprouting leaves from its mouth, beginning to carve out a new furrow of dark psychedelia, industrial folk and a peculiarly British kosmische.
LATEST RELEASES MIXTAPE
LINKS
UPCOMING SHOWS

GUN OUTFIT
DEAD RAT ORCHESTRA
CALMING RIVER
Tuesday 20 February
Moth Club
Old Trades Hall, Valette St, Hackney Central, E9 6NU | Map
7pm | £10.00 | Buy tickets
GUN OUTFIT make music that sounds like a stone eroded by years in the arroyo, their enveloping 'Western expanse' aesthetic of guitar levitations and honky-tonk hexes have become gradually smoother over time. Their fifth LP ranks as their most brutally beautiful statement yet. Drawing from mythologies both classical and postmodern, 'Out of Range' builds a world in which Brueghel, St. Augustine, and the goddess Cybele ride with John Ford, Samuel Beckett, and Wallace Stevens on a Orphic-Gnostic suicide drive towards the hallucinatory vanishing points of the Southwestern desert, debating the denouement of the decaying American dream.
DEAD RAT ORCHESTRA see themselves as adrift in a sea of sound and possibility, plucking textures and melodies to craft their idiosyncratic vision of what music can be. Raw, elemental and poignant with a love of idiosyncratic folk traditions and antiquated technology. Their performances have featured flailing axes, salt and sawdust, throbbing harmonium, grinding fiddle and 2000 shards of micro-tuned steel cast to the floor in cascading, shimmering joy.
CALMING RIVER is the pseudonym of songwriter Joshua Malcolm, who has recently relocated from Denmark back to his native Britain. The name Calming River may conjure tranquillity but there has always been a latent, opposing flow of tension and strife to be found - a fragility that emanates within delicate and darkened confines. Joshua has so far released two singles last year to critical acclaim and will be releasing more material in the coming months.
GREG ASHLEY
MASS DATURA
Saturday 24 February
The Islington
1 Tolpuddle St, Angel, London, N1 0XT | Map
7.30pm | £7.00 | Buy tickets
GREG ASHLEY has been a fixture on the underground music scene since the late Nineties while strafing eardrums as a teenager in Houston in garage- punk band The Strate-Coats. Since then he's proven himself not only as a songwriter, singer and guitar player in bands like The Mirrors & The Gris-Gris, but also as a producer/sound engineer via his Oakland-based Creamery Studio. His career as a solo artist is vast and varied, spanning the gamut between fried-n-beautiful psychedelia, gorgeous & cathartic symphonic suites and gentle, damaged folk music, beginning with 2003's debut and last leaving us with 2017's 'Pictures of Saint Paul Street' (Trouble In Mind). This recent record carries forward Ashley's musical palette (a rootsy amalgam of tortured, Cohen-esque folk tinged with the beer soaked recklessness of a West Texas honky-tonk). The songs on 'Pictures of Saint Paul Street' are lush & beautiful autopsies of society's underbelly, with stark and brutally honest ruminations on humanity. Songs like 'A Sea of Suckers' & 'Pursue The Nightlife' pull no punches, while 'Jailbirds & Vagabonds' and 'Blues For A Pecan Tree' carouse on a more abstract, human (almost romantic) level. The protagonist in many of Ashley's songs may be Ashley himself - a true artist willing to admit he's nowhere near perfect, and honest enough to document his sunrises & sunsets no matter if they occur in his own backyard, or on a barroom floor.
MASS DATURA have spent the last three years earning a well-deserved reputation for their mesmerising, raw and unpredictable live performances. Mass Datura was initially formed by singer, writer and artist Thomas Rowe (with best friend Joseph Colkett), as an outlet to channel his own strange childhood experiences. Born and raised in the rural ghettos of Western Canada, frontman Rowe discovered at an early age what a powerful form of escapism music could be for him. Landing as an alien in London eight years ago, Rowe gathered a group of like-minded East London misfits around him and from this, Mass Datura formed. Mass Datura take their name from 16th century occult mythology, the Datura flower when ingested was said to give you the ability to levitate, flying through bleak night skies around the world snatching up little children. The band's debut album was released last year alongside a performance at Liverpool Psych Fest. Mass Datura have managed to support some very exciting bands around the country including L.A. Witch, The Black Angels, A Place to Bury Strangers, Holy Drug Couple, Dark Horses and Black Mountain.

CHAIN AND THE GANG
MILKY WIMPSHAKE (SOLO)
Monday 26 February
OSLO
1a Amhurst Road, Hackney, London, E8 1LL | Map
7.30pm | £10.00 | Buy tickets
CHAIN AND THE GANG are a dynamic and irresistible live combo that pens provocative, unforgettable odes to obedience and total destruction. They are led by the remarkable Ian Svenonius; the prime mover behind two of the most essential bands of our time, Nation Of Ulysses and The Make-Up, and author of several books, including The Psychic Soviet and Supernatural Strategies for Making a Rock 'n' Roll Group. Ian is also an online talk show host and auteur filmmaker. Chain And The Gang deal in a radical rock n roll that updates rock, blues, and gospel music or vocal quartets from the late 50s /early 60s for the discerning few. After nodding off to the washed-out zzzounds of the latest five-star folly critic's catastrophe, Chain & the Gang decided to respond with their patented perversity; they reached to the farther corner of the lab and came up with an immortal classic in the hard-to-hear genre of 'EXPERIMENTAL MUSIC'. Its a foot-tapping, head scratching, torso tornado that will crinkle the connossieur's temple in a tantrum of cerebral delight. 'EXPERIMENTAL MUSIC' is due for release through Radical Elite Record soon.
MILKY WIMPSHAKE are a passionate punk band from Newcastle Upon Tyne. The band formed in the early 1990s as part of the Slampt Underground organisation, a label and arts umbrella that supported many of the best UK DIY acts including The Yummy Fur, Pussycat Trash, Red Monkey and personal favourites Bette Davis & The Balconettes. Milky Wimpshake play love songs for punk rockers, protest tunes, covers of Northern Soul classics, and some new classics of their own. Characterised by Pete Dale's wry lyrics and playful, direct guitar riffs, Milky Wimpshake are true stalwarts and legends of the underground and have recorded several 'personal vs political' albums in recent times for the mighty Fortuna Pop imprint. This show sees Pete Dale fly solo, performing his own favourite Wimpshake songs for this select audience on guitar and vocal.
KA BAIRD
DIANA POLICARPO & JEJUNO
HACK MYSTIC
Tuesday 6 March
The Lexington
96-98 Pentonville Rd, Angel, London, N1 9JB | Map
7.30pm | £7.00 | Buy tickets
KA BAIRD is a multi-instrumentalist and vocalist living and working in NYC. She is one of the founding and continuing members of the long running avant-psych project Spires That In The Sunset Rise. Described by Jack Rose as a "female Sun City Girls," STITSR have contributed a different slant to the New Folk movement by incorporating various avant-garde and world music influences into their music. Their sound has been compared to the Raincoats, Meredith Monk, Comus and Harry Partch. Their most recent album "Beasts In The Garden" was described by Marc Masters as "some kind of long-lost Terry Riley/Angus MacLise collaboration, equally devoted to divine repetition and center-seeking ritual." Since 2001, they have released eight full length records and several side releases.
After relocating to NYC in November 2014, Baird has set off in numerous directions apart from Spires with new collaborations as well as honing in on her own solo work. Her current work explores piano improvisation, electroacoustic interventions, extended vocal techniques, physical movement, and her unusual electronic manipulation of the flute. She released an album of piano improvisations through Brooklyn label Perfect Wave "See Sun Think Shadow" in November of 2015 and a tribute record 'A Love Supreme' dedicated to John Coltrane through Chicago label No Index in January of 2016. Most recently Baird released 'Sapropelic Pycnic' through Drag City described as a possession, a catharsis, a transformation; an act of physical consumption, a much needed sacred gesture.
DIANA POLICARPO & JEJUNO will collaborate on a piece for this concert. DIANA POLICARPO is a visual artist and free composer based in London and Lisbon working in drawing, score, sculpture, performance and multi-channel sound installation. Her work investigates power relations, popular culture and gender politics, juxtaposing the rhythmic structuring of sound as a tactile material within the social construction of esoteric ideology. She creates performances and installations to examine experiences of vulnerability and empowerment associated with acts of exposing oneself to the capitalist world. As well as working on solo projects she often collaborates and has recently made live performances with Scratch Orchestra, Hakarl, Aine O'Dwyer, AAS, Cabiria, Erinyes and The Orchestra of Futuristic Noise Intoners.
JEJUNO is Sara Rafael, a photographer and plastic artist from Lisbon who, over the last years, has made known her trippy, sonorous musical dimension. Check out her recent cassette release on Urubu Tapes.
HACK MYSTIC makes broken devotional music built from layers of doomy lounge guitar and cheap drones. Their music occupies a shadowy space between jazz and drone, swamped in tape hiss and fusing elements of Grouper and Actress with the soundtrack work of Angelo Badalamenti and Ennio Morricone. Live, hack mystic creates improvised guitar loops laden with reverb and delay, as tender as they are unsettling. 'openwork', their first EP, was released on cassette by Buried in Space in 2017.

SHANNON LAY
WILLIAM PATRICK OWEN
Wednesday 7 March
The Islington
1 Tolpuddle St, Angel, London, N1 0XT | Map
7.30pm | £6.00 | Buy tickets
SHANNON LAY is a L.A. singer-songwriter whose new album, 'Living Water', is a work of plainspoken mysticism that goes to the small, bright truth of things, showcasing her unusual songwriting and quietly commanding voice. Shannon has been dominating the local scene in Los Angeles over the past two years, leaving everyone who witnesses completely breathless. 'Living Water' was recorded by Emmet Kelly (Cairo Gang, Bonnie Prince Billy, Ty Segall) in his Los Angeles home studio and you can even hear the room reacting to the music taking shape around it. Shannon has a voice that transcends time and space. You can't tell if she's old or new, if she's sitting next to you, on a mountain top, or down in some canyon. Already her second LP to be released in 2017, Shannon is a prolific songwriter, one who lives and breathes melody and with guitar skills to boot. Despite it's 14 tracks, Living Water comes in well under 40 minutes, but like Pink Moon or Just Another Diamond Day before it, this is music so potent it exists outside the realms of time - but in a world specific only to itself and the new feelings it creates. 'Living Water' is a life-affirming celebration of the wounds we all wear, captured with Shannon's deceptively straightforward approach. Like a late-summer sky the colour of a robin's egg, the album's outward simplicity masks the vastness of what lies behind. Having just finished a tour with Ty Segall, Shannon is set to support Kevin Morby on a national tour this winter.
WILLIAM PATRICK OWEN draws on a rich heritage of English fingerstyle folk guitarists like Nick Drake and James Blackshaw and applies to it a dreamy melancholy, creating introspective soundscapes with a deeply psychological lyricism. Debut album 'first person singular' lingers in a hangover haze of introspection coursing through themes as broad as identity, queer love and anxiety, and settling into its own distinct quotidian daydream.

ALAN LICHT
Sunday 11 March
The Islington
1 Tolpuddle St, Angel, London, N1 0XT | Map
7pm | £7.00 | Buy tickets
ALAN LICHT is an American guitarist, composer and writer, revered for his work in the Blue Humans and Text of Light, and a key figure in the pantheon of experimental solo guitar players (such as Jim O'Rourke, Loren Mazzacane Connors, Bill Orcutt and Oren Ambarchi). Licht was born in New Jersey in 1968, began taking guitar lessons at the age of ten and went on to enrol at Vassar College, where he studied electronic music with Linda Fisher and composition with Annea Lockwood and Richard Wilson. By the time he graduated in 1990, Licht had already published articles on Minimalist composers La Monte Young, Tony Conrad, Rhys Chatham, and Charlemagne Palestine, and had recorded with former John Coltrane drummer Rashied Ali (on Rudolph Grey's Mask of Light LP). Licht then relocated to New York City, focusing on pursuing free improvisation (with Rudolph Grey's group the Blue Humans and guitarist Loren Mazzacane Connors) as well as indie rock (the bands Love Child and Run On), as well as a brief stint with legendary 60's psychedelic rock band Arthur Lee & Love.
Licht then began developing a repertoire of structured improvisation pieces for solo electric guitar, documented on a series of albums starting with 1994's 'Sink the Aging Process'. These brought together his interests in re-harmonisation, process, repetition, extended duration and the textural vocabularies of rock and noise music. The albums also include tape pieces and organ works. In 2001 Licht co-founded the ensemble Text of Light with Sonic Youth guitarist Lee Ranaldo, a project that brought together free improvisation with screenings of historic examples of experimental cinema. Some of Licht's most recent activities include recording and touring with Lee Ranaldo & the Dust, an improv trio with Aki Onda and artist/filmmaker Michael Snow, a duo with Yeah Yeah Yeahs drummer Brian Chase, and a book-length interview with Will Oldham, 'Will Oldham on Bonnie "Prince" Billy'. For this performance Licht will be performing a set similar in style to his Editions Mego album 'Four Years Older', a set of compelling guitar pieces that mine the rich seams of minimalism, noise and avant-garde, equal parts lyrical and corrosive.

CHRIS CORSANO & BILL ORCUTT DUO
RATTLE
Saturday 17 March
The Lexington
96-98 Pentonville Rd, Angel, London, N1 9JB | Map
7.30pm | £12.00 | Buy tickets
CHRIS CORSANO and BILL ORCUTT have spent the last five years flaying eardrums and blowing minds worldwide with a wildly polyrhythmic, high-register wail that splits the difference between rock, noise and jazz. As a co-founder of free-punk demolition crew Harry Pussy, Orcutt inspired entire genres of noise rock, and a decade after Harry Pussy's demise, re-emerged as a solo performer, creating a singular guitar lexicon suited for both discursive improvisation and cracked reinvention of the American songbook. Chris Corsano is the rim-batterer of choice for some of the heaviest contemporary purveyors of both jazz (Evan Parker, Paul Flaherty, Joe McPhee) and rock (Bjork, Sir Richard Bishop, Jim O'Rourke), and is a formidable solo performer in his own right. When playing as a duo their avant drum-and-guitar improvisations provide the illusion of chaos. The longer you listen however to the onslaught of drum rolls and pock-marked notes, the more the communication (and, what's more, control) become abundantly clear. Their explosive mayhem has been documented on Orcutt's Palilalia label over the course of several live releases, most recently on the double LP "Live at Various/Various Live". Their first ever studio recording is scheduled for release later this year.

BILL ORCUTT - SOLO
CHRIS CORSANO - SOLO
Sunday 18 March
The Islington
1 Tolpuddle St, Angel, London, N1 0XT | Map
7.30pm | £12.00 | Buy tickets
BILL ORCUTT has been developing an open source computer music program called "I Dropped My Phone the Screen Cracked" since 2014 and has employed it to record two recent LPs, 2016's "Cracked Music" and 2017's "An Account of the Crimes of Peter Thiel and His Subsequent Arrest, Trial and Execution" which Wire magazine described as "maddening", "hypnotic" and "oddly pleasant." For this solo performance, Orcutt will present the UK premiere of a new algorithmic piece for Cracked entitled 'Neu Bros/OK Phone/Rural Beatles'.
CHRIS CORSANO is arguably the most riotosly energetic and creative drummer in contemporary free jazz, for this rare solo set he strips things back to just the bare minimum. His amplified hi-hat set-up first debuted at the No Fun Fest in 2009 and has resurfaced only rarely since. Tiny Mix Tapes described the performance as "nothing short of hi-hat surgery. The hats stood alone, contact-mic'd, amped, and ravaged with distortion; Corsano tore in with sticks, mallets, and metal rods, prying tones from the bowels no one knew existed". His work with Mick Flower, Paul Flaherty, and others is well known; alone, though, Corsano answers to no one, and his clinic realigned every facile give-the-drummer-some heuristic underwriting our approach to percussive or non-tonal technique.

BRIGID MAE POWER
Tuesday 27 March
Servant Jazz Quarters
10A Bradbury Street, Dalston, London, N16 8JN | Map
7.30pm | £8.00 | Buy tickets
BRIGID MAE POWER is an Irish singer-songwriter and multi-instrumentalist who, like Judie Sill, Micky Newburyor Linda Perhacs before her, paints her songs in dreamily expansive strokes, transporting earthly compositions into universal and exultant realms. Her self-titled debut on Tompkins Square was a majestic suite of reverb-swathed laments for voice, guitar, piano, accordion, and harmonium, recorded at the Portland studio of key musical foil Peter Broderick. Themes include transformation, change, motherhood, acceptance, strength, courage and trust. In the words of Power, the album is about "trusting if you lose yourself or your way - you can come back". New album 'The Two Worlds' is another masterful collection of effortless, affecting folk, and an album that furthers the songwriter and multi-instrumentalist's already stellar reputation. Live, Brigid can encapsulate the timeless magic of her songs either solo or as a duo with Peter. Thus far she has toured throughout Ireland, UK and the US together with artists including Lee Ranaldo, Richard Dawson, Alasdair Roberts, Peter Broderick and Ryley Walker, with performances at Le Guess Who? and TUSK festivals along the way.

JOSHUA ABRAMS - NATURAL INFORMATION SOCIETY
Monday 2 April
OSLO
1a Amhurst Road, Hackney, London, E8 1LL | Map
8pm | £11.00 | Buy tickets
JOSHUA ABRAMS developed his voice in the rich ferment of the 1990s Chicago music world, participating heavily across the city's jazz, experimental & rock scenes. He co-founded the 'back porch minimalist' band Town & Country &, with Matana Roberts & Chad Taylor, the trio Sticks & Stones. In a very busy two decades Abrams recorded & toured with a remarkable range of artists including extended engagements with Fred Anderson, Bonnie 'Prince' Billy, Hamid Drake, Theaster Gates, Neil Michael Hagerty, Nicole Mitchell, Jeff Parker, Mike Reed, Matana Roberts, & The Roots. Abrams appears on over one hundred recordings. A film composer, Abrams has scored the music for five feature length films including the award-winning films Life Itself, The Interrupters and The Trials of Muhammad Ali.
Since 2010 Joshua Abrams has toured North America & Europe with a shifting-line up of musicians as 'Natural Information Society'. The group uses traditional & electric instrumentation to build long-form intricately psychedelic environments, composed & improvised, joining the hypnotic qualities of the Gnawan guimbri to a wide range of contemporary musics & methodologies including jazz, minimalism & krautrock. The band's album, Magnetoception (eremite), was selected by The Wire Magazine as the #3 record of 2015 & by Pitchfork as the #2 experimental record of the year. Current & former band members include Lisa Alvarado, Jason Adasiewicz, Mikel Avery, Ben Boye, Hamid Drake, Ben Lamar Gay, Emmett Kelly, Artur Majewski, Nick Mazzarella, Jeff Parker, Frank Rosaly, Jason Stein, Kuba Suchar, Nori Tanaka & Chad Taylor. In 2015, Natural Information Society & Bitchin Bajas collaborated on 'Automaginary', (Drag City). Their latest album, 'Simultonality' continues NIS's exploration of stasis, continuity, repetition and layering. 'Simultonality' was released back in April, 2017 on eremite records & Glitterbeat.

NO AGE
VITAL IDLES
MIAUX
Wednesday 4 April
Bethnal Green Working Men's Club
42 Pollard Row, Bethnal Green, London, E2 6NB | Map
7.30pm | £12.00 | Buy tickets
NO AGE find themselves in a world bruised and bloodied with teeth already dug into the concrete curb, we find ourselves with the shadow of a large boot looming overhead. What better time for No Age? They know how to ecstatically rage & power on through pain, because what else are you gonna do? The future belongs to the cockroaches, and their new record is made for the disparate band of misfits who 2017 couldn't kill. 'Snares Like a Haircut' sounds like the goods, and smells like the buzzy burning off of an aura, the marine layer suddenly vanished, leaving a thin layer of smog over the songs, simmering sock gazing tunes, revved and displacing enormous amounts of sound soil. With 'Snares Like a Haircut', No Age scrub the itch in the little moments, engage actively with the process and carve/plaster/shave something in an album shape that'll last. Re-imagined rippers, compelling ever forward; something that provokes, challenges on the ear. That was always the goal, but after a few years spent not No Age-ing, just working on that thing called life, is it any wonder that Dean and Randy wanted to pump out some rock and roll for the black hole? Does time mean nothing to you? Don't answer that.
VITAL IDLES are Jess, Nick, Matthew and Ruari. In 2015 they leapt fully formed from the fertile intersection of Glasgow's visual art and music undergrounds. Their early live shows were a revelation, all ecstatic dancing and incisive tunes that betrayed an affection for the pioneering run of 7"s from the dawn of Rough Trade and the more pop slanted sounds from the worldwide DIY boom that followed. Following on from their excellent cassettes on Comfortable On A Tightrope and recent 7" through Not Unloved, look out this Summer for their debut album on Upset The Rhythm.
MIAUX is responsible for some of the most expressive music coming from the Belgian underground. Miaux is a mistress of elaborate keyboard shenanigans of a very soundtrack-like nature. Her music is soaked with a haunted, lonely quality that touches the edges of mystery like a torch. Armed with a Casio and some skilful song writing abilities, her music is minimal, melancholic and timeless. The Antwerp-based musician has released her ethereal recordings mostly via Dennis Tyfus's essential Ultra Eczema label.

JAMIE STEWART (Xiu Xiu)
ERIC CHENAUX
Monday 9 April
The Lexington
96-98 Pentonville Rd, Angel, London, N1 9JB | Map
7.30pm | £12.00 | Buy tickets
JAMIE STEWART has spent 2017 showing how skilled he is at multi-tasking, having toured the most recent Xiu Xiu album 'Forever', piled on the sonic pressure with Lawrence English as HEXA and having paid final homage to The Music Of Twin Peaks. 2018 sees that all change with Jamie committing to some rare solo performances. The format is simple: Jamie, electric guitar and voice, reducing the Xiu Xiu songs you know and love down to their most fragile husk state. As the principle songwriter, musician and vocalist behind avant-pop legends Xiu Xiu, Jamie Stewart is very much one of UTR's favourite artists. Jamie draws heavily from wildly disparate sources - cacophonous noise, gamelan, folk and the lush hooks of 80s UK post-punk, to name a few - while his tortured lyrics and anguished delivery consistently deal with the morose, suspected and the taboo. Expect new material, unusual covers and favourite tracks from the Xiu Xiu back catalogue, making for a truly memorable experience.
ERIC CHENAUX is an adventurous guitarist, singer and composer based in Paris. Having been an active player in Toronto experimental music circles with a host of group and collaborative works, Chenaux has more recently amassed a body of solo work across five albums on the Constellation label, centering around his dextrous, fried guitar playing as juxtaposed with a gorgeously lyrical vocal style. An ingenious recombinant use of traditional folk, psychedelic pop and consort music in earlier albums has over time evolved into a wholly uncategorisable form of balladry, shot through with a singular vernacular of guitar improvisation.

ED SCHRADER'S MUSIC BEAT
Monday 7 May
Moth Club
Old Trades Hall, Valette St, Hackney Central, E9 6NU | Map
7.30pm | £7.50 | Buy tickets
ED SCHRADER'S MUSIC BEAT are Ed Schrader and Devlin Rice - a minimalist punk duo from the fair city of Baltimore, Maryland. In the beginning there was only Ed: a man unhinged, channeling to the world a sacred message in the form of song. His only divining instruments: a single floor tom, one light, and a commanding baritone. He's a master songsmith who has reduced pop and punk to their most basic building blocks. Ed was soon joined by Devlin on bass, who proved to be an acute match for encapsulating the space-time from whence they came. Their union quickly brought about the release of their 2012 debut album 'Jazz Mind' and 2014's 'Party Jail' through Upset The Rhythm which The Wire said recalled "the percussion-heavy chants of Liars", with Ed "affecting a mournful Arthur Russell tone on the a cappella songs" whilst "roaring like Rollins" on the album's faster numbers. Since then, Ed Schrader's Music Beat have toured frequently in North America and Europe, notably alongside their friends Future Islands.
New album, 'Riddles' begins their new life. In search of a fresh direction, Ed and Devlin invited their close friend, electronic-pop maestro Dan Deacon, to expand their sound and experiment with them as the album's producer, arranger, and co-writer. Working steadily in Dan's studio for two years in total collaboration, three evolving musicians pushed through an intense period of personal tumult and found purpose in the sounds they were committing to record. The result: a polished and passionate masterpiece of nuanced alt-rock. From driving opening track 'Dunce' and the soaring single 'Riddles' to the disarmingly gorgeous closer 'Culebra', Ed and Devlin unapologetically channel a personal pantheon of pop and rock gods while growing into the band and people they'd previously kept caged inside. 'Riddles' is released through Carpark Records on March 2nd.

NAP EYES
Tuesday 8 May
OSLO
1a Amhurst Road, Hackney, London, E8 1LL | Map
7.30pm | £10.00 | Buy tickets
NAP EYES hail from Nova Scotia and Montreal and make crooked, literate guitar pop refracted through the gray Halifax rain. Recorded live to tape with no overdubs, their songs are equal parts shambling and sophisticated, with one eye on the dirt and one trained on the starry firmament, inhabiting a skewed world where odes to NASA and the Earth's magnetic field coexist easily with lyrics about insomnia and drinking too much. In the world of Nap Eyes, workaday details punctuate (and puncture) cosmic concerns, as songwriter, singer, and rhythm guitarist Nigel Chapman wrestles with air and angels, struggling (and often failing) to reconcile the Romantic rifts, both real and imagined, that define our lives: between chaos and order; solipsism and fellowship; the anxiety of social (dis)orders both big and small; and the various intersections and oppositions of religion, art, and science. It's the sound of being young and alive in the city, a tenuous and impermanent counterpoise of recklessness and anxiety, archness and earnestness. Following on from their 2014 debut 'Whine of the Mystic' and ;last year's 'Thought Rock Fish Scale' on Paradise of Bachelors, Nap Eyes will release their third album 'I'm Bad Now' on Jagjaguwar. 'Im Bad Now' achieves a new sonic clarity, depth, and range to match the group's effortless melodies and extraordinary writing. It's the band's most transparent and personal set of songs to date, in which singer Nigel Chapman interrogates social, psychological, and spiritual milieus for clues about the elusive nature of knowledge.

MATANA ROBERTS & KELLY-JAYNE JONES
Wednesday 9 May
Ghost Notes
Peckham Levels, 95A Rye Lane, Peckham, London, SE15 4ST | Map
7.30pm | £12.00 | Buy tickets
Internationally renowned US composer, saxophonist, mixed-media practitioner, and sonic voyager Matana Roberts (perhaps best known for her acclaimed Coin Coin project, ongoing and unfolding via Constellation Records) and British sound artist/improviser Kelly Jayne Jones. Roberts and Jones will weave their own approaches into live collaborative works informed by deeply expressive playing, tactile electro-acoustic interplay and a broader shared politics of resistance/defiance. This Upset The Rhythm show is part of the first in a series of special live shows commissioned by OUTLANDS, a new national experimental music touring network.
MATANA ROBERT is an internationally renowned composer, band leader, saxophonist, sound experimentalist and mixed-media practitioner. Roberts works in many contexts and mediums, including improvisation, dance, poetry, and theatre, and has released a diverse body of solo and ensemble work under her own name on Constellation Records and Central Control over the past decade. She is perhaps best known for her acclaimed Coin Coin project, a multi-chapter work of "panoramic sound quilting" that aims to expose the mystical roots and channel the intuitive spirit-raising traditions of American creative expression while maintaining a deep and substantive engagement with narrativity, history, community and political expression within improvisatory musical structures. Constellation began documenting the Coin Coin project in 2011 and has released the first three of a projected twelve album-length chapters to date.
KELLY-JAYNE JONES makes use of varying combinations of prepared recordings, text, rocks, found sounds and flute. Her work beckons a tussle with uncertainty, inviting exposure and vulnerability in performance, chasing experiences that open our chasms within, without restraint. Searching for humble principles of growth; physics; sound, connecting with others in the same space/moment, customary experimental play, with threads and beads of improvisation and interactivity. KJJ has had residencies at Arnolfini in Bristol UK and Kunstalle Bergen, Norway, and has produced commissioned works for Haris Epaminonda at dOCUMENTA13, Tate Modern, ICA London, Schirn Frankfurt, Point Centre Nicosia. She has performed, solo and with part wild horses mane on both sides, at CCA Glasgow, Trieze Gallery Paris, Borealis Festival, Tectonics Reykjavik, Hangar Bicocca in Milan and at Huddersfield Contemporary Music Festival.

PROTOMARTYR
ANA DA SILVA
RATTLE
Thursday 10 May
The Scala
Upper Street, Islington, London, N1 2UD | Map
7.30pm | £12.50 | Buy tickets
PROTOMARTYR return to London next May for their biggest show yet! Protomartyr play a taut, austere rock that's been incubated in a freezing Detroit warehouse littered with beer cans and cigarette butts and warmed occasionally by space heaters. Short songs made for short practices, and the band learned quickly not to waste time. Despite the cold, Protomartyr emerged with a sound that is idiosyncratic but relatable, hooky but off-kilter. With respect to the local predecessors, this isn't the primitive stomp of The Dirtbombs or The Stooges' greasy roar. Punk works, kind of, even if it leaves the hardcore kids confused. Post-punk suggests something too retro; indie rock, something too precious. What Protomartyr is, is "stuck between the cracks." If that's the case, though, they aren't alone. Protomartyr's economical rock elicits comparisons to possible antecedents like Pere Ubu or The Fall as well as local contemporaries like Frustrations or Tyvek (whose frontman Kevin Boyer played bass in an early iteration of Protomartyr). Singer Joe Casey's dry declarative snarl serves as a reliable anchor, granting his bandmates (guitarist Greg Ahee, drummer Alex Leonard and bassist Scott Davidson) the opportunity to explore textures and reinforce the rhythm section. This is never more apparent than on the band's brand new album entitled 'Relatives In Descent', out now through Domino. This show follows on from the band's long sold out Tufnell Park Dome show planned for next month.
ANA DA SILVA is a founding member of the pioneering female punk band The Raincoats. Ana has continually worked on music, in some shape or form, since the group disbanded in 1984. Soon after the release of The Raincoats' final album album, 'Moving', Da Silva collaborated with This Heat drummer Charles Hayward on a project called Roseland; they recorded a few demos together, but the duo faltered after that. She also wrote music for choreographer Gaby Agis' productions, but spent much of the '80s and early '90s painting and working in an antique shop. The Raincoats' reunion spurred Da Silva and the rest of the group to write new songs, resulting in the band's fifth album, 1996's 'Looking in the Shadows'. Da Silva resurfaced in 2005 with her solo record 'Lighthouse', a largely electronic collection of songs that she wrote, recorded, and produced herself for Chicks On Speed records.
RATTLE are a Nottingham based duo, Rattle focus almost exclusively on drums and more drums, beneath a delicate overlay of vocal harmonies and percussive effects. Formed by Katharine Eira Brown (also of Kogumaza) and Theresa Wrigley (also of Fists), Rattle began as an experiment in crafting rich songs and melody using drums and voice alone. Their music weaves and intertwines post-punk, minimalism and experimental rock, through off-kilter rhythms, patterns and counter melodies. Often starting by picking out the ghost notes from the drums to develop a melody, the song then reveals itself in rounds and harmonies with layer upon layer of rhythm and vocal, lending a choral feel to some of the tracks. Rattle effortlessly blend the avant-garde with irresistible melodies and hypnotic drum beats, using rhythm and harmony to create a refreshing sound that is utterly new - a pretty rare feat these days when we're saturated with so much music. Rattle's debut self-titled album will be released on Upset The Rhythm and I Own You, look out this Summer for it's follow up.

SCREAMING FEMALES
Wednesday 23 May
OSLO
1a Amhurst Road, Hackney, London, E8 1LL | Map
7.30pm | £10.00 | Buy tickets
SCREAMING FEMALES are one of those force-of-nature bands that only comes around once in a blue moon. Their story starts in New Brunswick in 2005, with Marissa on guitar and vocals, Jarrett on drums and Michael on bass. 'Power Move' was the band's first full-length with any label (or any outside help) and was released by their hometown label, Don Giovanni Records, in 2008. They've gradually sneaked into a wider mainstream consciousness, gaining attention for their punk rock sensibilities and their raucous live shows driven by Marissa's famed guitar heroics. Now Screaming Females are DIY-punk luminaries, on the cusp of celebrating 13 years as a band by releasing this February's new album, entitled 'All At Once' on Don Giovanni Records. The band collaborated with producer Matt Bayles, setting out to make an album in the spirit of a salon-style gallery show, where larger pieces provide an eye-level focal point to a galaxy of smaller works. Concision took a back seat to experimentation, with arrangements meant to evoke the energy and spontaneity of their live performances. 'All At Once' is a reminder there's a hopeful and joyful energy to underground music-making. Patience, perseverance, and long term dedication still work.

JOHN MAUS
Thursday 14 June
Electric Ballroom
1a Amhurst Road, Hackney, London, E8 1LL | Map
7.30pm | £15.00 | Buy tickets
JOHN MAUS is a truly enigmatic musician. Broadly cut from the synth pop cloth, he's fashioned the frosty minimalism of its fabric into a cloak of infinite meaning, genuine grace and absurdist humor over the course of three defining albums since 2006. His music is a highly mutable affair, whilst often described as retro-futurist on behalf of the 80's drum machines and synth sounds employed, John's music is more personal than the nostalgic re-tread implied. There's a cinematic quality to his songs, with pathos conjured through propelling bass-lines, trailing arpeggios and of course his deeply resonant vocal. Moroder helped map out the territory but Maus is more interested in seeking cadence through his love of Renaissance polyphony and the experimentation behind post punk. It's an amalgamation of musical ideas as radical as its intent.
Maus is a 'man out of time' trying to make sense of the inhumanity of our world through his mobilisation of the language of punk rock. His aim is true as he reaches for the seemingly impossible. It's a want to emerge as part of greater multiplicity, to appear, to become, to connect that powers his songs and the man himself. It's now been six years since the widely lauded album 'We Must Become The Pitiless Censors Of Ourselves' appeared like a thunderbolt of maniacal energy and turned everyone's heads. Last October his fourth album proper entitled 'Screen Memories' came out like a clarion call through Ribbon/Domino, this April sees the release of his career defining boxset and new album 'Addendum'. John Maus has returned to save us all from the apocalypse, now he is accompanied by his electrifying live band the triumph of the human is nigh!