MEDIA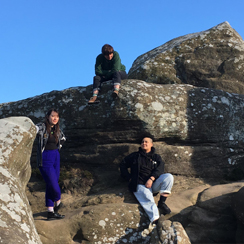 HI RES DOWNLOADS




















Photographs 1-14 by Ochi Reyes
Photographs 15-18 by Emilie Gouband
BIOGRAPHY
TRASH KIT are Rachel Aggs, Rachel Horwood and Gill Partington. They have a wild feel for melody, writing songs that pull at the reins with a spontaneous charm. Formed in 2009 by the two Rachels and original bassist, Ros Murray, they've since become the glowing core of London's DIY underground. Their music is primal yet thoughtful, affirming yet sincere, drawing on the potential of post-punk and the naturalism of an internal folk music.
Although Trash Kit have their forebears in bands like X-Ray Spex, The Ex and The Raincoats, their sound is very much their own take on facing forwards. Galloping polyrhythms, overlapping sung-spoke lyrics and entwining guitars are all drawn together into a taut unity, sounding wilfully alive. Both Rachels tangle their vocals with each other whilst expressive drumbeats and restless guitar flurries provide the rhythmic drive.
Aggs' guitar playing is as much informed by African fingerstyle patterns as the percussive attitude of various no wave shredders. Horwood approaches her drumkit with an untamable freedom, pushing it into the realm of a vivid lead instrument. Trash Kit's music is full of pauses, woven silence and punctuation too, and this is where the resonant, soulful bass finds a perfect home.
RELEASES

'CONFIDENCE'
UTR061 | CD / LP | 11 tracks, 29 minutes | Buy
As a follow up to their exuberant debut album, 'Confidence' sticks with the "play it all live" pluck we've come to expect from Trash Kit. There's a minimal bent, a lyrical directness, an unadorned ethic that all evokes the sense that the song is being written at the same time as it's performed. Yet whilst the first album at times felt too fleeting, its succinct songs flashing by so fast, 'Confidence' is startlingly more assured, allowing ideas to develop, conclusions to be gathered.
Tracks like "Hair," "Skin" and "Boredom" embrace dynamics like never before. Their clatter and chime are complimented through subtler passages of introspection and the occasional noisy breakdown, with snare and cymbals approaching roar. Ros is joined by her previous bandmate Verity Susman (of Electrelane) on a few tracks including the adventurous "Shyness" and lead single "Medicine," lending some fluently inventive saxophone flourishes. It all adds to the heady, sensation of free-falling through the album. A feeling that the horizon has become broader.
"Beach Babe" dashes away with the start of the album. "We spent the summer waiting for summer to come, if we keep waiting we'll be waiting for summer til it's gone," declares Aggs over some decidedly racing drums, her guitar riff playfully leaping out in front of the rooted low-end. "Big Feeling" is a patchwork rush of staccato chords, elastic bass and brisk drum fills, all set off by the band's wordless vocalisations which feature on many of the songs when words can't get close enough.
"Leaves" meanwhile is a more tender rumination, beginning with nature. "Sun shines in through the leaves, this warm glow. That way you look at me, I just know," harmonise Aggs and Horwood. Towards the end of the song, its title shifts meaning though. as we hear that it all lLeaves me speechless, leaves me speechless, try to hide all this but somehow you already know." This delight in dual meaning is present in the album's title too, with Aggs admitting that she liked the ambiguity of it. Her diary entry-like lyrics are seemingly spoken to you in confidence and trust, as well as embracing ideas of self-belief.
'Confidence' is a robust album with several themes at its heart that keep reappearing. Lyrically the tracks deal with identity, miscommunication, the passing of time and listening closer. Trash Kit are unmatched at making the personal poetic and vice versa, they never become overwrought, they just keep things honest and follow their natural course. Overall a feeling that you must run with the moment and trust in yourself emerges, echoed brilliantly through the instrumentation. There's a restless energy that abounds, a momentum growing stronger, an alchemy at play between each member of Trash Kit and between each song on 'Confidence'. It's this reason why we should listen closer, listen to the sum of the parts, listen to ourselves. One day we'll find gold where once there was only hope.

'TEENAGERS / HOW DO YOU DO?'
UTR041 | 7" | 2 tracks, 5 minutes | Buy
Trash Kit return with a new 7" single bearing two of their finest tracks yet. 'Teenagers' is a triumph of immediacy, mixed emotions and thunderstorms, whilst double A-side 'How Do You Do?' is ultimately poignant with its mixture of handclaps and twisting melody. "Will I remember her this September when it gets wet? Break me up, sweep me up," sings Rachel looking backwards with different eyes.
The 7" is limited to 500 copies on transulcent orange vinyl. The digital version is accompanied by an exclusive song entitled 'Happy New Year', taken from the same session as their album and included recently on their tour-only cassette compilation.

'TRASH KIT'

UTR036 | CD / LP | 17 tracks, 26 minutes | Buy
With their self-titled debut album, Trash Kit have successfully captured their narrative enthusiasm without losing any charm.
There's a stripped back quality to their music that packs the bravest of punches. Both Rachels tangle their vocals with each other whilst expressive drumbeats and impulsive guitar lines pin down the songs.
Agg's guitar playing is as much informed by African fingerstyle patterns as the percussive attitude of various no wave shredders. It often sounds like the guitar lines leap just ahead of the pursuing drums like a musical chase.
Horwood approaches her rhythms with an untamed freedom, pushing them forward into the realms of lead instrument. With the inclusion of handclaps, tattered cymbals and Djembe - played with a stick as part of the kit - her vivid drumming sounds nothing short of gripping.
Trash Kit's music is full of pauses, flips and punctuation, this is where Ros Murray and her resonant, spirited bass work finds the perfect balance.
The album, recorded in just a handful of days, sees them skip-rope through 17 of their colourful compositions, even finding time to work in passages of violin, noisy freak-outs and some saxophone touches courtesy of guest musician, Verity Susman. The group vocals and wordless singing that weaves through the album are another key part of the band, allowing them to express the uncertain in a way which showcases their boundless delight in making music in its most fun and natural form.
Lyrically, their songs deal with identity and honesty and with a result they find their own voice stronger than they thought. Their poignant songs tackle a wide range of issues, in a personal way. "It's at your fingertips, take this moment, don't forget a single word that was spoken" sings Rachel A in "Fame" and ,in truth, that's how Trash Kit approach each song, with total sincerity and directness.
It's easy to find yourself in their music and get caught up in the moment. Tracks like "New Face"and "Bad Books" fly by with all the rush of endorphins, whilst other songs such as "Freetime" embark on more pensive adventures. "Filipino Song" takes its inspiration from the drumbeat of a traditional Filipino folk dance and, whilst celebrating a diversity of ideas, it also reflects on that feeling of otherness that comes with being mixed race.
'Trash Kit' is an album with a lot to say, but its overall sentiment of remaining true to yourself never loses clarity. "Cadets" is a raucous call to arms exercise in the power of the catchy hook, whilst "Natascha" and "Tattoo" are altogether more sensitive affairs, exposing a certain vulnerability and candor the band wear like a badge of pride.
Trash Kit take risks with - and inside - their songs, and it's exactly this attitude which frees up their music and makes them sound so compelling and different. Trash Kit are a band who turn the personal into the poetic, who make the everyday radical, and, for that, they sound truly original.
LINKS
PRESS
THE FADER
RECORD COLLECTOR
THE LINE OF BEST FIT
ROCK FEEDBACK
PITCHFORK
ROCK SOUND
THE INDEPENDENT
THE SUNDAY TIMES
UNCUT
NOTION
NME
ARTROCKER
THE QUIETUS
MIDDLEBOOP
VICE
FLUX
MUSIC OMH
DAZED & CONFUSED
LOUD & QUIET
20 JAZZ FUNK GREATS
ARTROCKER
WEARS THE TROUSERS
REMOTE GOAT
LOW RISE
VICE
A NEW BAND A DAY
PINGLEWOOD
FADER
NEU MAGAZINE