PHOTOS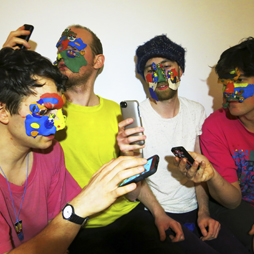 HI RES DOWNLOADS








Photos 1-3 by Ceri Ellison, Photos 4-7 by Moe Meade.
ABOUT DOG CHOCOLATE
DOG CHOCOLATE sound like a crowded room but are actually four individuals from London. Having played in many other bands including Yeborobo, Limn and Gasp! Cracking Eggs, united they recognise Dog Chocolate as their one true love.
Abandoning notions of elegance, cred and professionalism they embrace the ramshackle, instant and fun, capturing a vivid spontaneity with their music. 'Snack Fans' is the band's debut album, following on from 2014's release 'Or', a split LP with gastronomic kin Ravioli Me Away (released by Upset The Rhythm).
'Snack Fans' is comprised of 14 bite-sized nuggets high in salt and sugar content. The sound is a shabby, fast, over-excited ball of wet fur falling down the stairs, knocking over plant pots along the way and staining the carpet. With an average song time of 2 minutes, Dog Chocolate are on to the next treat before fully digesting the last. Chewing up bits of punk, post-punk, noise and pop, Matthew and Robert's guitars race around each other like wasps, pitch-shifting and phasing all over the place while Jono's rolled-up-newspaper drums chase them round the room. Andrew's occasional impressionistic keyboard flourishes add further colour to the scene, whilst Andrew and Robert take it in turns to sing with the others joining in occasionally.
DOG CHOCOLATE RELEASES
SNACK FANS

UTR077 | LP | 14 tracks, 26 minutes | Buy
Lyrically the album deals with themes domestic, emotional and metaphysical: purging your life of material possessions, cosmically ordering a pet, memories evoked by the tactile properties of objects, the impermanence of the body, confusion, holidays, environmental concern and hay fever. There are moments of flippancy and silliness, but also of investigation and introspection.
On 'Emotionally Buff', Andrew tells the tale of an ill-fated band he played in called Mature and how their music was a kind-of primal scream therapy for the angst they felt at the precariousness of their living conditions. "My bed was an increasingly mouldy futon, surrounded by towers of boxes of all of my stuff, I was awoken at 5am by a burglar, whose t-shirt was inside-out and back-to-front" admits Andrew with his often anecdotal vocal.
On 'Be a Bloody River', Robert strings together a list of failures and pointless endeavours "I'm trying to coax a sparrow into a cardboard box .... I'm stroking the mane of a concrete horse .... I'm managing a spill with a blood-stained jay cloth...." getting increasingly frustrated. Andrew tries to calm him, urging him to let his troubles wash over him "be a river, be a bloody river", Rob responds in mock desperation "I'm trying to be a river, I'm trying!".
In just over 25 minutes the band gleefully assemble a roller-skate of sound held together with sellotape and blu-tac, just robust enough to reach it's destination as it's chucked downhill. It's an album packed with ideas and momentum, no need to set the table, Dog Chocolate are in a rush. If 'Snack Fans' doesn't satisfy your appetite then you'll need to fix yourself a feast or something.
OR

UTR063 | LP | 14 tracks, 33 minutes | Buy
Here's a new installment in Upset The Rhythm's split LP series, that's previously seen Gary War, Purple Pilgrims, Please and Spin Spin The Dogs swap sides most recently. This record teams up like-mindedly loopy, art-damaged Londoners Ravioli Me Away and Dog Chocolate. Inspired by an evening when both bands performed at London's DIY-hub Power Lunches this LP came together through mutual appreciation, as well as gastronomic necessity.
Never dwelling for long, Dog Chocolate treat us to songs about pregnancy, poisoned eyes, public transport and cakes. Their observational, often candid lyrics match their nonsensical attitude to their music too, which tumbles and chases pitchshifted guitars through thick forests of feedback and blasting drums.
"Tony's umbrella, Tony's umbrella, it's made of aluminium and replica leather" deadpans Rob on their anthemic retort to the possessive brolly owner before Andrew joins him to whip it up into a frenzy. It all leaves you convinced in the old adage that if you put a bar of dog chocolate next to bunch of bars of normal chocolate, it might look the same but it ain't the same, because you know it was made by dogs!
'Dog Chocolate / Ravioli Me Away' makes for a winning split LP, showcasing London's glorious underground. When the menu arrives this tasty, who needs three courses? Limited to 500 copies on 180g black vinyl with printed insert and dual sleeve.
LINKS
PRESS
DROWNED IN SOUND
GOD IS IN THE TV
VANGUARD ONLINE
CLASH
LOUDER THAN WAR
IMPOSE
VIDEOS
EMOTIONALLY BUFF
PLASTIC CANOE
BENT WIRE SITUATION
WISH FOR A CAT