NEWS
BAMBOO'S NEW VIDEO
3 February 2016
Watch this terrific new video for "Hexagonal" by Bamboo - bejeweled hearts, silken robes and hologramatic swords galore!
The song is taken from recent LP 'Prince Pansori Priestess' and was released last Friday as a digital A-side single with 'Diamond Springs'. Enjoy this feast for the eyes!
LISTENING TO THE WORLD
22 January 2016
Look out April 1st as we're releasing this immense debut 7" by The World into the wild.

'Managerial Material' is the lead track from the EP, and it's a contagious as it is fun with a clear focus on wanting to make the whole room dance before leaving with its echoed message trapped inside their heads.
Check out new songs by The World and Dog Chocolate in our new releases mixtape below.
ANNOUNCING 'SNACK FANS'
21 January 2016
Thrilled to announce Dog Chocolate's debut LP 'Snack Fans' will be coming out on Upset The Rhythm on March 18th. The record will be available on black or magenta 180g vinyl, with some eye-popping artwork, including a poster and lyric book that can be pre-ordered here now. Here's the first track from the album, 'Emotionally Buff', filmed/edited by and starring all members of the band!Exciting times.
SAUNA YOUTH'S THE BRIDGE
7 December 2015
Here's the amazing new video for "The Bridge" from Sauna Youth - choreography, shorts and human letters all leaping out of the London gloaming.
The song is taken from recent LP 'Distractions' and will be released as a 7" early in the New Year. You can pre-order it now.
LATEST RELEASES MIXTAPE
LINKS
UPCOMING SHOWS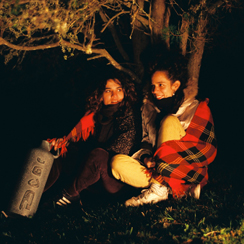 PEGA MONSTRO
RATTLE
ES
Saturday 6 February

Moth Club
Old Trades Hall, Valette Street, Hackney, E8 1EL | Map
7:30pm | £6 | Buy tickets
PEGA MONSTRO are sisters Júlia Reis (drums) and Maria Reis (guitar, keyboard), both sing! Born and raised in Lisbon, Portugal, Maria and Júlia have been playing music together since they were 15 and 17 respectively, in other groups first before resolving on becoming a duo. Back in 2010, both sisters started a record label, along with some of their musician friends, called Cafetra Records to document Portugal's garage punk scene. Cafetra represents a community of like-minded musicians who all help each other, making music that they'd want to hear, powered by enthusiasm. 2012 saw Pega Monstro release their self-titled debut album, making for a raucous record that met with critical national acclaim. Last summer, Pega Monstro released their new album entitled 'Alfarroba' on Upset The Rhythm. The songs on 'Alfarroba' deal with many themes, some universal topics like love and growing up, others focusing on the nature of writing songs themselves, whilst some try to make sense of the world from a female perspective. Returning to London after their spectacular performance with Deerhoof last August, expect torrents of energy from Pega Monstro; snare rolls triggering flights of guitar, and fogs of cymbal shimmer that form steps for their vocals to climb.
RATTLE are a drumming duo based in Nottingham. Rattle focus almost exclusively on drums and more drums, beneath a delicate overlay of vocal harmonies and percussive effects. Formed by Katharine Eira Brown (also of Kogumaza) and Theresa Wrigley (also of Fists); Rattle began as an experiment in crafting rich songs and melody using drums and voice alone. Their music weaves and intertwines post-punk, minimalism and experimental rock, through off-kilter rhythms, patterns and counter melodies. Their live performances are at once hypnotic, monastic and danceable, entrancing audiences at Supersonic Festival, Dot to Dot and throughout the UK during December's recent tour with Witching Waves.
ES are a brand new band featuring Maria, Flora, Tamsin and Katy, who you may know from their other excellent bands Primetime, Gloss Rejection, The Worms and Black Fungus. Weaving sinewy keyboard lines and a direct vocal around the bass and drums they write stark songs that are as hard to pin down as they are inventive. It's still early doors so no music online yet, you'll have to come and see them play to know more!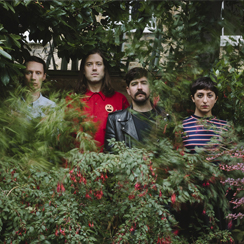 SAUNA YOUTH
NOT SORRY
SARCASM
PUB CLASSICS (DJ Set)
Saturday 13 February

The Forge
3-7 Delancey Street, Camden, NW1 7NL | Map
7:00pm | £7 | Buy tickets
SAUNA YOUTH are an evolving band of future humans making truly irregular punk, not quite comparable to anything else. "Weird" is a meaningless platitude and "art punk" is a classifier that shouldn't be required. Consisting of Richard Phoenix (drums, vocals), Lindsay Corstorphine (guitar), Jen Calleja (vocals, sampler) and Christopher Murphy (bass), Sauna Youth are a punk band that's happy to embrace all of the contradictions that go along with that notion. On paper, Sauna Youth sound considered - live, they can barely be contained. They are at times furious, unstoppable and severe, with the sampler wailing like an alarm coming from a parallel universe - then chugging, poppy, harmonious and fun. Forever loud. This show celebrates the release of their excellent new 7" 'The Bridge / Blurry Images' out on Upset The Rhythm.
NOT SORRY are four slinky-synth, disco-punx from London, featuring members of Joey Fourr and Ravioli Me Away. Check out their recent split tape with Holysix on Good Job/SixSixSixties for plenty of woozy, sometimes disquieting, always irrefutable pop bangers.
SARCASM bring the brittle post-punk, featuring members of Efialtis and Snob. No recordings online yet, demo in the works.

GUN OUTFIT
AMPS FOR CHRIST
Wednesday 17 February

The Lexington
96-98 Pentonville Road, Angel, N1 9JB | Map
7:30pm | £8 | Buy tickets
GUN OUTFIT have an incandescent sonic signature: a dusky, canyon-cult blues fueled by melodic dual-guitar weaving and seductive male/female incantations. It's the nocturnal sound of desert-damaged L.A. burnout, a soured American surrealism in rock and roll creole: white line fever, paint fume flashbacks, a stranger wading out alone into the black surf. Gun Outfit let levitating hooks and an emotional heaviness co-exist in their impressionistic songs, like the light-and-dark glow of a perpetual magic hour. As ever, they sound like they just wandered off the set of a country Western being shot inside a shipping container, but most recent album 'Dream All Over' (Paradise of Bachelors) is Gun Outfit's most consistent record by some margin. With its echoing grooves, drifting landscapes, and new textures--bits of bluegrass banjo, homemade electric sitars--'Dream All Over' has the blue-sky sensibility of a soul-searching road trip. Gun Outfit's music has gotten slower with each of their four albums, an inversion of (or response to) how human life has evolved since their band formed nine years ago. Perhaps this is why Gun Outfit--a band that will validate your pain as much as it will comfort you--still has such a fervent cult following underground. Gun Outfit understands what it is to feel unsettled, to need some calming through the zero hours.
AMPS FOR CHRIST is the very hand-made, folk art project of Henry Barnes, also known as a member of legendary noise-crust band Man is the Bastard. With Amps For Christ, he embraces the rustic electrified, the feathery jangle, the modulated organ with lashings of harmonised leads, the sweeter, the messier. On recent LP, 'Canyons, Cars And Crows' (Shrimper) there's a new found deliberateness and refinement at play. The stubborn fuzziness of Barnes' vision makes for a halo effect: On the instrumental 'Hills of Padua', keyboards are treated and warped until they bleat like bagpipes, even as Barnes feeds them through a distortion pedal that might have been built out of a Geiger counter. That tattered, mutated, yet undeniably traditional folk air assumes a more solid shape on 'Scottish Country Dance', another vocal-free track that balances chiming delicacy with an earth-scraping underbelly glacial enough to have carved out the Great Glen. A lonesome sitar curls around Barnes' barebones, Fahey-esque acoustic guitar, while a waveform is whittled into a haunting drone, a looped memory of those since gone. Barnes records at home, and that homespun ethic is more than just a method of expedience; it fills the corners of his music with cobwebs and echoes, a cocooning insularity that reduces even the most cosmic sentiment to something small and warm. Cloaked in mystique, sequestered in hermetic glory, AFC carries around its own atmosphere--one that we all must breathe deeply of.

PROTOMARTYR
Monday 4 April

100 Club
100 Oxford Street, W1D 1LL | Map
7:30pm | £10 | Buy tickets

NORMIL HAWAIIANS
BAMBOO
THE WHARVES
DOG CHOCOLATE
Sunday 10 April

Cafe Oto
22 Ashwin Street, Dalston, E8 3DL | Map
5:00pm - 10:00pm | £7 | Buy tickets
NORMIL HAWAIIANS have always operated as a collective of musicians rather than a band per se and for their third album, 'Return Of The Ranters', the group comprised of Guy Smith, Simon Marchant, Alun 'Wilf' Williams, Noel Blanden and Jimmy Miller. Recorded at Dave Anderson's Foel studio in Wales (sonic home of Amon Düül II and Hawkwind) in the Winter of 1985, a time and a place triangulated from political, social and geographical aspects, the album extended their free experiments in compelling arrhythmia and seemingly organised sound, taking a loose trajectory from their previous albums and earlier, more confrontational approach.
Lucid, candid, politically engaged, rarely metronomic but always humane, tired but still fighting, Normil Hawaiians' have waited patiently for thirty years. 'Return of The Ranters' was not released back in 1985 as with Guy, Jimmy and Wilf living in squatting communities in South London, and Simon and Noel re-locating their families to rural Kent - the Family Hawaii splintered and went its separate ways. In the intervening years, the band's reputation has grown considerably, far beyond the UK. With vast clouds of atmosphere, tape loops, found percussion, exalted synths and walls of guitar ambience, Normil Hawaiians sound more at home today. Now the causes and conditions have finally come good with Upset The Rhythm releasing 'Return Of The Ranters' last November to much acclaim and the band having prepared their spellbinding show for the road once more. All that falls, now falls into place...and all that was air now becomes solid.
BAMBOO is a sublime new project from Nick Carlisle (of Peepholes, Don't Argue) and Rachel Horwood (of Trash Kit, Halo Halo). Their music is vivid and deeply poignant, locking into a magnetic attraction between between Rachel's flawlessly resonant folk cadence and Nick's pristine synth pop production. Far from being a one off, or dare we say side-project, BAMBOO is very much a fully realised pursuit, with the band working on multiple records simultaneously from their Brighton and London base camps. 'Prince Pansori Priestess' is the first album to see the light from this pairing of talents (out now on Upset The Rhythm). 'Prince Pansori Priestess' was recorded between spring 2014 to spring 2015, this was before the band expanded to a four piece for live performances, showcasing BAMBOO as a very original duo with a sound-world very much their own. It feels very pure, prismatic and even mystical at moments without losing any of its human touch.
THE WHARVES combine gracefully minimal psyche-rock with fuzzed out folk. Their songwriting remains consistently rich, largely due to the startling harmonies of Gemma Fleet (bass) and Dearbhla Minogue (guitar) that bond together each song. They invoke the reverberated spook of 60s girl groups, the mid-fi guitar crunch of Kim Deal's The Amps, the vocal flavours of The Roches and the narrative and structural panache of 70s progressive folk. Marion Andrau's thunderous drumming drives through these compositions, ensuring the wealth of disparate influences remain focused and celebratory. Following on from last year's brilliant 'At Bay' album on Gringo Records, Upset The Rhythm released a brand new 7" single recently giving all a glimpse of what their next album 'Electa' will sound like this year.
DOG CHOCOLATE sound like a crowded room but are actually four individuals from London. Having played in many other bands including Yeborobo, Limn and Gasp! Cracking Eggs, united they recognise Dog Chocolate as their one true love. Abandoning notions of elegance, cred and professionalism they embrace the ramshackle, instant and fun, capturing a vivid spontaneity with their music. Their sound is a shabby, fast, over-excited ball of wet fur falling down the stairs, knocking over plant pots along the way and staining the carpet. With an average song time of 2 minutes, Dog Chocolate are on to the next treat before fully digesting the last. Chewing up bits of punk, post-punk, noise and pop, Matthew and Robert's guitars race around each other like wasps, pitch-shifting and phasing all over the place while Jono's rolled-up-newspaper drums chase them round the room.The band's debut album 'Snack Fans' will be released through Upset The Rhythm on March 18th.

QUINTRON & MISS PUSSYCAT
Friday 22 April

DIY Space for London
96-101 Ormside Street, South Bermondsey, SE15 1TF | Map
7:30pm | £10 | Buy tickets
DIYSFL is a members club, become a member here!

THE SPACE LADY
ERIC SCHNEIDER
Thursday 5 May

Bethnal Green Working Men's Club
44-46 Pollard Row, Bethnal Green, E2 6NB | Map
7:30pm | £9 | Buy tickets

NEIL MICHAEL HAGERTY & THE HOWLING HEX
Tuesday 10 May

Moth Club
Old Trades Hall, Valette Street, Hackney, E8 1EL | Map
7:30pm | £10 | Buy tickets

NOTS
Monday 23 May

The Lexington
96-98 Pentonville Road, Angel, N1 9JB | Map
7:30pm | £7 | Buy tickets

DOWNTOWN BOYS
Tuesday 31 May

The Victoria
The Victoria, 451 Queensbridge Rd, Dalston, E8 3AS | Map
7:30pm | £7 | Buy tickets