NEWS
BAMBOO VIDEO!
17 September 2019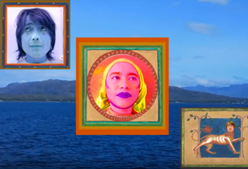 Here's a first glimpse of the highly visually rewarding 'A World Is Born' video, up now on 20 Jazz Funk Greats! What a SONG!
TOUR DATES too:
Oct 5th - London, Servant Jazz Quarters
Nov 7th - London, EartH
Nov 8th - Northampton, The Garibaldi Hotel
Nov 9th - Newcastle-Upon-Tyne, venue TBC
Nov 10th - Edinburgh, Henry's Cellar
Nov 11th - Manchester, Gullivers
x
INFINITE SPRAWLING OUT NOW!
13 September 2019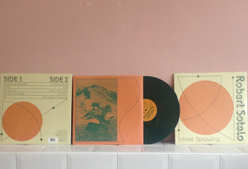 Fantastic news! Today Upset The Rhythm releases 'Infinite Sprawling', Robert Sotelo's staggering new album! Sotelo is a cosmic pop melodist, a heartfelt multi-instrumentalist whose direct songs are curiously affecting and this third album from him really sets the songwriting bar high before vaulting clean over it! 'Infinite Sprawling' is available now digitally and on heavyweight dark-green vinyl from all good shops, including our webshop!
ROBERT SOTELO VIDEOS X2!
9 September 2019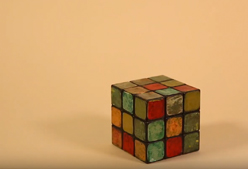 Glasgow-based cosmic pop melodist Robert Sotelo has just had two new singles go live recently from his extraordinary 'Infinite Sprawling' album, out on Friday! The title track video just premiered on Clash: "a blistering slice of outsider songcraft with a vivid extra-dimensional pop element", whilst Raven Sings The Blues were kind enough to host his brand new 'Mister' video: "a fuzz-beset pop-skimmer, slinging twang and jangle equally!" Enjoy!
LUNCH LADY'S ANGEL RELEASED
23 August 2019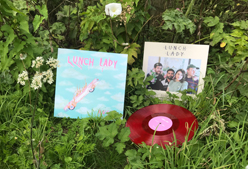 What a morning! Today we found a feather on the floor and released 'Angel' by Lunch Lady, a staggering debut album drawing on post-punk, kitsch and country balladry narratives to devastating effect! Available on LP (red vinyl and black vinyl versions), CD and digitally today through Upset The Rhythm, 'Angel' can be found in all the best stores as of now and from our very own website hither.
LUNCH LADY - SWEET ONE
2 August 2019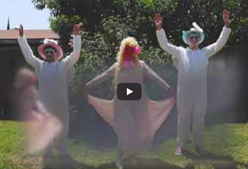 An angelic new video for Lunch Lady's second single 'Sweet One' just premiered on Post-Trash! "Sweet One is an intricately coiled slow burner that lurks in the shadows while retaining an unflinching shimmer."
Fully agreed! x
KAPUTT ARRIVE AT CARNAGE HALL
29 July 2019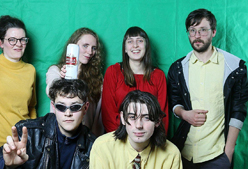 KAPUTT are a recently hatched post punk act from Glasgow, Scotland. Racing away from the playful torn edge of no-wave song, Kaputt blurt out tracks with twitchy charisma, their catchy riffs circle with relish, allowing timely sax stonks and stop-start rhythms to drive things on. Vocals leap, guitars bluster and always the saxophone snakes, hypnotically drawn through the erratic beat. There's a riot of fun at play in their febrile racket, but there's also some deeply cerebral grooves and choice lyrical concerns evident too.
The songs on 'Carnage Hall', Kaputt's debut album released by Upset The Rhythm this September, were influenced by the maelstrom of political hypocrisy and confusion in the air, the offbeat happenchance of life in 2019, notions of surveillance, identity (personal as well as the biscuit-tin styled persona of the Scottish Highlands), industrialisation and family. In short a total corkscrew of an energetic album! 'Carnage Hall' is available to pre-order in our webshop now!
'Carnage Hall' is available to pre-order now in our webshop!
SOTELO RETURNS
26 July 2019
Cosmic pop melodist Robert Sotelo returns this September with his most expansive album yet! 'Infinite Sprawling' is Sotelo's first record since relocating from London to Glasgow and partly inspired by his new city's inclusive and collaborative musicverse. Recorded with Ruari MacLean (of Vital Idles, Golden Grrrls) and Edwin Stevens (Irma Vep, Yerba Mansa) at their home studio Namaste Sound, 'Infinite Sprawling' grew out of Sotelo's sketchbook of skeletal songs, with MacLean and Stevens developing their own drum, guitar and keyboard parts. These songs pulled together like a wakeful stretch on a Sunday morning, flowering with a lightness of touch, sounding both carefree and brisk. Check out 'Message Of Beauty', the video for the first single from the album! A relaxed ballad of drowsy farewells, swoons of violin and swirled clouds of organ drone, take a listen.
'Infinite Sprawling' is available to pre-order on dark-green 180g vinyl now at in our webshop.
'WHO'S TERRY?' RELEASED!
19 July 2019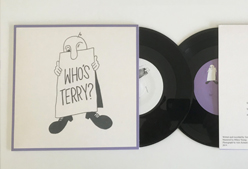 Today Melbourne post-punk wags Terry return with their new EP 'Who's Terry?' on Upset The Rhythm. Following on from last year's huge-sounding 'I'm Terry' album, this third 7" EP from the band brings you right up to date with their wobbly politico-pop. 'Who's Terry?' encapsulates what Terry does best, the queasy marriage of the upbeat and traumatic, the catchy instant and the nagging distance. Their alliterative lyrics always sharp as tacks, their sense of melody and beat sunk deep in the heart of now.
'Who's Terry?' is available now on black vinyl in our webshop!
LATEST RELEASES MIXTAPE
LINKS
UPCOMING SHOWS

TRASH KIT
CHILD'S POSE
THE PLAN
DJs: TREE TRUNKS & ROZI PLAIN
Saturday 21 September
Cafe OTO
18-22 Ashwin St, London, E8 3DL | Map
7.30pm | £8.00 | Buy tickets
TRASH KIT are Rachel Aggs (guitar, vocals), Rachel Horwood (drums, vocals) and Gill Partington (bass). Three deeply creative individuals who play in a multitude of other groups including Bas Jan, Sacred Paws, Shopping and Bamboo, united by a shared decade of spry musicality that surges through their bodies, hearts and heads with Trash Kit. Their songs once succinct, patchwork post-punk numbers of an honest diary-like nature now tussle more with long-form songwriting, expeditious polyphony and cascades of sung-spoke vocals. This new focus began with their last album 'Confidence' (2014) and has now grown into something exhilarating and rapturous. New songs like 'Disco' have had their very fabric stretched into smart new shapes, allowing the band to run away with refrains and unlock the dancefloor. Although Trash Kit have their forebears in bands like Sleater Kinney, The Ex and The Raincoats, their sound is still very much their own take on facing forwards and relies as much on the naturalism of an internalised folk music as on their sincerity of vision. Since forming in 2009, Trash Kit have released two albums for Upset The Rhythm and a selection of singles, this July however they made their most majestic move yet with their resoundingly huge Horizon album. An album that forever listens for the next moment and will meet you once more at the vanishing point.
CHILD'S POSE play punk-inflected pop music, something like if Elastica had built their home in the Slampt Underground instead of making a #1 record. Their caustic slash-and-burn style is sneering and ebullient all at once, detached yet intimate, trim and nervy songs that reward listen after listen, personnel from Woolf, Sauna Youth, Sarcasm, and Nekra sparking joy and dread in equal measure. It's the sound of the first warm day of spring and the accompanying cans in the park and the crisp cool wind chasing you home at dusk, that sinister manic magic feeling of learning how to inhabit your body again after a long cold winter. It's been winter for years now and we all need warming up. Let Child's Pose take you with them.
THE PLAN have perfected a stop/start abrasiveness with their stirring, woman-powered dispatches from Southend-On-Sea. Boasting members of Wetdog and Vic Goddard's Subway Sect, they fuse post- punk with folk, no wave with psych. It's a heady brew and endlessly inventive. Jangly Kinks guitar, cryptic lyricism, cherubic vocal harmonising, dervish leaps into The Ex-like noise... there's enough room under this tarpaulin for everyone.

EXEK
THE REBEL
ES
Friday 27 September
Moth Club
Old Trades Hall, Valette St, Hackney Central, E9 6NU | Map
7.30pm | £7.00 | Buy tickets
EXEK thrive amidst noirish, dub-dilated post-punk, with lyrics skirting the sardonic, mired in disdain. Situated in a reservoir of space echo and assisted by the heavyweight bass-and-drum brunt of Henry Wilson and Sam Dixon, vocalist Albert Wolski conveys an oblique, literate nihilism that resembles both a sneer and a smirk. Wicked turns of phrase are spiked with black humour and surrealism as the rest of the band summon sparse, reverb-drenched runs of percussion and a thickset low end prone to detour and dysfunction. Exek recently followed up their 'Ahead Of Two Thoughts' LP released last year on W.25TH (Superior Viaduct) with their astonishing 'A Casual Assembly' EP. This new record from Melbourne's audio-wranglers coalesces around a stirring theme for synthesizer, trumpet and bass, bringing together reference points to Laurie Spiegel, Jah Wobble and The Velvet Underground's 'The Gift.' Frontman Albert Wolski's disembodied narration - at times reminiscent of Samuel Beckett or Robert Ashley - unfolds over a series of dark vignettes set in a dystopian near-future. Autotune has been banned, secret police patrol the redoubts of the wealthy, and world beaches have been cleared of their sand for the construction of enormous urban prisons. As these events turn more fraught and absurd, Wolski reveals just how much is gained through EXEK's stripped-down arrangements and dreamlike tones.
THE REBEL is prolific London outsider Ben Wallers; a charismatic lone wolf in a cowboy hat or trilby and a tie whose electrified howls are too idiosyncratic to be broken down into market-oriented terms. It is difficult to sketch a thumbnail summary of a musician who has amassed a vast and unwieldy discography under a variety of names and genres: the most widely acclaimed is probably the Country Teasers, but he also moonlights as, or in, the Rebel, the Company, the Male Nurse, the Beale, the Stallion, the Black Poodle and Skills on Ampex, across folk, country, garage, post-punk, no wave and electronic pop. In the main part The Rebel is centred around twisted Casio drones, clanging guitar and some defiantly deadpan vocals, all thrown in the pan and pressure-cooked in Wallers' mind. Wallers has amassed a near-unquantifiable discography over the past 20 years, from scores of more or less "official" LPs, EPs and 7"s to seemingly endless self-released cassettes.
ES are the soundtrack to your no-wave nightmares, proffering 'mutant synth-punk for our dystopian present' (Jes Skolnik). Ethereal synths, tense basslines, wired drums and cold vocals collide, proving curiously dark, intense and unrelenting. After releasing their debut 'Object Relations' 12" EP on La Vida Es Un Mus in 2016, all members now reside in London and are working towards their debut album. ES feature members of Public Service, The Worms, Primetime and Scrap Brain.

BAMBOO
THE SILVER FIELD
SYNERGIE DJs (Serafina Steer & Oliver Marchant)
Saturday 5 October
Servant Jazz Quarters
10A Bradbury Street, London, N16 8JN | Map
7.30pm | £5.00 | Buy tickets
BAMBOO is the majestic pop project of Nick Carlisle and Rachel Horwood. Their music is vivid and deeply poignant, locking into a magnetic pull between Rachel's flawlessly resonant folk cadence and Nick's pristine synth-pop production. Live Bamboo are a quartet and they're ready to launch their third record Daughters of the Sky with this intimate show.
THE SILVER FIELD is a sound world of Coral Rose & friends.Voice, tapes, bass, strings, reeds, drums, small sounds, big sounds, sunlight, moonlight, a lot of water.

SHANNON LAY
EMMETT KELLY
NO HOME
Monday 21 October
SET
27a Dalston Ln, Dalston, London, E8 3DF | Map
7.30pm | £8.00 | Buy tickets
SHANNON LAY is a L.A. singer-songwriter whose work is of a plainspoken mysticism that goes to the small, bright truth of things, showcasing her unusual songwriting and quietly commanding voice. Shannon has been dominating the local scene in Los Angeles over the past two years, leaving everyone who witnesses completely breathless. Her new album for Sub Pop is called 'August', the title referring to the month in 2017 when Lay quit her day job and fully gave herself over to music. This was her liberation as an artist, and the album is devoted to paying that forward to her listeners. "It's a thank you to the universe," says the L.A. artist. The title track is a mystical, folk-psych expression that builds into a gentle gallop. "Open the doors that you cannot," she sings with a feathery lightness. In keeping with the humbled, contemplative nature of 'August', most tracks clock-in at three minutes or less. She saved indulgence for the production. "Some songs as they were had this room to grow," says Lay, who recorded the album with her longtime friend, musician Ty Segall at his home studio on the East Side. "I believe whoever you record with tends to affect the mood of music and Ty really brought this jovial sense that I hadn't really explored yet," she says. "Once you get rolling with him, he just throws these ideas at the wall. And you're like, 'I would never have thought of that!' I couldn't have hoped for a better guide and energy to help create this record."
EMMETT KELLY is an American singer, songwriter and guitarist from Van Nuys, California. He is the primary songwriter and recording artist of The Cairo Gang, and has contributed vocal and instrumental work to a variety of international musical projects, appearing on recordings by the likes of Bonnie Prince Billy, Azita, Joan of Arc, Ty Segall, Edith Frost, Women and Children, John Webster Johns, Jeff Harms, Chicago poet/singer Marvin Tate, Matteah Baim, Japanese musician Takuma Watanabe, Angel Olsen, and Joshua Abrams. Kelly has toured in several of the aforementioned acts in addition to with Sonny Smith, Baby Dee, Beth Orton, and Terry Reid, and in other instances, performed live with Scott Tuma and Pillars and Tongues.
NO HOME is the lo-fi rock solo project of Charlotte Valentine, who fuses the grunge and ambient songs of early 00s new york rock, with an urgent, captivating call to self preservation. Having enthralled audiences at Decolonise Fest and support slots with Downtown Boys, Moor Mother and Big Joanie, No Home's third EP 'hello this is exploitation' is full of unease and disorientation, modal melodies interwoven with rolling rhythms and noise.

CARLA DAL FORNO
Tuesday 12 November
Electrowerkz
1st Floor, 7 Torrens St, The Angel, London, EC1V 1NQ | Map
7.30pm | £12.50 | Buy tickets
CARLA DAL FORNO has entered a new era with her forthcoming album 'Look Up Sharp', pushing her dub-damaged DIY dispatches to the limits of flawless dream-pop. In a transformative move towards crystal clear vocals and sharpened production, 'Look Up Sharp' is an evolutionary leap from the thick fog and pastoral stillness of her Blackest Ever Black missives, You Know What It's Like (2016) and The Garden EP (2017). Three years since her plain-speaking debut album, the Melbourne-via-Berlin artist finds herself absorbed in London's sprawling mess. The small-town dreams and inertia that preoccupied dal Forno's first album have dissolved into the chaotic city, its shifting identities, far-flung surroundings and blank faces. 'Look Up Sharp' is the story of this life in flux, longing for intimacy, falling short and embracing the unfamiliar. Dal Forno connects with kindred spirits and finds refuge in darkened alleys, secret gardens and wherever else she dares to look. In her own territory between plaintive folk, pop and post-punk, dal Forno conjures the ghosts of AC Marias, Virginia Astley and Broadcast through her brushwork of art-damaged fx and spectral atmospheres. 'Look Up Sharp' is a singular prism in which sound and concept bend at all angles. A deeply personal but infinitely relatable album its many surfaces are complex but authentic, enduring but imperfect, hard-edged but delicate. A diamond. Released on dal Forno's own imprint Kallista Records this October.

RICHARD DAWSON
Tuesday 19 November
MOTH Club
Old Trades Hall, Valette St, Hackney, London, E9 6NU | Map
7.30pm | £16.00 | SOLD OUT
RICHARD DAWSON, the black-humoured bard of Newcastle, returns this October with the release of his sixth solo album 2020, his first since the critically acclaimed, Peasant. 2020 is an utterly contemporary state-of-the-nation study, that uncovers a tumultuous and bleak time. Here is an island country in a state of flux; a society on the edge of mental meltdown. This is England today. On 2020, Dawson introduces us to grand themes through small lives. His are portraits of human beings struggling with recognisable (and dare we say it, relatable) concerns, conflicts and desires, each reminding us that tragedy and gallows humour are not mutually exclusive, and that the magical can sit next to the mundane. Lyrically it is by far Dawson's hardest-hitting and unflinchingly honest album to date. It is his poetic masterwork. Within, we find disgruntled civil servants dreaming of better days, anxiety-addled joggers listlessly searching Zoopla for houses they cannot afford in their spare time, amateur footballers who think they're Lionel Messi and beleaguered pub landlords battling rising floodwaters.
Sonically, Dawson's new-found fascination with pure pop music is also evident across 2020, manifesting itself in some of his most direct work to date. Melding his most melodic moments with flashes of choral dissonance, nerve-shredding crescendos, heartfelt laments and a deceptive finger-picking style. His voice is a pliable instrument throughout, moving between weathered back bar-room sage, angelic falsetto and strident, rabble-rousing hellion chief choir boy of the underworld. Dawson is a singular voice, part savant-genius, part court jester; a songwriter whose subjects and characters are often drawn from the local, the historical and the colloquial, yet have a timelessness to them, his music echoing with voices past, present and future. There is a continuity. Here is life, in all its strange and wonderful ways.

LANKUM
Thursday 21 November
Tufnell Park Dome
2A Dartmouth Park Hill, London, NW5 1HL | Map
7.30pm | £16.50 | Buy tickets
LANKUM have an alchemical ability to combine traditional folk roots with contemporary undercurrents to forge music that is dark, mysterious and transcendental. Comprising brothers Ian Lynch (uillean pipes, tin whistle, vocals), Daragh Lynch (vocals, guitar) alongside Cormac Mac Diarmada (fiddle) and Radie Peat (harmonium, accordion, vocals), Lankum channel a diverse set of influences and histories to create a beautifully rare thing: a songbook from and for the people. Born of years criss-crossing Dublin's folk and experimental scenes, their two albums Cold Old Fire (2013, recorded under former name Lynched) and Rough Trade debut Between The Earth and Sky (2017) breath new life into ancient/modern rituals with urban punk fervour, rural psycho-geography and, underpinning it all, the eternal drone of the uilleann pipes.The Dublin based four-piece present a new live show in support of their much-anticipated 3rd album, 'The Livelong Day', out 25th October through Rough Trade Records.

THOR & FRIENDS
Friday 22 November
MOTH Club
Old Trades Hall, Valette St, Hackney, London, E9 6NU | Map
7.30pm | £10.00 | Buy tickets
THOR & FRIENDS are an avant-chamber ensemble formed by polymath percussionist and all-round force of nature Thor Harris, following his tenure as a touring member of monolithic rock ensemble Swans. The project is intended as a vehicle for experimentation, with the conceptual vocabulary of American Minimalism explored and expanded on by a rotating cast of musicians from around the globe. The resultant music is an elongated greeting and ode to Thor's community, his woodworking shop, and the instruments his hands shape and bring to life. From the core trio of Harris (sundry percussion and wind instruments including some of his own devising), Peggy Ghorbani (marimba) and Sarah "Goat" Gautier (marimba, vibraphone, xylophone, organ, voice, mellotron, piano), the line-up of Thor & Friends expands and contracts with the flux of compositional and improvisational contexts. The range of tonal color depends on what instrumentalists are present or absent from the process at any given time.
Thor has been announced as the artist-in-residence for Joyful Noise Recordings in 2019. Throughout the year he will release 6 records via the label, including the third full Thor & Friends album in Autumn as well as collaborative material with artists including Bill Callahan, Margaret Chardiet (Pharmakon), Lawrence English and many more. A limited run of 666 boxsets, handcrafted by Thor and containing coloured vinyl editions of all the releases, will then be released at the end of the year.

THE GOTOBEDS
HYGIENE
THE TUBS
Tuesday 26 November
The Islington
1 Tolpuddle Street, Angel, London, N1 0XT | Map
7.30pm | £7.50 | Buy tickets
THE GOTOBEDS are a modern rock and roll sensation that has always sounded like they have to play. The group's angular tunes and buzzy guitar-fuelled attack took the sound and vision of post-punk and indie rock and put the nervy snarl of punk back into the formula. Never maligned by having the world's weight on their backs, The Gotobeds - Cary, TFP, Eli and Gavin - returned this May with their third full lengther, 'Debt Begins at 30' (Sub Pop). The esprit de corps and anxiety-free joy that permeates their other LPs and EPs remains intact. The octane is high-test, the engine still has knocks and pings and the battery is overcharged. The Gotobeds - as Pittsburgh as it gets, the folk music of the Steel City - have more tar for us to swallow. The Gotobeds jump between exuberant jangle, brooding romps with tribal beats and slash-and-burn guitar and wrecking ball anthems much like their partners-in-rock-crime Protomartyr.
HYGIENE released a slew of singles and an LP on various DIY labels in the US and the UK at the turn of the decade, now the London post-punk stalwarts return from hiatus with their sophomore effort, 'Private Sector'. Where their debut LP 'Public Sector' (2011, La Vida Es Un Mus) reflected a nostalgic longing for an unrealised socialist modernist utopia, 'Private Sector' finds them confronting the grim realities of the present. Hygiene rail against the neoliberal madness of utility cartels, tax havens and privatised railways, seizing the moment as the current period of interregnum sees the old ideological certainties come into question. Proving nostalgia to be an inescapable trap, the band continue to hearken back to the kind of post-punk that existed before anybody knew to affix the 'post' prefix. New album 'Private Sector' has the signature Hygiene sound, mixing brooding melodies with a choppy, aggressive approach and a restricted pop sensibility. However, this ever-so-slightly-more mature record finds the band taking advantage of the musicianship of their friends, mixing in the odd viola, glockenspiel, piano and keyboard. Recommended for fans of Real Ale, British Rail Class 55 Deltics, Euston station and Jeremy Corbyn.
THE TUBS aim to channel "The Tubullar Sound" ; a thick soup of influences ranging from antipodean jangle, to needling Post Punk, to traditional British Folk music. The Tubs feature former and current members of Joanna Gruesome, The Estate Agents, Garden Centre and Keel Her, music coming soon!