NEWS
SAUNA YOUTH'S 'DISTRACTIONS'
24 February 2015
We're excited to announce that we'll be releasing Sauna Youth's new album 'Distractions' on 8 June.
Their colossal new song "Transmitters" just premiered over at The Quietus. You can listen to it above, pre-order the record or read all about now.
DEERHOOF'S "BLACK PITCH"
1 February 2015
Ahead of their imminent European tour (full dates below), Deerhoof have just released the official video for "Black Pitch" from their recent 'La Isla Bonita' album.
It sees them take a boat journey along the River Thames and explore some lesser known spots on the foreshore.
The album is over in the shop right now and you can see Deerhoof in the following places shortly:
14.02 - Warszawa (PL), Dzik
16.02 - Berlin (DE), Lido
17.02 - Leipzig (DE), Conne Island
18.02 - Frankfurt (DE), Zoom
19.02 - Paris (FR), Petit Bain
20.02 - Mons (BE), Maison Folie
21.02 - Amsterdam (NL), Melkweg
23.02 - Bristol (UK), Marble Factory
24.02 - Glasgow (UK), Stereo
25.02 - Leeds (UK), Brudenell Social Club
26.02 - London (UK), Oval Space
28.02 - Saint Malo (FR), La Route Du Rock

LATEST RELEASES MIXTAPE
LINKS
UPCOMING SHOWS

MADALYN MERKEY
MEDDICINE
RATTLE
Friday 20 March
The Lexington
96-98 Pentonville Road, Islington, N1 9JB | Map
8:00 | £6 | Buy tickets
MADALYN MERKEY makes spellbinding ambient/electro-acoustic music, flooded with exotic alien tones. As a student of the famous Mills College it's understandable that her work is rooted in academic process and research, yet her new album 'Valley Girl' (released on 'New Images') is also inspired by the agriculture and rolling landscapes of Madalyn's native California. Using computer generated tones and sequences, she spreads out a unique topography of phase-modulated triangle waveforms and sine tones serrated into small atolls or peaks and interspersed with human traces of her processed, siren-like vocals redolent of some vintage Hawaiian exotica. The result is a minimal but super rich and vibrant sound field, one constantly in motion and quivering with lush harmonics that keep the ear tracing its ambisonic trajectories. In other words, it's hugely recommended for drifting off, far and away.
MEDDICINE aka Monika Krol is a post-punk synthesist who plays fractured noise pop over a backing track of industrial soundscapes. With jackhammer drum machine patterns nailing down synth blasts that alternate between pulsing, menacing to full-blown white noise, Meddicine is a one-woman sound howl conjuring up Suicide or even TG. Clattering and oscillating her way through old sounds and new, Meddicine produces some of the darkest, most-damaged and affecting analogue electronic music you are likely to hear on this planet or any other.
RATTLE are a drumming duo based in Nottingham and comprised of Theresa J Wrigley and Katharine Eira Brown. Both musicians also play drums for two other well respected bands, with Theresa in Fists and Katy in Kogumaza. Far from the hippy bongo nightmare one might imagine from a band made up of only two drummers, Rattle instead play minimalist rhythms that remain both hypnotic and danceable heavily thanks to the delicate vocal melodies which accompany their beats. Their sound recalls This Heat or ESG whilst remaining uniquely their own.

CIAN NUGENT
RED RIVER DIALECT
Sunday 22 March
The Lexington
96-98 Pentonville Road, Islington, N1 9JB | Map
7:00 | £7 | Buy tickets
CIAN NUGENT is a guitar player and composer from Dublin, Ireland who combines personal passions, such as suburban/coastal blues, traditional musics, late 1960s & '70s singer-songwriters, jazz ambitions, 20th century composition and the Takoma school into a deeply personal style. His music boasts an orchestrated and fully instrumented sound that is playful and eerie at the same time. Nugent's first widely available album 'Doubles' was released in 2011 to great acclaim from Pitchfork, NPR and The Wire, and rightly so. Nugent's playing is a glorious thing - it twists and turns as if telling a story, with each chord change revealing something new.
Over the past few years, he's also linked up with a 4-piece band called The Cosmos, a motley bunch interested in mining the same far out musical styles. 'Born With The Caul' was their resultant album released by No Quarterand sounds like it exists some place out of time. Not only is their music an era-less one but the songs themselves are never in a hurry as they build and unfold, never wasting a note. Since then Cian has toured Europe with The Cosmos and gone on a solo jaunt around the USA, this show also sees Cian in solo mode, reflective and resonating.
RED RIVER DIALECT are a five piece Cornish folk-rock band who have drawn comparisons to the Waterboys, The Dirty Three, Fairport and Arbouretum. Their self-released LP 'awellupontheway' was released in July 2012 and promptly sold out on vinyl, drawing many positive reviews. In fact The Quietus described it as "fusing folk-rock's past with its future, carrying forward the energy, urgency and melody that has long served the form well, and merging it with the more experimental, avant-garde approach of some of our most exciting guitar bands". They are currently working on a follow up.

PURLING HISS
KRISTIAN HARTING
PRIMITIVE PARTS
Wednesday 25 March

Corsica Studios
5 Elephant Street, Elephant & Castle, SE17 1LB | Map
8:00 | £8 | Buy tickets
PURLING HISS' Mike Polizze has put in much time in the fried Philly blooze overdrive of the group Birds of Maya, but in his own vehicle he's expanded his grotty guitar wailing into the further cosmos, still shredding speakers aplenty. With releases out on Drag City, Richie, Woodsist Records, and a previous LP on Permanent, Purling Hiss became a full-fledged touring unit in 2010, revealing themselves to not only be purveyors of Rallizes Denudes/Vermonster-style guitar jams, but to have a serious 90's grunge/pop ethic not too far removed from bits of Bleach-era Nirvana. Lots of ooh-oohs to coincide with the growls, severe hooks to get lodged in your cranium.
Full-tilt with tunes, aggro riffs, feedback peals, stoned soul-searching, pop turnarounds and magisterial portraits of the go-nowhere lifestyle in abstract, new album 'Weirdon' is also a new-phase Purling Hiss album, using the songwriting and guitar style of Polizze to come up with a quicksilver sound touched on only briefly on previous records. Replete with handclaps, pounding pianos, tambourines and vocal effects, but steeped in guitar roar, Purling Hiss streamlines up nicely, serving the new songs and directions of 'Weirdon' while still slamming down hard on your ears like they like to do.
PRIMITIVE PARTS are three friends from London, consisting of Lindsay Corstorphine of Sauna Youth and Monotony, and Male Bonding's Kevin Hendrick and Robin Christian. Last year, they released their "Open Heads" b/w "Signal" 7″, and it proved really great. The band recently released a new 7" on Faux Discx too entitled "TV Wheels" b/w "The Bench," and is every inch the charged-up fuzz-bomb you'd expect, never stinting on melody.
KRISTIAN HARTING is inspired by sufi-music, mali-blues, western lo-fi pop and the avant-garde. His aim is pure, to write beautiful songs and music using what's at hand only pulled into the realms of the gritty, noisy and beautiful. Harting does this via the mediums of guitar, voice, circuit-bending, effects-pushing and diverse electronic and acoustic trips. 'Float' released by Exile On Mainstream last year is his most recent release and it's well worth checking out!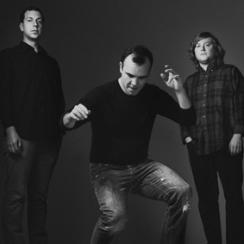 In collaboration with Parallel Lines
FUTURE ISLANDS
THE VASELINES
Monday 30 & Tuesday 31 March
The Roundhouse
Chalk Farm Road, NW1 8EH | Map
7:00 | £20 | Sold out

NEIL MICHAEL HAGERTY - PLAYING TWO SETS
Friday 3 April

Cafe Oto
22 Ashwin Street, Dalston, E8 3DL | Map
8:00 | £10 | Buy tickets

HAPPY MEALS
APOSTILLE
DESIGN A WAVE
Thursday 9 April
Power Lunches Arts Cafe
446 Kingsland Road, Dalston, E8 4AE | Map
8:00 | £5 | Buy tickets

SCREAMING FEMALES
GLOBELAMP
Friday 24 April
The Lexington
96-98 Pentonville Road, Islington, N1 9JB | Map
8:00 | £5 | Buy tickets

MOON DUO
PINKSHINYULTRABLAST
Thursday 30 April

Village Underground
54 Holywell Lane, Shoreditch, EC2A 3PQ | Map
7:30 | £12 | Buy tickets

RICHARD DAWSON
Wednesday 13 May
Bethnal Green Working Men's Club
44-46 Pollard Row, Bethnal Green, E2 6NB | Map
8:00 | £10 | Buy tickets

THE JULIE RUIN
Tuesday 26 May

Electric Ballroom
184 Camden High Street, Camden Town, NW1 8QP | Map
7:30 | £12 | Buy tickets

ROSE MCDOWALL
Thursday 28 May

St Pancras Old Church
Pancras Road, King's Cross, NW1 1UL | Map
7:30 | £9 | Buy tickets

PROLAPSE
ART TRIP AND THE STATIC SOUND
Friday 29 May

The Victoria
451 Queensbridge Rd, Dalston, E8 3AS | Map
7:30 | Sold out

PROLAPSE
THE WOLFHOUNDS
Saturday 30 May

The Victoria
451 Queensbridge Rd, Dalston, E8 3AS | Map
7:30 | £10 | Buy tickets

MIKAL CRONIN
Monday 1 June

100 Club
100 Oxford Street, W1D 1LL | Map
7:30 | £10 | Buy tickets

NO BABIES
MARGY PEPPER
COMMISERATIONS
Tuesday 9 June

The Victoria
451 Queensbridge Rd, Dalston, E8 3AS | Map
8:00 | £6 | Buy tickets

LITURGY
Tuesday 9 June

Electrowerkz
7 Torrens Street, Angel, EC1V 1NQ | Map
8:00 | £9 | Buy tickets

REIGNING SOUND
THE NUMBER ONES
Monday 22 June

100 Club
100 Oxford Street, W1D 1LL | Map
8:00 | £12 | Buy tickets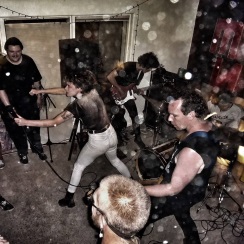 VEXX
Wednesday 1 July

Montague Arms
289 Queen's Road, New Cross Gate, SE14 2PA | Map
7:30 | £6 | Buy tickets