NEWS
WETDOG'S 'DIVINE TIMES'
10 March 2015

We're really overjoyed to announce today our forthcoming album for WETDOG.
Entitled 'Divine Times,' it'll be released on 4 May and is available to pre-order right now on 180g white vinyl.
You can listen to the fruits of their labour straight away with the first outstanding track from the album, "Messages," streaming in our mixtape below.
LATEST RELEASES MIXTAPE
LINKS
UPCOMING SHOWS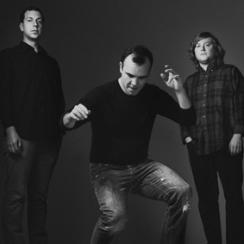 In collaboration with Parallel Lines
FUTURE ISLANDS
THE VASELINES
Monday 30 & Tuesday 31 March
The Roundhouse
Chalk Farm Road, NW1 8EH | Map
7:00 | £20 | Sold out

NEIL MICHAEL HAGERTY - PLAYING TWO SETS
Friday 3 April

Cafe Oto
22 Ashwin Street, Dalston, E8 3DL | Map
8:00 | £10 | Buy tickets
NEIL MICHAEL HAGERTY is probably best known for his work as one half of Royal Trux, with whom he forged a furnace-blasted, gasoline-drenched take on rock'n'roll that has influenced countless bands. Since the band split in 2001, Hagerty hasn't looked back, with a body of solo work that seemingly plunges ever further into the charred embers of his distinctive sonic palette with every release. This is his first London show in over a decade and he'll be playing two sets.

HAPPY MEALS
APOSTILLE
DESIGN A WAVE
Thursday 9 April
Power Lunches Arts Cafe
446 Kingsland Road, Dalston, E8 4AE | Map
8:00 | £5 | Buy tickets
HAPPY MEALS make sensual, spellbinding lo-fi pop. Sounding like the work of Saada Bonaire's long-lost slacker offspring, debut album 'Apéro' is actually the produce of two Glasgow-based artists, Suzanne Rodden and Lewis Cook, who originally hail from the Scottish borders. Suzanne sings in a unique mix of French and Scottish, occasionally sharing the mic with Lewis over the course of six songs taking the 100% Silk/NNF pop aesthetic and psych-dub freedom of Peaking Lights to a more ambiguous, enchanted headspace. It's all top notch stuff, from the nine minute celestial sashay of 'Crystal Salutation' through the chiming boogie of 'Altered Images' to the blown-out dub-pop of 'The Age Of Love', and the Balearic acid of 'Le Voyage'. 'Apéro' is available now on LP/CD through Night School Records.
APOSTILLE is the recording and performing project of Night School head honcho Michael Kasparis (of Please and The Lowest Form). Having started as a home-damaged pop music, Apostille has grown into a live-wire synth punk prospect that bridges physicality with emotive bleed. Insistent flickering beats hold down a sturdy framework for Kasparis' clouds of echoed vocals and synth cluster quests. Sometimes Michael's voice soars above the music, hanging their like an apparition, other times the cloaked notes surge forwards, bouncing between distorted handclaps, wonky basslines and oblique incantations to deliriously wondrous effect. Apostille's debut album 'Powerless' will be released next month through Night School records.
DESIGN A WAVE is the long standing project of London-based artist Tom Hirst. Propelled equally by the misuse of digital signal processing, analogue synthesizers and parasitic earworms, these recordings serve as a milestone in this continuing adventure. Electronic tones multiply and subtract thoughout the release in a sublime cosmic flurry, paying homage to electro pioneers that came before. Above the transistorised jumble, crystalline synths emerge through deeply rooted rhythms. Weaving throughout experimental electronics to more dance ready tracks, Design a Wave veers sharply left, to carve his own wayward path.
WETDOG - ALBUM LAUNCH
NO BRA
MUSIC RECORDINGS
JOHN DAKER
Saturday 18 April
Power Lunches Arts Cafe
446 Kingsland Road, Dalston, E8 4AE | Map
7:30 | £5 | Buy tickets
WETDOG are Rivka Gillieron, Sarah Datbylgu and Billy Easter, three individuals with an expertise for chasing down melodies across their songs. Previous albums on Angular and Captured Tracks have indicated their interest with the minimal palette of post punk and whilst that remains a glowing core to their coals over the last five years WETDOG have evolved in their approach to making music. Whereas their debut album 'Enterprise Reversal' was overflowing with melodic clatter, their follow up 'Frauhaus' seemed decidedly darker and disparate.
Since that release WETDOG have become a transatlantic proposal. Separated by an ocean, the trio have had to work harder than ever to rope together their instincts. This commitment to staying in touch with each other as well as in touch with their sound can be heard throughout their new album 'Divine Times', released by Upset The Rhythm on 4 May. It has all of the tropes of what you'd expect from WETDOG, the characteristic fervor, deadpan humour, falling-to-bits willfulness, yet 'Divine Times' transcends the band's love of all things disjointed and accidentally happy. It's the sound of WETDOG confident out there on their own limb.
NO BRA is the music/art project of Susanne Oberbeck, active since 2003. Known for her signature long straight hair and steely vocal delivery, German native Oberbeck became something of a cult icon amongst London's alterna-queer set. Currently based in New York, she recently released the follow-up to 2006's 'Dance and Walk' called 'Candy', an exploration of the pervasiveness of casual harassment. Repeating "cross the line/don't cross the line/cross the line/don't cross the line," Oberbeck puts the listener in juxtaposed positions, trading off between being the victim or the victimiser, whilst building up a feeling of uncomfortable tension, asking: "What is your candy store?"
MUSIC RECORDINGS aka Max Syed-Tollan, with one long meandering mess of a song: 'Quintessential Horse Whisperer in the Valley of the Spectator', will not let you believe your ears. You will pulsate rhythmically and gurgle like a frog. You will not have the opportunity to purchase merchandise.
JOHN DAKER are two women making music from the words stored at the sides of their brains, fractured keyboard beats and surreal melodies. Putting the performance into musical performance!

SCREAMING FEMALES
GLOBELAMP
WILD WILDERNESS
Friday 24 April
The Lexington
96-98 Pentonville Road, Islington, N1 9JB | Map
8:00 | £5 | Buy tickets

MOON DUO
PINKSHINYULTRABLAST
Thursday 30 April

Village Underground
54 Holywell Lane, Shoreditch, EC2A 3PQ | Map
7:30 | £12 | Buy tickets

RICHARD DAWSON
POWERDOVE
LONDON SCARED HARP
Wednesday 13 May
Bethnal Green Working Men's Club
44-46 Pollard Row, Bethnal Green, E2 6NB | Map
8:00 | £10 | Buy tickets

SIR RICHARD BISHOP
MARKERS
Friday 22 May

The Tin Tabernacle
12-16 Cambridge Avenue, Kilburn, NW6 5BA | Map
7:30 | £10 | Buy tickets

THE JULIE RUIN
Tuesday 26 May

Electric Ballroom
184 Camden High Street, Camden Town, NW1 8QP | Map
7:30 | £12 | Buy tickets

ROSE MCDOWALL
THE WHARVES
Thursday 28 May

St Pancras Old Church
Pancras Road, King's Cross, NW1 1UL | Map
7:30 | £9 | Buy tickets

PROLAPSE
ART TRIP AND THE STATIC SOUND
Friday 29 May

The Victoria
451 Queensbridge Rd, Dalston, E8 3AS | Map
7:30 | Sold out

PROLAPSE
THE WOLFHOUNDS
Saturday 30 May

The Victoria
451 Queensbridge Rd, Dalston, E8 3AS | Map
7:30 | £10 | Buy tickets

MIKAL CRONIN
Monday 1 June

100 Club
100 Oxford Street, W1D 1LL | Map
7:30 | £10 | Buy tickets

NO BABIES
MARGY PEPPER
COMMISERATIONS
Tuesday 9 June

The Victoria
451 Queensbridge Rd, Dalston, E8 3AS | Map
8:00 | £6 | Buy tickets

LITURGY
Thursday 11 June

Electrowerkz
7 Torrens Street, Angel, EC1V 1NQ | Map
8:00 | £9 | Buy tickets

DAN DEACON
Tuesday 16 June

Oval Space
29-32 The Oval, Cambridge Heath, E2 9DT | Map
7:00 | £15 | Buy tickets

REIGNING SOUND
THE NUMBER ONES
THE CASTILLIANS
Monday 22 June

100 Club
100 Oxford Street, W1D 1LL | Map
8:00 | £12 | Buy tickets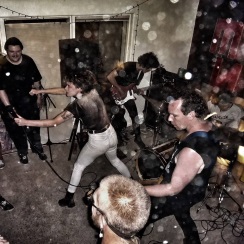 VEXX
HUMAN FORM
VERTICAL SLUMP
Wednesday 1 July

Montague Arms
289 Queen's Road, New Cross Gate, SE14 2PA | Map
7:30 | £6 | Buy tickets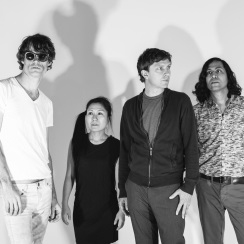 DEERHOOF
Tuesday 25 August

The Dome
178 Junction Road, Tufnell Park, N19 5QQ | Map
7:30 | £12 | Buy tickets