NEWS
ILM AND FUTURE ISLANDS 7"S
25 November 2019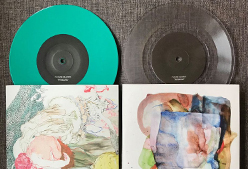 Upset The Rhythm are heading to Coal Drops Yard this Saturday (Nov 30th) for the Independent Label Market's annual winter market. Join us from 11am until 6.30pm for some amazing Xmas deals, some UTR back catalogue rarities, all our new releases from Kaputt, Robert Sotelo, Lunch Lady, Normil Hawaiians, Trash Kit, Terry, Bamboo and Hygiene too! Plus we'll have some long out of print Future Islands 7" back in stock on very limited coloured vinyl repress!
'DAUGHTERS OF THE SKY' SINGLE
15 November 2019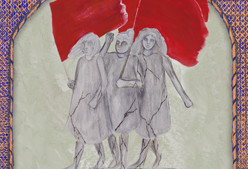 OK, let's soundtrack your weekend! Hot from their UK tour BAMBOO release a brand new digital single through Upset The Rhythm today. Their new single 'Daughters Of The Sky' astounds with its affecting synth-pop swirl. The title track from their recent album on UTR, this single is accompanied by a earth-shifting Emma Gatrill remix and exclusive live track too, available to listen to on all digital platforms now, check it out, volume up!
ROBERT ON THE RUN
7 November 2019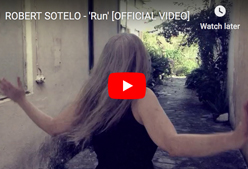 Robert Sotelo's energetic race of a 'Run' video just premiered on For The Rabbits! 'Run' is taken from his new album 'Infinite Sprawling' out now on Upset The Rhythm. On tour next week too:
14/11 - Nottingham, UK @ JT Soar
15/11 - London, UK @ New River Studios
16/11 - Oxford, UK @ Deaf & Hard of Hearing Centre
17/11 - Bristol, UK @ The Lanes
DISCO IN CHURCH
23 October 2019
Check out this extraordinary video of Rattle performing 'Disco' at x-church in Gainsborough! Thank you Orange 'Ear for recording this!
KAPUTT OUT TODAY!
27 September 2019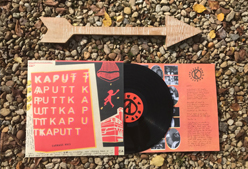 Today we release Kaputt's energetic corkscrew of a debut album 'Carnage Hall' in all its feverish, intuitive glory! Hailing from Glasgow, Kaputt race away with the playful torn edge of no-wave song, blurting out tracks with twitchy charisma, their catchy riffs circle with relish, allowing timely sax stonks and stop-start rhythms to drive things on. Vocals leap, guitars bluster and always the saxophone snakes, hypnotically drawn through the erratic beat.
There's a riot of fun at play in Kaputt's febrile racket, but there's also some deeply cerebral grooves and choice lyrical concerns evident too. 'Carnage Hall' is available on 180g vinyl in all good shops and from our webstore now!
BAMBOO VIDEO!
17 September 2019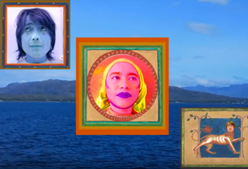 Here's a first glimpse of the highly visually rewarding 'A World Is Born' video, up now on 20 Jazz Funk Greats! What a SONG!
TOUR DATES too:
Oct 5th - London, Servant Jazz Quarters
Nov 7th - London, EartH
Nov 8th - Northampton, The Garibaldi Hotel
Nov 9th - Newcastle-Upon-Tyne, venue TBC
Nov 10th - Edinburgh, Henry's Cellar
Nov 11th - Manchester, Gullivers
x
INFINITE SPRAWLING OUT NOW!
13 September 2019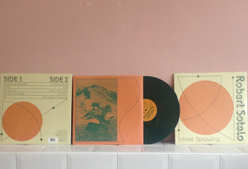 Fantastic news! Today Upset The Rhythm releases 'Infinite Sprawling', Robert Sotelo's staggering new album! Sotelo is a cosmic pop melodist, a heartfelt multi-instrumentalist whose direct songs are curiously affecting and this third album from him really sets the songwriting bar high before vaulting clean over it! 'Infinite Sprawling' is available now digitally and on heavyweight dark-green vinyl from all good shops, including our webshop!
LATEST RELEASES MIXTAPE
LINKS
UPCOMING SHOWS

DAN DEACON
Thursday 6 February
Scala
275 Pentonville Road, King's Cross, London, N1 9NL | Map
7.30pm | £15.00 | Buy tickets
DAN DEACON returns in February 2020 with 'Mystic Familiar', his first album in five years and the stunning result of years of obsessive work, play, and self-discovery. It's not only his most emotionally open record but also his most transcendent! Eleven kaleidoscopic tracks of majestic synth-pop that exponentially expand Deacon's sound with unfettered imagination and newfound vulnerability. Since 2015's 'Gliss Riffer', Deacon has branched out from his core body of work into a dizzying array of collaborative projects: scoring eight films, collaborating with the New York City Ballet's resident choreographer Justin Peck on the dance piece The Times Are Racing; performing expanded arrangements of his music with the Baltimore Symphony Orchestra; and for the first time producing and co-writing an album with friends Ed Schrader's Music Beat. Throughout all this Deacon was also working on a new suite of songs that wield the profundity of a philosopher and the absurdity of a jester. These songs make up his forthcoming 'Mystic Familiar' album, painting life as a psychedelic journey brimming with bliss and disruption, darkness and light.
Opening track "Become a Mountain" immediately announces itself as something new, for the first time ever on record presenting Dan's natural singing voice, unprocessed and with only minimal accompaniment. When Deacon proclaims "I rose up" here, it is Dan Deacon singing in the first person as Dan Deacon - a startlingly vulnerable shift in a songbook abundant with characters, metaphors, and distorted vocals. "Hypnagogic" takes us deeper into Deacon's mind, a synth swirl similar to those which have begun his recent performances, absorbing the pulse of the room and extending that abstract moment in which a journey begins. From there, 'Mystic Familiar' then takes a propulsive leap with the robotic drums and soaring melodies of "Sat By a Tree" and the four-part "Arp" suite offering up a dialectic view of life. It's an album that captures an artist mindfully evolving his music from playful beginnings to encompass a prismatic cosmos of addictive ideas, melody and purpose! This special Scala show celebrates the release of 'Mystic Familiar' and Dan's long-awaited return to his spiritual kingdom of London!

TRASH KIT
Friday 14 February
The Lexington
96-98 Pentonville Rd, Angel, London, N1 9JB | Map
7.30pm | £9.00 | Buy tickets
TRASH KIT are Rachel Aggs (guitar, vocals), Rachel Horwood (drums, vocals) and Gill Partington (bass). Three deeply creative individuals who play in a multitude of other groups including Bas Jan, Sacred Paws, Shopping and Bamboo, united by a shared decade of spry musicality that surges through their bodies, hearts and heads with Trash Kit. Their songs once succinct, patchwork post-punk numbers of an honest diary-like nature now tussle more with long-form songwriting, expeditious polyphony and cascades of sung-spoke vocals. This new focus began with their second album 'Confidence' (2014) and has now grown into something exhilarating and rapturous. New songs like 'Disco' have had their very fabric stretched into smart new shapes, allowing the band to run away with refrains and unlock the dancefloor.
Although Trash Kit have their forebears in bands like Sleater Kinney, The Ex and The Raincoats, their sound is still very much their own take on facing forwards and relies as much on the naturalism of an internalised folk music as on their sincerity of vision. Since forming in 2009, Trash Kit have released three albums for Upset The Rhythm and a selection of singles, last July however they made their most majestic move yet with their resoundingly huge 'Horizon' album. Garnering countless glowing reviews and featuring in many end of year lists for 2019 'Horizon' is an album that forever lis

MASSICOT
SLAGHEAP
Monday 24 February
New River Studios
199 Eade Rd, Harringay, London, N4 1DN | Map
7.30pm | £7.50 | Buy tickets
MASSICOT are a Geneva trio that sound as if they can hardly contain their own energy. The no-frills bone-dry guitar sounds oscillates between hypnotically repetitive passages and noisy outbursts. Simone Aubert plays her rhythm guitar with a manic relentless energy. Drummer Colline Grosjean works her way from funk to krautrock to tropical beats and back again. Then over all that, in addition to her vocals, Mara Krastina plays her charming bright red mini-bass with a velocity that is guaranteed to ensure bodies start moving. Their new album is due out about now on the Harbinger Sound / Spurge Recordings label.
SLAGHEAP are pure unfiltered energetic post-punk nonsense from four women in their pants. In turns melodic, naive and raucous. The debut album from this Bristol quartet has been winning over fans everywhere and picking up plenty of airplay and shows no sign of slowing down any time soon. The 12" was the first release from Spurge Recordings and is a must if you're attuned to the attitude and tunes of The Raincoats or Au Pairs amongst others. But be assured this isn't a simply retrospective sound.

SPINNING COIN
Wednesday 18 March
The Lexington
96-98 Pentonville Rd, Angel, London, N1 9JB | Map
7.30pm | £8.00 | Buy tickets
SPINNING COIN are Sean Armstrong (vocals, guitar), Jack Mellin (vocals, guitar), Rachel Taylor (bass, vocals, keyboards) and Chris White (drums). Hailing from Glasgow their cascading melodicism is topped with some amazing shredding. Their music connects into a local music scene more associated with Orange Juice, Teenage Fanclub, and of course The Pastels, who release the band's records via their Geographic Music imprint. Their music is beautifully rough-hewn guitar pop that takes in frustration, but also gracefulness and splendour, in equal measure. On February 21st, Spinning Coin will release their second album 'Hyacinth'. A brave step forward, 'Hyacinth' is an album full of poetry, light and warmth of heart, and presents a band holding nothing back. Throughout there is joy in spades, but also melancholy, and a checked fury, threading the group's political vision through their reflections on the personal and the interpersonal. Jack explains that the new songs "are about the need for love in an often very unloving world. Trying to find a balance of some kind between feelings of apathy, negativity, detachment and action, positivity and oneness." Whilst Mellin's songs were more pointedly political on debut LP 'Permo', here he has built more complexity into his writing. Ultimately Spinning Coin's ethos stays true to itself, as Sean expands about the experiences and the motivations behind the new music: "It's trying to connect with other people on a human level, doing something that we love, and trying to embrace the unknown." This show sees them head to London date during their European tour in support of 'Hyacinth' in March!

Upset The Rhythm & The Barbican present...
RICHARD DAWSON: Delight is Right
Saturday 28 March
Barbican Hall
Silk St, Barbican, London, EC2Y 8DS | Map
3pm-11pm | £17.50-25.00 | Buy tickets
RICHARD DAWSON, the Northumbrian songsmith, invites you to Delight is Right, a gathering of friends, favourites and fellow travellers across two stages, culminating in a headline full band set in the Hall. Bringing together an eclectic line-up that reflects the glorious breadth of his influences, Dawson reflects on his time-traveling, shape-shifting songcraft, as he's joined by his band to perform songs from his new album on Weird World '2020' - an unflinching meditation on contemporary Britain's psychic crisis. Dawson's music can be strangely digressive, disarmingly funny and touchingly poignant, but it's compassion that defines it. While '2020' looks to the present, forgotten stories from the past often resonate in Dawson's work, whether it's the medieval North on 'Peasant', newspaper clippings found in the Tyne & Wear Archive on 'The Glass Trunk', or a half-remembered boozy school trip on 'The Vile Stuff'. Dawson finds humanity wherever he looks.
PAN AMERICAN
MIYAGI-LAMMARDO DUO
Tuesday 21 April
Cafe OTO
18-22 Ashwin St, Dalston, London, E8 3DL | Map
7.30pm | £10.00 | Buy tickets
PAN AMERICAN began during the summer of 1997, when Mark Nelson, guitar player and singer of the legendary Labradford, wanted to explore the possibilities of sampling and computer technology as well as his interests in dub and techno. Mark started recording a full-length album for Kranky at home and at Sound of Music Studios in Richmond, Virginia. The self-titled, debut Pan American album came out on Kranky in early 1998. Nelson continued to work on Pan American material as he worked with Labradford, learning to play pedal steel guitar, releasing singles on European labels and getting some studio time in with engineer Casey Rice. Rob Mazurek from Chicago Underground Trio and Alan Sparhawk and Mimi Parker of Low contributed cornet and vocals, respectively. The resulting album, 360 Business / 360 Bypass, was released by Kranky in North America (and Blast First in Europe) in early 2000.
More singles and album followed, along with the occasional live performance. Nelson's placement behind a synthesizer and mixing desk belied the improvisational nature of the live mix. Between sternum-rattling bass rhythms and Nelson's willingness to challenge an audience of with outbursts of static, Pan American shows were more than the usual knob-twiddling and smooth noodle maps, traded dub undertow for percussive points, field recordings and an ominous drone.
Nelson's latest offering as Pan American, 'A Son' (Kranky 2019), is a return his musical and spiritual beginnings. Spare, subdued, and largely acoustic, A Son unfurls like late summer dusk on the edge of town, expansive but intimate. Motivated by notions of "moving backward" and tracing roots - as well as a couple years of hammered dulcimer lessons - the album's nine songs were written and recorded in his home in Evanston, Illinois, and honed during a solo tour in Europe in 2018. The emphasis on uncluttered arrangements and the centrality of the guitar and vocals reveal these songs as the most direct and emotional statement of his career. Nelson cites everything from June Tabor, The Carter Family, Suicide, and Jimmy Reed as oblique inspirations, though his truest muse was creative self-inquiry: "What does music do, Where does music start? How simple can it be? How honest can it be?"
MIYAGI-LAMMARDO DUO are from Buenos Aires, Argentina. The project was born with the need to make free music, which they define as experimental, based on improvisation and instant composition. Touching on ambient, experimental, contemporary, noise, psychedelia, rock, electronic, Latin American folklore, minimalism, song, etc. They play with clarinet, guitar, bass, charango, piano, objects, erkencho and other native instruments. The music and albums were recorded with cell phones, home recordings, and the rhythm of composition and production of an album per month. Published in plataform digital, cd, cassette, diskette and vinyl 7". They have recorded albums for different labels: Safunny Investment Music from Sapporo, Japan, Electric Noise Crew from Mexico City, Shimmering Mood from Amsterdam, Holland and Entes Anomicos from Frankfurt, Germany, So Fuckin Noise Records from Malaysia, Broken Tape Records from Russia, etc.

SHOPPING
Tuesday 5 May
The Lexington
96-98 Pentonville Rd, Angel, London, N1 9JB | Map
7.30pm | £10.00 | Buy tickets
SHOPPING are propulsive bass lines, primitive disco-not-disco drums and guitar lines sharp as broken glass. The band was formed in 2012 by members Rachel Aggs (guitar), Billy Easter (bass) and Andrew Milk (drums), who've all done time in a plethora of notable UK DIY bands including Trash Kit, Sacred Paws, Current Affairs and Wet Dog. They pull from a well of 70's post-punk with a voraciousness seldom seen these days, bringing to mind the jagged aggression of Gang of Four, the voracious yelp of The Slits and the dance inducing thrust of Delta 5 . Their debut LP 'Consumer Complaints' was released November 2013 in the UK via MILK records and quickly sold out its first pressing. A US re-issue of 'Consumer Complaints' came out in 2015 via Fat Cat records, followed up by their excellent second album 'Why Choose?'. 'The Official Body' followed in 2017, produced by Edwyn Collins and meeting with reviews proclaiming it as exhilarating as it was mesmerising! Now Shopping return on Feb 7th with their new record 'All Or Nothing'.
Written across an intense 10-day period back in February, with sessions spent in London and Glasgow. The songs that emerged are some of Shopping's boldest yet: confident, elastic, streamlined grooves that crackle with energy and intention. Uniting these ten new songs is an expression of tenacity: commitment, leaps of faith and tests of courage. Four albums in, Shopping are as committed and focused as ever, regardless of any distance. As critics have noted, the trio's vision - groove-centered; deeply queer; political by default - place them in a radical lineage of dance, a continuum connecting disco and post-punk to Chicago house and EDM. That spirit of liberation through rhythm is very much present on 'All Or Nothing', says Aggs. "We found ourselves singing about being true to yourself, in an often binary and belligerent digital age, and reclaiming agency when it feels like our personal freedom and privacy is constantly eroding." In an era dominated by spin and surveillance, 'All Or Nothing' invites us to remember what really moves us, in dance and in life.