NEWS
WHO'S TERRY?
22 May 2019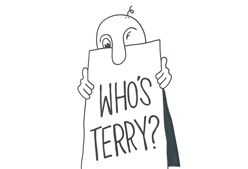 "What to do with a spud like you?" Melbourne post-punk wags Terry return this summer with their new EP 'Who's Terry?' (July 19th). You can just make him out in his hobnail boots, peering from behind the sandwich board, wink, wink. Following on from last year's huge-sounding 'I'm Terry' album, this third EP from the band brings you right up to date with their wobbly politico-pop.
TRASH KIT ON THE HORIZON
16 May 2019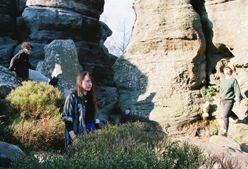 Trash Kit return with their third album on July 5th and it's nothing short of astonishing, totally alive and epic in sound and sensibility! Brooklyn Vegan have just shared first single and title track 'Horizon' to help us announce the album today, take a look/listen! Limited yellow vinyl version available to pre-order now.
WHAT'S GOING ON?
14 May 2019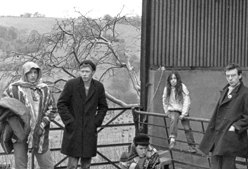 This summer we'll be re-issuing 'What's Going On?' by Normil Hawaiians, their masterstroke from 1984, recorded in rural Wales and packed full of experiments in tape collage, long-form song and improvised modes of existence! Bonus tracks galore included with the 180g LP (+ booklet + hand-numbered poster) and CD versions. Available to pre-order now. Heres' the announcement, with first stream 'Market Place', up on The Quietus!
NOTS AND RED CHANNEL RELEASES!
10 May 2019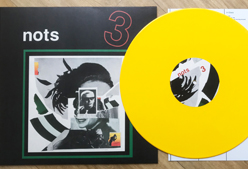 We're thrilled to share with you two new records out today on Upset The Rhythm. Red Channel's debut 7" and Nots electrifying new album '3' are both champing at the bit, synth pop to punk landslides both! '3' by Nots collects ten colossal songs into a dark, unpredictable, bold tour de force of a third record from the Memphis three. Pressed up on yellow and black 180g vinyl and available on CD and digitally too, Nots have infused '3' with a raucous intensity and improvisational energy that peels the paint from the walls.
Red Channel's 'Crazy Diamonds' 7" displays a willingness to wake-up in the unreal and see each moment reflected in the mirror. The Los Angeles' five-piece united through a shared post-punk sensibility and began experimenting with some angular drum and guitar give-and-take, layered with dueling keyboard refrains. It's an exhilarating rush of a song, both wistful, defiant and now stamped into black plastic!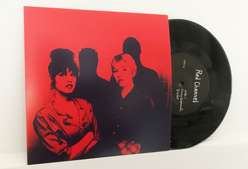 DRECKSOUND OUT TODAY
26 April 2019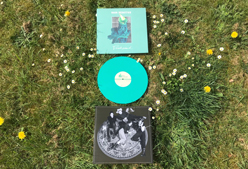 See how the sun shines on Hash Redactor's bruising debut album 'Drecksound', out today through Upset The Rhythm! Fronted by guitarist Alec McIntyre of Ex-Cult, with NOTS rhythm warriors Meredith Lones on bass and Charlotte Watson on drums, Hash Redactor dive into territory that feels distinctly untethered. 'Drecksound' is a clattering, shambolic oasis in the sleek digital desert. A flailing, nihilistic quake of buckled, cathartic punk from Memphis trapped on heavyweight vinyl. Check out the whole record on Spotify now!
HYGIENE RETURN THIS MAY!
10 April 2019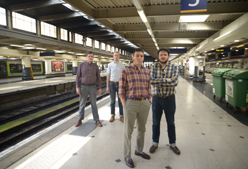 Hygiene are back this May with their new album 'Private Sector'! This album finds them confronting the grim realities of the present, railing against the neoliberal madness of utility cartels, tax havens and privatised railways, seizing the moment as the current period of interregnum sees the old ideological certainties come into question. Proving nostalgia to be an inescapable trap, the band continue to hearken back to the kind of post-punk that existed before anybody knew to affix the 'post' prefix. The Quietus have just helped us announce the album with the first track 'Replacement Bus', all aboard!
UTR XV radio special!
26 March 2019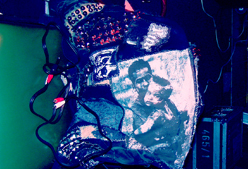 With our imminent 15th anniversary label tour on the horizon we thought we'd leg it down memory lane before hitching a ride 6 months into the future for this UTR XV radio special. 120 minutes of all things Upset The Rhythm. Think classic back catalogue, the glowing edge of now and lots of upcoming tracks that lead us into the summer from Trash Kit, Normil Hawaiians, Bamboo, Hygiene, Nots , Lunch Lady, Robert Sotelo, Hash Redactor and Red Channel.
LATEST RELEASES MIXTAPE
LINKS
UPCOMING SHOWS

HYGIENE
WORMS
CHILD'S POSE
CHUBBY CHARLES
STATIC SHOCK DISCO
Friday 24 May
The Stag's Head
55 Orsman Rd, London, N1 5RA | Map
8pm | £5.00 on the door
HYGIENE released a slew of singles and an LP on various DIY labels in the US and the UK at the turn of the decade, now the London post-punk stalwarts return from hiatus with their sophomore effort, 'Private Sector'. Where their debut LP 'Public Sector' (2011, La Vida Es Un Mus) reflected a nostalgic longing for an unrealised socialist modernist utopia, 'Private Sector' finds them confronting the grim realities of the present. Hygiene rail against the neoliberal madness of utility cartels, tax havens and privatised railways, seizing the moment as the current period of interregnum sees the old ideological certainties come into question. Proving nostalgia to be an inescapable trap, the band continue to hearken back to the kind of post-punk that existed before anybody knew to affix the 'post' prefix. 'Private Sector' (out May 24th through Upset The Rhythm) has the signature Hygiene sound, mixing brooding melodies with a choppy, aggressive approach and a restricted pop sensibility. However, this ever-so-slightly-more mature record finds the band taking advantage of the musicianship of their friends, mixing in the odd viola, glockenspiel, piano and keyboard. Recommended for fans of Real Ale, British Rail Class 55 Deltics, Euston station and Jeremy Corbyn. This show celebrates the release of Hygiene's new album 'Private Sector', with support from DIY post-punkers Worms and Child's Pose. Bands done by 11pm, Static Shock disco until 1am. Special appearance by Oi! poet Chubby Charles. Real Ale and overland rail connections available

ANA DA SILVA & PHEW
TARANTULA
Monday 27 May
St Pancras Old Church
Pancras Road, King's Cross, NW1 1UL | Map
7.30pm | £10.00 | Buy tickets
ANA DA SILVA & PHEW have a new collaborative album entitled Island, full of absorbing textures, tactile beats, and a masterfully dynamic compositional style. Each cavernous track feels like a conversation, and out of the ominous dark comes a generative hope. Ana and Phew contribute pointillist bits of spoken word in each other's native tongues of Portuguese and Japanese, reflecting on isolation, friendship, and nature. The quotidian is made profound. A gripping mood is set by the shared stoicism and subtle playfulness of these two cult punk icons. Island's logic is one of wise minimalism. There is a feeling of discovery that will be familiar to Raincoats fans, a sense of poetry and inquisitiveness, of intuition and invention, of new languages taking shape.
Ana da Silva is a founding member and songwriter of the pioneering post-punk band The Raincoats. Across four daring full-length records, The Raincoats helped shape the timeless notion that punk is what you make it - an act of raw expression, not any one sound. The Raincoats have offered creative and spiritual inspiration for several generations of artists. They set a crucial precedent for feminist work within a DIY punk context, marked all the while by Ana's poetic lyrical style and innovative noise guitar playing.
After The Raincoats' hiatus in 1984, Ana collaborated with The Go-Betweens, This Heat's Charles Hayward and choreographer/dancer Gaby Agis. Ana returned to song writing and performing with The Raincoats after Kurt Cobain invited them to tour with Nirvana shortly before his untimely death in 1994, and they released an album 'Looking in the Shadows' in 1995 on DGC and Rough Trade. In 2005, Ana released her solo debut, 'The Lighthouse' - a self-recorded collection of spare, elegant experiments in electronic indie-pop. Ana's recent appearances with The Raincoats include a 2016 collaboration with Angel Olsen for Rough Trade's 40th anniversary, as well as a 2017 presentation at The Kitchen, New York of The Raincoats and Friends, a celebration of Jenn Pelly's book The Raincoats.
Phew consolidated her binary interests as a vocal performer and analogue electronics improviser with the 2017 release of her album 'Voice Hardcore'. Indeed, since her 2013 conversion to analogue electronics Phew has continued evolving her live solo project around the world. In 2015 she released her first almost entirely solo-driven album, aptly titled 'A New World', on the Japanese label Felicity featuring nine songs backed by herself on electronics and drum machine, with contributions from Deerhoof guitarist John Dieterich, and synthesizer / electronics player Hiroyuki Nagashima.
In 1978 Phew started out as the singer in Aunt Sally, the Osaka punk group who released just one outstanding album on Vanity Records. A year later Phew released her debut solo single, produced by Ryuichi Sakamoto. In 1981 she made her debut solo album 'Phew' at legendary producer Conny Plank's studio near Cologne, accompanied by Plank, and Holger Czukay and Jaki Liebezeit. She returned to Conny's studio to make 'Our Likeness' (Mute, 1992) with Jaki Liebezeit, former DAF/Liaisons Dangereuses member Chrislo Haas and Einsturzende Neubauten's Alexander Hacke. And in 2011, she and Erika Kobayashi formed Project UNDARK to record the texts of 'Radium Girls' with music by the late Dieter Moebius, of Cluster. In Japan she has made a series of acclaimed records under her own name and with leading bands such as Novo Tono and her contemporary punk group Most too.
TARANTULA are a free-form punk racket formed on planet Glasgow 2017; a low brow jazz melting stair tumble, the sound of joy. All associates of the Glasgow DIY ganglands and normative rock bands, Tarantula - influenced only by shreds videos - take all shapes; every moment improvised and transient. Comparisons have been made with Y-pants, the magic band, the Arkestra and Hole.

LANKUM
BRIGHDE CHAIMBEUL (May 28)
ANDY THE DOORBUM (May 29)
Tuesday 28 May & Wednesday 29 May
In collaboartion with Cafe OTO
18-22 Ashwin St, London, E8 3DL | Map
7.30pm | SOLD OUT
LANKUM have an alchemical ability to combine traditional folk roots with contemporary undercurrents to forge music that is dark, mysterious and transcendental. Comprising brothers Ian Lynch (uillean pipes, tin whistle, vocals), Daragh Lynch (vocals, guitar) alongside Cormac Mac Diarmada (fiddle) and Radie Peat (harmonium, accordion, vocals), Lankum channel a diverse set of influences and histories to create a beautifully rare thing: a songbook from and for the people. Born of years criss-crossing Dublin's folk, squat and experimental scenes, their two albums 'Cold Old Fire' (2013, recorded under former name Lynched) and Rough Trade debut 'Between The Earth and Sky' (2017) breath new life into ancient/modern rituals with urban punk fervour, rural psycho-geography and, underpinning it all, the eternal drone of the uilleann pipes. This event with Cafe OTO presents an intimate two night residency for Lankum, debuting a new live show, alongside special guests.
BRIGHDE CHAIMBEUL was the winner of the 2016 BBC Radio 2 Young Folk Award, and 2017 Scots Trad Music Awards 'Up and Coming' nominee. The Skye musician and piper is one of Scotland's fastest rising stars. She has collaborated with many established artists, most recently including Ross Ainslie, Aidan O Rourke, Carlos Nunez and Martin Green. Growing up in a musical family in Sleat on the Isle of Skye, Brighde was no stranger to the sound of the pipes, and indeed the sound of music at home. Inspired by hearing the playing of Rona Lightfoot she began learning at the age of 7 with local tutor and award winning piper Niall Stewart.Brighde met pipe makers, players and revivalists Fin and Hamish Moore in 2014 where she was introduced to the smallpipes, and since has developed a unique style which has captured audiences across the globe. Mark Radcliffe of BBC Radio 2 described her playing as "mesmerising", and Tim Chipping of renowned music magazine, fRoots as "exceptional". She has recently released her debut album The Reeling, featuring Radie Peat, Rona Lightfoot and Aidan O' Rourke. It has been received with great critical acclaim including The Guardian's folk album of the month.
ANDY THE DOORBUM has been writing and recording his own music since he was 9 years old, first on boomboxes with his stuffed animal band, then on four-track cassette recorders, and eventually on digital consoles. He now operates out of a hand-built home studio in Inglewood. The "Andy the Doorbum" name arose when he started working the door at the punk rock dive bar The Milestone Club (est. 1969) in Charlotte, North Carolina when patrons gave him the nickname due to his unkempt appearance and 7 day-a-week work schedule at the legendary venue. When it came time for him to release the album he had been recording in the doorbooth (3' x 4') while taking admission and giving out wristbands, the name stuck. He spent his formative years coming into his own as an artist and musician in the Charlotte area underground. In a live setting Andy the Doorbum is known for blending his haunting music, accompanied by powerfully raw live vocals, with lights and costumes to create a live stage show experience that is a visual/theatrical performance that embodies an artistic vision both strange and surreal; somber and uplifting; a journey that takes the viewer through a string of emotions from "cathartic and inspiring" to "completely unsettling."

CHRIS COHEN
THE JELAS
Wednesday 29 May
MOTH Club
Old Trades Hall, Valette Street, London, E8 1EL | Map
7.30pm | £9.00 | Buy tickets
CHRIS COHEN's songs initially sound easy. They're each tiny jewels that unfurl at a leisurely pace, but dig a little deeper and you'll reach a melancholy core. His previous two albums, 2012's 'Overgrown Path', and 2016's 'As If Apart', were built from lush, blurry tracks that embedded themselves in your subconscious, like they'd always been there. 'Chris Cohen', his new solo album on Captured Tracks, was written and recorded in his Lincoln Heights studio and at Tropico Beauties in Glendale, California over the course of the last two years. Cohen would sing melodies into his phone, fleshing them out on piano, then constructing songs around the melodies, and later, adding lyrics and other instrumentation with the help of Katy Davidson (Dear Nora), Luke Csehak (Happy Jawbone Family Band), Zach Phillips, and saxophonist Kasey Knudsen, among others. It is his most straightforward album yet, but it is also the conclusion of an unofficial cycle that began with 'Overgrown Path'. 'Chris Cohen' is an album about pain and loss but it's also about accepting loss. Of the song 'Green Eyes,' Cohen says "[It's about] the men in my family and how they passed their worldview along to each other from great emotional distances. My father and grandfather were full of secrets and longing, which were communicated through everyday actions like driving a car or cooking a meal. We all wanted closeness, but never found it in each other." This is a statement about a specific song, but it is also a statement about the album as a whole: it's a beautiful sound, but it's also unflinching in its depiction of emotional turmoil.
THE JELAS are smart, complicated and intricate. They are angular and fidgety and their lyrics are poetic and funny and it all fits together perfectly but only just. Listening to their 'Beetroot Yourself' record makes you think about complexity in art. Furthermore the lyrics are totally and completely beautiful. They are poetic, filled with imagery and metaphor but Colin and Nat's delivery is so unaffected they never come across as pretentious, only truthful.

BILGE PUMP
WITCHING WAVES
SLAGHEAP
Friday 31 May
The Islington
1 Tolpuddle St, Angel, London, N1 0XT | Map
7.30pm | £7.00 | Buy tickets
BILGE PUMP are long term linchpins of the Leeds DIY scene, they now follow their own paths; growing veg, running up hills, building musical paraphernalia. Every now and then the call goes out; the time comes to do another tour, put another record out. With new album 'We Love You' (their first in 10 years) out now via Gringo Records, Bilge Pump unveiled a new single, 'Wheel of Yew' - it's PiL bass lines, Spacemen 3 guitar and a blistering Butthole Surfers-esque solo are all held together with the tightest drumming this side of Bill Ward. They have spent a while getting this album right, writing songs that describe a world where the council lets it rot and the kids make trouble, or sometimes music. For Bilge Pump, who first formed in 1996, this isn't a career, it is more important than that, feeling the right moment, not forcing it. Drummer Neil Turpin says "A gig is good when the rhythm created and projected propels the crowds arms and legs, looping into a glorious reciprocal exchange of energy." Anyone who has ever seen them will tell you they are loud. But loud and clear, defined patterns, riffs smoulder into drones and then catch fire again lyric's trimmed of fat, precise and witty.
WITCHING WAVES formed in 2013 by Emma Wigham and Mark Jasper and released a tape EP on Suplex Records. They then released an album on Soft Power entitled Fear Of Falling Down in late 2014. This was followed up with their second LP Crystal Cafe in February of 2016, after which they toured the U.S. and Europe. In 2017 Estella Adeyeri of Big Joanie joined the group on bass, and the band continued a relentless schedule of touring and recording. Witching Waves are now set to release a new album on Specialist Subject called Persistence on April 6th.
SLAGHEAP play energetic post punk nonsense from their HQ of Bristol. Melodic, naive and raucous songs about our experience of the world.

SACRED PAWS
COMFORT
LEATHER.HEAD
Thursday 13 June
Redon
Railway Arches, 289 Cambridge Heath Rd, E2 9HA | Map
7.30pm | £8.50 | Buy tickets
SACRED PAWS are a fantastic, intuitive dream punk duo, comprising Eilidh Rodgers of Golden Grrls on drums, and Rachel Aggs from Trash Kit and Shopping on guitar. Raw Soweto high-life riffs and rolling Afrobeat grooves are filtered through post-punk sass and ramshackle K Records charm. It's an utterly joyous sound, the duo trading giddy melodies and righteous chants over febrile rhythms and chunky, infectious riffage. Rock Action released the band's debut album 'Strike A Match' in 2017 and it received a slew of incredible reviews from the likes of Q, DIY, Clash, Loud & Quiet, The Skinny and was voted Scottish Album of the Year too! Forthcoming album 'Run Around The Sun' (out May 31st on Merge / Rock Action) brims with upbeat reflections on growing up and looking back. Shimmering guitar riffs dance between snappy beats and swooning melodies that will have crowds committing to far more than a simple head-bob. "I think we'd get bored if it was too slow," Eilidh says. "We'd never want to play something live that people couldn't dance to. It would feel really strange to us. It's kind of the whole point."
COMFORT are a Glasgow duo who bring a radical approach to musical representation, a drums and sampler attack that is vicious and transporting. Post-industrial blocks of sound are hammered into the ground by the drums while vocalist Natalie McGhee's rasp-throated incantations and vivisections of societal norms bring a powerful presence to Comfort's sharp-toothed, broken funk. Look out for debut album on Night School soon.
LEATHER.HEAD deal in janky rhythms and soaring saxophone which walk through shadows of This Heat and Lounge Lizards. They are still yet to release a single song but have been forging a name for themselves with their anxious/dynamic live shows.

PATIENCE
DESPICABLE ZEE
VIENNETTA
Tuesday 18 June
MOTH Club
Old Trades Hall, Valette Street, London, E8 1EL | Map
7.30pm | £8.00 | Buy tickets
PATIENCE began as bedroom synth project for songwriter Roxanne Clifford after the break up of her acclaimed indie pop band Veronica Falls. Born out of a desire to experiment with a new sound and analogue synthesisers, the project has since grown to become an all-encompassing persona and serves as the main vehicle for the full emotional spectrum always latent in Clifford's songwriting. From her first long-sold-out 7" singles on Night School, her knack for melodic hooks and oblique emotional stances already contained a glistening sheen of promise. Debut album, Dizzy Spells, serves as an intimate portrait of Clifford's creative adventure, almost diaristic, conceived and recorded in her home studio, as well as with collaborators Todd Edwards (Daft Punk/Uk Garage fame), Lewis Cook (Free Love/Happy Meals) and engineer Misha Hering (Virginia Wing). Dizzy Spells delivers a debut album that twists Clifford's songwriting into new shapes and ecstasies. The album dances around melancholy, thrown to the floor like a bad dream to be circled, emerging bright-eyed into the early morning full of hope.
DESPICABLE ZEE is the solo project of Zahra Haji Fath Ali Tehrani, who has been writing and performing for more than 15 years. She is the director of the Young Women's Music Project, which continues to inspire her. Zahra specialises in leftfield, electronic lo-fi-pop: wonky yet meditative tunes, punctuated by biting rhythms. With echoes of The Knife, Tirzah, CocoRosie and Madame Gandhi, her recent EP sounds like longing, like searching, like hacking away at old vines to reach what's behind them.
VIENNETTA melt gently into your ears from the melancholy serving platter of a chintzy cruise ship cafeteria. Pensive waves of crisp, desire-dusted synthpop are topped with yearning, heartbreak-laden confessionals - a bleary epiphany at the end of another desperate night.

ELF POWER
BAMBOO
Wednesday 19 June
OSLO
1a Amhurst Road, Hackney Central, London, E8 1LL| Map
7.30pm | £12.50 | Buy tickets
ELF POWER are among the few bands from the Elephant 6 Recording Company that continue to make music to this day, and their prolificacy has been an absolute treat to fans. Elf Power formed in 1994 and over the last 23 years have released thirteen albums, two eps, and a handful of singles, while touring North America, Europe, and Japan many times. Albums such as 1998's Dave Fridmann-produced "A Dream In Sound" and 2008's collaboration with the late Vic Chesnutt, "Dark Developments" have cemented the bands' reputation as the finest purveyors of modern melodic psychedelic folk rock around. Their tour in support of their last album , 2013's "Sunlight on the Moon", took them on an extensive tour in support of Neutral Milk Hotel's much acclaimed reunion tour, as well as dates with Broken Bells and headlining dates.
Their latest album "Twitching in Time" (Orange Twin, 2017) combines experimental arrangements and sublime songwriting with their powerful live bombast, into their strangest, most cohesive, and most exciting sounding album yet. Opening track "Halloween Out Walking" combines minimal and beautiful folk rock arrangements with otherworldy Moog synthesizer gurglings to awe-inspiring effect. Other highlights include "Watery Shreds", a piano ballad that transforms itself into an explosive an unexpected distorted guitar drone freakout, sounding like an unlikely marriage of avant-garde keyboardist Laurie Anderson and drone metallers Sunn 0)) . Songs like the title track and "Cycling Aimlessly" are classic fuzzed out melodic rock songs the likes of which the band has become known for , while songs like "Gorging on the Feast" explore a jazzy, melancholy terrain before descending into a shredding heavy rock assault. The constant shifting of sounds and styles makes for one of the band's most diverse and satisfying albums yet. On this album, singer/songwriter Andrew Rieger and longtime collaborator multi-instrumentalist Laura Carter are joined by Matthew Garrison on bass, Peter Alvanos on drums, and Davey Wrathgabar on guitar.
BAMBOO is the majestic pop project of Nick Carlisle and Rachel Horwood. Their music is vivid and deeply poignant, locking into a magnetic pull between Rachel's flawlessly resonant folk cadence and Nick's pristine synth pop production. Bamboo's second studio album, The Dragon Flies Away, was released last year on Upset The Rhythm. The Dragon Flies Away tells a story loosely associated with the Hannya demon mask of Noh theatre plays such as Dojoji, and reflects the range of emotion the Hannya mask is capable of displaying: obsession, jealousy, sorrow and rage. The album presents its story in two acts and is presented with a gatefold sleeve and lyric / artwork sheet. Horwood's evocative paintings are given centre stage with the packaging, allowing the album's story to grow beyond sound, making the journey all the more immersive. Bamboo are currently a live quartet and have just finished off their new record, 'Daughters of the Sky', look out June 14th!

CONSTANT MONGREL
SLUMB PARTY
PETER SIMPSON
SNIFFANY AND THE NITS
Saturday 22 June
New River Studios
199 Eade Rd, Harringay Warehouse District, London, N4 1DN | Map
7.30pm | £7.00 | Buy tickets
CONSTANT MONGREL are a Melbourne post-punk band with releases on Silt Breeze, RIP Society and most recently La Vida Es Un Mus and Antifade records. Over their 10 year existence Constant Mongrel have added members while developing a unique sound and continually built momentum leading to their successful 'Living In Excellence' LP in 2018. The latest record has a sharper British Post Punk expression reminiscent of legendary acts such as Wire, The Fall, Flux of Pink Indians while maintaining their Australian edge and character that exist among their local brother/sister bands Total Control, UV Race, Ausmuteants, Lowlife and Terry. With striking riffs and catchy rolling bass over an often unhinged, vibrant rhythm section with fried saxophone and synths Constant Mongrel are a captivating live band. The bands lyrics and themes vary in subject matter from songs of certain romance, to the joy of a riot, atrocity of western religion, an abundance of a fresh modern fascism, white-middle-class-self-entitled guilt and the beauty in misinterpretation. But behind every idea the tongue remains continually in cheek as the band's humour seeps through and prevails in its sound.

CURRENT AFFAIRS
POWERPLANT
LIVID
Friday 5 July
The Islington
1 Tolpuddle Street, Angel, London, N1 0XT | Map
7.30pm | £6.00 | Buy tickets
CURRENT AFFAIRS are a post punk band from Glasgow, neatly navigating the line between new wave and goth. Formed in 2016 and Comprising Joan (ex-The Royal We/Seconds/Rose McDowall's band), Seb (ex-Anxiety/Pissy), Josh (The Downs/Kaspar Hauser/ex-Rose McDowall's band) and Andrew (Shopping/As Ondas). Collectively they present a muscular unity, with a pounding post-punk rhythm section augmented by wild, effected guitar and the impressive, soulful-but-gothic vocal. A demo cassette was released along the way and In December 2018 the band's first 7" Breeding Feeling -bw- Draw The Line was put out into the world by Not Unloved records. Another 7" is imminent via the IRRK label.
POWERPLANT embark on an eternal crusade with sizzling synthesisers & pleading vocals. They are the true essence of synth-punk released into thin air. They truly are the last of man.
LIVID are a blazing new punk group, fight or flight vocals, pummelsome drums and decidedly frenzied riffs galore. Nothing online yet, featuring ex-Nachthexen members.
NORMIL HAWAIIANS
RATTLE
ERASERS
Thursday 11 July
Cafe OTO
18-22 Ashwin St, London, E8 3DL | Map
7.30pm | £7.00 | Buy tickets
NORMIL HAWAIIANS communal take on post punk sprouted leaves from its mouth in 1982, and began carving out a new furrow. Greater emphasis was awarded to improvisation within the group and as a result their songs embarked on longer, freer journeys towards the beaten bounds. They wanted these new songs to bear the weight of their new collective spirit so comfort zones had to be left behind. Tape loops, echo boxes, extended percussive sessions and duteous faith in the tones emanating from a particular old wah-wah pedal were all employed by Normil Hawaiians to stretch their sonic fabric into wild and redolent new dimensions. Within three years the band went on to record three astonishing records, their ambitious double-LP debut 'More Wealth Than Money', 'What's Going On?' with its radical collage of movements and 'Return Of The Ranters' which teamed up their free experiments in compelling arrhythmia with a more confrontational approach. Upset The Rhythm have released 'More Wealth' and 'Ranters' recently in remastered form, and this special live manifestation at Cafe OTO celebrates the reissue of 1984's 'What's Going On?' masterstroke (out June 28th). Lucid, candid, politically engaged, rarely metronomic but always humane, Normil Hawaiians conjure vast clouds of atmosphere. Their songs are bedecked with exalted synth trails, clustering guitar rapture, motorik beats, and spun-out raw polemics. Still light years ahead of us all!
RATTLE are a Nottingham based duo, Rattle focus almost exclusively on drums and more drums, beneath a delicate overlay of vocal harmonies and percussive effects. Formed by Katharine Eira Brown (also of Kogumaza) and Theresa Wrigley (also of Fists), Rattle began as an experiment in crafting rich songs and melody using drums and voice alone. Their music weaves and intertwines post-punk, minimalism and experimental rock, through off-kilter rhythms, patterns and counter melodies. Often starting by picking out the ghost notes from the drums to develop a melody, the song then reveals itself in rounds and harmonies with layer upon layer of rhythm and vocal, lending a choral feel to some of the tracks. Rattle effortlessly blend the avant-garde with irresistible melodies and hypnotic drum beats, using rhythm and harmony to create a refreshing sound that is utterly new - a pretty rare feat these days when we're saturated with so much music. Rattle's impressive 'Sequence' album came out last November through Upset The Rhythm.
ERASERS deliver up rhythmic and mood-driven music that sits between kosmische and post-punk. Forming as a home recording project in 2009 the Perth, West Australian based Erasers (Rebecca Orchard, Rupert Thomas) released a steady flow of cd-rs, tapes and a 7" before eventually releasing their debut full length 'Stem Together' in 2015. In 2017 the duo followed up with the tape release 'Fault Lines'. In the live sphere Erasers have shared the stage with the likes of Low, Grouper, Acid Mothers Temple, Prince Rama, High Wolf and The Soft Machine as well as multiple shows with long time musical heroes My Disco, Love Of Diagrams and Pikelet. After an extensive recording and mixing process, 2019 sees Erasers with two new releases to share; a 5 track tape titled 'Forecast' (through Solid Melts) and the duo's second full length 'Pulse Points' (through Fire Talk and Pouring Dream).

RAYS
Tuesday 16 July
The Shacklewell Arms
71 Shacklewell Lane, Dalston, London, E8 2EB | Map
7.30pm | £7.00 | Buy tickets
RAYS returned to the fray with their second album, You Can Get There From Here, their first release since their eponymous Trouble In Mind debut in 2016. Rays formed in the fertile crescent of the California Bay Area, a hotbed of musical growth in the past decade, and Rays' members pull not only from that recent miasma but also from a wealth of Bay Area musical history. You Can Get There From Here represents a turning point for the band, angling their scrappy, post-punk fury into a more refined & melodic pop sensibility, drawing inspiration from UK DIY pop & punk like Dolly Mixture, Cleaners From Venus, Television Personalities & more. Straight from the gate, songs like "Fallen Stars" & "The Garden" temper their sonic crunch ever so slightly, relying more on the harmonic wallop of a solid hook than the sheer volume of guitars & cymbal crashes. This is urgent, chiming guitar pop of the highest order that clangs with a sonorous melancholy & a ramshackle grace. Rays can still lay it down with the rest of 'em; tunes like "Subway" & "Work of Art" shuffle & stumble forward, skirting chaos in a flurry of strums, recalling recent antipodean pop groups like UV Race, Dick Diver or The Shifters who cull inspiration from idiosyncratic UK greats like Mark E. Smith or Robyn Hitchcock. With You Can Get There From Here, Rays add their voice to the chorus. The new album finds the core group of Stanley Martinez, Eva Hannan, Troy Hewitt & Alexa Pantalone augmented by new member & keyboardist Britta Leijonflycht, whose synth flourishes add melodic embellishments, sonic heft or psychedelic swirl where needed.

DANIEL HIGGS
ETERNAL BROADCAST
Wednesday 17 July
HQI
The Rotunda, Wood Lane, White City Place, London, W12 7TP (3 mins walk from White City tube directly north up Wood Lane. Venue is behind the green gates) | Map
7.30pm | £10.00 | Buy tickets
DANIEL HIGGS is a musician and artist from Baltimore, Maryland on whose behalf superlatives are destined to fail. It's not that his artistic output - spanning three decades, numerous albums, books of poetry and collections of drawings - simply eludes classification, it defies it. Often we hear that a true work of art is meant to speak for itself, and with the work of Daniel Higgs the maxim rings truer than ever. Higgs is known primarily for his work as the sole lyricist and frontman of the band Lungfish, a four-piece dedicated to charting, in this listener's estimation, nothing short of the evolution of all species, known and unknown. They are enshrined as one of America's last true folk bands, and Higgs anointed as a patron saint to artistic purity. In recent years, Higgs has released a number of solo outings that can only be described as the ultimate in isolation, worlds away from the hypnotic, communal rock of his band. Higgs weaves meditative, casually ruptured drones using acoustic and electric guitar, upright pianos, banjo and jew's harp, recorded entirely at home on cassette recorder. He pairs the music with a series of paintings that call to mind religious iconography passed through the disfiguring surrealism of Miro. His art is of the cosmos.

PRISON RELIGION
HYPERSTITION DUO
Friday 19 July
The Lexington
96-98 Pentonville Rd, Angel, London, N1 9JB | Map
7.30pm | £8.50 | Buy tickets
PRISON RELIGION are a hardcore noise project from Richmond, Virginia, comprised of Poozy and False Prpht. Though the two are solo artists in their own right, they collaborate regularly to make collages together that are indebted yet flippant to hip hop, punk, and techno. Working together since 2016, the duo have dived deep into the space between blown-out trap (2016's Cage With Mirrored Bars) and contemporary destructive club music (2018's O Fucc Im On The Wrong Planet). Since linking up with Texas-based experimental label Halcyon Veil, they've connected a global crewsof likeminded collaborators for a remix album including Rabit, Endgame, Swan Meat, Lee Gamble and Bonaventure. The production destroys any notion of comfort afforded in dance music, with cold industrial and glitchy hip hop textures serving as the stylistic anchor of the record. With close ties to NON Worldwide, Prison Religion are also ushering in a new wave of vocal-based club performance.
HYPERSTITION DUO plunge deep to deliver a maximalist collective immersion into their own lysergic phonosphere. Lurching, polyrhythmic pathways crumble and re-assemble; elastic dynamics snap; propulsion sparks from the nerve-centre of machine and corporeal entanglement. Featuring ex-members of Blood Sport, templexing, mobius loops and cybernetic subjectivities abound in an attempt to conjure escape vectors in a world of ubiquitous sound.

ADVANCE BASE
ALICE HUBBLE
Monday 22 July
Redon
Railway Arches, 289 Cambridge Heath Rd, E2 9HA | Map
7.30pm | £12.00 | Buy tickets
ADVANCE BASE is the electronic solo project of Chicago, IL singer/songwriter Owen Ashworth (formerly of Casiotone for the Painfully Alone). Using a two-handed arsenal of electric pianos, autoharps, Omnichords, loops, samples & drum machines, Ashworth builds minimalist, heavy-hearted, & nostalgia-obsessed tunes around his conversational, baritone vocals. The sound of Advance Base has been described as "lo-fi," "depressed" & "weirdly uplifting." Advance Base has supported live dates for The Postal Service, Pedro the Lion, The Mountain Goats, Dean Wareham, Alan Sparhawk, Mark Kozelek & Stephin Merritt. The debut Advance Base album, 'A Shut-In's Prayer' (2012), was released by Caldo Verde Records & Ashworth's own Orindal Records. 'Nephew in the Wild', the second album by Advance Base, was released in 2015 by Orindal Records & Tomlab Records. PopMatters named 'Nephew in the Wild' the number 1 Indie Album of 2015. 'Animal Companionship', the third & most recent album by Advance Base, was released last September. The sound of the album is soft and thick and comforting. And when we're working with songs as sad as the ones that Ashworth writes, that level of comfort really comes in handy. He used to write sad love songs, or sad songs about love. He's still doing that, really, except that he's now middle-aged, with a wife and kids, living in suburban Chicago, and the songs reflect that. The songs on 'Animal Companionship' are full of a whole life's worth of regrets and missed opportunities and moments of acceptance and dead friends. It's not as bleak, either; there are moments of happiness, or at least sustenance, sprinkled all through 'Animal Companionship'. But in its sharp and unrelenting and empathetic specificity, this is some real masterly heart-wrecker music.
ALICE HUBBLE is the new project of Alice Hubley (Mass Datura, Cosines, Arthur and Martha), the product of one lady locked at home with her collection of analogue synthesisers. Inspired by 70's recordings by Tangerine Dream, Delia Derbyshire, Mike and Sally Oldfield, hers is a distinctly feminine take on the sometimes pompous prog sound. Her new album will be available on Happy Robots in Summer 2019.

TIM PRESLEY'S WHITE FENCE
ROBERT SOTELO
Wednesday 21 August
OSLO
1a Amhurst Road, Hackney Central, London, E8 1LL| Map
7.30pm | £12.50 | Buy tickets
TIM PRESLEY'S WHITE FENCE, informed by the extreme polarities of punk rock and psych, brings forth songs like no others. Two years on from his solo missive, the sense that something has cratered and someone has walked away, somehow alive, is heavy in the air. With his new album 'I Have to Feed Larry's Hawk', Tim Presley meets White Fence again, and together, they move on. He started writing songs for this album in a small rural town in the UK called Staveley. Tim was staying with Cate Le Bon there during winter. While she was there going to school learning how to build & design furniture out of wood, he started writing on her piano. Tim came back to San Francisco to record, but first he had a fervent dream that Johnny Thunders asked him to be honest & simple with this album, and also why dolphins were not given arms. He booked studio time with a very talented fellow named Jeremy Harris and they worked together out of a studio in the Dogpatch district of SF (owned and run by Paul from the UK band The Bees. Jeremy was able to learn the songs on piano, keys and finesse the parts, including most drums and also record/engineer the whole album. Also playing on the album, is S.F. Mission district native Dylan Hadley who plays drums on two songs: 'Until You Walk' & 'Forever Chained' and H. Hawkline adding guitar and vocals on 'Phone.'
With this new record Tim re-learned how to walk. The poppy stomp. He'd been tethered to a hawk, that he must feed on the dot. While 'I Have To Feed Larry's Hawk' has tinges of both sides in its '60s guitars and whimsical, pastoral folk, however, what dominates is Tim's ability to pen strange, warm tracks like 'Lorelei' that are totally out of step yet tug on familiar melodic heartstrings. Like Syd Barrett or, more recently, Euros Childs before him, White Fence continues to make the peripheries seem oddly accessible. Things really soar when Presley privileges space and simplicity and with this album he's created a bare-bones, diary like project that bounces between optimism and melancholy. 'I Have To Feed Larry's Hawk' came out on Drag City this January.
MARY LATTIMORE
Thursday 29 August
The Courtyard Theatre
40 Pitfield Street, Shoreditch, N1 6EU | Map
7.30pm | £10.00 | Buy tickets
MARY LATTIMORE is a Los Angeles-based musician who uses her Lyon and Healy concert grand harp to conjure up beautifully abstracted forms that evoke a host of memories, landscapes and allusions. Across a breadth of recordings, collaborations and art commissions her music explores a realm of wordless narratives and indefinite travelogues, where - with the help of effects and occasional vocals - extended harp improvisations morph into spectral songforms. In live performance she reveals the impressionist magic of her chosen instrument, blurring classical technique and ambient electronics to beguiling effect. In 2018 Mary released Hundreds of Days, her second LP on Ghostly International, as well as a collaborative album with Meg Baird entitled Ghost Forests (Three Lobed). She has moved a long way since her classical studies at Eastman School of Music, via days in Philadelphia with the likes of Espers and Fursaxa and sound-making time with Steve Gunn, Sharon van Etten and Kurt Vile. She has also collaborated with guitarist/synth player Jeff Zeigler on their 2014 album Slant of Light (Thrill Jockey) as well as composing a live score for Philippe Garrels' 1968 experimental silent film Le Revelateur which they subsequently toured together.

DEERHOOF
TRASH KIT
DOG CHOCOLATE
Monday 2 September
EartH
11-17 Stoke Newington Rd, Dalston, London, N16 8BH | Map
7.30pm | £15.00 | Buy tickets
DEERHOOF, is four people. Satomi Matsuzaki plays bass and sings, Greg Saunier plays drums, John Dieterich and Ed Rodriguez play guitars. But what is Deerhoof really? Hell if we know. Pitchfork went so far as to label Deerhoof as "the best band in the world." From their humble beginnings as an obscure San Francisco noise act, they've become one of indie music's most influential bands with their ecstatic and unruly take on pop.
"Deerhoof are amazing. They're nuts, they'll freak you out." (Dave Grohl, Foo Fighters)
"Deerhoof deserve far more recognition." (Jonny Greenwood, Radiohead)

DANIEL O'SULLIVAN (octet)
BRIGID MAE POWER
Friday 13 September
The Lexington
96-98 Pentonville Rd, Angel, London, N1 9JB | Map
7.30pm | £12.00 | Buy tickets
DANIEL O'SULLIVAN is a composer, songwriter, multi-instrumentalist and producer living and working in South West London and has been contributing a vibrant, chameleonic brew to the music landscape since the late 1990's. He has achieved acclaim writing, recording and performing with a myriad of groups including Grumbling Fur (with longtime friend and collaborator Alexander Tucker), Ulver, Mothlite, Sunn O))), Guapo, Miasma & the Carousel of Headless Horses, Miracle, AEthenor and This Is Not This Heat. He has composed several sound works for film and installation.
Whether solo or in his varied collaborative projects, O'Sullivan's work is remarkable in the way it infuses familiar everyday experience with traces of the uncanny, the secret and the magickal. His 2017 solo album VELD distilled these tangled realities into a rich and complex soundworld, strikingly dense and allusive. Released in April by O Genesis, Folly is O'Sullivan's second album under his own name and embodies a confident, evolution from VELD. This cycle of twelve songs deftly illustrates O'Sullivan's ascent as a unique and multidimensional songwriter. Moving from the familiar pantheon of experimental music and arriving upon a universal narrative probing the human condition from the inside out. Both lyrically and within the intricate lattice of arrangements, traditional forms are reshaped into transcendent pop symphonies. Both intimate and alien, archetypal and atypical, joyous and melancholic, the aperture of Folly is wide open and light streams in. For this special performance O'Sullivan will perform his new songs as an ensemble of eight, featuring Thighpaulsandra (Coil, Julian Cope Band, Spiritualized) who also recorded and mixed Folly at his Aeriel studio premises in Wales.
BRIGID MAE POWER is an Irish singer-songwriter and multi-instrumentalist who, like Judee Sill, Micky Newburyor Linda Perhacs before her, paints her songs in dreamily expansive strokes, transporting earthly compositions into universal and exultant realms. Her self-titled debut on Tompkins Square was a majestic suite of reverb-swathed laments for voice, guitar, piano, accordion, and harmonium, recorded at the Portland studio of key musical foil Peter Broderick. Themes include transformation, change, motherhood, acceptance, strength, courage and trust. In the words of Power, the album was about "trusting if you lose yourself or your way - you can come back". New album 'The Two Worlds' is another masterful collection of effortless, hypnotic folk, and an album that furthers the songwriter and multi-instrumentalist's already stellar reputation. Live, Brigid can encapsulate the timeless magic of her songs either solo or as a duo with Peter. Thus far she has toured throughout Ireland, UK and the US together with artists including Lee Ranaldo, Richard Dawson, Alasdair Roberts, Peter Broderick and Ryley Walker, with performances at Le Guess Who? and TUSK festivals along the way.