NEWS
INHERIT THE WIND
18 November 2017
Watch this truly mesmerising new video from Darlene Shrugg, one of our favourite tracks from their self-titled album out now through Upset The Rhythm! Thanks to Pop Matters for premiering.
DARLENE SHRUGG OUT NOW
5 November 2017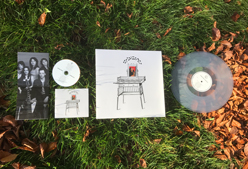 We're delighted to share with you our new album from glammed-up, high-intensity rock group Darlene Shrugg. Out now, the band's self-titled debut album is a concise blast of the sublime. Absorbing then inverting classic rock, this record brims with imaginative production, brash theatricality and uninhibited energy.
Darlene Shrugg represents a collaborative convergence, featuring Maximilian Turnbull (formerly Slim Twig), Meg Remy (U.S. Girls), Simone TB and Carlyn Bezic & Amanda Crist, also known for their electro-pop project, Ice Cream. This certain alchemy has helped to establish the unique force found on this debut album. 'Darlene Shrugg' is available now on LP and CD through Upset The Rhythm, our web shop is primed and ready here.
RADIO SHOW - EPISODE TWO
2 November 2017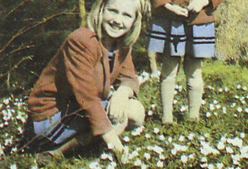 We're taking off again with CAMP Radio! Listen to our second 120-minute radio show as Upset The Rhythm whilst we spin our favourite records & play some exclusive live recordings from our recent concerts. November 29th sees our next radio show air too, enjoy!
FIRST WORLD RECORD
17 October 2017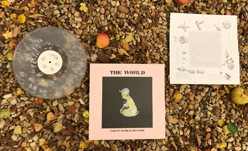 The World's debut album 'First World Record' is now shipping from our webstore and will be hitting the shops this Friday. Here's a photo of the LP in all its transparent glory taken during the glowering skies of yesterday's storm, hence the apples on the ground too! The World are touring Europe between Oct 23rd - Nov 12th too, check out our tour section to see if they're coming near you!
NAMASTE - THE WORLD
7 October 2017
Get your yoga on! Brooklyn Vegan have just premiered The World's new video for 'Namaste'!
RADIO SHOW - EPISODE ONE
5 October 2017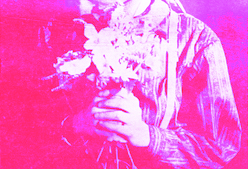 We've just started working with CAMP Radio on a brand new radio show as Upset The Rhythm, here is Episode 1, hope you enjoy it! Our next show will go live to air on November 1st at 10pm.
MORE WEALTH THAN MONEY
4 October 2017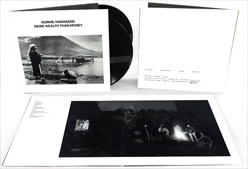 Listen deep! Normil Hawaiians released their debut album 'More Wealth Than Money' in 1982, 35 years ago! We're so seriously thrilled to be helping this record stride out into its unique field of sound again.
December 1st sees Upset The Rhythm reissue the re-mastered version of MWTM alongside a further full-length collection of demos and unreleased tracks from the album's overlooked corners. Both the 2xCD and DLP versions also come with a booklet contextualizing the release, full of anecdotes and photos from all band members. It is truly a thing of beauty!
'HOT SHOPPER' BY THE WORLD!
20 September 2017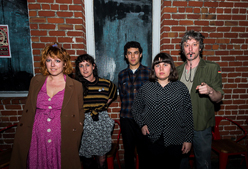 We're besides ourselves to share with you this new song from The World this morning! The World are five people from Oakland, California who write rambunctious dance music with a post punk tool kit and an insightful yet short attention span! 'Hot Shopper' is taken from the bands debut album out October 9th on Upset The Rhythm. Available to pre-order now! Watch this space for details of their imminent European tour too.
AND... GEN POP MAKES US 100!
15 September 2017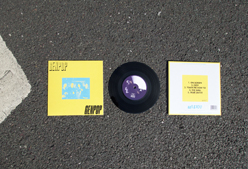 Our record label is 100 releases old today! Thank you for tagging along with us on this epic detour from conventional entertainment. UTR100 takes the form of this very brightly coloured and brightly sounding debut 7" from Olympia, WA's Gen Pop. Gen Pop play a fervent noise punk for this overstretched human era, spilling with impassioned vocals, needling guitars, winding energy and air-tight rhythms. Featuring Ian Corrigan and Maryjane Dunphe from VEXX, it's a pleasure to continue our relationship with both of them through this very special release. Gen Pop's debut 7" is available in all good record shops from today and also directly though our webshop here too!
ROBERT SOTELO OUT TODAY
1 September 2017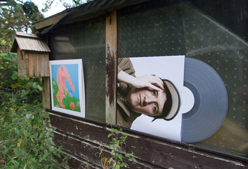 Upset The Rhythm are very honoured to release Robert Sotelo's debut album 'Cusp' today, it's available on 180g transparent vinyl and digitally too. To celebrate we're sharing a brand new video from the album today too, ahead of our two London concerts with the band next week!
DARLENE SHRUGG - ALBUM ANNOUNCED!
23 August 2017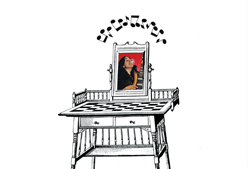 Darlene is in the building! We're so happy to announce today our new album with Darlene Shrugg, Canada's unashamed r-n-r spectacle. Featuring members of Ice Cream, Slim Twig and U.S. Girls the band's self-titled debut album will be released on October 27th. Have a listen to the epic 'Strawberry Milk' the first track to soar into the sky, very kindly premiered by Tiny Mix Tapes
LATEST RELEASES MIXTAPE
LINKS
UPCOMING SHOWS

ROY MONTGOMERY
ALEXANDER TUCKER
In collaboration with Cafe OTO
Thursday 23 November
Cafe OTO
22 Ashwin Street, Dalston, London, E8 3DL | Map
7.30pm | £10.00 | SOLD OUT
ROY MONTGOMERY is a guitarist and academic from New Zealand. Across an array of peerless solo and collaborative releases on labels like Kranky, Siltbreeze and VHF he is the architect of a widescreen drone aesthetic exploring psychedelic abstraction and pastoral minimalism that has proved to be highly influential. A key protagonist in the Christchurch 80s noise rock scene, his minimalist post-punk band The Pin Group were the first act to release on Flying Nun and lead to other explorations in short-lived drone project The Shallows and the gloriously open-ended freedoms of noise pop outfit Dadamah.
After a quiet spell, Montgomery returned in the late 90s, producing towering spires of guitar lines that exposed fragility between the strums. With his solo releases and in collaboration with Flying Saucer Attack, Bardo Pond (Hash Jar Tempo), and Chris Heaphy (Dissolve), his focus shifted from the truth-mining of rock music to epic celestialism. His ambitious yet humble tracks outstrip their origins, and Montgomery toured the world sitting cross-legged on the floor, playing twenty-plus-minute compositions. A long period of silence followed, marked only with a split album with Grouper (who lists Montgomery as a primary influence), involvement in Torlesse Super Group, and a couple of thematic variations serving as soundtracks for films. He unexpectedly re-emerged in 2016 with R M H Q (also know as Roy Montgomery's Headquarters) on Grapefruit/Ba Da Bing, four albums of new material released simultaneously that marked a return to his distinctive pastoral guitar style but added the rare sound of his singing voice. Like all of his catalogue listening to his work is a visceral experience with repeating phrases swelling and decaying, immersing the listener in the cyclical narrative of his compositions.
ALEXANDER TUCKER is a British avant-pop chamber drone artist who has released solo albums on ATP and Thrill Jockey, he's also the cosmic guitarist in Grumbling Fur. His live shows fuse self-harmonizing vocal performances with tone generators and looped instrumentation to create a bewildering feast for the senses that seems to tap the wyrd canon of English psychedelia as much as the melodic reverie of contemporary electronic and drone music.

SPIRIT FEST
(Tenniscoats & members of The Notwist and Jam Money)
DEVON LOCH
Thursday 7 December
The Islington
1 Tolpuddle St, Angel, London, N1 0XT | Map
7.30pm | £12.00 | Buy tickets
SPIRIT FEST are a bewitching avant-pop group made up of Japanese duo Tenniscoats with Markus Acher (Notwist), Mat Fowler (Jam Money) and Cico Beck (Joasihno). Their self-titled debut LP is out this November through Morr Music. During the winter of 2016 Tenniscoats performed at Markus Acher's Alien Disko festival in Munich and he took the opportunity to record with them in a small apartment studio, together with Mat and Cico. Tenniscoats are known for their collaborations - some of their finest work was done in conjunction with Tape, The Pastels, Jad Fair and many others - so making good use of the time and friends available was natural to them. "For me, timing is important," Saya from Tenniscoats admits. "We met in season, and the song flowers are now blooming!" Mat Fowler recalls the Spirit Fest sessions taking place in an idyllic, festive atmosphere. "Every morning we'd all share breakfast, chat and learn about German Christmas customs. We'd catch the bus in the morning and walk home in the evening. The journey ran parallel to the beautiful flowing Isar River that bubbles, ebbs and flows right through the middle of Munich." The LP was put together there over a two-week period. 'Hitori Matsuri' is the first single from the record - it's gentle as the first rains of autumn, as beguiling as a half-remembered lullaby that catches your breath as you tumble into sleep. Spirit Fest is a snapshot of a gentle and intuitive moment in time - a beautiful meetup that expands beyond community with a palpable sense of inclusivity.
DEVON LOCH's debut album 'Sleep Scale' on Kit Records is a collection of somnolent organ, piano songs and ambient electronics. Primitive, ethereal and dreamy. Featuring Ela Orleans (Night School) on synths and violin, and Best Available Technology (Opal Tapes) on production.

RICHARD DAWSON
(Live band performance)
NORMIL HAWAIIANS
Wednesday 20 December
Islington Assembly Hall
Upper Street, Islington, London, N1 2UD | Map
7pm | £15.00 | Buy tickets
RICHARD DAWSON can never been accused by listeners of a lack of artistic ambition. Whether they got on at the last stop - the 4 track Tyneside-Trout-Mask-through a-Vic and Bob-filter of 'Nothing Important' - or earlier in the journey, with 'The Glass Trunk's visceral song cycle or 'The Magic Bridge's sombre revels. Devotees of his earlier recordings will be at once intrigued by and slightly fearful of the prospect of a record that could make those three landmark releases look like formative work. 'Peasant' is that album, released on June 2nd through Weird World / Domino. From its first beguilingly muted fanfare to its spectacular climax exploring a Dark Ages masseuse's dangerous fascination with a mysterious artefact called the Pin of Quib, it will grab newcomers to Dawson's work by the scruff of the neck and refuse to let them go until they have signed a pledge of life-long allegiance.
Driven forward by exhilarating guitar flurries, Qawwali handclaps and bursts of choral ferocity, 'Peasant's eleven tracks sustain a momentum worthy of the lyrics' urgent subject matter. Dawson describes the themes of these songs as "Families struggling, families being broken up by circumstance, and - how do you keep it together? In the face of all of these horrors that life, or some system of life, is throwing at you?" The fact that these meticulously wrought narratives all unfold in the pre-mediaeval North Eastern kingdom of Bryneich - "any time from about 450AD to 780AD, after the withdrawal of the Roman Empire"- only makes their contemporary relevance more enduring.
Dawson's objective was to create "A panorama of a society which is at odds with itself and has great sickness in it, and perhaps doesn't take responsibility - blame going in all the wrong directions". But encountering 'Peasant's captivating sequence of occupational archetypes ('Herald', 'Ogre', 'Weaver', 'Scientist'), listeners might find themselves wondering if these multitudes could somehow be contained with one person. Dawson has already supported the release of 'Peasant' with a full UK tour - his first featuring a full live band. After wowing audiences at St John On Bethnal Green this June, it's a pleasure to welcome Richard back for an Xmas show with live band to play the esteemed Islington Assembly Hall.
NORMIL HAWAIIANS communal take on post punk sprouted leaves from its mouth in 1982, and began carving out a new furrow. Greater emphasis was awarded to improvisation within the group and as a result their songs embarked on longer, freer journeys towards the beaten bounds. They wanted these new songs to bear the weight of their new collective spirit so comfort zones had to be left behind. Tape loops, echo boxes, extended percussive sessions and duteous faith in the tones emanating from a particular old wah-wah pedal were all employed by Normil Hawaiians to stretch their sonic fabric into wild and redolent new dimensions.
At this very moment the group existed solely for the music, living together in a small cottage in the shadow of Foel Studios in the Welsh hills, sharing everything together and working long days to nurture and then burnish the music they had discovered between them. This is how the band's debut album 'More Wealth Than Money' was formed, through trial and close listening, through cultivation and patient growth. Of course there were significant amounts of mushrooms involved too and several UFO sightings, but when the sheep began to march in time to the music Normil Hawaiians knew they were creating something unique. 'More Wealth Than Money' will be re-issued lavishly on double LP this December through Upset The Rhythm, they are celebrating this release by performing t this special Xmas show at Islington Assembly Hall too.

MOOR MOTHER
Wednesday 10 January
The Islington
1 Tolpuddle St, Angel, London, N1 0XT | Map
7.30pm | £7.00 | Buy tickets
MOOR MOTHER is the viscerally charged output of Philadelphia based interdisciplinary artist, Camae Ayewa. Her music is often harsh and strange, projecting both the cathartic anger of punk and the expansive improvisatory spirit of Sun Ra. Using a variety of machines, field recordings, and analog noisemakers, Ayewa constructs fractured, cacophonous waves for her words of punishing pertinence to ride. As a musician performing under the name she has toured in Europe and the U.S. at numerous festivals, colleges and universities sharing the stage with King Britt, Islam Chipsy, Claudia Rankine and Bell Hooks. As a soundscape artist she has had work featured at Samek Art Museum, Metropolitan Museum of Art Chicago, and Everson Museum of Art. Her latest album, Fetish Bones, was released through Don Giovanni Records in September 2016. The album features 13 songs conceived and recorded in Camae's home studio and it is an album intended as a form of protest and as form of time travel - a collection of sounds that are events themselves, telling stories rich in history about the journey that brings us to today and the future we are creating. Fetish Bones is not an album meant to help you forget. It is made so that you will remember the injustices that we bear witness to and participate in.

DAVID NANCE
Monday 5 February
The Islington
1 Tolpuddle St, Angel, London, N1 0XT | Map
7.30pm | £6.00 | Buy tickets
DAVID NANCE, Omaha veteran of warble and hiss, returns with Negative Boogie, his new concoction of chug, throb and greasy swagger. For Boogie, Nance trades in his beaten up Tascam 488 for the bullet-proof, glass walls of A.R.C. Studios. Where else can you brew the negative boogie? And what exactly is the negative boogie? Well, it's a bit like Canned Heat but with Pere Ubu's queasy rhythms and someone playing five finger fillet with Swell Maps. Ensconced in his ivory tower and soundproof rooms, Nance reached for unlikely weapons to tear down his own lofty experiment. He had his pick of rare guitars, cowbells, steel drums, vintage amps, Crazy Horse microphones, mellotron, and the restless but indefatigable rhythm section of Kevin Donahue and Tom May. They started at sunrise and recorded 15 songs by midnight. Maybe it's his Midwestern work ethic, maybe he's a sonic cheapskate. Maybe it's just the sound of negative boogie. True to habit, Nance built on scraps and scrapes as his starting point. "Some songs were unused for half a decade, some songs were changed the day before recording and some songs were recycled and reinterpreted from the last album leftovers," he says. And yet, bits and pieces, false starts and vicious jams, all came together like the cover art collage suggests, to make something he's never done before - a rock epic. These songs stab and flow into one other like a perfectly orchestrated classic. The songs are drenched with Nance's most biting and comic lyrics to date, peaking on "D.L.A.T.U.M.F. Blues". And ripping through the entire thing is the cracked power he yanks out of the guitar, a veritable The Good, The Bad and the Ugly of riffage. This is a departure for Nance. It's bigger and grander but it's far from easy music. It's his Plastic Ono Band, his For Your Pleasure, his fever dream of Rocket from the Tombs. Shredders sit with jangling rockers, manic energy spills into depressive torpor, providing the ultimate record experience: one of power, nuance and emotion. But this of course is only a press release, written by a team of robots using words programmed to seduce you. You knew that, right? Did it work? Whether you are nodding yes or shaking no, it's safe to say that we are all dancing the negative boogie.

GUN OUTFIT
Tuesday 20 February
Moth Club
Upper Street, Islington, London, N1 2UD | Map
7pm | £10.00 | Buy tickets
GUN OUTFIT make music that sounds like a stone eroded by years in the arroyo, their enveloping 'Western expanse' aesthetic of guitar levitations and honky-tonk hexes have become gradually smoother over time. Their fifth LP ranks as their most brutally beautiful statement yet. Drawing from mythologies both classical and postmodern, 'Out of Range' builds a world in which Brueghel, St. Augustine, and the goddess Cybele ride with John Ford, Samuel Beckett, and Wallace Stevens on a Orphic-Gnostic suicide drive towards the hallucinatory vanishing points of the Southwestern desert, debating the denouement of the decaying American dream.

CHAIN AND THE GANG
Monday 26 February
OSLO
1a Amhurst Road, Hackney, London, E8 1LL | Map
7.30pm | £10.00 | Buy tickets
CHAIN AND THE GANG are a dynamic and irresistible live combo that pens provocative, unforgettable odes to obedience and total destruction. They are led by the remarkable Ian Svenonius; the prime mover behind two of the most essential bands of our time, Nation Of Ulysses and The Make-Up, and author of several books, including The Psychic Soviet and Supernatural Strategies for Making a Rock 'n' Roll Group. Ian is also an online talk show host and auteur filmmaker. Chain And The Gang deal in a radical rock n roll that updates rock, blues, and gospel music or vocal quartets from the late 50s /early 60s for the discerning few. After nodding off to the washed-out zzzounds of the latest five-star folly critic's catastrophe, Chain & the Gang decided to respond with their patented perversity; they reached to the farther corner of the lab and came up with an immortal classic in the hard-to-hear genre of 'EXPERIMENTAL MUSIC'. Its a foot-tapping, head scratching, torso tornado that will crinkle the connossieur's temple in a tantrum of cerebral delight. 'EXPERIMENTAL MUSIC' is due for release through Radical Elite Record soon.

PROTOMARTYR
Thursday 10 May
The Scala
Upper Street, Islington, London, N1 2UD | Map
7.30pm | £12.50 | Buy tickets
Tickets go on sale at 10am on Wednesday 1st November
PROTOMARTYR return to London next May for their biggest show yet! Protomartyr play a taut, austere rock that's been incubated in a freezing Detroit warehouse littered with beer cans and cigarette butts and warmed occasionally by space heaters. Short songs made for short practices, and the band learned quickly not to waste time. Despite the cold, Protomartyr emerged with a sound that is idiosyncratic but relatable, hooky but off-kilter. With respect to the local predecessors, this isn't the primitive stomp of The Dirtbombs or The Stooges' greasy roar. Punk works, kind of, even if it leaves the hardcore kids confused. Post-punk suggests something too retro; indie rock, something too precious. What Protomartyr is, is "stuck between the cracks." If that's the case, though, they aren't alone. Protomartyr's economical rock elicits comparisons to possible antecedents like Pere Ubu or The Fall as well as local contemporaries like Frustrations or Tyvek (whose frontman Kevin Boyer played bass in an early iteration of Protomartyr). Singer Joe Casey's dry declarative snarl serves as a reliable anchor, granting his bandmates (guitarist Greg Ahee, drummer Alex Leonard and bassist Scott Davidson) the opportunity to explore textures and reinforce the rhythm section. This is never more apparent than on the band's brand new album entitled 'Relatives In Descent', out now through Domino. This show follows on from the band's long sold out Tufnell Park Dome show planned for next month.