NEWS
SCHOOL DAMAGE OUT TODAY!
25 May 2018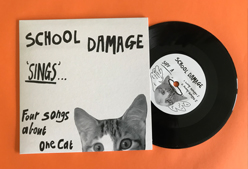 The time is meow!
Today we're releasing School Damage's new EP 'Sings... Four Songs About One Cat'! Hailing from Geelong & Melbourne and featuring members of Ausmuteants, Parsnip, Chook Race etc, School Damage have written a fantastic four track 7" of woozy head bop, jangle-pop all about their pet cat. This new song, 'Secret Beauty', captures Lumpy at her most serene, have a listen!
APOSTILLE - ON TOUR
21 May 2018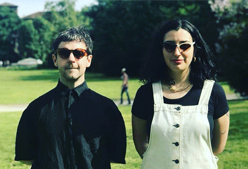 This Wednesday, Apostille will begin to tear around the UK in support of their forthcoming album, 'Choose Life', out June 8th.
Check them out at the following dates:
May
23/05 - Manchester, UK @ Soup Kitchen with Virginia Wing
24/05 - Nottingham, UK @ The Chameleon with Father Murphy
25/05 - Bristol, UK @ Stag And Hounds with Hounds Schwet x Dance Party
26/05 - London, UK @ The Victoria with Sauna Youth + Static Palm
27/05 - Brighton, UK @ The Pipeline
28/05 - Cardiff, UK @ The Undertone
31/05 - Leeds, UK @ The Fenton
June
01/06 - Newcastle, UK @ Star & Shadow
02/06 - Glasgow, UK @ The Art School with Happy Meals + Sacred Paws
'Choose Life' is available to pre-order now on LP and CD here.
RADIO SHOW - EPISODE EIGHT
18 May 2018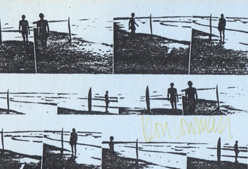 Hey there! We've got some staggering tracks from Apostille, Vital Idles and School Damage all featured in our new two hour mix for CAMP radio. Listen up, listen loud, enjoy!
MOODY BALLOON BABY OUT NOW!
11 May 2018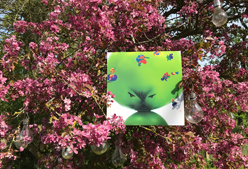 Dog Chocolate's stunning new album, Moody Balloon Baby, is released today in all its fervour! 180 grams of black plastic serving up all the rabble-rousing energy & eye-watering absurdity of the human condition in 2018, plus its got a big, green, scowling balloon baby on the cover, bonus!
Available in all the best shops worldwide and directly from us here now. Have a listen to the very first song kicking off this cavalcade of thought & song:
SCHOOL DAMAGE & ONE CAT
20 April 2018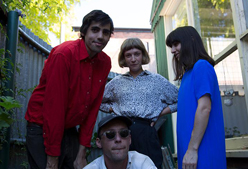 May 25th is going to be a very good day as that Friday sees Upset The Rhythm release a new 7" EP from Australia's School Damage. School Damage write songs that demand the dizzy head bop, they make jangle punk of genuine charm, spontaneous errant pop! Featuring members of Ausmuteants, Parsnip and Chook Race, School Damage have put together an EP which follows it's no nonsense title, it's 'Four Songs About One Cat', and that cat is called Lumpy and sometimes Scump. 'Scump Damage 1' is the first track to escape the EP, the track just premiered through Raven Sings The Raven Sings The Blues, have a listen now!
School Damage's new EP is available to pre-order now.
TESCO FLAG
19 April 2018
This is the new video from Dog Chocolate, it's called 'Tesco Flag' and is set in Epping Forest and features a lot of anti-Brexit rhetoric, beans and the band dressed up as headlice. A quasi-future-medieval look to their costume ties in with references made later in the song to the book Riddley Walker. The lyrics deal with the knotty and unpleasant issue of English national identity. Filmed in the freezing cold, the band learned that dogs will eat beans straight out of liquid mud if they have to. Dog Chocolate's new album 'Moody Balloon Baby' will be released on May 11th through Upset The Rhythm, the album is available to pre-order here now.
LATEST RELEASES MIXTAPE
LINKS
UPCOMING SHOWS

DOG CHOCOLATE
'MOODY BALLOON BABY' LP LAUNCH
WITCHING WAVES
MOLEJOY
Friday 25 May
The Macbeth
70 Hoxton St, Hoxton, London, N1 6LP | Map
7pm | £3.00 | Tickets available on the door of the show
DOG CHOCOLATE sound like a crowded room but are actually four individuals from London. Abandoning notions of elegance, cred and professionalism they embrace the ramshackle, instant and fun, capturing a vivid spontaneity with their music. Their sound is a shabby, fast, over-excited ball of wet fur falling down the stairs, knocking over plant pots along the way and staining the carpet. With an average song time of 2 minutes, Dog Chocolate are on to the next treat before fully digesting the last. Chewing up bits of punk, post-punk, noise and pop, Matthew and Robert's guitars race around each other like wasps, pitch-shifting and phasing all over the place while Jono's rolled-up-newspaper drums chase them round the room. This party is a celebration in honour of the band's new album 'Moody Balloon Baby' (out May 15th) through Upset The Rhythm, who also released their debut 'Snack Fans' in 2016.
WITCHING WAVES are a post-punk trio from London, writing songs that are a satisfying mix of pop sensibility and tumult. Emma and Mark's dual vocals juxtapose brilliantly - from calm composure to world-weary petulance; their aptitude for combining melody with belligerence being the most triumphant facet. Check out both their brilliant albums to date on Soft Power.
MOLEJOY is a band, undermining with joyous anger pangs. On their own terms. non-heroic beats for anyone who wants them. Songs/sounds about microwaves, banging yourself and radicalising your children. Kind of like... we don't really know. Sometimes there's a flute. Molejoy is Gyles Brunch, Sophie Chapman and Kerri Jefferis.

APOSTILLE
SAUNA YOUTH
STATIC PALM
Saturday 26 May
The Victoria
451 Queensbridge Rd, Dalston, London, E8 3AS | Map
7.30pm | £7.00 | Buy tickets
APOSTILLE is a man who's torn through enough sound-systems to know the difference between gesture and meaning. Alongside running his own DIY record label, Glasgow native, Michael Kasparis has spent the last few years making forays into the realm of hardcore punk with his groups Anxiety and The Lowest Form. Throughout all this, his solo electronic venture, Apostille has continued to evolve with each twist and turn of the world. What started off as a quest to whip up a mood and force that into a song has steadily become more of a mission in communication. His audacious 2015 debut album 'Powerless' self-released through Night School set the template by hooking up his honest delivery to some manic expositions in electronic pop. At once minimal and courageous with intent to connect, Apostille songs race off with unchecked abandon, skittering drum machines, thick walls of sequenced synth and decidedly elastic basslines. 'Choose Life' (out June 8th on Upset The Rhythm) is both the album Apostille chose to make and had to make. He dialled down the clown, built up a new-found confidence in his voice and melody in general and began to feel more at home in the refuge of pop music (with a capital P). All the truest pop music speaks to us of escape and through this new album Apostille allows its transformative power to fully manifest. It's an album full of life and energy, and like his live show as disobedient as it is heroic in its pursuit of liberation.
SAUNA YOUTH are an evolving band of future humans making truly irregular punk, not quite comparable to anything else. "Weird" is a meaningless platitude and "art punk" is a classifier that shouldn't be required. Consisting of Boon (drums, vocals), Pines (guitar), Ecke (vocals, sampler) and Mince (bass), Sauna Youth are a punk band that's happy to embrace all of the contradictions that go along with that notion. On paper, Sauna Youth sound considered - live, they can barely be contained. They are at times furious, unstoppable and severe, with the sampler wailing like an alarm coming from a parallel universe - then chugging, poppy, harmonious and fun. Forever loud. 2015's totemic 'Distractions' album (Upset The Rhythm) is a record that feels instinctive and natural, flowing freely from a band that have come to terms with the sum of its parts.
STATIC PALM is the solo project of James Burgess, featuring his synth & drum-machine led brooding post-punk. Fans of John Maus, Total Control, Tuxedomoon and other practitioners of ice-cold musics will enjoy.

JOHN MAUS
NICK NICELY
COLIN POTTER
Thursday 14 June
Electric Ballroom
1a Amhurst Road, Hackney, London, E8 1LL | Map
7.30pm | £15.00 | Buy tickets
JOHN MAUS is a truly enigmatic musician. Broadly cut from the synth pop cloth, he's fashioned the frosty minimalism of its fabric into a cloak of infinite meaning, genuine grace and absurdist humor over the course of three defining albums since 2006. His music is a highly mutable affair, whilst often described as retro-futurist on behalf of the 80's drum machines and synth sounds employed, John's music is more personal than the nostalgic re-tread implied. There's a cinematic quality to his songs, with pathos conjured through propelling bass-lines, trailing arpeggios and of course his deeply resonant vocal. Moroder helped map out the territory but Maus is more interested in seeking cadence through his love of Renaissance polyphony and the experimentation behind post punk. It's an amalgamation of musical ideas as radical as its intent.
Maus is a 'man out of time' trying to make sense of the inhumanity of our world through his mobilisation of the language of punk rock. His aim is true as he reaches for the seemingly impossible. It's a want to emerge as part of greater multiplicity, to appear, to become, to connect that powers his songs and the man himself. It's now been six years since the widely lauded album 'We Must Become The Pitiless Censors Of Ourselves' appeared like a thunderbolt of maniacal energy and turned everyone's heads. Last October his fourth album proper entitled 'Screen Memories' came out like a clarion call through Ribbon/Domino, this April sees the release of his career defining boxset and new album 'Addendum'. John Maus has returned to save us all from the apocalypse, now he is accompanied by his electrifying live band the triumph of the human is nigh!
NICK NICELY is one of the most innovative artists of the post-psych era, with his 1982 EMI single masterpiece 'Hilly Fields (1892)' acclaimed by the NME as "the best psychedelic record since the '60s". Despite being admired by contemporaries Robyn Hitchcock and Andy Partridge, his singles brace of psychedelic electronica in the early eighties did not garner the commercial success they deserved. Later that decade, inspired by the second summer of love, nick embarked on a new period of creativity. Renewed interest was assisted by his repeatedly reissued 'Psychotropia' collection and support from psychedelic adventurers The Bevis Frond. Over the past few years he's collaborated with Unkle and undertook a string of concerts including the prestigious Green Man and Terrastock festivals whilst releasing a brand new album last year called 'Sleep Safari'. This record goes further into electronics while continuing Nick's psychedelic journey into a unique pop juxtaposition.
COLIN POTTER has been a central figure in the UK's DIY and post - industrial underground since the late '70s. His ICR label, founded in 1981, blurred the lines between post - punk experimentation, crude pop, Krautrock - inspired drone work and contemporary electronica, with releases by everyone from DIY legends The Instant Automatons through Chris & Cosey of Throbbing Gristle , experimental composer Trevor Wishart, drone soundists Andrew Chalk and Darren Tate and Bryn Jones's Muslimgauze. He has also been a key collaborator with both Current 93 and Nurse With Wound, working in the studio with both groups since the late '90s as well as serving as a member of Nurse With Wound's current live line - up. From the late '90s to the late '00s Potter's IC Studio, based in a Victorian Water Tower outside Preston, was a lightning rod for musicians working beneath the radar and a focal point for the nascent UK drone scene. Recent years have seen an upsurge in interest in Potter's solo works, which showcase a constant experimentation throughout, creating obscure atmospheres and a pleasantly disturbing feeling of disquietude.

KRISTIN HERSH
FRED ABONG
Monday 18 June
Cecil Sharp House
2 Regent's Park Rd, Camden, London, NW1 7AY | Map
7.30pm | £24.00 | Buy tickets
KRISTIN HERSH, most recognised as the front person for the influential art-punk band Throwing Muses and power trio 50FOOTWAVE, will kick off a short visit to the UK this summer with this special solo date at Cecil Sharp House preceding her sold-out performance at Robert Smith's Meltdown Festival on June 21st.
Throwing Muses first gained traction in the early '80s, playing with similarly singular artists, such as The Pixies and Dinosaur Jr. They continue to release groundbreaking music, most recently with 2013's double CD masterpiece 'Purgatory/Paradise'. Kristin's solo career spun off in 1994 with the release of 'Hips and Makers', a widely acclaimed album that included 'Your Ghost', a duet with R.E.M.'s Michael Stipe. Since then, Kristin has released a steady stream of distinctly individual solo albums, including 2010's 'Crooked', released as her first in the inventive book/CD format for which she is now known.
2016's 'Wyatt at the Coyote Palace', on which Kristin played all of the instruments, received rave reviews; an explosive defined by blistering guitars, powerful drumming and her signature visceral vocal technique. Her poignant true stories bring the listener into what the BBC calls Hersh's "dark and dizzy world". In 2004, Kristin formed the noise rock power trio 50FOOTWAVE, releasing a series of frighteningly intense mini-albums, all available for download free of charge. Their most recent 'Bath White' EP was described as "a series of loud explosions, of velvet like dreams all intermingled at the same time. Bath White takes no prisoners." Kristin's writing career has flourished with the highly acclaimed 'Paradoxical Undressing' (released as 'Rat Girl' in the USA) and the award winning 'Don't Suck, Don't Die', a personal account of her long friendship with the late Vic Chesnutt, as well as the enchanting books which now accompany each of her record releases.
FRED ABONG will be supporting Kristin on her current UK tour dates. Fred is an old friend of Kristin's and former Throwing Muses and Belly bass player. Fred will be touring his new solo acoustic EP, described by himself as sounding like a "ragged Replacements".

YUNOHANA VARIATIONS:
YOSHIMIO & ROBERT AIKI AUBREY LOWE & SUSIE IBARRA
Tuesday 26 June
OSLO
1a Amhurst Road, Hackney, London, E8 1LL | Map
7.30pm | £12.00 | Buy tickets
Three improvisational luminaries; multi-instrumentalist YoshimiO (Boredoms, OOIOO, SAICOBAB), avant-garde percussionist Susie Ibarra, and artist Robert Aiki Aubrey Lowe (Lichens) shall be performing together as YUNOHANA VARIATIONS for the first time in the UK. The trio's previous collaborations have resulted in album, 'Flowers Of Sulphur', released on Thrill Jockey this February. 'Flower of Sulphur', is a transfixing piece of continuous improvisational work which explores the direct relationship between the artists and their individual configurations. The album takes the form of the trio each playing their principal instruments to explore the space in that moment. This spontaneous composition showcases the freedom and musical immediacy of all three artists' ability to interplay as well as their individual unique techniques to create engaging experimental sounds. This tour is the second installment of Outlands' experimental tour outings, this time produced by Birmingham's Supersonic Festival.
YoshimiO is a drummer, vocalist and founding member of the revolutionary Japanese noise rock group Boredoms. She is the leader of the experimental rock band OOIOO, a member of Free Kitten with Kim Gordon, and most recently the singer in SAICOBAB - a quartet who blend ancient Indian musical traditions and instruments with electronics and modern sounds. Known for her ability to improvise in a variety of contexts, YoshimiO has previously performed and recorded improvisational music with saxophonist Mats Gustafsson, Jim O'Rourke, and recently with Lowe, and then Ibarra during a series of collaborative performances in New York City, late in 2015.
Susie Ibarra, is one of the most significant percussionists and composers of our time, known for her work as a performer within contemporary, avant-garde, jazz, classical, and world music, and performs in the band Dreamtime Ensemble. Ibarra studied with jazz luminaries Earl Buster Smith (of Sun Ra Arkestra), Vernel Fournier and Milford Graves, and Philippine Kulintang gong-chime music with Danongan Kalanduyan. She has performed with the likes of: John Zorn, Dave Douglas, Yo La Tengo, Ikue Mori and recent works include a sound installation for Ai Weiwei.
Robert Aiki Aubrey Lowe is a multidisciplinary artist whose practice is strongly rooted in exploration of moments and the hypnagogic state. Movement and gesture play key factors within this process, and in the performance realm are focused on by voice and modular synthesizer. A fixture of Chicago's experimental community throughout the 90s and early 2000s, Robert has also performed under the name Lichens, is a member of the legendary band Om, and has an impressive portfolio of collaborations, which extends to the film world with his score for pseudo-documentary A Spell To Ward Off The Darkness, directed by Ben Russell and Ben Rivers (which Robert also appears in).

SHOPPING
ES
KATY & NICK
Saturday 11 August
OSLO
1a Amhurst Road, Hackney, London, E8 1LL | Map
6.30pm - 10pm | £10 | Buy tickets
SHOPPING are propulsive bass lines, primitive disco-not-disco drums and guitar lines sharp as broken glass. The band was formed in 2012 by members Rachel Aggs (guitar), Billy Easter (bass) and Andrew Milk (drums), who've all done time in a plethora of notable UK DIY bands including Trash Kit and Wet Dog. They pull from a well of 70's post-punk with a voraciousness seldom seen these days, bringing to mind the jagged aggression of Gang of Four, the voracious yelp of The Slits and the dance inducing thrust of Delta 5 . Their debut LP 'Consumer Complaints' was released November 2013 in the UK via MILK records and quickly sold out its first pressing. A US re-issue of 'Consumer Complaints' came out in 2015 via Fat Cat records, followed up by their excellent second album 'Why Choose?' The band are tirelessly committed to taking their sound to new audiences and spreading the Shopping gospel, securing impressive gigs along the way including main support for ESG and Gang Of Four as well as a BBC 6 Music session for Marc Riley. They have toured in the UK and throughout Europe numerous times over the last few years and last year toured the USA with also awesome Gauche. Shopping's brand new album 'The Official Body' (FatCat) has met with glowing reviews proclaiming it as exhilarating as it is mesmerising, we can't agree enough!
ES are four women based between London and Glasgow making "mutant synth-punk for our dystopian present" (Jes Skolnik). Tense, bass driven and synth heavy with frantic drumming and cold, direct vocals, their debut 12", 'Object Relations', delivers 4 tracks of gelid guitar-less post punk that is equal parts sparse and cosmic. Think of a mix of KUKL with No Defences jamming with Xmal Deutschland and you may be getting there.
KATY & NICK is Katy Cotterell of Gloss Rejection & ES and Nick Carlisle of Bamboo. This is their very British haunted take on synth wave. An abrasive synth punk, not the icy distance of some of the finest continental practitioners. This is the ennui of a damp bedsit in a bad Victorian conversion, not the existentialism of a brutalist estate. There's a little bit of YMO to the hyper-simple melodies that loop throughout their songs too. An appropriate counterpoint are the arpeggiated synth bursts that thread their way through too.
SHANNON AND THE CLAMS
Tuesday 4 September
The Garage
20-22 Highbury Corner, Islington, London, N5 1RD | Map
7.30pm | £12.50 | Buy tickets
SHANNON AND THE CLAMS are from Oakland, California and comprise of Shannon Shaw (vocals, bass), Cody Blanchard (vocals, guitar), and Ian Amberson (drums, vocals). Sounding like a prom band from 1964 getting dosed with acid and having the sweetest lovelorn freak out, Shannon And The Clams defy expectations. Imagine a brawling Etta James, backed up by the 13th Floor Elevators singing Shangri La's tunes. Shannon has a voice that can go from a sweet girl group croon to a bluesy ballsy growl before you realize you're headed for the (dance) floor. It's total punk rock bop, brimming with doo-wop glory delivered to your door by the Homecoming Queen and Kings of weirdo rock 'n' roll. What started as an open mic project for a shy, young Shannon to try out some tunes ended with the Clams meeting and forming a band.
Many have said to have been possessed by thee (eerily similar at times) haunted howls and beautiful growls of their two lead vocalists, hypnotized by their heavy heartbeats, and mesmerized by their magical music. Your ears may become infested with a real Buddy Holly jolly kinda joy (oh boy) while you stutter along to a hiccupy song. Take a scratch and a sniff at these stickers and get bit by their bad-brained snarls. It's always Christmas (if you want it). It's your party time, and it's excellent. Cry-yi-yi if you want to, but be sure to surf a splish-splash with a laugh later. New album, 'Onion' (Easy Eye Sound) is monumental; immense, magnificent, and unforgettable. Shannon and the Clams have pioneered their way into a lonesome land where the past still lives in the long shadows of a hot afternoon, where whispering spirits follow high along canyon walls, and if you sink your fingers into the dusty hard-packed earth you pull out hands smeared with blood.

PROLAPSE
Thursday 6 September
Moth Club
Old Trades Hall, Valette St, Hackney, London, E9 6NU | Map
7.30pm | £11.00 | Buy tickets
PROLAPSE originally formed in Leicester in the early 1990s and earned a cult following for their chaotic live sets, and tense and repetitious songs like 'Flex' and 'Tina This Is Matthew Stone'. They feature duelling vocalists Mick Derrick and Linda Steelyard, who play out an intense soap opera over a ferocious triple guitar assault and pummelling rhythm section. Their music is a heady brew of hacking guitars, Krautrock references, non sequitur lyrics and caustic narrative; messy and shambolic for sure, but a self-professed mess! The band released four albums between '94 and '99 (Pointless Walks To Dismal Places; backsaturday; The Italian Flag; The Ghost of Dead Aeroplanes), and each still manages to sound not only fresh and relevant, but also urgent, and very, very necessary. The band has received much critical acclaim, recorded four Peel sessions and toured with the likes of Stereolab and Sebadoh.
It has been said that no Prolapse experience can be deemed complete without having seen them live, when every gig felt as if it had been scripted by a quorum involving Samuel Beckett, Hunter S Thompson, Marjorie Proops and Mark E Smith. After a long hiatus, following a request from Mogwai, they reformed in 2015 to play live UK dates and have since begun work on new material. This rare outing will be Prolapse's first live performance in over three years.

SCREAMING FEMALES
Tuesday 11 September
100 Club
100 Oxford St, Oxford Street, London, W1D 1LL | Map
7.30pm | £12.00 | Buy tickets
SCREAMING FEMALES are one of those force-of-nature bands that only comes around once in a blue moon. Their story starts in New Brunswick in 2005, with Marissa on guitar and vocals, Jarrett on drums and Michael on bass. 'Power Move' was the band's first full-length with any label (or any outside help) and was released by their hometown label, Don Giovanni Records, in 2008. They've gradually sneaked into a wider mainstream consciousness, gaining attention for their punk rock sensibilities and their raucous live shows driven by Marissa's famed guitar heroics. Now Screaming Females are DIY-punk luminaries, on the cusp of celebrating 13 years as a band by releasing this February's new album, entitled 'All At Once' on Don Giovanni Records. The band collaborated with producer Matt Bayles, setting out to make an album in the spirit of a salon-style gallery show, where larger pieces provide an eye-level focal point to a galaxy of smaller works. Concision took a back seat to experimentation, with arrangements meant to evoke the energy and spontaneity of their live performances. 'All At Once' is a reminder there's a hopeful and joyful energy to underground music-making. Patience, perseverance, and long term dedication still work.

VIRGINIA WING
Thursday 11 October
OSLO
1a Amhurst Road, Hackney, London, E8 1LL | Map
7.30pm | £8.00 | Buy tickets
VIRGINIA WING are an inventive psych-pop duo based in Manchester, who take their name from Grace Slick's mother. Consisting of Alice Merida Richards (Vocals, Synths, Organ) and Samuel Pillay (Synths, guitar, noises, bass), their music is a sprawling amalgamation of experimental pop songs with texture, depth and nuance; daring, progressive and forever bold. After two previous stunning albums, Virginia Wing return on June 8th with renewed strength, optimism and clarity for their new album 'Ecstatic Arrow' (Fire Records).
'Ecstatic Arrow' borrows from the heterogeneous terrain of The Flying Lizard's 'Fourth Wall', the exuberant technology assisted pop of Yellow Magic Orchestra and the playful sophistication of Lizzy Mercier Descloux, arriving at the evergreen intersection of pop music and conceptual art. The voice of Alice Merida Richards is more compelling and expressive than ever. The glacial deadpan of previous records has given way to a more candid, self-possessed delivery, showing an appreciation for the humour and tragedy innate in the downtown Arcadia of Laurie Anderson, Robert Ashley or even Lynn Goldsmith's Will Powers. It's with this voice that Richards outlines a simple ideality that fortifies the entirety of the album - inequality pervades, destructive behaviours are inherited and each subsequent generation has to reconcile the debts of its precursor - yet a space exists within ourselves and each other that houses a fact we must be reminded of - we have the ability to choose.