NEWS
'DAUGHTERS OF THE SKY' SINGLE
15 November 2019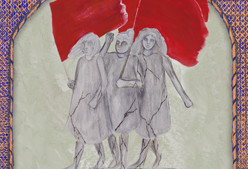 OK, let's soundtrack your weekend! Hot from their UK tour BAMBOO release a brand new digital single through Upset The Rhythm today. Their new single 'Daughters Of The Sky' astounds with its affecting synth-pop swirl. The title track from their recent album on UTR, this single is accompanied by a earth-shifting Emma Gatrill remix and exclusive live track too, available to listen to on all digital platforms now, check it out, volume up!
ROBERT ON THE RUN
7 November 2019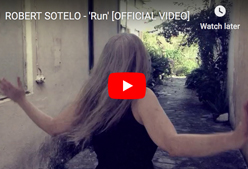 Robert Sotelo's energetic race of a 'Run' video just premiered on For The Rabbits! 'Run' is taken from his new album 'Infinite Sprawling' out now on Upset The Rhythm. On tour next week too:
14/11 - Nottingham, UK @ JT Soar
15/11 - London, UK @ New River Studios
16/11 - Oxford, UK @ Deaf & Hard of Hearing Centre
17/11 - Bristol, UK @ The Lanes
DISCO IN CHURCH
23 October 2019
Check out this extraordinary video of Rattle performing 'Disco' at x-church in Gainsborough! Thank you Orange 'Ear for recording this!
KAPUTT OUT TODAY!
27 September 2019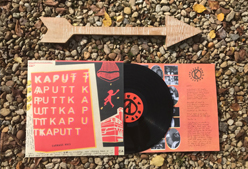 Today we release Kaputt's energetic corkscrew of a debut album 'Carnage Hall' in all its feverish, intuitive glory! Hailing from Glasgow, Kaputt race away with the playful torn edge of no-wave song, blurting out tracks with twitchy charisma, their catchy riffs circle with relish, allowing timely sax stonks and stop-start rhythms to drive things on. Vocals leap, guitars bluster and always the saxophone snakes, hypnotically drawn through the erratic beat.
There's a riot of fun at play in Kaputt's febrile racket, but there's also some deeply cerebral grooves and choice lyrical concerns evident too. 'Carnage Hall' is available on 180g vinyl in all good shops and from our webstore now!
BAMBOO VIDEO!
17 September 2019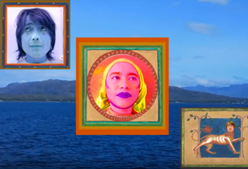 Here's a first glimpse of the highly visually rewarding 'A World Is Born' video, up now on 20 Jazz Funk Greats! What a SONG!
TOUR DATES too:
Oct 5th - London, Servant Jazz Quarters
Nov 7th - London, EartH
Nov 8th - Northampton, The Garibaldi Hotel
Nov 9th - Newcastle-Upon-Tyne, venue TBC
Nov 10th - Edinburgh, Henry's Cellar
Nov 11th - Manchester, Gullivers
x
INFINITE SPRAWLING OUT NOW!
13 September 2019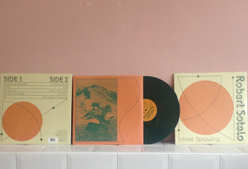 Fantastic news! Today Upset The Rhythm releases 'Infinite Sprawling', Robert Sotelo's staggering new album! Sotelo is a cosmic pop melodist, a heartfelt multi-instrumentalist whose direct songs are curiously affecting and this third album from him really sets the songwriting bar high before vaulting clean over it! 'Infinite Sprawling' is available now digitally and on heavyweight dark-green vinyl from all good shops, including our webshop!
LATEST RELEASES MIXTAPE
LINKS
UPCOMING SHOWS

RICHARD DAWSON
THE SILVER FIELD
Tuesday 19 November
MOTH Club
Old Trades Hall, Valette St, Hackney, London, E9 6NU | Map
7.30pm | £16.00 | SOLD OUT
RICHARD DAWSON, the black-humoured bard of Newcastle, returns this October with the release of his sixth solo album 2020, his first since the critically acclaimed, Peasant. 2020 is an utterly contemporary state-of-the-nation study, that uncovers a tumultuous and bleak time. Here is an island country in a state of flux; a society on the edge of mental meltdown. This is England today. On 2020, Dawson introduces us to grand themes through small lives. His are portraits of human beings struggling with recognisable (and dare we say it, relatable) concerns, conflicts and desires, each reminding us that tragedy and gallows humour are not mutually exclusive, and that the magical can sit next to the mundane. Lyrically it is by far Dawson's hardest-hitting and unflinchingly honest album to date. It is his poetic masterwork. Within, we find disgruntled civil servants dreaming of better days, anxiety-addled joggers listlessly searching Zoopla for houses they cannot afford in their spare time, amateur footballers who think they're Lionel Messi and beleaguered pub landlords battling rising floodwaters.
Sonically, Dawson's new-found fascination with pure pop music is also evident across 2020, manifesting itself in some of his most direct work to date. Melding his most melodic moments with flashes of choral dissonance, nerve-shredding crescendos, heartfelt laments and a deceptive finger-picking style. His voice is a pliable instrument throughout, moving between weathered back bar-room sage, angelic falsetto and strident, rabble-rousing hellion chief choir boy of the underworld. Dawson is a singular voice, part savant-genius, part court jester; a songwriter whose subjects and characters are often drawn from the local, the historical and the colloquial, yet have a timelessness to them, his music echoing with voices past, present and future. There is a continuity. Here is life, in all its strange and wonderful ways.
THE SILVER FIELD is a sound world of Coral Rose & friends. Voice, tapes, bass, strings, reeds, drums, small sounds, big sounds, sunlight, moonlight, a lot of water. The Silver Field released their debut album, Rooms, earlier this year on O Genesis Recordings. Rooms was recorded in Coral Rose's bedroom and on the album instruments such as the double bass, cello, guitar, mandolin, harmonium and a bagpipe chanter form loops and layers, an old SPX-90 drenching the rich sounds in delays and reverbs.

LANKUM
JOHN FRANCIS FLYNN
Thursday 21 November
Tufnell Park Dome
2A Dartmouth Park Hill, London, NW5 1HL | Map
7.30pm | £16.50 | SOLD OUT
LANKUM have an alchemical ability to combine traditional folk roots with contemporary undercurrents to forge music that is dark, mysterious and transcendental. Comprising brothers Ian Lynch (uillean pipes, tin whistle, vocals), Daragh Lynch (vocals, guitar) alongside Cormac Mac Diarmada (fiddle) and Radie Peat (harmonium, accordion, vocals), Lankum channel a diverse set of influences and histories to create a beautifully rare thing: a songbook from and for the people. Born of years criss-crossing Dublin's folk and experimental scenes, their two albums Cold Old Fire (2013, recorded under former name Lynched) and Rough Trade debut Between The Earth and Sky (2017) breath new life into ancient/modern rituals with urban punk fervour, rural psycho-geography and, underpinning it all, the eternal drone of the uilleann pipes.The Dublin based four-piece present a new live show in support of their much-anticipated 3rd album, 'The Livelong Day', out 25th October through Rough Trade Records.
JOHN FRANCIS FLYNN is a singer and multi-instrumentalist whose work centres around traditional and folk material from Ireland and further afield. He is a founding member of the band, Skipper's Alley, with whom he has toured extensively throughout Europe and America. John is an active session musician around Dublin and has recorded with artists such as Lankum and Ye Vagabonds.

THOR & FRIENDS
MARCEL WAVE
SIMON GOFF
Friday 22 November
MOTH Club
Old Trades Hall, Valette St, Hackney, London, E9 6NU | Map
7.30pm | £10.00 | Buy tickets
THOR & FRIENDS are an avant-chamber ensemble formed by polymath percussionist and all-round force of nature Thor Harris, following his tenure as a touring member of monolithic rock ensemble Swans. The project is intended as a vehicle for experimentation, with the conceptual vocabulary of American Minimalism explored and expanded on by a rotating cast of musicians from around the globe. The resultant music is an elongated greeting and ode to Thor's community, his woodworking shop, and the instruments his hands shape and bring to life. From the core trio of Harris (sundry percussion and wind instruments including some of his own devising), Peggy Ghorbani (marimba) and Sarah "Goat" Gautier (marimba, vibraphone, xylophone, organ, voice, mellotron, piano), the line-up of Thor & Friends expands and contracts with the flux of compositional and improvisational contexts. The range of tonal color depends on what instrumentalists are present or absent from the process at any given time.
Thor has been announced as the artist-in-residence for Joyful Noise Recordings in 2019. Throughout the year he will release 6 records via the label, including the third full Thor & Friends album in Autumn as well as collaborative material with artists including Bill Callahan, Margaret Chardiet (Pharmakon), Lawrence English and many more. A limited run of 666 boxsets, handcrafted by Thor and containing coloured vinyl editions of all the releases, will then be released at the end of the year.
MARCEL WAVE write eulogies for tragic actresses, ancient riverbeds and concrete obscenity. Meades meets Pat-E-Smith meets Kirklees Borough Council. Featuring members of Cold Pumas and Sauna Youth.
SIMON GOFF is a musician working in the fields of classical, experimental and alternative music. Originally from Yorkshire, UK, he now resides in Berlin, where he can be found working with a diverse range of artists and ensembles as a composer, performer and sound engineer/producer. He has worked with Federico Albanese, Beirut, Johann Johannsson, Dustin O'Halloran, Hauschka, Hildur Gudnadottir, Andrea Belfi, Thor Harris, Aidan Baker and many more.

THE GOTOBEDS
HYGIENE
THE TUBS
Tuesday 26 November
The Islington
1 Tolpuddle Street, Angel, London, N1 0XT | Map
7.30pm | £7.50 | Buy tickets
THE GOTOBEDS are a modern rock and roll sensation that has always sounded like they have to play. The group's angular tunes and buzzy guitar-fuelled attack took the sound and vision of post-punk and indie rock and put the nervy snarl of punk back into the formula. Never maligned by having the world's weight on their backs, The Gotobeds - Cary, TFP, Eli and Gavin - returned this May with their third full lengther, 'Debt Begins at 30' (Sub Pop). The esprit de corps and anxiety-free joy that permeates their other LPs and EPs remains intact. The octane is high-test, the engine still has knocks and pings and the battery is overcharged. The Gotobeds - as Pittsburgh as it gets, the folk music of the Steel City - have more tar for us to swallow. The Gotobeds jump between exuberant jangle, brooding romps with tribal beats and slash-and-burn guitar and wrecking ball anthems much like their partners-in-rock-crime Protomartyr.
HYGIENE released a slew of singles and an LP on various DIY labels in the US and the UK at the turn of the decade, now the London post-punk stalwarts return from hiatus with their sophomore effort, 'Private Sector'. Where their debut LP 'Public Sector' (2011, La Vida Es Un Mus) reflected a nostalgic longing for an unrealised socialist modernist utopia, 'Private Sector' finds them confronting the grim realities of the present. Hygiene rail against the neoliberal madness of utility cartels, tax havens and privatised railways, seizing the moment as the current period of interregnum sees the old ideological certainties come into question. Proving nostalgia to be an inescapable trap, the band continue to hearken back to the kind of post-punk that existed before anybody knew to affix the 'post' prefix. New album 'Private Sector' has the signature Hygiene sound, mixing brooding melodies with a choppy, aggressive approach and a restricted pop sensibility. However, this ever-so-slightly-more mature record finds the band taking advantage of the musicianship of their friends, mixing in the odd viola, glockenspiel, piano and keyboard. Recommended for fans of Real Ale, British Rail Class 55 Deltics, Euston station and Jeremy Corbyn.
THE TUBS aim to channel "The Tubullar Sound" ; a thick soup of influences ranging from antipodean jangle, to needling Post Punk, to traditional British Folk music. The Tubs feature former and current members of Joanna Gruesome, The Estate Agents, Garden Centre and Keel Her, music coming soon!

DAN DEACON
Thursday 6 February
Scala
275 Pentonville Road, King's Cross, London, N1 9NL | Map
7.30pm | £15.00 | Buy tickets
DAN DEACON returns in February 2020 with 'Mystic Familiar', his first album in five years and the stunning result of years of obsessive work, play, and self-discovery. It's not only his most emotionally open record but also his most transcendent! Eleven kaleidoscopic tracks of majestic synth-pop that exponentially expand Deacon's sound with unfettered imagination and newfound vulnerability. Since 2015's 'Gliss Riffer', Deacon has branched out from his core body of work into a dizzying array of collaborative projects: scoring eight films, collaborating with the New York City Ballet's resident choreographer Justin Peck on the dance piece The Times Are Racing; performing expanded arrangements of his music with the Baltimore Symphony Orchestra; and for the first time producing and co-writing an album with friends Ed Schrader's Music Beat. Throughout all this Deacon was also working on a new suite of songs that wield the profundity of a philosopher and the absurdity of a jester. These songs make up his forthcoming 'Mystic Familiar' album, painting life as a psychedelic journey brimming with bliss and disruption, darkness and light.
Opening track "Become a Mountain" immediately announces itself as something new, for the first time ever on record presenting Dan's natural singing voice, unprocessed and with only minimal accompaniment. When Deacon proclaims "I rose up" here, it is Dan Deacon singing in the first person as Dan Deacon - a startlingly vulnerable shift in a songbook abundant with characters, metaphors, and distorted vocals. "Hypnagogic" takes us deeper into Deacon's mind, a synth swirl similar to those which have begun his recent performances, absorbing the pulse of the room and extending that abstract moment in which a journey begins. From there, 'Mystic Familiar' then takes a propulsive leap with the robotic drums and soaring melodies of "Sat By a Tree" and the four-part "Arp" suite offering up a dialectic view of life. It's an album that captures an artist mindfully evolving his music from playful beginnings to encompass a prismatic cosmos of addictive ideas, melody and purpose! This special Scala show celebrates the release of 'Mystic Familiar' and Dan's long-awaited return to his spiritual kingdom of London!

SPINNING COIN
Wednesday 18 March
The Lexington
96-98 Pentonville Rd, Angel, London, N1 9JB | Map
7.30pm | £8.00 | Buy tickets
SPINNING COIN are Sean Armstrong (vocals, guitar), Jack Mellin (vocals, guitar), Rachel Taylor (bass, vocals, keyboards) and Chris White (drums). Hailing from Glasgow their cascading melodicism is topped with some amazing shredding. Their music connects into a local music scene more associated with Orange Juice, Teenage Fanclub, and of course The Pastels, who release the band's records via their Geographic Music imprint. Their music is beautifully rough-hewn guitar pop that takes in frustration, but also gracefulness and splendour, in equal measure. On February 21st, Spinning Coin will release their second album 'Hyacinth'. A brave step forward, 'Hyacinth' is an album full of poetry, light and warmth of heart, and presents a band holding nothing back. Throughout there is joy in spades, but also melancholy, and a checked fury, threading the group's political vision through their reflections on the personal and the interpersonal. Jack explains that the new songs "are about the need for love in an often very unloving world. Trying to find a balance of some kind between feelings of apathy, negativity, detachment and action, positivity and oneness." Whilst Mellin's songs were more pointedly political on debut LP 'Permo', here he has built more complexity into his writing. Ultimately Spinning Coin's ethos stays true to itself, as Sean expands about the experiences and the motivations behind the new music: "It's trying to connect with other people on a human level, doing something that we love, and trying to embrace the unknown." This show sees them head to London date during their European tour in support of 'Hyacinth' in March!

Upset The Rhythm & The Barbican present...
RICHARD DAWSON: Delight is Right
Saturday 28 March
Barbican Hall
Silk St, Barbican, London, EC2Y 8DS | Map
3pm-11pm | £17.50-25.00 | Buy tickets
RICHARD DAWSON, the Northumbrian songsmith, invites you to Delight is Right, a gathering of friends, favourites and fellow travellers across two stages, culminating in a headline full band set in the Hall. Bringing together an eclectic line-up that reflects the glorious breadth of his influences, Dawson reflects on his time-traveling, shape-shifting songcraft, as he's joined by his band to perform songs from his new album on Weird World '2020' - an unflinching meditation on contemporary Britain's psychic crisis. Dawson's music can be strangely digressive, disarmingly funny and touchingly poignant, but it's compassion that defines it. While '2020' looks to the present, forgotten stories from the past often resonate in Dawson's work, whether it's the medieval North on 'Peasant', newspaper clippings found in the Tyne & Wear Archive on 'The Glass Trunk', or a half-remembered boozy school trip on 'The Vile Stuff'. Dawson finds humanity wherever he looks.