NEWS
NEW EP FROM VITAL IDLES
18 February 2019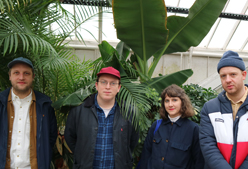 VITAL IDLES return with an epic 7" extended player for Upset The Rhythm next month! Four astonishing tracks of intensity and momentum, carefree introspection and minimal pop practice. Here's the first listen, 'Break A', courtesy of Clash Magazine, pre-order live and European tour dates announced too!
XIU XIU - OUT TODAY
8 February 2018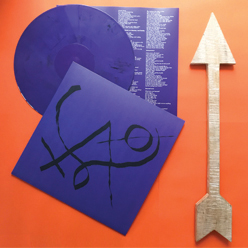 OK OK! Today we release our first record of the year and what an album this is! Xiu Xiu's brand new full-length entitled 'Girl with Basket of Fruit'. It's a total thunderclap of a record infused with tense hooks, errant electronics, disturbed spoken word and voodoo techno, proving as unsparing and impassioned as ever!
Released today on 180g purple/black marbled vinyl and on an accompanying digipak CD with an 8-page booklet of lyrics and artwork, 'Girl with Basket of Fruit' can be found in all the best record shops and through our own webshop too.
Xiu Xiu will be touring Europe in support of the album too, London falls on March 26th at the Islington Assembly Hall, a date for your diaries!
15TH ANNIVERSARY LABEL TOUR
1 February 2018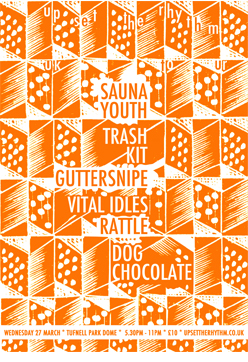 Next March Upset The Rhythm will be marking our 15th anniversary with a label showcase tour around Britain. Representing a lot of our current UK roster, the tour will see the likes of DIY punk progressives Sauna Youth, Trash Kit, Vital Idles, Robert Sotelo and Dog Chocolate perform alongside hypnotic drum and voice duo Rattle and Guttersnipe, a group who shredded their tonal territory into euphoria this year with their debut album. Within the last fifteen years UTR has organised over 1500 live events in London and racked up a back catalogue you'd have to ask a friend to help carry, 115 titles at point of writing. All about the 15! The big XV! Here are the dates!
Wednesday 27th March - LONDON - The Dome Sauna Youth, Trash Kit, Vital Idles, Rattle, Guttersnipe, Dog Chocolate
Thursday 28th March - GLASGOW - CCA Sauna Youth, Trash Kit, Vital Idles, Robert Sotelo, Rattle
Friday 29th March - LEEDS - Brudenell Sauna Youth, Trash Kit, Rattle, Guttersnipe
Saturday 30th March - MANCHESTER - White Hotel Sauna Youth, Trash Kit, Vital Idles, Guttersnipe, Robert Sotelo
Sunday 31st March - CARDIFF - Clwb Ifor Bach Sauna Youth, Trash Kit, Robert Sotelo, Rattle
RADIO SHOW: EPISODE 10
30 November 2018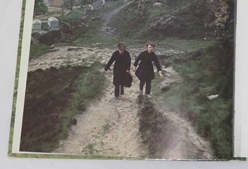 Alright! Episode 10 of our Upset The Rhythm radio show for CAMP is up here now, 120 minutes of our favourite tracks plus some live recordings from Rattle, Mary Lattimore and Terry, enjoy! LISTEN!
LATEST RELEASES MIXTAPE
LINKS
UPCOMING SHOWS

KRISTIN HERSH (Electric trio)
With ROB AHLERS (drums) & FRED ABONG (bass) FRED ABONG (support set) Sunday 10 March & Tuesday 12 March Bush Hall
310 Uxbridge Rd, Shepherd's Bush, London, W12 7LJ | Map
7.30pm | £25.00 | Buy tickets for March 10
Buy tickets for March 12
KRISTIN HERSH , most recognised as the front person for the influential art-punk band Throwing Muses and power trio 50FOOTWAVE, will be touring the UK in Spring 2019 with Rob Ahlers (50 Foot Wave) on drums and Fred Abong (Throwing Muses, Belly) on bass. Throwing Muses first gained traction in the early '80s, playing with similarly singular artists, such as The Pixies and Dinosaur Jr. They continue to release ground-breaking music, most recently with 2013's double CD masterpiece 'Purgatory/Paradise'. Kristin's solo career spun off in 1994 with the release of 'Hips and Makers', a widely acclaimed album that included 'Your Ghost', a duet with R.E.M.'s Michael Stipe. Since then, Kristin has released a steady stream of distinctly individual solo albums, including 2010's 'Crooked', released as her first in the inventive book/CD format for which she is now known.
2016's 'Wyatt at the Coyote Palace', on which Kristin played all of the instruments, received rave reviews; an explosive defined by blistering guitars, powerful drumming and her signature visceral vocal technique. Her poignant true stories bring the listener into what the BBC calls Hersh's "dark and dizzy world". In 2004, Kristin formed the noise rock power trio 50FOOTWAVE, releasing a series of frighteningly intense mini-albums, all available for download free of charge. Their most recent 'Bath White' EP was described as "a series of loud explosions, of velvet like dreams all intermingled at the same time. Bath White takes no prisoners." Kristin's writing career has flourished with the highly acclaimed 'Paradoxical Undressing' (released as 'Rat Girl' in the USA) and the award winning 'Don't Suck, Don't Die', a personal account of her long friendship with the late Vic Chesnutt, as well as the enchanting books which now accompany each of her record releases. Kristin's tenth studio album, 'Possible Dust Clouds' (out this October on Fire Records) is a highly personalised sociopathic gem delivered as a futuristic rewriting of how music works, a melodious breeze with a tail wind of venomous din. Enveloping the juxtaposition of the concept of 'dark sunshine', a brooding solo record created with friends to expand her off-kilter sonic vision; a squally, squeaky mix of discordant beauty. 'Possible Dust Clouds' is a glorious return to form for one of alternative rock's true innovators.
FRED ABONG (solo set) will be supporting Kristin on her current UK tour dates. Fred is a friend of Kristin's and former Throwing Muses and Belly bass player. Fred will be touring his new solo acoustic EP, described by himself as sounding like a "ragged Replacements".

THE SHIFTERS
DRY CLEANING
THE COOL GREENHOUSE
Thursday 14 March
The Islington
1 Tolpuddle St, Angel, London, N1 0XT | Map
7.30pm | £7.00 | Buy tickets
THE SHIFTERS are a quintet from Melbourne, who after two 7" singles and demo tape, just unveiled their first proper full-length album entitled 'Have a Cunning Plan' (Trouble In Mind). Recorded at Al Montfort of Total Control/Terry's home studio, 'Have A Cunning Plan' ups the fidelity a bit, tempering the up-front crunch of their previous demo. The sonic space suits the band, allowing the unpretentious complexity of the songs & lyrics to generate the "oomph" rather than bludgeoning the listener with treble and feedback. The album showcases ten new tracks by the band at their best; scrappy, self-destructive, stumbling and brilliant pop music that seems tossed off or nonchalant on the surface but is rife with rewards upon further listening. Early album bangers like 'Molasses' and the first single 'Work/Life, Gym Etc' are instant earworms, (as are 'Straight Lines' & 'Pyramid Scheme', the latter reworked from a recent 7") but it's the simple-yet-sophisticated songcraft of tunes like 'How Long?' or the languid strum of 'Andrew Bolt' that are heavy on mood and are vehicles for vocalist/guitarist Miles Jansen's erudite lyrics that simultaneously celebrate and decry the banality of life, while also tackling larger issues of colonialism conservatism's effects on society at large. On the surface, there's no denying the band owe a heavy debt to The Fall, but whatever seeds were planted by the late, great Mark E. Smith, have gestated into an animal all their own. 'Have A Cunning Plan' aims to take them towards a greater plane.
DRY CLEANING are a south London quartet who carve out vast post punk canyons with a dry, narrative-driven vocal. You can hear the everyday collide with the profound in their songs, which are as insightful and acutely honest as they are highly catchy. Check out their 'Sweet Princess' tape right now!
THE COOL GREENHOUSE make lo-fi, repetitive post-punk with a social conscience. Their debut 7" on Market Square is a treat of elusive DIY moves and sarcastic wit. Very reminiscent of the early 80s post-punk cassette scene and messthetics compilation groups.

NATE YOUNG
JOHN R. SPYKES
Friday 22 March
IKLECTIK
Old Paradise Yard, 20 Carlisle Lane (Royal Street corner), London, SE1 7LG | Map
7.30pm | £11.00 | Buy tickets
NATE YOUNG is a founding member of seminal Detroit noise band Wolf Eyes. More recently he's been honing an equally distinctive solo sound that blends myriad sources from musique concrete, vintage film atmospherics, layered synths and archive library recordings into something thrillingly intense. Summoning up crushingly ominous crepuscular soundscapes and synth-washed phantasmagoria, Young undercuts the brutalism of Wolf Eyes with the kind of ambient dread that conjures images of lost horror soundtracks from the 70's. Minimal analogue synth violence is punctuated by thunder cracks of metal percussion ala the early Akita/Null Merzbow duets, massively doomy beat hypnotics and an atmosphere that's somewhere between the most apocalyptic Throbbing Gristle recordings. This February sees the release of 'Dilemmas of Identity', volume one in a new multi-part series of solo releases from Young for Lower Floor Music. These songs were commonly made as a distraction from grief, seasonal depression and isolation. Sometimes severely ridiculous and unrelenting, other times slow, sparse and strange.
JOHN R. SPYKES aka Inzane Johnny of Wolf Eyes and American Tapes will be treating us to a solo slice from his mind platter, featuring damaged rippers and modulations galore. As a part of Wolf Eyes, John Olson is responsible for augmenting the USA's longest-running homemade, primitive, electronic, poetry & radical vibes trio. They don't just release albums they launch scotched, taped nuclear audio fronts on humanity. Spykes is a project Olson has visited many times since its inception in 1999, constantly unearthing new sounds from the same old grey feelings of Midwestern winters inside. Absolute free jams promised, firing on all cylinders, a warped madness of atomised sonics.

DAVID NANCE GROUP
YERBA MANSA
Monday 25 March
The Shacklewell Arms
71 Shacklewell Lane, Dalston, London, E8 2EB | Map
7.30pm | £7.00 | Buy tickets
DAVID NANCE GROUP is nothing if not prolific. Over the course of the past six years, the Omaha, NE musician has released three full-length albums for labels Grapefruit and Ba Da Bing, a 7-inch, numerous cassettes, CDRs and unlicensed "cover albums" of artists like Lou Reed, The Beatles, Rolling Stones and Doug Sahm. His latest full-length is credited to the 'David Nance Group' and features Nance alongside his recent hot-live band of fellow Omaha musicians; guitarist Jim Schroeder, bassist Tom May and drummer Kevin Donahue. Appropriately, the new album is called 'Peaced and Slightly Pulverized' as the sounds therein are alternatingly tender & brusque. Nance has an enviable way of conveying intensity and pathos in his music without necessarily resorting to clicking on a distortion pedal, instead relying on the build-up and tension from the interplay of his bandmates with his cracked, impassioned wail. There's also plenty of fuzz and distortion too, from the anthemic 'Poison' with its fuzzed-out guitar riff that leans into a Crazy-Horsian guitar maelstrom and white-hot solo, to 'Ham Sandwich'; a blisteringly frantic rant about a lunchtime torment - uncomfortable in its directness. Respite comes with '110 Blues's languid late-night desert psychedelia, and side one closes with the epic seven and a half minute 'Amethyst', expanded & jammed upon from 2017's Richie Records single into an emotional odyssey with Nance & Schroeder strangling their guitars into a twin-guitar, barbed-wire duel. The album's centerpiece is 'In Her Kingdom', an emotive ballad that fades into view with a plaintive guitar strum, and over seven minutes ebbs and flows with a rising tide of swelling guitars, it's riffs gilding the melody & adding flecks of gold to Nance's tale of poverty and grace. Alternately, 'When I Saw You Last Night' stalks the night like a predator, finally finding its prey two and a half minutes in with a stinging, blood-drenched guitar solo. The album closes with 'Prophet's Prot's biting commentary on false idolatry that again utilises the group's not-so-secret weaponry of Nance and Schroeder's six-string simpatico to bring the listener home. 'Peaced and Slightly Pulversized' is out now on Trouble In Mind.
YERBA MANSA consists of Edwin Stevens (Irma Vep, Sex Hands, Klaus Kinski etc) and Andrew Cheetham (ABC trio, Birchall/Cheetham duo etc), two of UK's most prolific purveyors of raging, outer-limits rock-ism. Both members of free-rock army Desmadrados Soldados de Ventura as well as countless other projects, they take a similar blueprint for their head-to-head skyscraping duo, only with a singularity of heavy chord chug that aligns them with Gown or even Michael Flower & Chris Corsano. Sizzling, stifling and ever so slightly ear-scraping, Yerba Mansa is a must for any lover of untamed guitars. 'Untilted' LP out now on Deep Distance. Forthcoming LP "The Cleaner" to come this year!

XIU XIU
JOHN BENCE
Tuesday 26 March
Islington Assembly Hall
Upper St, Islington, London, N1 2UD | Map
7pm | £13.50 | Buy tickets
XIU XIU is the conduit for the uncompromising and unnervingly personal musical works of Los Angeles-based multi-instrumentalist Jamie Stewart, plus a roll call of collaborators both in studio and onstage. Streaming forth a ceaseless torrent of releases, side projects, art offerings and extensive international touring since 2002, Xiu Xiu's music has veered from damaged avant-pop to artfully orchestrated rock, squalls of black-hearted noise and most bases around and between, ever served with a bruising honesty and intensity that has ripped out the hearts of a legion of obsessive listeners.
Newly announced Xiu Xiu album, 'Girl with Basket of Fruit' (out Feb 8th on Upset The Rhythm), is a rowdier, yet more stylistically splenetic offering than 2017's 'Forget', with the usual eye-catching list of collaborators this time including Eugene Robinson (Oxbow), Devin Hoff and Haitian percussionists Emmanuel Obi and Ayo Okafor. For this live operation in London Xiu Xiu will manifest in the form of Jamie Stewart, Thor Harris (best known for his percussion work in Swans) and Jordan Gieger (Minus Story/Shearwater).
JOHN BENCE is a composer and producer from Bristol, whose work tackles epic narrative themes and uncompromising sonics with a juddering emotional punch. Bence's first record, 'Disquiet' was a sort of palimpsest of a re-scored composition, whilst new album 'Kill' finds him unfurl a shocking three part movement for vocals, cello and bellicose drums that should leave no one uncertain of his talents. And in that sense it's really not hard to hear why his music has been snapped up for release by Yves Tumor's label, as the pair patently share a feel for music both fuelled by and navigating overwhelming emotion. 'Kill' is out now on the Grooming imprint.

Upset The Rhythm 15th anniversary label party!
SAUNA YOUTH
TRASH KIT
GUTTERSNIPE
VITAL IDLES
RATTLE
DOG CHOCOLATE
Wednesday 27 March
Tufnell Park Dome
2A Dartmouth Park Hill, Tufnell Park, London, NW5 1HL | Map
5.30pm-11pm | £10.00 | Buy tickets
Next March Upset The Rhythm will be marking our 15th anniversary with a label showcase tour around Britain. Representing a lot of our current UK roster, the tour will see the likes of DIY punk progressives Sauna Youth, Trash Kit, Vital Idles and Dog Chocolate perform alongside hypnotic drum and voice duo Rattle and Guttersnipe, a group who shredded their tonal territory into euphoria this year with their debut album. Within the last fifteen years UTR has organised over 1500 live events in London and racked up a back catalogue you'd have to ask a friend to help carry, 115 titles at point of writing. We've always been proud to have a forward-facing, open-minded attitude towards the label, letting it be a reflection of our own personal tastes. This has led to the label's scope becoming truly international. We work with artists from Australia like Terry, The Green Child and School Damage, European acts like Pega Monstro, Makoto Kawabata and Pikacyu from Japan and Darlene Shrugg from Canada. We also release US acts such as Deerhoof, Xiu Xiu and The World and have been responsible for discovering the talents of John Maus, Future Islands and No Age with debut releases from all. It's certainly kept us busy, alongside all this, we've been tireless in our support of the noise next door, providing a platform for Britain's enthralling musical underground in all its many forms. It's this side of things we're choosing to highlight with this tour and London show, help us celebrate the big XV on our doorstep, before we wander off through the kingdom! This London show kick starts the tour and will feature:
These are the other dates:
Thursday 28th March - GLASGOW - CCA with:
Sauna Youth, Trash Kit, Vital Idles, Robert Sotelo, Rattle
Friday 29th March - LEEDS - Brudenell with:
Sauna Youth, Trash Kit, Rattle, Guttersnipe
Saturday 30th March - MANCHESTER - White Hotel with:
Sauna Youth, Trash Kit, Vital Idles, Guttersnipe, Robert Sotelo
Sunday 31st March - CARDIFF - Clwb Ifor Bach with:
Sauna Youth, Trash Kit, Robert Sotelo, Rattle

JANDEK
Tuesday 2 April
Bush Hall
310 Uxbridge Rd, Shepherd's Bush, London, W12 7LJ | Map
7.30pm | £18.00 | Buy tickets
JANDEK is the musical project of Corwood Industries, a record label that operates out of Houston, Texas. Since 1978, Jandek/Corwood Industries has independently released over 100 albums/DVDs of unusual, often emotionally dissolute folk, rock and blues songs without ever granting an interview or providing any biographical information. Jandek often plays a highly idiosyncratic and frequently atonal form of folk, rock, punk, country, classical and blues music, at times using an open and unconventional chord structure. The name 'Jandek' is most commonly used to refer specifically to the project and not an individual.

THE FLYING LUTTENBACHERS
MOSQUITOES
Friday 5 April
Moth Club
Old Trades Hall, Valette St, Hackney Central, London, E9 6NU | Map
7.30pm | £10.00 | Buy tickets
THE FLYING LUTTENBACHERS are a touchstone punk jazz/brutal prog/no wave group who steadily deconstructed music and reality between 1991-2007 with their 16 releases and more than 400 performances around the world. Now, in 2019, the band is back with a new lineup, new music and a new full-length album out soon. In the interim, leader and composer Weasel Walter shifted his expansive energies into the world of free improvisation, recording dozens of albums and playing with hundreds of internationally known musicians, as well as touring the planet with Lydia Lunch, Cellular Chaos, XBXRX, Behold The Arctopus and many others. In 2017, The Flying Luttenbachers reformed and made a week long tour of France, performing an hour long set of classic material from the entire catalog. The latest incarnation of the band is based in New York City, featuring Tim Dahl (Ava Mendoza's Unnatural Ways, GRID) on bass guitar, Matt Nelson (GRID, Elder Ones, etc.) on tenor saxophone, Brandon Seabrook on guitar and Weasel Walter on drums. For this April 2019 tour, Seabrook will be replaced by UK guitar strangler Alex Ward, who cut his teeth playing as a teen with legendary improviser Derek Bailey. The band was recently invited to open a run of three sold out New York shows headlined by The Oh Sees last October. The Flying Luttenbachers have recorded a brand new double LP entitled 'Shattered Dimension' which will be released on ugEXPLODE and Ty Segall's imprint GOD? Records this April.
MOSQUITOES are a crypto, avant rock trio, who have captured the attention of more than a few heads over the past couple of years. After two self-released offerings, their latest EP on Ever/Never Records sealed the deal with its swarming mass of dubwise, no wave indebted confusion.

COOLIES
THE RENDERERS
FUN FUN FUNERAL
Saturday 6 April
The Lexington
96-98 Pentonville Rd, Angel, London, N1 9JB | Map
7.30pm | £8.00 | Buy tickets
COOLIES have been blurting out random batches of high order avant garage spew since 1997. Sjionel Timu and Tina Pihema are the core of the band. Formed in the sprawl of South Auckland, New Zealand while they were still teens, Coolies were ostensibly a 'punk' unit, but their sound was never doctrinaire. Through sheer weirdness and strength of vision, they created music that paralleled aspects of underground noise from the forests of Olympia Washington, the squats of West London, and the basements of Dunedin. Without resorting to formal revisionism, they've managed to take the basics of the early Rough Trade sound and smudge it with fingers dipped in the art-readymades of NZ's underground pop groups and their own fevered experimentalism.
For a good chunk of the last decade, Stefan Neville (aka Pumice) was their drummer. This line-up cut a great LP, Master, for Chapter Music, and an even more dastardly EP, Punk Is Bread, for Epic Sweep. Most recently they presented, Kaka, gruntily produced by Neville on Feeding Tube Records. The tunes on Kaka were recorded in a couple of long jam sessions, then teased and smooshed into 'shape' over the course of a year or so. The results, much like their live show are both propulsively fetching and utterly fried.
FUN FUN FUNERAL make brightly coloured songs like beautiful collages, always with a little glue overlapping. Bold songwriting, dense lo-fi arrangements, a dark and happy poem. With their specially crafted samples, scraped and scratched strings, high voices, percussions, the duo exhibits original pop songs of yesterday and tomorrow.

ALEX REX
Wednesday 10 April
SET Space
27A Dalston Lane, London, E8 3DF | Map
7.30pm | £6.00 | Buy tickets
ALEX REX is the solo project from Alex Neilson (founding member and songwriter of folk-rock band Trembling Bells & collaborator with Bonnie Prince Billy) and friends. Singing songs of love, loss and loathing. This is his first UK tour to promote new album 'Otterburn' (Tin Angel Records). Known for his continuing collaborations with Alasdair Roberts and Richard Youngs, and for his work with the elusive Jandek, Alex grew up in Leeds and now resides in London. An accomplished drummer, percussionist and singer who draws from jazz, psychedelia and the darker side of folk music, 'Otterburn' reunites Alex with two of his Trembling Bells band mates, Lavinia Blackwall and Mike Hastings. Aside from being a staple part of the folk-rock revival, Rex has performed alongside artists including Lucky Luke, The One Ensemble of Daniel Padden, Ashtray Navigations, Alastair Galbraith and Isobel Campbell. He has also toured with several folk artists who have enjoyed a late rediscovery of their work, including Scott Fagan, Nick Garrie, Mike Heron and Shirley Collins. Alex's new release was the product of a cataclysmic event in his personal life which happened in April 2017. Sadly, Alex's brother Alastair passed away unexpectedly in his sleep on his canal boat in Leeds. The youngest of three boys, Alastair embodied all his family's best qualities and was a charming and spontaneous friend to anyone lucky enough to cross his path. Forged in pain and made in Glasgow, Otterburn heaves with sorrow, despair, a sense of humour and a unique perspective that could only come from experiencing deep loss.
IRMA VEP
ES
Thursday 11 April
The Islington
1 Tolpuddle St, Angel, London, N1 0XT | Map
7.30pm | £6.00 | Buy tickets
IRMA VEP is a loner, a joker, a roamer, a ribald construct riddled with both earnest anxiety and mercurial songwriting talent birthed by a young Edwin Stevens in Llanfairfechan, North Wales. Thrust into life after his mum bought a four track recorder for him, Edwin started recording for the cathartic process rather than the outcome. Having since fully grown into Irma Vep and now residing in Glasgow, Stevens' discography has expanded to document every aspect of his music, from ecstatically free group experiments to bare, sparse songwriting that cuts to the quick, shorn of ornament or pretence.
Stevens moonlights in several other groups (Sex Hands, Klaus Kinski, Desmadrados Soldados De Ventura, Yerba Mansa), bringing with him an instantly recognisable guitar language. However, it's in Irma Vep that his most life-affirming, troubling and thrilling music is made.Much Irma Vep feels like what "classic" music should feel like if it weren't so Classic. Each record, each song and each performance exists as an evolving drama. Edwin has toured the West Coast of America after being invited by Chris Johanson to play his Quiet Music Festival of Seattle and Portland. Irma Vep's latest offering 'Evil', talks of repression and the consequences of repression,channeling Edwin's influences of The Rebel, Lou Reed, Katherine Dunn, Dennis Cooper, Michael Yonkers, Gorky's Zygotic Mynci, Cat Power, Smog, Henry Flynt and Nico.
ES are the soundtrack to your no-wave nightmares, proffering 'mutant synth-punk for our dystopian present' (Jes Skolnik). Ethereal synths, tense basslines, wired drums and cold vocals collide, proving curiously dark, intense and unrelenting. After releasing their debut 'Object Relations' 12" EP on La Vida Es Un Mus in 2016, all members now reside in London and are working towards an album in 2019. ES feature members of Public Service, The Worms, Primetime and Scrap Brain.
LEA BERTUCCI: Projection/Reflection
Tuesday 16 April
IKLECTIK
Old Paradise Yard, 20 Carlisle Lane (Royal Street corner), London, SE1 7LG | Map
7.30pm | £10.00 | Buy tickets
LEA BERTUCCI is an American composer and performer whose work describes relationships between acoustic phenomena and biological resonance. In addition to her instrumental practice, (alto saxophone and bass clarinet), her work often incorporates multi-channel speaker arrays, electroacoustic feedback, extended instrumental technique and tape collage. Deeply experimental, her work is unafraid to subvert musical expectation. Her discography includes a number of solo and collaborative releases on independent labels and last year she released the critically acclaimed 'Metal Aether' on NNA tapes, as well as a commission for percussion ensemble Tigue and a second edition of her much anticipated graphic score book, 'The Tonebook', on Inpatient Press. She has performed extensively across the US and Europe with presenters such as The Kitchen, PS1 MoMA, Blank Forms, The Walker Museum, Roulette, ESS Chicago, Sound of Stockholm Festival, and the Le Guess Who Festival. She is a 2016 MacDowell Fellow in composition and a 2015 ISSUE Project Room Artist-in-Residence. For this special concert in London, Betucci will present her new sensory Projection/Reflection performance.

BRIGID MAE POWER
AOIFE NESSA FRANCES
Tuesday 23 April
Cafe OTO
18-22 Ashwin St, London, E8 3DL | Map
7.30pm | £10.00 | Buy tickets
BRIGID MAE POWER is an Irish singer-songwriter and multi-instrumentalist who, like Judee Sill, Micky Newburyor Linda Perhacs before her, paints her songs in dreamily expansive strokes, transporting earthly compositions into universal and exultant realms. Her self-titled debut on Tompkins Square was a majestic suite of reverb-swathed laments for voice, guitar, piano, accordion, and harmonium, recorded at the Portland studio of key musical foil Peter Broderick. Themes include transformation, change, motherhood, acceptance, strength, courage and trust. In the words of Power, the album was about "trusting if you lose yourself or your way - you can come back". New album 'The Two Worlds' is another masterful collection of effortless, hypnotic folk, and an album that furthers the songwriter and multi-instrumentalist's already stellar reputation. Live, Brigid can encapsulate the timeless magic of her songs either solo or as a duo with Peter. Thus far she has toured throughout Ireland, UK and the US together with artists including Lee Ranaldo, Richard Dawson, Alasdair Roberts, Peter Broderick and Ryley Walker, with performances at Le Guess Who? and TUSK festivals along the way.
AOIFE NESSA FRANCES is a Dublin born musician and singer-song writer. She is inspired by the poetic styles of folk music and psychedelic rock.

PRIESTS
Thursday 16 May
100 Club
100 Oxford Street, London, W1D 1LL | Map
7.30pm | £12.00 | Buy tickets
PRIESTS are a group of rock iconoclasts from Washington, DC. Bred in punk, Priests play rock'n'roll that is as intellectually sharp as it is focused on pop's thrilling pleasure centres, that is topical without sloganeering. The high-wire physicality of their live shows and their commitment to cultural, political, and aesthetic critique have all made Priests truly subversive in a literal sense, doing things you would not expect. With fireworks of noise and arresting melodies both, Priests' 2017 debut album 'Nothing Feels Natural' feels urgently present for an album heralded as a modern punk classic. This April they return with their second album 'The Seduction of Kansas' out on their own imprint Sister Polygon Records. Entering their eighth year as a band, Priests drummer Daniele Daniele, vocalist Katie Alice Greer, and guitarist G.L. Jaguar remain an inspired anomaly in modern music. A band on its own label jolting the greater music world with early releases by Downtown Boys, Snail Mail and Sneaks, they are living proof that it is still possible to work on one's own terms, to collectively cultivate one's own world. New single, 'The Seduction of Kansas', is Priests' purest pop song to date. It is dark and glittering, though there is still something fantastically off about it, decadent and uneasy at once. Its title is a moving target, probing questions about the realities and mythologies of America in 2019 without giving in to easy answers.

ANA DA SILVA & PHEW
Monday 27 May
St Pancras Old Church
Pancras Road, King's Cross, NW1 1UL | Map
7.30pm | £10.00 | Buy tickets
ANA DA SILVA & PHEW have a new collaborative album entitled Island, full of absorbing textures, tactile beats, and a masterfully dynamic compositional style. Each cavernous track feels like a conversation, and out of the ominous dark comes a generative hope. Ana and Phew contribute pointillist bits of spoken word in each other's native tongues of Portuguese and Japanese, reflecting on isolation, friendship, and nature. The quotidian is made profound. A gripping mood is set by the shared stoicism and subtle playfulness of these two cult punk icons. Island's logic is one of wise minimalism. There is a feeling of discovery that will be familiar to Raincoats fans, a sense of poetry and inquisitiveness, of intuition and invention, of new languages taking shape.
Ana da Silva is a founding member and songwriter of the pioneering post-punk band The Raincoats. Across four daring full-length records, The Raincoats helped shape the timeless notion that punk is what you make it - an act of raw expression, not any one sound. The Raincoats have offered creative and spiritual inspiration for several generations of artists. They set a crucial precedent for feminist work within a DIY punk context, marked all the while by Ana's poetic lyrical style and innovative noise guitar playing.
After The Raincoats' hiatus in 1984, Ana collaborated with The Go-Betweens, This Heat's Charles Hayward and choreographer/dancer Gaby Agis. Ana returned to song writing and performing with The Raincoats after Kurt Cobain invited them to tour with Nirvana shortly before his untimely death in 1994, and they released an album 'Looking in the Shadows' in 1995 on DGC and Rough Trade. In 2005, Ana released her solo debut, 'The Lighthouse' - a self-recorded collection of spare, elegant experiments in electronic indie-pop. Ana's recent appearances with The Raincoats include a 2016 collaboration with Angel Olsen for Rough Trade's 40th anniversary, as well as a 2017 presentation at The Kitchen, New York of The Raincoats and Friends, a celebration of Jenn Pelly's book The Raincoats.
Phew consolidated her binary interests as a vocal performer and analogue electronics improviser with the 2017 release of her album 'Voice Hardcore'. Indeed, since her 2013 conversion to analogue electronics Phew has continued evolving her live solo project around the world. In 2015 she released her first almost entirely solo-driven album, aptly titled 'A New World', on the Japanese label Felicity featuring nine songs backed by herself on electronics and drum machine, with contributions from Deerhoof guitarist John Dieterich, and synthesizer / electronics player Hiroyuki Nagashima.
In 1978 Phew started out as the singer in Aunt Sally, the Osaka punk group who released just one outstanding album on Vanity Records. A year later Phew released her debut solo single, produced by Ryuichi Sakamoto. In 1981 she made her debut solo album 'Phew' at legendary producer Conny Plank's studio near Cologne, accompanied by Plank, and Holger Czukay and Jaki Liebezeit. She returned to Conny's studio to make 'Our Likeness' (Mute, 1992) with Jaki Liebezeit, former DAF/Liaisons Dangereuses member Chrislo Haas and Einsturzende Neubauten's Alexander Hacke. And in 2011, she and Erika Kobayashi formed Project UNDARK to record the texts of 'Radium Girls' with music by the late Dieter Moebius, of Cluster. In Japan she has made a series of acclaimed records under her own name and with leading bands such as Novo Tono and her contemporary punk group Most too.

LANKUM
Tuesday 28 May & Wednesday 29 May
In collaboartion with Cafe OTO
18-22 Ashwin St, London, E8 3DL | Map
7.30pm | £16.50 each day, £ 30 two-day pass | Buy tickets
LANKUM have an alchemical ability to combine traditional folk roots with contemporary undercurrents to forge music that is dark, mysterious and transcendental. Comprising brothers Ian Lynch (uillean pipes, tin whistle, vocals), Daragh Lynch (vocals, guitar) alongside Cormac Mac Diarmada (fiddle) and Radie Peat (harmonium, accordion, vocals), Lankum channel a diverse set of influences and histories to create a beautifully rare thing: a songbook from and for the people. Born of years criss-crossing Dublin's folk, squat and experimental scenes, their two albums 'Cold Old Fire' (2013, recorded under former name Lynched) and Rough Trade debut 'Between The Earth and Sky' (2017) breath new life into ancient/modern rituals with urban punk fervour, rural psycho-geography and, underpinning it all, the eternal drone of the uilleann pipes. This event with Cafe OTO presents an intimate two night residency for Lankum, debuting a new live show, alongside special guests.