NEWS
WETDOG'S 'DIVINE TIMES'
10 March 2015

We're really overjoyed to announce today our forthcoming album for WETDOG.
Entitled 'Divine Times,' it'll be released on 4 May and is available to pre-order right now on 180g white vinyl.
You can listen to the fruits of their labour straight away with the first outstanding track from the album, "Messages," streaming in our mixtape below.
Or check out the video for title track "Divine Times," as premiered over at Impose.
LATEST RELEASES MIXTAPE
LINKS
UPCOMING SHOWS

SCREAMING FEMALES
GLOBELAMP
WILD WILDERNESS
Friday 24 April
The Lexington
96-98 Pentonville Road, Islington, N1 9JB | Map
8:00 | Sold out
SCREAMING FEMALES are one of those force-of-nature bands that only comes around once in a blue moon. Their story starts in New Brunswick in 2005, with Marissa on guitar and vocals, Jarrett on drums and Michael on bass. With no all-ages venues in town, the band met their biggest obstacle at the start - finding places to play. But the solution (if there is no venue to play, create your own show space in your basement) was the driving force behind the DIY work ethic that would eventually propel the band forward. 'Power Move' was the band's first full-length with any label (or any outside help) and was released by their hometown label, Don Giovanni Records, in 2008.
They've gradually sneaked into a wider mainstream consciousness, gaining attention for their punk rock sensibilities and their raucous live shows driven by Marissa's famed guitar heroics. Now Screaming Females are on the cusp of celebrating 10 years as a band and are celebrating by releasing their recent seventh album, entitled 'Rose Mountain' on Don Giovanni Records. Setting out with a vision so clear that it almost became a studio mantra, the resulting songs are concise, crisp and melodic, in essence creating at once their most complex and accessible record to date.
GLOBELAMP sees Elizabeth Le Fey's cosmic consciousness roam between the psychedelic whimsy of Syd Barett and a menagerie of ethereal, somber folk music inspired by Karen Dalton, Vashti Bunyan, and Conor Oberst. It's an enchanted tone that comes to life on her eight-track recordings about childhood and death; a story she tells through a folkie psychedelic murk coloured by the forests of California and Washington, her endless curiosity about everything from spiders to tarot cards, and a broken heart. It's as if she grew up reading German fairy tales and listening to equal parts Grace Slick and Stevie Nicks. As a result, her music wraps around you like a 19th century burial dress covered in sunflowers. Songs like "Breathing Ritual" evoke a space-age Americana quality, with down-tuned guitars and the gothic allure of a teenage Kate Bush and the murmuring of a traveling artist caravan. Check out here recent LP 'Star Dust' now!
WILD WILDERNESS, although mostly solitary, will hunt together in pairs. Notorious for their strength, ferocity and toughness - they have been known to savagely and sonically attack when escape is impossible. Vocalising through plaintive whines, Wild Wilderness are virtually tireless in combat. Combining pop sensibilities with moments of sonic confusion, Wild Wilderness play a unique brand of off-kilter rock music.

MOON DUO
PINKSHINYULTRABLAST
Thursday 30 April

Village Underground
54 Holywell Lane, Shoreditch, EC2A 3PQ | Map
7:30 | £12 | Buy tickets
MOON DUO formed in San Francisco in 2009 by Wooden Shijps guitarist Ripley Johnson and Sanae Yamada. Their first two critically acclaimed EPs fused the futuristic pylon hum and transistor reverb of Suicide or Silver Apples with the heat-haze fuzz of American rock 'n' roll to create tracks of blistering, 12-cylinder space rock. This set the template for their debut album 'Mazes', which evolved into a far broader, lighter, sound. That's most clear on the dreamy organ and skipping riff of the title track, which recalls the Velvet Underground, or the handclaps and swinging organ bloops over the potent shredding and guttural riff delivered by Johnson in 'When You Cut'. 2013, saw Moon Duo release 'Circles', their second full-length LP. The groundwork for the album was laid at the band's home in Blue River, Colorado in the early months of 2012, where all songs were written, and the preliminary tracks recorded. Inspiration for many of the songs themes, as well as the title 'Circles', came from Ralph Waldo Emerson's 1841 essay by the same name, on the symbol and nature of "the flying Perfect."
Moon Duo's brand new album was released last month also by Sacred Bones and is entitled 'Shadow of the Sun'. Exploring the record, you'll hear the song "Night Beat," with its off-kilter dance rhythm, as an attempt by the band to find deeper meaning across the shifting ground of their constant experimentalism, whilst tracks like "Wilding" deliver that at once familiar Moon Duo sound, taking refuge in a repetitive, grinding riff-scape. It's not so much a psychedelic album as it is a psychedelic trip and their live shows can attest to that!
PINKSHINYULTRABLAST are a five piece from Russia's St Petersburg whose artistic desire was to create something radically different from the "totally boring" local indie scene that surrounded them at home. If you carry any dreary, grey-stained stereotypes of what Russian rock is, prepare to have your imagination cremated by the euphoric and latitudinous shoegaze blend of their debut album, 'Everything Else Matters', which anchors itself somewhere between Cocteau Twins-ian atmosphere and the melodic glitter of a Polica record.
Inspired by a classic Astrobrite album that "researched spaces between ambient, heavy guitar and pop music", the band preach their mantra via the juxtaposition of lead singer Lyubov's tender female vocals against pure and epic waves of lush instrumentation. However, the real pay off comes from band member Rustam, whose contribution - labelled as "synths and electronics" - gives the entire thing the kind of kaleidoscopic melancholy that comes across like Andrew Weatherall mulling life over on a summer afternoon. New release, 'Ravestar Supreme' evokes elegiac, widescreen visions of scenery passing by your speeding window in a shimmering minor key and is available now through Club AC30.

RICHARD DAWSON
POWERDOVE
LONDON SCARED HARP
Wednesday 13 May
Bethnal Green Working Men's Club
44-46 Pollard Row, Bethnal Green, E2 6NB | Map
8:00 | Sold out

SIR RICHARD BISHOP
MARKERS
Friday 22 May

The Tin Tabernacle
12-16 Cambridge Avenue, Kilburn, NW6 5BA | Map
7:30 | £10 | Buy tickets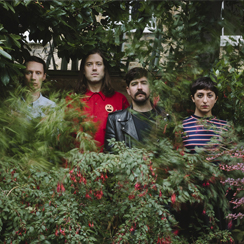 MONOTONY - 7" LAUNCH PARTY
Monday 25 May

Power Lunches
446 Kingsland Road, Dalston, E8 4AE | Map
2:00 matinée | £5 | Buy tickets

THE JULIE RUIN
Tuesday 26 May

Electric Ballroom
184 Camden High Street, Camden Town, NW1 8QP | Map
7:30 | Sold out

ROSE MCDOWALL
THE WHARVES
Thursday 28 May

St Pancras Old Church
Pancras Road, King's Cross, NW1 1UL | Map
7:30 | £9 | Buy tickets

PROLAPSE
ART TRIP AND THE STATIC SOUND
Friday 29 May

The Victoria
451 Queensbridge Rd, Dalston, E8 3AS | Map
7:30 | Sold out

PROLAPSE
THE WOLFHOUNDS
Saturday 30 May

The Victoria
451 Queensbridge Rd, Dalston, E8 3AS | Map
7:30 | £10 | Buy tickets

MIKAL CRONIN
Monday 1 June

100 Club
100 Oxford Street, W1D 1LL | Map
7:30 | £10 | Buy tickets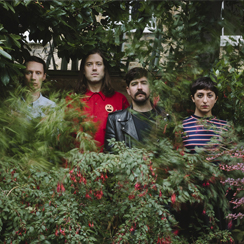 SAUNA YOUTH - ALBUM LAUNCH PARTY
Friday 5 June

The Old Baths
80 Eastway, Hackney Wick, E9 5JH | Map
8:00 | £5 | Buy tickets

NO BABIES
MARGY PEPPER
COMMISERATIONS
Tuesday 9 June

The Victoria
451 Queensbridge Rd, Dalston, E8 3AS | Map
8:00 | £6 | Buy tickets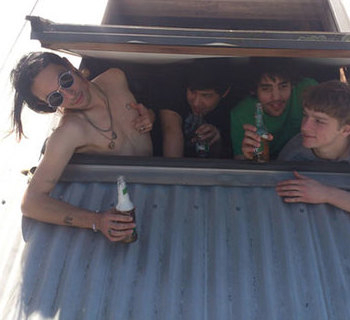 AUSMUTEANTS
Wednesday 10 June

The Shacklewell Arms
71 Shacklewell Lane, Dalston, E8 2EB | Map
8:00 | £6 | Buy tickets

LITURGY
CIRCUIT DES YEUX
Thursday 11 June

Electrowerkz
7 Torrens Street, Angel, EC1V 1NQ | Map
8:00 | £9 | Buy tickets

DAN DEACON
Tuesday 16 June

Oval Space
29-32 The Oval, Cambridge Heath, E2 9DT | Map
7:00 | £15 | Buy tickets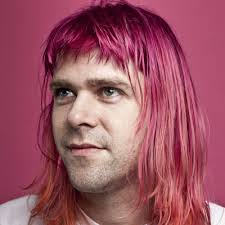 ARIEL PINK
Wednesday 17 June
Bethnal Green Working Men's Club
44-46 Pollard Row, Bethnal Green, E2 6NB | Map
8:00 | £17 | Buy tickets

REIGNING SOUND
THE NUMBER ONES
THE CASTILLIANS
Monday 22 June

100 Club
100 Oxford Street, W1D 1LL | Map
8:00 | £12 | Buy tickets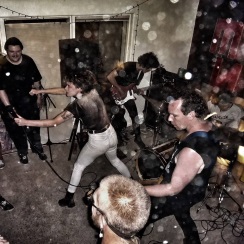 VEXX
HUMAN FORM
VERTICAL SLUMP
Wednesday 1 July

Montague Arms
289 Queen's Road, New Cross Gate, SE14 2PA | Map
7:30 | £6 | Buy tickets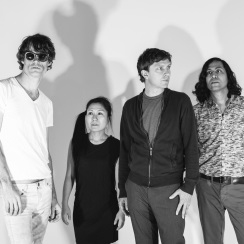 DEERHOOF
Tuesday 25 August

The Dome
178 Junction Road, Tufnell Park, N19 5QQ | Map
7:30 | £12 | Buy tickets