NEWS
SAUNA YOUTH - PERCENTAGES
19 July 2018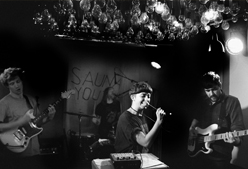 The first track from Sauna Youth's forthcoming album 'Deaths' just premiered on DIY. Check out 'Percentages' now, turn it up! 'Deaths' is out September 7th through Upset The Rhythm (yours truly) on LP, CD and digitally!
AMICI BY PRIMO OUT NOW!
13 July 2018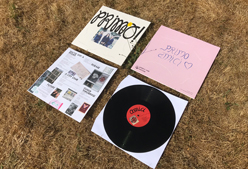 Lucky world! The weekend is fast upon us and with it comes the release of our fantastic debut album by Primo! Primo are a Melbourne trio specialising in breezy, up-tempo chorus and verse. Double guitar, drums, sound effects and a group vocal sensibility all help adorn their discourses into deconstruction. Entitled 'Amici', Primo's debut album is available now on LP and CD in all the best stores and our own webshop!
TERRY - THE WHIP
10 July 2018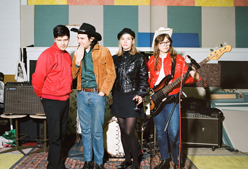 It's fine, it's fine, it's fine! Check out 'The Whip', Terry's first track taken from their forthcoming head bop of a long-player 'I'm Terry' (out Aug 31st, through Upset The Rhythm). Poppermost!
VITAL IDLES - ON TOUR
4 July 2018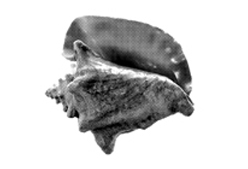 VITAL IDLES are taking to the road next week! Their music is as wonderfully acute as it is astute, smart and minimal in measures. This UK tour is in support of their fantastic debut album 'Left Hand', out now on Upset The Rhythm. Look out!
JULY
10/07 - Manchester, UK @ 57 Thomas Street Marble Beers
11/07 - Birmingham, UK @ Sunflower Lounge
12/07 - London, UK @ The Islington
13/07 - Brighton, UK @ Sticky Mike's Frog Bar
14/07 - Cardiff, UK @ The Moon
15/07 - Bristol, UK @ Hy Brazil Music Club
16/07 - Oxford, UK @ Common Ground Workspace
17/07 - Leeds, UK @ Wharf Chambers
19/07 - Nottingham, UK @ JT Soar
20/07 - Newcastle, UK @ Star & Shadow
+ Resonance FM session too on the morning of the 14th with Dexter Bentley.
APOSTILLE OUT NOW!
29 June 2018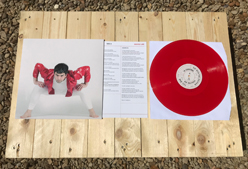 Take heed that Apostille's hefty bounce of a new album 'Choose Life' is out now in all its vibrant red wax glory! Apostille is an artist who's torn through enough sound-systems to know the difference between gesture and meaning. Alongside running his own DIY record label, Glasgow native, Michael Kasparis has spent the last few years making forays into the realm of hardcore punk with his groups Anxiety and The Lowest Form. Throughout all this, his solo electronic venture, Apostille has continued to evolve with each twist and turn of the world. What started off as a quest to whip up a mood and force that into a song has steadily become more of a mission in communication!
SAUNA YOUTH & TERRY HAVE NEW ALBUMS DUE OUT THIS SUMMER!
28 June 2018
Extremely happy to say the Summer is going to get even hotter! We've got TWO top releases planned for the dog days: TERRY - 'I'm Terry' (out August 31st) and SAUNA YOUTH - 'Deaths' (out September 7th) through Upset The Rhythm. Both each band's third albums coincidentally! Both brimming with wild impulse! Pre-order links now up here!
RADIO SHOW - EPISODE NINE
15 June 2018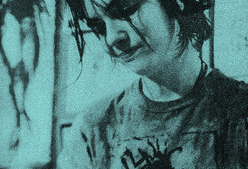 Here's episode 9 of our Upset The Rhythm radio show, lots of new tracks from Primo, Terry and John Maus, lots of old songs from Nauta, Alphonso Johnson and Trevor Wishart, lots of recent live recordings from Dog Chocolate, Rattle and Ed Schrader's Music Beat. Start the weekend early, tune in here now!
PRIMO! AMICI
5 June 2018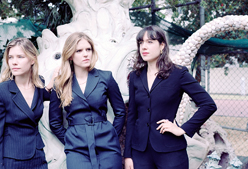 The wonderful Gorilla Vs Bear just helped us announce our debut album by PRIMO! by posting the band's first video from the album, check out 'Mirage' now! Primo are Xanthe Waite (also of Terry), Violetta DelConte Race (also of The Shifters) and Suzanne Walker (also of amazing film projects). As a trio from Melbourne writing up-tempo, terse chorus and verse, Primo make use of two guitars, drums, sound effects and a group vocal sensibility to ornament their enquiries into deconstructed post-punk.
Debut album 'Amici' is released on LP and CD this July 13th through Upset The Rhythm. Available to pre-order now too!
VITAL IDLES DEBUT ALBUM RELEASED!
1 June 2018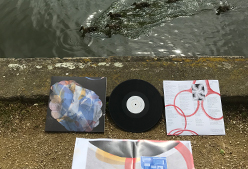 Vital Idles' remarkable debut album 'Left Hand' is released through Upset The Rhythm today! Hailing from Glasgow, Vital Idles mark out their sound within a chalk circle of first-though/best-though lyrical vision and primal-pop momentum. Here's what some adroit critics thought of the album . . .
BEAT
"Debut album, Left Hand, is something of a stripped to the bones statement of intent."
Brooklyn Vegan
"Splits the difference between Veronica Falls' moody jangle and The Pastels' detuned charm."
Clash
"a superb one chord thrash, somewhere between the oblique minimalist pop of Flying Nun and early Rough Trade signings such as The Raincoats."
The Skinny
"It's a taut, propulsive exercise in minimalism that doesn't waste a moment, barrelling across a series of vignettes tackling issues like one's place in the world, social complacency and the nature of music itself."
Available to order from our webshop and all great record shops as of now!
SCHOOL DAMAGE OUT TODAY!
25 May 2018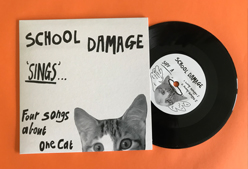 The time is meow!
Today we're releasing School Damage's new EP 'Sings... Four Songs About One Cat'! Hailing from Geelong & Melbourne and featuring members of Ausmuteants, Parsnip, Chook Race etc, School Damage have written a fantastic four track 7" of woozy head bop, jangle-pop all about their pet cat. This new song, 'Secret Beauty', captures Lumpy at her most serene, have a listen!
LATEST RELEASES MIXTAPE
LINKS
UPCOMING SHOWS

SHOPPING
ES
KATY & NICK
Saturday 11 August
OSLO
1a Amhurst Road, Hackney, London, E8 1LL | Map
6.30pm - 10pm | £10 | Buy tickets
SHOPPING are propulsive bass lines, primitive disco-not-disco drums and guitar lines sharp as broken glass. The band was formed in 2012 by members Rachel Aggs (guitar), Billy Easter (bass) and Andrew Milk (drums), who've all done time in a plethora of notable UK DIY bands including Trash Kit and Wet Dog. They pull from a well of 70's post-punk with a voraciousness seldom seen these days, bringing to mind the jagged aggression of Gang of Four, the voracious yelp of The Slits and the dance inducing thrust of Delta 5 . Their debut LP 'Consumer Complaints' was released November 2013 in the UK via MILK records and quickly sold out its first pressing. A US re-issue of 'Consumer Complaints' came out in 2015 via Fat Cat records, followed up by their excellent second album 'Why Choose?' The band are tirelessly committed to taking their sound to new audiences and spreading the Shopping gospel, securing impressive gigs along the way including main support for ESG and Gang Of Four as well as a BBC 6 Music session for Marc Riley. They have toured in the UK and throughout Europe numerous times over the last few years and last year toured the USA with also awesome Gauche. Shopping's brand new album 'The Official Body' (FatCat) has met with glowing reviews proclaiming it as exhilarating as it is mesmerising, we can't agree enough!
ES are four women based between London and Glasgow making "mutant synth-punk for our dystopian present" (Jes Skolnik). Tense, bass driven and synth heavy with frantic drumming and cold, direct vocals, their debut 12", 'Object Relations', delivers 4 tracks of gelid guitar-less post punk that is equal parts sparse and cosmic. Think of a mix of KUKL with No Defences jamming with Xmal Deutschland and you may be getting there.
KATY & NICK is Katy Cotterell of Gloss Rejection & ES and Nick Carlisle of Bamboo. This is their very British haunted take on synth wave. An abrasive synth punk, not the icy distance of some of the finest continental practitioners. This is the ennui of a damp bedsit in a bad Victorian conversion, not the existentialism of a brutalist estate. There's a little bit of YMO to the hyper-simple melodies that loop throughout their songs too. An appropriate counterpoint are the arpeggiated synth bursts that thread their way through too.

SAUNA YOUTH - Album Release Party!
CURRENT AFFAIRS
PINKGRIP
Saturday 25 August
Redon
Railway Arches, 289 Cambridge Heath Rd, E2 9HA | Map
7.30pm - 1.30am | £8 | Buy tickets
SAUNA YOUTH are a London-based punk band featuring Boon, Mince, Ecke and Pines. They played together in the band Monotony, and between them have played or do play in other bands and music projects including Primitive Parts, Feature, Child's Pose, Lilac, Cold Pumas, Oblate, Teufelskreis, Mind Jail, Gold Foil, Tense Men as well as being involved with the organisations Good Night Out, The Positive Press, Constant Flux & Heart n Soul. Sauna Youth are releasing their third album this September under the thrilling and fatal moniker 'Deaths'. This album will once again be released by Upset the Rhythm. The final part in a trilogy of LPs that started with Dreamlands in 2012 (wide-eyed, naive beginnings introducing listeners to the world the records inhabit), followed by Distractions three years ago (what happens while you're heading towards a destination, the unknowns, the unexpected outcomes), the songs that comprise Deaths are collectively about the act of finishing, an ode to 'the ending'. The 12 tracks touch on political rhetoric, artistic legacy, action and passivity, work and leisure, and, of course, distraction, referencing many musical genres in the process while never leaving punk's orbit. This show will act as their album release party!
CURRENT AFFAIRS are pure new wave excitement from Glasgow. Joan, Josh, Andrew & Seb are a sassy, thumping, 'tune after tune' post-punk party hit-machine. Their queer, goth punk is laden with addictive bass hooks, frantic guitar screeches, bullet punch drum hits, whirring keyboards and commanding calls. Sharing members with Anxiety, Rose McDowall and Shopping.
PINKGRIP make loud, pummelsome hardcore punk in London. Their songs are sludgy, pointed and thrash in an oddly addictive way. Check out their demo on Far So Far below!

PRIMO
RAINHAM SHEDS
Wednesday 29 August
The Islington
1 Tolpuddle St, Angel, London, N1 0XT | Map
7.30pm | £6.00 | Buy tickets
PRIMO are Xanthe Waite, Violetta DelConte Race and Suzanne Walker. As a trio from Melbourne writing up-tempo, terse chorus and verse, Primo make use of two guitars, drums, sound effects and a group vocal sensibility to ornament their enquiries into deconstructed punk and indie rock. Their songs chime and charm, sounding at times bountiful, at others brittle, always buoyant with attention to detail. Primo songs are alive and inquisitive, chasing down questions for answers long sped-away, amidst minimalist shuffle beats and ringing-out chords. The group's debut album 'Amici' is a triumph of the underplayed, its small details pull focus, allowing the album to treat us to unexpected truths in plain sight. Primo's newest member since 2018 is Amy Hill, who also plays in Terry and Constant Mongrel, on bass. Outside of Primo, Xanthe and Violetta both have lent their guitar skills to Terry and The Shifters respectively, whilst Suzanne works in film too. The band's debut album 'Amici' will be released as LP and CD on Upset The Rhythm on July 13th and followed up in August with a European tour.
RAINHAM SHEDS is Post-punk, all female maximum art-core on a primitive tip. Conceptual skronk noise. They sing about theorists, Art stars, bad jobs, sex with furniture and reminding themselves that he's not her dad. Their new EP is available on Permanent Slump now!
SHANNON AND THE CLAMS
TERRY
Tuesday 4 September
The Garage
20-22 Highbury Corner, Islington, London, N5 1RD | Map
7.30pm | £12.50 | Buy tickets
SHANNON AND THE CLAMS are from Oakland, California and comprise of Shannon Shaw (vocals, bass), Cody Blanchard (vocals, guitar), and Ian Amberson (drums, vocals). Sounding like a prom band from 1964 getting dosed with acid and having the sweetest lovelorn freak out, Shannon And The Clams defy expectations. Imagine a brawling Etta James, backed up by the 13th Floor Elevators singing Shangri La's tunes. Shannon has a voice that can go from a sweet girl group croon to a bluesy ballsy growl before you realize you're headed for the (dance) floor. It's total punk rock bop, brimming with doo-wop glory delivered to your door by the Homecoming Queen and Kings of weirdo rock 'n' roll. What started as an open mic project for a shy, young Shannon to try out some tunes ended with the Clams meeting and forming a band.
Many have said to have been possessed by thee (eerily similar at times) haunted howls and beautiful growls of their two lead vocalists, hypnotized by their heavy heartbeats, and mesmerized by their magical music. Your ears may become infested with a real Buddy Holly jolly kinda joy (oh boy) while you stutter along to a hiccupy song. Take a scratch and a sniff at these stickers and get bit by their bad-brained snarls. It's always Christmas (if you want it). It's your party time, and it's excellent. Cry-yi-yi if you want to, but be sure to surf a splish-splash with a laugh later. New album, 'Onion' (Easy Eye Sound) is monumental; immense, magnificent, and unforgettable. Shannon and the Clams have pioneered their way into a lonesome land where the past still lives in the long shadows of a hot afternoon, where whispering spirits follow high along canyon walls, and if you sink your fingers into the dusty hard-packed earth you pull out hands smeared with blood.

PROLAPSE
FIVEHEAD
Thursday 6 September
Moth Club
Old Trades Hall, Valette St, Hackney, London, E9 6NU | Map
7.30pm | £11.00 | Buy tickets
PROLAPSE originally formed in Leicester in the early 1990s and earned a cult following for their chaotic live sets, and tense and repetitious songs like 'Flex' and 'Tina This Is Matthew Stone'. They feature duelling vocalists Mick Derrick and Linda Steelyard, who play out an intense soap opera over a ferocious triple guitar assault and pummelling rhythm section. Their music is a heady brew of hacking guitars, Krautrock references, non sequitur lyrics and caustic narrative; messy and shambolic for sure, but a self-professed mess! The band released four albums between '94 and '99 (Pointless Walks To Dismal Places; backsaturday; The Italian Flag; The Ghost of Dead Aeroplanes), and each still manages to sound not only fresh and relevant, but also urgent, and very, very necessary. The band has received much critical acclaim, recorded four Peel sessions and toured with the likes of Stereolab and Sebadoh.
It has been said that no Prolapse experience can be deemed complete without having seen them live, when every gig felt as if it had been scripted by a quorum involving Samuel Beckett, Hunter S Thompson, Marjorie Proops and Mark E Smith. After a long hiatus, following a request from Mogwai, they reformed in 2015 to play live UK dates and have since begun work on new material. This rare outing will be Prolapse's first live performance in over three years.
FiveHead formed from necessity in mid-2017 Leicester. Since then they haven't wasted a second painting their world as they see it, operating incessantly, gaining a reputation for fanatic, confrontational and sometimes destructive live performances, in tow with an incessant output before unleashing "the first pages of the cosmonaut manifesto" in the form of their cataclysmic debut EP: How to Bombproof Your Horse. The band's "Post-Space" music draws from a plethora of influences that claw at your heart as they orbit from mind-bending psychedelia, dizzying grandiose post-rock heights, tragic post-punk, hypnotic Kosmische Musik, electronica or punishing walls-of-noise, or whatever else they were listening to as they ingested their vegan nails for breakfast. Their fanatic live shows are renowned for being a cathartic sonic rollercoaster of excessive volume levels, dazzling energy and glorious mayhem.

LITHICS
ES
Friday 7 September
The Islington
1 Tolpuddle St, Angel, London, N1 0XT | Map
7.30pm | £6.00 | Buy tickets
LITHICS exist in a nervous fragmented world, a propulsive future where anything can be consumed at any time, where any sound from any era can be conjured and reproduced and yet most of what we are stuck with seems like a trite reproduction of a sentiment long lost. Lithics fight this impossible dreary reality with a bold minimalist vision, "Can I be myself?" A stern danceable sound that summons cut up snapshots of Su Tissue and Mark E Smith, an imagined landscape where Captain Beefheart hits that Bush Tetras' beat. Aubrey Hornor's stark stilted vocal intones over the wired guitar parts, like lightbulb flashes and the whir of insects unspooled and playing off each other. Bob Desaulniers' basslines give both structure and dissonance to the endeavor, and along with Wiley Hickson on drums, this is a rhythm section recalling art damaged yet danceable noise made in the detritus of failing cities in the late 70s/early 80s (The Lower East Side, Cleveland, Manchester). Except Lithics is happening now, a continuing part of the vital art punk DIY underground in Portland, Oregon. Lithics' new album 'Mating Surfaces' is out now on Kill Rock Stars.

PATSY
Saturday 8 September
New River Studios
199 Eade Rd, Harringay, London, N4 1DN | Map
7.30pm | £6.00 | Buy tickets
PATSY are a New Orleans band who make fast, slashing, catchy-as-hell punk rock. The band is led by one Candice, also a member of the band Mystic Inane, and their schoolyard-taunt snarl is one of the coolest things we've ever heard. After a series of excellent singles over the past couple of years, the band recently released their debut mini-LP 'LA Women' (La Vida Es Un Mus Discos), which you can stream below. Where prior singles tended to stay firmly in the hardcore lane, 'LA Women' finds Patsy blending an inspired mix of surf, garage, 80s hardcore, skewed 80s new wave, and garage. Their straight ahead hardcore jams - including a re-recorded version of 'Nazis are so Plain' from their 2015 demo - bear a slippery quality that reminds of DKs, particularly in the woozy guitar work (see, in particular, album highlight 'Society Ape'). Elsewhere, tracks like the excellent 'Heathen' and opener 'Count it Down' bristle with a-go-go worthy garage energy. This will be the band's first time in London on their debut European tour!

SCREAMING FEMALES
SCRAP BRAIN
Tuesday 11 September
100 Club
100 Oxford St, Oxford Street, London, W1D 1LL | Map
7.30pm | £12.00 | Buy tickets
SCREAMING FEMALES are one of those force-of-nature bands that only comes around once in a blue moon. Their story starts in New Brunswick in 2005, with Marissa on guitar and vocals, Jarrett on drums and Michael on bass. 'Power Move' was the band's first full-length with any label (or any outside help) and was released by their hometown label, Don Giovanni Records, in 2008. They've gradually sneaked into a wider mainstream consciousness, gaining attention for their punk rock sensibilities and their raucous live shows driven by Marissa's famed guitar heroics. Now Screaming Females are DIY-punk luminaries, on the cusp of celebrating 13 years as a band by releasing this February's new album, entitled 'All At Once' on Don Giovanni Records. The band collaborated with producer Matt Bayles, setting out to make an album in the spirit of a salon-style gallery show, where larger pieces provide an eye-level focal point to a galaxy of smaller works. Concision took a back seat to experimentation, with arrangements meant to evoke the energy and spontaneity of their live performances. 'All At Once' is a reminder there's a hopeful and joyful energy to underground music-making. Patience, perseverance, and long term dedication still work.

ESCAPE-ISM (IAN SVENONIUS)
Thursday 13 September
Moth Club
Old Trades Hall, Valette St, Hackney, London, E9 6NU | Map
7.30pm | £10.00 | Buy tickets
ESCAPE-ISM is the nom de guerre of mythic rock 'n' roll provocateur / theorist / revolutionary Ian Svenonius (performer, author, filmmaker, etc). Svenonius is known for his work in the music groups The Make-Up, Chain & The Gang, XYZ, Weird War and author of underground bestsellers such as The Psychic Soviet, Supernatural Strategies for Making a Rock 'n' Roll Group, and Censorship Now! Recognised by Performer Magazine as the "greatest performer on the planet", Svenonius is profound, prophetic, perverse, and poetic. His debut solo album an 'Introduction to Escape-ism' was released through Merge last year and teamed up a drum machine, guitar, cassette player, and a single voice singing out... for a way out. Svenonius' songs cry out for love, justice, redemption and insurrection, they stomp on convention and clobber notions of what music can be. Live, Escape-ism a new paradigm of performance: raw, gestural, idiotic, sublime, revolutionary, poetic, faux naif, unknowing, a drainage pipe that leads to who knows where. 'The Lost Record' is Escape-ism's new album on Merge and is already a classic, destined to bewitch the minds, hearts, and dancing shoes of any rock 'n' roll fan who happens to discover it, for as long as such creatures exist. Without the high-octane hype machine of the mind-control minstrels who hypnotize the hapless through the mass media, 'The Lost Record' is bound for inevitable obscurity, but (with its timeless tunes, poignant message, and innovative sound) rediscovery and immortal status is equally assured! Music enthusiasts will be thrilled to be the ones clever and kind enough to have rescued this platter from oblivion.
TERRY
THE HOMOSEXUALS
RUSSELL WALKER
Tuesday 18 September
Moth Club
Old Trades Hall, Valette St, Hackney, London, E9 6NU | Map
7.30pm | £9.00 | Buy tickets
TERRY is getting ready, combing his hair, buttoning his jacket, turning the key in the door. "I'm doing fine," sings Terry out loud, he knows. Divide him into four and you get Al Montfort (UV Race, Total Control, Dick Diver etc.), Amy Hill (Constant Mongrel, Primo, School Of Radiant Living), Xanthe Waite (Primo, Mick Harvey Band) and Zephyr Pavey (Eastlink, Total Control, Russell Street Bombings). Inevitably, Terry likes to make a noise. Drums, guitars and all his voices come into play, making a solid raft for Terry's inner musings to navigate the languid rapids. This all unravels at its own pace, sometimes drifting into glam punk and country backwaters, always conducting a conversation with the commonplace. Terry also make us a bit queasy at times, singing about police beatings and nationalism and all that. But they're not out to hurt you. They're like the kindly bearer of bad news. There's some awful stuff going on around the world. Terry puts it in terms that speak to all. It's a tragicomedy. I'm pretty certain Terry isn't perverse, they're just the harbinger of the encroaching perverse world. I'm pretty certain Terry wants to be my friend, and your friend. Our friend, Terry. 'I'm Terry', the band's third album in three years, is out this summer through Upset The Rhythm.
THE HOMOSEXUALS are the inspired focus of Bruno Wizard! Bruno Wizard is an underground music luminary, an iconoclast, an evangelist for DIY practice, who formed The Homosexuals out of the ashes of The Rejects in 1976. The Homosexuals were a strange prospect. Seemingly, their music should fit into a similar spot as that of angry young men like Wire and Magazine who carried their penchants for art-school angst in the midst of proto-thug posturing, like badges of authentic alienation. And of course, in many ways, these bands were alienated at least from what had been passing for British rock prior to 1976. However, L'Voag (aka Jim, Amos, and now, Xentos), Anton (aka George Harassment) and Bruno were also part of a different scene, where more "progressive" notions of artistic protest were at stake: This Heat, Family Fodder and Chris Cutler's bands Henry Cow and the Art Bears were some of the names going at it in these circles. Their music was a sprawling bag of angular power-pop, quasi-dub, garage-punk and other stuff I'd liken to Faust or some such lunatic mob. Releasing a few 7"s, a tape and a posthumous LP by 1984, the band then called it a day. Bruno continues though, having reformed the band since 2003 with a variety of new lineups. 2016 saw The Homosexuals release their 'Important If True' record collecting new and unreleased recordings from the band committed to tape in NYC. Bruno also starred in 'The Heart Of Bruno Wizard' documentary about his creative life that premiered at Cannes in 2014.
RUSSELL WALKER, known as the uncanny lyricist/vocalist for The Pheromoans, Bomber Jackets etc, treats us to an exceedingly rare solo live appearance. Walker released his solo album proper in 2016 through Vitrine, contributed to a recent compilation on Kye and has a spoken album due out on Chocolate Monk soon called 'Half Time 1916'. Walker also published his latest book 'When New Towns Act Tough' in 2016, well worth tracking down on Larching Books!

WOLF EYES MUSIC: THREE DAY RESIDENCY
Friday 21st, Saturday 22nd, Sunday 23rd September
In collaboration with Cafe OTO
22 Ashwin Street, Dalston, London, E8 3DL | Map
7.30pm | £12.00 per day | Buy tickets
21 SEPT:
WOLF EYES with YEAH YOU
WOLF EYES (short set)
AARON DILLOWAY / VICKY LANGAN (Duo)
22 SEPT:
UNIVERSAL EYES
(Nate Young, John Olson, Aaron Dilloway, Gretchen Davidson)
TRIPLE NEGATIVE
VICKY LANGAN (DJ set)
23 SEPT:
WOLF EYES with BEATRICE DILLON
AARON DILLOWAY (solo)
SHARON GAL (solo)
WOLF EYES are pitching up for a special three-day residency for us at Cafe OTO, following on from the reissue of their seminal 'Dread' LP as well as new double LP from Universal Eyes, 'Four Variations On Artificial Society', that brings together Wolf Eyes and the reborn Universal Indians project which first emerged in 1993.
Born in the dead, dread-filled haunted hills of Michigan, Wolf Eyes are the rabid beasts of Trip Metal & have been ploughing through new tunnels of the underworld since 1997. Pure audio stun, homemade post-nuclear terror & claustrophobic atmospheres, the most shattered and confusing horrorvision since Bo Diddley dropped the duct taped warhead on all humans in 2024.
Universal Eyes started as Universal Indians in Lansing Michigan in the early shadows of the 90's with Gretchen Gonzales (now Gonzales - Davidson), Bryan "Rammer" Ramirez, & Johnny "Inzane" Olson. The trio started as a Jesse Harper cover band and managed to play every single basement that had a power outlet in the Tri-county area. After moving to the Detroit area in the late 90's, Rammer was replaced by Aaron Dilloway and also joined by Nathan Young / a duo that were already in the throes of primitive electronic global domination that is WOLF EYES. The collective quartet played every basement, art space, record store, and club in the metro area that had a power outlet and could also handle the Michigan Progressive Underground audio sprawl. Around the dawn of the 2000's / Gretchen went full time with the moody & cold stylings of Slumber Party and after a wild Bowling Green Ohio gig, Olson joined Wolf Eyes full time. After some drama that would make even Fleetwood Mac disappear into the shadows of suburbia and tossing their EQ into a lonely fire, Universal Indians appeared to have faded into the packed history book pages of Michigan musical lore.
As age and time seem to dust over wounds while magically healing them, the quartet met again in the northern suburbs of metro Detroit on a brisk spring Sunday in 2018, hauled modern and ancient instruments into a home studio and just like that: the dream / nightmare had hot blood pumping thru its' duct-taped sound body once again, as if the missing years were nothing but a minute hurdle.
Wolf Eyes Music 2018 Residency Series is the the musical duo of Nate Young and John Olson in collaboration with performance artists and unique musicians. For this special three day event at Cafe OTO, Wolf Eyes welcome Yeah You, Vicky Langan and Beatrice Dillon as collaborators.

VIRGINIA WING
Thursday 11 October
OSLO
1a Amhurst Road, Hackney, London, E8 1LL | Map
7.30pm | £8.00 | Buy tickets
VIRGINIA WING are an inventive psych-pop duo based in Manchester, who take their name from Grace Slick's mother. Consisting of Alice Merida Richards (Vocals, Synths, Organ) and Samuel Pillay (Synths, guitar, noises, bass), their music is a sprawling amalgamation of experimental pop songs with texture, depth and nuance; daring, progressive and forever bold. After two previous stunning albums, Virginia Wing return on June 8th with renewed strength, optimism and clarity for their new album 'Ecstatic Arrow' (Fire Records).
'Ecstatic Arrow' borrows from the heterogeneous terrain of The Flying Lizard's 'Fourth Wall', the exuberant technology assisted pop of Yellow Magic Orchestra and the playful sophistication of Lizzy Mercier Descloux, arriving at the evergreen intersection of pop music and conceptual art. The voice of Alice Merida Richards is more compelling and expressive than ever. The glacial deadpan of previous records has given way to a more candid, self-possessed delivery, showing an appreciation for the humour and tragedy innate in the downtown Arcadia of Laurie Anderson, Robert Ashley or even Lynn Goldsmith's Will Powers. It's with this voice that Richards outlines a simple ideality that fortifies the entirety of the album - inequality pervades, destructive behaviours are inherited and each subsequent generation has to reconcile the debts of its precursor - yet a space exists within ourselves and each other that houses a fact we must be reminded of - we have the ability to choose.
JO PASSED
Thursday 25 October
The Victoria
451 Queensbridge Rd, Dalston, London, E8 3AS | Map
7.30pm | £7.00 | Buy tickets
JO PASSED sound like a messed-up Beatles, one where Lennon & McCartney reunite in a parallel 1980's having discovered Can, Neu! and Sonic Youth. The band's new album on Sub Pop, 'Their Prime', demonstrates the band's timeless knack for dreamy melodies – chord progressions that sound like they were created in a land far, far away. Lyrically, however, it's imbued with a philosophical longing for answers to questions that have resurfaced for the first time since the explosion of counterculture. Frontman Jo Hirabayashi is crucially aware of the world around him crumbling, yet he's not lost sight of his sense of fun. His approach to the album was to create a collage record of everything he's inspired by. The last track 'Places Please' is his attempt to make Grouper dine out with Frank Ocean, whereas 'Undemo' enquires about Leonard Cohen joining This Heat. Jo, along with his friend and drummer Mac Lawrie, moved across the country from Vancouver to Montreal and back again. The two would play shows in Montreal and eventually tour the far right corner of North America. Upon Jo's return to the west coast, multi-instrumentalist Bella Bebe officially joined the band in January of 2016, expanding Jo Passed from trio to a full quartet. Multimedia artist Megan-Magdalena Bourne began working with Jo Passed on a video project for the song 'Rage' (from the Out EP). This creative partnership would eventually lead to her taking on the role of bassist for the band.
'Their Prime' is a record about identity and the loss of time that happens as a direct consequence of being in the city with nowhere to rent, no time outside of employment and no realistic expectations to live up to. It encompasses that fear of being beyond the glory years, the most creatively fruitful period of one's life. Those years were lost to contemporary struggles for working relationships, home, identity and space. "It's me owning my worst nightmare," Jo admits. "A lot of the Jo Passed project has been about confronting fears. I was afraid to move away from Vancouver to Montreal on my own. Afraid to leave musical relationships I had. Afraid to bare the full responsibility of a project. I've been putting out records and not ones anyone's necessarily heard. Being open about those fears is a good way of dealing with them." You can hear the frustrations and the jitters in the crashing loud-and-quiet motifs throughout the album's twelve tracks, which offer up a patchwork quilt of sound, similar to Faust's 'IV' or 'Red Medicine' by Fugazi.

GROUPER
Monday 29 October
Hackney Arts Centre
13 Stoke Newington Road, London, N16 8BH | Map
7pm | £16.50 | Buy tickets
GROUPER is a recording and performing project by Liz Harris. She lives and works in Astoria, OR. Grouper's astonishing new album Grid of Points was recently been released on Kranky. This London show will be part of Grouper's last European tour for some time.