NEWS
RADIO SHOW - EPISODE NINE
15 June 2018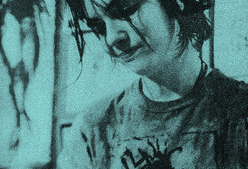 Here's episode 9 of our Upset The Rhythm radio show, lots of new tracks from Primo, Terry and John Maus, lots of old songs from Nauta, Alphonso Johnson and Trevor Wishart, lots of recent live recordings from Dog Chocolate, Rattle and Ed Schrader's Music Beat. Start the weekend early, tune in here now!
PRIMO! AMICI
5 June 2018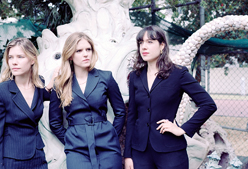 The wonderful Gorilla Vs Bear just helped us announce our debut album by PRIMO! by posting the band's first video from the album, check out 'Mirage' now! Primo are Xanthe Waite (also of Terry), Violetta DelConte Race (also of The Shifters) and Suzanne Walker (also of amazing film projects). As a trio from Melbourne writing up-tempo, terse chorus and verse, Primo make use of two guitars, drums, sound effects and a group vocal sensibility to ornament their enquiries into deconstructed post-punk.
Debut album 'Amici' is released on LP and CD this July 13th through Upset The Rhythm. Available to pre-order now too!
VITAL IDLES DEBUT ALBUM RELEASED!
1 June 2018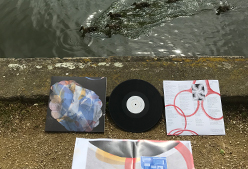 Vital Idles' remarkable debut album 'Left Hand' is released through Upset The Rhythm today! Hailing from Glasgow, Vital Idles mark out their sound within a chalk circle of first-though/best-though lyrical vision and primal-pop momentum. Here's what some adroit critics thought of the album . . .
BEAT
"Debut album, Left Hand, is something of a stripped to the bones statement of intent."
Brooklyn Vegan
"Splits the difference between Veronica Falls' moody jangle and The Pastels' detuned charm."
Clash
"a superb one chord thrash, somewhere between the oblique minimalist pop of Flying Nun and early Rough Trade signings such as The Raincoats."
The Skinny
"It's a taut, propulsive exercise in minimalism that doesn't waste a moment, barrelling across a series of vignettes tackling issues like one's place in the world, social complacency and the nature of music itself."
Available to order from our webshop and all great record shops as of now!
SCHOOL DAMAGE OUT TODAY!
25 May 2018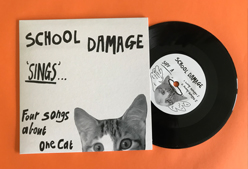 The time is meow!
Today we're releasing School Damage's new EP 'Sings... Four Songs About One Cat'! Hailing from Geelong & Melbourne and featuring members of Ausmuteants, Parsnip, Chook Race etc, School Damage have written a fantastic four track 7" of woozy head bop, jangle-pop all about their pet cat. This new song, 'Secret Beauty', captures Lumpy at her most serene, have a listen!
APOSTILLE - ON TOUR
21 May 2018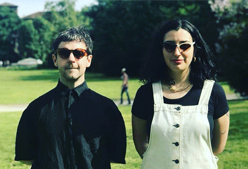 This Wednesday, Apostille will begin to tear around the UK in support of their forthcoming album, 'Choose Life', out June 8th.
Check them out at the following dates:
May
23/05 - Manchester, UK @ Soup Kitchen with Virginia Wing
24/05 - Nottingham, UK @ The Chameleon with Father Murphy
25/05 - Bristol, UK @ Stag And Hounds with Hounds Schwet x Dance Party
26/05 - London, UK @ The Victoria with Sauna Youth + Static Palm
27/05 - Brighton, UK @ The Pipeline
28/05 - Cardiff, UK @ The Undertone
31/05 - Leeds, UK @ The Fenton
June
01/06 - Newcastle, UK @ Star & Shadow
02/06 - Glasgow, UK @ The Art School with Happy Meals + Sacred Paws
'Choose Life' is available to pre-order now on LP and CD here.
RADIO SHOW - EPISODE EIGHT
18 May 2018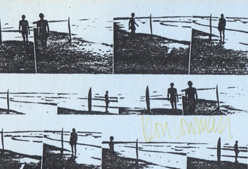 Hey there! We've got some staggering tracks from Apostille, Vital Idles and School Damage all featured in our new two hour mix for CAMP radio. Listen up, listen loud, enjoy!
MOODY BALLOON BABY OUT NOW!
11 May 2018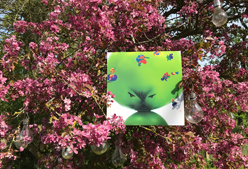 Dog Chocolate's stunning new album, Moody Balloon Baby, is released today in all its fervour! 180 grams of black plastic serving up all the rabble-rousing energy & eye-watering absurdity of the human condition in 2018, plus its got a big, green, scowling balloon baby on the cover, bonus!
Available in all the best shops worldwide and directly from us here now. Have a listen to the very first song kicking off this cavalcade of thought & song:
LATEST RELEASES MIXTAPE
LINKS
UPCOMING SHOWS

YUNOHANA VARIATIONS:
YOSHIMIO & ROBERT AIKI AUBREY LOWE & SUSIE IBARRA
SAM WEAVER
Tuesday 26 June
OSLO
1a Amhurst Road, Hackney, London, E8 1LL | Map
7.30pm | £12.00 | Buy tickets
Three improvisational luminaries; multi-instrumentalist YoshimiO (Boredoms, OOIOO, SAICOBAB), avant-garde percussionist Susie Ibarra, and artist Robert Aiki Aubrey Lowe (Lichens) shall be performing together as YUNOHANA VARIATIONS for the first time in the UK. The trio's previous collaborations have resulted in album, 'Flowers Of Sulphur', released on Thrill Jockey this February. 'Flower of Sulphur', is a transfixing piece of continuous improvisational work which explores the direct relationship between the artists and their individual configurations. The album takes the form of the trio each playing their principal instruments to explore the space in that moment. This spontaneous composition showcases the freedom and musical immediacy of all three artists' ability to interplay as well as their individual unique techniques to create engaging experimental sounds. This tour is the second installment of Outlands' experimental tour outings, this time produced by Birmingham's Supersonic Festival.
YoshimiO is a drummer, vocalist and founding member of the revolutionary Japanese noise rock group Boredoms. She is the leader of the experimental rock band OOIOO, a member of Free Kitten with Kim Gordon, and most recently the singer in SAICOBAB - a quartet who blend ancient Indian musical traditions and instruments with electronics and modern sounds. Known for her ability to improvise in a variety of contexts, YoshimiO has previously performed and recorded improvisational music with saxophonist Mats Gustafsson, Jim O'Rourke, and recently with Lowe, and then Ibarra during a series of collaborative performances in New York City, late in 2015.
Susie Ibarra, is one of the most significant percussionists and composers of our time, known for her work as a performer within contemporary, avant-garde, jazz, classical, and world music, and performs in the band Dreamtime Ensemble. Ibarra studied with jazz luminaries Earl Buster Smith (of Sun Ra Arkestra), Vernel Fournier and Milford Graves, and Philippine Kulintang gong-chime music with Danongan Kalanduyan. She has performed with the likes of: John Zorn, Dave Douglas, Yo La Tengo, Ikue Mori and recent works include a sound installation for Ai Weiwei.
Robert Aiki Aubrey Lowe is a multidisciplinary artist whose practice is strongly rooted in exploration of moments and the hypnagogic state. Movement and gesture play key factors within this process, and in the performance realm are focused on by voice and modular synthesizer. A fixture of Chicago's experimental community throughout the 90s and early 2000s, Robert has also performed under the name Lichens, is a member of the legendary band Om, and has an impressive portfolio of collaborations, which extends to the film world with his score for pseudo-documentary A Spell To Ward Off The Darkness, directed by Ben Russell and Ben Rivers (which Robert also appears in).
SAM WEAVER (Cuspeditions) is a composer and sound artist with a longstanding interest in the studio as a sort off laboratory for sonic investigation, often re-routing instruments into abstraction and deliberately misusing his equipment: the Hordjik analogue modular synthesizer. Weaver's music lies in the grey areas between acousmatic music, free improvisation and experimental electronics, often exploring ways to bring moments of calm and harmony out of passages of chaos. Weaver is also one half of London outfit Hungryghost, and has recorded and performed with Charles Hayward, Danny Saul, Ecka Mordecai, Otto Wilberg, Rachel Goodyear, Konstrukt, Tombed Visions, Gnod and Kevin Drumm.

GWENIFER RAYMOND
JOHN MCGRATH
Thursday 5 July
The Islington
1 Tolpuddle St, Angel, London, N1 0XT | Map
7.30pm | £6 | Buy tickets
GWENIFER RAYMOND is a Welsh multi-instrumentalist, originally from Cardiff but now residing in Brighton, England. Gwenifer began playing guitar at the age of eight shortly after having been first exposed to punk and grunge. After years of playing around the Welsh valleys in various punk outfits she began listening more to pre-war blues musicians as well as Appalachian folk players, eventually leading into the guitar players of the American Primitive genre. She has since been playing her own moody and often-times manic original American Primitive styled compositions on guitar and banjo around the UK. In 2017 Gwenifer signed to the esteemed label Tompkins Square, who released her first single 'Sometimes There's Blood' in October of that year. Her debut album 'You Never Were Much of a Dancer' is out in June 29th, 2018.
JOHN MCGRATH is an Irish guitarist, composer and author based in London. His music explores the boundaries of the ancient and modern as traditional elements meet improvisation and experimental tendencies. Rich harmonics, intricate finger-picking, static drones and glitches combine to glorious effect. John has performed the UK premiere of Rhys Chatham's 'Die Donnergotter', he's also performed with Dustin Wong, Sharon Gal, Cavalier Song, Howard Skempton and the aPAtT Orchestra. He currently lectures at ICMP and Goldsmiths.

VITAL IDLES
Thursday 12 July
The Islington
1 Tolpuddle St, Angel, London, N1 0XT | Map
7.30pm | £6 | Buy tickets
VITAL IDLES are primitive and whimsically brutal prospect for the conglomerate of art outsiders and aesthetes. Sculpting a skeleton from a body already lean, there's a thrilling minimalism that runs through every beat and strum, a sparseness that feeds Jessica Higgins's surreal, oblique vocal delivery all the nourishment it needs. Playing their first shows in Glasgow in 2015 during a summer that never threatened to show up, Vital Idles' origins are closely tied with a tireless underground culture, a culture that informs the band's refusal to take it easy. Matthew Walkerdine, Nick Lynch and Higgins are responsible for Glasgow DIY publishing institution Good Press - an independent volunteer-staffed zine and art book shop - while Guitarist Ruari MacLean's pedigree stretches back to breakneck-indie-pop group Golden Grrrls and the Rose McDowall band. Following two self-released demos and a sold out debut 7", Vital Idles arrive on Upset The Rhythm with 'Left Hand', a bare manifesto layered with meaning and non-meaning. The group can conceivably be called artists, or Artists, but in approaching their debut album Vital Idles have stripped away all extraneous ornamentation to evoke an incredibly life-like, vibrant pop music completely detourned and re-thought. These are pop songs unwilling to bend to convention, chart hits in the alternative timeline where Messthetics compilations are Now That's What I Call Music, peppered with endlessly inventive linguistics that reveal emotional depth, a dry, punk minimalism able to turn on a dime into a mouldy, witty kitchen sink story narrated by Samuel Beckett. It's a tension that threatens to fall apart into dissonance or resolve into sweetness but thankfully does neither, rather it keeps Vital Idles moving forward, never standing still, never taking it easy.

SHOPPING
ES
KATY & NICK
Saturday 11 August
OSLO
1a Amhurst Road, Hackney, London, E8 1LL | Map
6.30pm - 10pm | £10 | Buy tickets
SHOPPING are propulsive bass lines, primitive disco-not-disco drums and guitar lines sharp as broken glass. The band was formed in 2012 by members Rachel Aggs (guitar), Billy Easter (bass) and Andrew Milk (drums), who've all done time in a plethora of notable UK DIY bands including Trash Kit and Wet Dog. They pull from a well of 70's post-punk with a voraciousness seldom seen these days, bringing to mind the jagged aggression of Gang of Four, the voracious yelp of The Slits and the dance inducing thrust of Delta 5 . Their debut LP 'Consumer Complaints' was released November 2013 in the UK via MILK records and quickly sold out its first pressing. A US re-issue of 'Consumer Complaints' came out in 2015 via Fat Cat records, followed up by their excellent second album 'Why Choose?' The band are tirelessly committed to taking their sound to new audiences and spreading the Shopping gospel, securing impressive gigs along the way including main support for ESG and Gang Of Four as well as a BBC 6 Music session for Marc Riley. They have toured in the UK and throughout Europe numerous times over the last few years and last year toured the USA with also awesome Gauche. Shopping's brand new album 'The Official Body' (FatCat) has met with glowing reviews proclaiming it as exhilarating as it is mesmerising, we can't agree enough!
ES are four women based between London and Glasgow making "mutant synth-punk for our dystopian present" (Jes Skolnik). Tense, bass driven and synth heavy with frantic drumming and cold, direct vocals, their debut 12", 'Object Relations', delivers 4 tracks of gelid guitar-less post punk that is equal parts sparse and cosmic. Think of a mix of KUKL with No Defences jamming with Xmal Deutschland and you may be getting there.
KATY & NICK is Katy Cotterell of Gloss Rejection & ES and Nick Carlisle of Bamboo. This is their very British haunted take on synth wave. An abrasive synth punk, not the icy distance of some of the finest continental practitioners. This is the ennui of a damp bedsit in a bad Victorian conversion, not the existentialism of a brutalist estate. There's a little bit of YMO to the hyper-simple melodies that loop throughout their songs too. An appropriate counterpoint are the arpeggiated synth bursts that thread their way through too.
SHANNON AND THE CLAMS
Tuesday 4 September
The Garage
20-22 Highbury Corner, Islington, London, N5 1RD | Map
7.30pm | £12.50 | Buy tickets
SHANNON AND THE CLAMS are from Oakland, California and comprise of Shannon Shaw (vocals, bass), Cody Blanchard (vocals, guitar), and Ian Amberson (drums, vocals). Sounding like a prom band from 1964 getting dosed with acid and having the sweetest lovelorn freak out, Shannon And The Clams defy expectations. Imagine a brawling Etta James, backed up by the 13th Floor Elevators singing Shangri La's tunes. Shannon has a voice that can go from a sweet girl group croon to a bluesy ballsy growl before you realize you're headed for the (dance) floor. It's total punk rock bop, brimming with doo-wop glory delivered to your door by the Homecoming Queen and Kings of weirdo rock 'n' roll. What started as an open mic project for a shy, young Shannon to try out some tunes ended with the Clams meeting and forming a band.
Many have said to have been possessed by thee (eerily similar at times) haunted howls and beautiful growls of their two lead vocalists, hypnotized by their heavy heartbeats, and mesmerized by their magical music. Your ears may become infested with a real Buddy Holly jolly kinda joy (oh boy) while you stutter along to a hiccupy song. Take a scratch and a sniff at these stickers and get bit by their bad-brained snarls. It's always Christmas (if you want it). It's your party time, and it's excellent. Cry-yi-yi if you want to, but be sure to surf a splish-splash with a laugh later. New album, 'Onion' (Easy Eye Sound) is monumental; immense, magnificent, and unforgettable. Shannon and the Clams have pioneered their way into a lonesome land where the past still lives in the long shadows of a hot afternoon, where whispering spirits follow high along canyon walls, and if you sink your fingers into the dusty hard-packed earth you pull out hands smeared with blood.

PROLAPSE
FIVEHEAD
Thursday 6 September
Moth Club
Old Trades Hall, Valette St, Hackney, London, E9 6NU | Map
7.30pm | £11.00 | Buy tickets
PROLAPSE originally formed in Leicester in the early 1990s and earned a cult following for their chaotic live sets, and tense and repetitious songs like 'Flex' and 'Tina This Is Matthew Stone'. They feature duelling vocalists Mick Derrick and Linda Steelyard, who play out an intense soap opera over a ferocious triple guitar assault and pummelling rhythm section. Their music is a heady brew of hacking guitars, Krautrock references, non sequitur lyrics and caustic narrative; messy and shambolic for sure, but a self-professed mess! The band released four albums between '94 and '99 (Pointless Walks To Dismal Places; backsaturday; The Italian Flag; The Ghost of Dead Aeroplanes), and each still manages to sound not only fresh and relevant, but also urgent, and very, very necessary. The band has received much critical acclaim, recorded four Peel sessions and toured with the likes of Stereolab and Sebadoh.
It has been said that no Prolapse experience can be deemed complete without having seen them live, when every gig felt as if it had been scripted by a quorum involving Samuel Beckett, Hunter S Thompson, Marjorie Proops and Mark E Smith. After a long hiatus, following a request from Mogwai, they reformed in 2015 to play live UK dates and have since begun work on new material. This rare outing will be Prolapse's first live performance in over three years.
FiveHead formed from necessity in mid-2017 Leicester. Since then they haven't wasted a second painting their world as they see it, operating incessantly, gaining a reputation for fanatic, confrontational and sometimes destructive live performances, in tow with an incessant output before unleashing "the first pages of the cosmonaut manifesto" in the form of their cataclysmic debut EP: How to Bombproof Your Horse. The band's "Post-Space" music draws from a plethora of influences that claw at your heart as they orbit from mind-bending psychedelia, dizzying grandiose post-rock heights, tragic post-punk, hypnotic Kosmische Musik, electronica or punishing walls-of-noise, or whatever else they were listening to as they ingested their vegan nails for breakfast. Their fanatic live shows are renowned for being a cathartic sonic rollercoaster of excessive volume levels, dazzling energy and glorious mayhem.

LITHICS
Friday 7 September
The Islington
1 Tolpuddle St, Angel, London, N1 0XT | Map
7.30pm | £6.00 | Buy tickets
LITHICS exist in a nervous fragmented world, a propulsive future where anything can be consumed at any time, where any sound from any era can be conjured and reproduced and yet most of what we are stuck with seems like a trite reproduction of a sentiment long lost. Lithics fight this impossible dreary reality with a bold minimalist vision, "Can I be myself?" A stern danceable sound that summons cut up snapshots of Su Tissue and Mark E Smith, an imagined landscape where Captain Beefheart hits that Bush Tetras' beat. Aubrey Hornor's stark stilted vocal intones over the wired guitar parts, like lightbulb flashes and the whir of insects unspooled and playing off each other. Bob Desaulniers' basslines give both structure and dissonance to the endeavor, and along with Wiley Hickson on drums, this is a rhythm section recalling art damaged yet danceable noise made in the detritus of failing cities in the late 70s/early 80s (The Lower East Side, Cleveland, Manchester). Except Lithics is happening now, a continuing part of the vital art punk DIY underground in Portland, Oregon. Lithics' new album 'Mating Surfaces' is out now on Kill Rock Stars.

SCREAMING FEMALES
SCRAP BRAIN
Tuesday 11 September
100 Club
100 Oxford St, Oxford Street, London, W1D 1LL | Map
7.30pm | £12.00 | Buy tickets
SCREAMING FEMALES are one of those force-of-nature bands that only comes around once in a blue moon. Their story starts in New Brunswick in 2005, with Marissa on guitar and vocals, Jarrett on drums and Michael on bass. 'Power Move' was the band's first full-length with any label (or any outside help) and was released by their hometown label, Don Giovanni Records, in 2008. They've gradually sneaked into a wider mainstream consciousness, gaining attention for their punk rock sensibilities and their raucous live shows driven by Marissa's famed guitar heroics. Now Screaming Females are DIY-punk luminaries, on the cusp of celebrating 13 years as a band by releasing this February's new album, entitled 'All At Once' on Don Giovanni Records. The band collaborated with producer Matt Bayles, setting out to make an album in the spirit of a salon-style gallery show, where larger pieces provide an eye-level focal point to a galaxy of smaller works. Concision took a back seat to experimentation, with arrangements meant to evoke the energy and spontaneity of their live performances. 'All At Once' is a reminder there's a hopeful and joyful energy to underground music-making. Patience, perseverance, and long term dedication still work.

WOLF EYES MUSIC: THREE DAY RESIDENCY
Friday 21st, Saturday 22nd, Sunday 23rd September
In collaboration with Cafe OTO
22 Ashwin Street, Dalston, London, E8 3DL | Map
7.30pm | £12.00 per day / £30.00 3-day pass| Buy tickets
21 SEPT:
WOLF EYES with YEAH YOU
WOLF EYES (short set)
AARON DILLOWAY / VICKY LANGAN (Duo)
22 SEPT:
UNIVERSAL EYES
(Nate Young, John Olson, Aaron Dilloway, Gretchen Davidson)
TRIPLE NEGATIVE
VICKY LANGAN (DJ set)
23 SEPT:
WOLF EYES with BEATRICE DILLON
AARON DILLOWAY (solo)
SHARON GAL (solo)
WOLF EYES are pitching up for a special three-day residency for us at Cafe OTO, following on from the reissue of their seminal 'Dread' LP as well as new double LP from Universal Eyes, 'Four Variations On Artificial Society', that brings together Wolf Eyes and the reborn Universal Indians project which first emerged in 1993.
Born in the dead, dread-filled haunted hills of Michigan, Wolf Eyes are the rabid beasts of Trip Metal & have been ploughing through new tunnels of the underworld since 1997. Pure audio stun, homemade post-nuclear terror & claustrophobic atmospheres, the most shattered and confusing horrorvision since Bo Diddley dropped the duct taped warhead on all humans in 2024.
Universal Eyes started as Universal Indians in Lansing Michigan in the early shadows of the 90's with Gretchen Gonzales (now Gonzales - Davidson), Bryan "Rammer" Ramirez, & Johnny "Inzane" Olson. The trio started as a Jesse Harper cover band and managed to play every single basement that had a power outlet in the Tri-county area. After moving to the Detroit area in the late 90's, Rammer was replaced by Aaron Dilloway and also joined by Nathan Young / a duo that were already in the throes of primitive electronic global domination that is WOLF EYES. The collective quartet played every basement, art space, record store, and club in the metro area that had a power outlet and could also handle the Michigan Progressive Underground audio sprawl. Around the dawn of the 2000's / Gretchen went full time with the moody & cold stylings of Slumber Party and after a wild Bowling Green Ohio gig, Olson joined Wolf Eyes full time. After some drama that would make even Fleetwood Mac disappear into the shadows of suburbia and tossing their EQ into a lonely fire, Universal Indians appeared to have faded into the packed history book pages of Michigan musical lore.
As age and time seem to dust over wounds while magically healing them, the quartet met again in the northern suburbs of metro Detroit on a brisk spring Sunday in 2018, hauled modern and ancient instruments into a home studio and just like that: the dream / nightmare had hot blood pumping thru its' duct-taped sound body once again, as if the missing years were nothing but a minute hurdle.
Wolf Eyes Music 2018 Residency Series is the the musical duo of Nate Young and John Olson in collaboration with performance artists and unique musicians. For this special three day event at Cafe OTO, Wolf Eyes welcome Yeah You, Vicky Langan and Beatrice Dillon as collaborators.

VIRGINIA WING
Thursday 11 October
OSLO
1a Amhurst Road, Hackney, London, E8 1LL | Map
7.30pm | £8.00 | Buy tickets
VIRGINIA WING are an inventive psych-pop duo based in Manchester, who take their name from Grace Slick's mother. Consisting of Alice Merida Richards (Vocals, Synths, Organ) and Samuel Pillay (Synths, guitar, noises, bass), their music is a sprawling amalgamation of experimental pop songs with texture, depth and nuance; daring, progressive and forever bold. After two previous stunning albums, Virginia Wing return on June 8th with renewed strength, optimism and clarity for their new album 'Ecstatic Arrow' (Fire Records).
'Ecstatic Arrow' borrows from the heterogeneous terrain of The Flying Lizard's 'Fourth Wall', the exuberant technology assisted pop of Yellow Magic Orchestra and the playful sophistication of Lizzy Mercier Descloux, arriving at the evergreen intersection of pop music and conceptual art. The voice of Alice Merida Richards is more compelling and expressive than ever. The glacial deadpan of previous records has given way to a more candid, self-possessed delivery, showing an appreciation for the humour and tragedy innate in the downtown Arcadia of Laurie Anderson, Robert Ashley or even Lynn Goldsmith's Will Powers. It's with this voice that Richards outlines a simple ideality that fortifies the entirety of the album - inequality pervades, destructive behaviours are inherited and each subsequent generation has to reconcile the debts of its precursor - yet a space exists within ourselves and each other that houses a fact we must be reminded of - we have the ability to choose.
JO PASSED
Thursday 25 October
The Victoria
451 Queensbridge Rd, Dalston, London, E8 3AS | Map
7.30pm | £7.00 | Buy tickets
JO PASSED sound like a messed-up Beatles, one where Lennon & McCartney reunite in a parallel 1980's having discovered Can, Neu! and Sonic Youth. The band's new album on Sub Pop, 'Their Prime', demonstrates the band's timeless knack for dreamy melodies – chord progressions that sound like they were created in a land far, far away. Lyrically, however, it's imbued with a philosophical longing for answers to questions that have resurfaced for the first time since the explosion of counterculture. Frontman Jo Hirabayashi is crucially aware of the world around him crumbling, yet he's not lost sight of his sense of fun. His approach to the album was to create a collage record of everything he's inspired by. The last track 'Places Please' is his attempt to make Grouper dine out with Frank Ocean, whereas 'Undemo' enquires about Leonard Cohen joining This Heat. Jo, along with his friend and drummer Mac Lawrie, moved across the country from Vancouver to Montreal and back again. The two would play shows in Montreal and eventually tour the far right corner of North America. Upon Jo's return to the west coast, multi-instrumentalist Bella Bebe officially joined the band in January of 2016, expanding Jo Passed from trio to a full quartet. Multimedia artist Megan-Magdalena Bourne began working with Jo Passed on a video project for the song 'Rage' (from the Out EP). This creative partnership would eventually lead to her taking on the role of bassist for the band.
'Their Prime' is a record about identity and the loss of time that happens as a direct consequence of being in the city with nowhere to rent, no time outside of employment and no realistic expectations to live up to. It encompasses that fear of being beyond the glory years, the most creatively fruitful period of one's life. Those years were lost to contemporary struggles for working relationships, home, identity and space. "It's me owning my worst nightmare," Jo admits. "A lot of the Jo Passed project has been about confronting fears. I was afraid to move away from Vancouver to Montreal on my own. Afraid to leave musical relationships I had. Afraid to bare the full responsibility of a project. I've been putting out records and not ones anyone's necessarily heard. Being open about those fears is a good way of dealing with them." You can hear the frustrations and the jitters in the crashing loud-and-quiet motifs throughout the album's twelve tracks, which offer up a patchwork quilt of sound, similar to Faust's 'IV' or 'Red Medicine' by Fugazi. .