NEWS
TRASH KIT'S 'CONFIDENCE'
3 October 2014
The long-awaited sophomore album from Trash Kit has been announced today.
The album is called 'Confidence' and will hit the shops on 1 December, though you can pre-order it now.
Full details are also up on the band's artist page.
ED SCHRADER'S MUSIC BEAT: NEW
VIDEO AND LIVE DATES
20 August 2014
Here's the beyond-awesome new video for "Televan" from Ed Schrader's Music Beat's most recent album 'Party Jail'.
Big thanks to The Quietus for premiering it and to Justin Barnes for directing the eyeball-popping visuals!
The band are presently on tour in the USA and coming to Europe very soon, with two stops in London. Here are the full dates.
LATEST RELEASES MIXTAPE
LINKS
UPCOMING SHOWS

SPRAY PAINT
THE REBEL
THE GUTTERS
TENSE MEN
Friday 31 October
The Victoria
451 Queensbridge Rd, Dalston, E8 3AS | Map
8:00 | £5 | Buy tickets
SPRAY PAINT are a no wave punk outfit from Austin, Texas made up of Chris Stephenson (drums/vocals), Cory Plump (guitar/vocals) and George Dishner (guitar/vocals). Some of you may already know these guys from other projects such as When Dinosaurs Ruled The Earth, Expensive Shit and Dikes of Holland. Spray Paint's buzz-sawing guitars run headlong through labyrinthine tunnels of reverb, chased down by some wildly brain-bashing drums. All three members of Spray Paint sing too, helping create an uncontrollable sense of fervour as they jostle for the words. They work up a tone of paranoia amid the jagged rhythms, locking into a motoric groove that's impossible to escape from, offset with stormy blasts of distortion.
Since forming in 2012, Spray Paint have released two LPs and 7"s through SS-Records as well as readying an upcoming LP for Monofonus Press. They've wasted no time with hitting the road either, touring the US five times, most recently with their friends Protomartyr and The Rebel. They've also played at Fun Fun Fun Fest, Chaos in Tejas, Gonerfest, Cropped Out, SXSW and a live on-air performance on WFMU. This October sees Spray Paint head over to Europe for the first time, in support of their fierce new 7" EP through Upset The Rhythm, entitled 'Cussin'.
THE REBEL is prolific London outsider Ben Wallers; a charismatic lone wolf in a cowboy hat or trilby and a tie whose electrified howls are too idiosyncratic to be broken down into market-oriented terms. It is difficult to sketch a thumbnail summary of a musician who has amassed a vast and unwieldy discography under a variety of names and genres: the most widely acclaimed is probably the Country Teasers, but he also moonlights as, or in, the Rebel, the Company, the Male Nurse, the Beale, the Stallion, the Black Poodle and Skills on Ampex, across folk, country, garage, post-punk, no wave and electronic pop. In the main part The Rebel is centred around twisted Casio drones, clanging guitar and some defiantly deadpan vocals, all thrown in the pan and pressure-cooked in Wallers' mind. Wallers has amassed a near-unquantifiable discography over the past 20 years, from scores of more or less "official" LPs, EPs and 7"s to seemingly endless self-released cassettes. Look out for a new record he's working on with Spray Paint to be released through Monofonus.
THE GUTTERS play raw stripped down garage punk from Portland U.S of A. Their auditory maelstrom is like taking a time machine to London in the late '70s, where every tinny punk had a band and everything was snarling and snotty. But the Gutters' tongue-in-cheek playfulness cuts those spiky allusions with fun vignettes, as found on their recent release "Should We Make a 7-Inch?" 7-inch. Other hilariously punk entitlements, such as beginning the song "Born in the Gutter" with "one, two, fuck you!" hint more at the duo's willingness to parade their love affair with the old guard than attempt to build upon it. This is all a-okay; the band's sewer serenades are a breath of fresh air, and at bite-sized intervals of roughly one to two minutes apiece, the Gutters are a fist-pumping hoot. Look out for their album on Tadpole Records too!
TENSE MEN live in a claustrophobic, miasmic world of scuttling shapes, deformed shadows and rigid, repetitive rhythms. The world of Tense Men has a low ceiling, the walls are wooden, rotting in places and badly varnished. The world of Tense Men is clammy to the touch. Eyes twitch, ears ring. Ears burn, eyes sting. The world of Tense Men is dripping all over your mouldy living room carpet. Reptilian tongues darting in and out tasting the dank air. Human forms jerking awkwardly to a record skipping in a locked, sweaty room. Shrieking voices. Murmuring whispers. Telling you things you don't want to know over and over again, you listen because you aren't sure if you're really hearing it or not. You are! Aren't you? These men also exist within other entities, namely Sauna Youth, Cold Pumas and Omi Palone, amongst others. It began in the bleak Autumn of 2010 and has henceforth been peddling its suspect wares back and forth, here and there. Check out their recent album 'Where Dull Care is Forgotten' on Faux Discx, as well as their cassette on Casenove Tapes.

RODION G.A.
BAMBOO
ROB SHUTTZ
Wednesday 5 November
Cafe Oto
22 Ashwin Street, Dalston, E8 3DL | Map
8:00 | £10 | Buy tickets
RODION G.A. are without doubt, one of music's best-kept secrets. That's despite being around for nearly forty years. The story begins when a musical visionary decided to form his own band in Romania four decades ago. It was between 1975 and 1976, when the Rodion G.A. story begins. That's when Rodion Rosca formed the band that bore his name. This would be no ordinary band, far from it. Rodion G.A. would become one of the most innovative bands in Romanian musical history.
In 1975, Rodion joined with Gicu Farcas and Adrian Caparu to complete the lineup of Rodion G.A. By 1975, Rodion had amassed an eclectic selection of equipment and established a reputation as a D.I.Y. tech wizard. He created his own unique way of creating music on reel-to-reel tape recorders, using the various tape machines to multitrack. His nascent studio included several Tesia tape recorders, drum machines, phasers, flangers and fuzz pedals. Then there were a toy Casio VL Tone and a Soviet made Faemi organ. Like the music Rodion G.A. were making, the equipment they were using was just as leftfield and eclectic.
Sadly, Rodion G.A.'s career lasted just over ten years. In 1987, after the death of his mother, Rodion Rosca walked away from music. For the next twenty-five years, nothing was heard of this charismatic, enigmatic and mercurial musician. Then Luca Sorin, a blogger and filmmaker became interested in the mythology that surrounds Rodion. Luca discovered a handful of tracks by Rodion and footage of their 1980 NYE concert. He posted this online. This came to the attention of Future Nuggets. They're a collective of musicians and producers who are determined to preserve Romania's musical heritage. Then in 2012, Rodion G.A. made their comeback, after twenty-five years away from music. Then a year later, Rodion G.A. released their debut album 'The Lost Tapes', on Strut Records to acres of praise and press attention. Since then, Rodion G.A.'s comeback has continued apace.
Earlier this year, another Rodion G.A. release hit the shops. This was none other than Rodion G.A.'s soundtrack 'Delta Space Mission' released on Record Store Day 2014. Fans worldwide were determined to get a copy of this previously unreleased musical Magnus Opus. The lucky ones weren't disappointed. Now Rodion G.A. have decided to embark on their first European tour and will be making their debut London performance for us at Cafe OTO on bonfire night. Suitably exciting I'm sure you'll agree and no need for any "there will be fireworks" punnery as that is a given!
BAMBOO is a new collaboration between Rachel Horwood of Trash Kit/Halo Halo and Nick Carlisle of Peepholes/Don't Argue. Based in Brighton and London respectively, Nick's reverberating synths and 808 rhythms combine with Rachel's looped and octave-pedalled Asian banjo and crystalline vocals to create a mystic folk pop soundtrack to a Studio Ghibli yet to be made.
ROB SHUTTZ plays a solo, hacked bass, looped type of music. Elements of shoegaze, folk, experimental and others are present. His portfolio piece 'Looming' represents, in purpose and theme, a personal checkpoint. It is a culmination of years of innaccurate appropriation and the most complete piece he has donated to the worldwide spectrum. A peek at a future lurking around the corner. From its ugly, trudging bass-line and lamenting mantra, a timid yet hopeful melody grows into a defiant crescendo. The accompanying video is an exact copy of the song's live structure, and shows a little of the way he make these sounds. Part 1 of a collection of sounds, currently recording, more soon.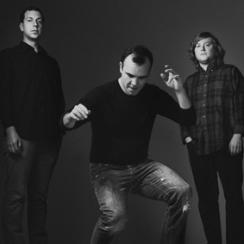 FUTURE ISLANDS
ED SCHRADER'S MUSIC BEAT
CELEBRATION
Thursday 6 November
O2 Shepherd's Bush Empire
Shepherd's Bush Green, W12 8TT | Map
7:00 | £15 | Sold out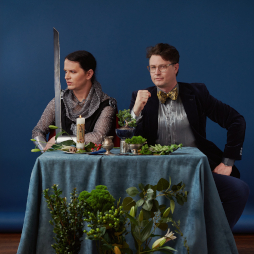 ED SCHRADER'S MUSIC BEAT
SEX HANDS
DOG CHOCOLATE
Monday 10 November
The Lexington
96-98 Pentonville Road, Islington, N1 9JB | Map
8:00 | £5 | Buy tickets
ED SCHRADER'S MUSIC BEAT are Ed Schrader and Devlin Rice - a minimalist punk duo from the fair city of Baltimore, Maryland. In the beginning there was only Ed: a man unhinged, channelling to the world a sacred message in the form of song. His only divining instruments: a single floor tom, one light, and a commanding baritone. He's a master songsmith who has reduced pop and punk to their most basic building blocks. Ed was soon joined by Devlin on bass, who proved to be an acute match for encapsulating the space-time from whence they came.
Their union quickly brought about the release of their 2012 debut album 'Jazz Mind' through Upset The Rhythm (and Load Records in the US), which The Wire magazine said recalled "the percussion-heavy chants of Liars", with Ed "affecting a mournful Arthur Russell tone on the a cappella songs" whilst "roaring like Rollins" on the album's faster numbers. Since then, Ed Schrader's Music Beat have toured frequently in North America and Europe, notably alongside their friends Dan Deacon and Future Islands, as well as hardcore luminaries Ceremony. New album, 'Party Jail' picks up where 'Jazz Mind' left off, adding a thoughtfully crafted, minimal pop vibe to their already terse punk sound. As a follow-up it features songs that are equally loud and destructive, pensive and strangely haunting.
SEX HANDS were formed by three childhood friends from the North Wales coast. After relocating to Manchester, Alex, Dylan and Edwin played their first show in 2011 on the Comfortable on a Tightrope stage at SFTOC, Salford. A month later Joe Logan of Waiters was recruited for his sweet bassy licks and amazing posture. From then on the band has been on a rock 'n' roll whirlwind, playing shows with the likes of Trumans Water one night and The Babies the next. After their previous releases which include a split 7" with Daily Life (on the Icecapades label, which features artwork by Sex Hands own Alex Humphreys and Manchester artist Lucy Jones) as well as the self released mini album, 'Season One (Giant Hell)', 'PLEH!' is Sex Hands proper-real-life-hi-fi-fully-rockin'-full-length record on Faux Discx/Negative Space. With artwork by Manchester based artist Mike Redmond that compliments the bands rough around the edges, scorched pop rock, 'PLEH!' is 13 tracks of non-stop melody mashed fun time hug and roll hits. Sex Hands are not a garage pop band, they have never practised in a garage. They never practice.
DOG CHOCOLATE are an elasticated, punk quartet based on the principles of self-propulsion and having too much fun. Jono plays a couple of drums, Matthew plays a guitar and a load of pedals, Rob plays another guitar and sings selected songs whilst Andrew sings most the songs and plays impressionistic blasts of keyboard when he's not. Having been active in a number of other bands including Yeborobo, Limn, Gasp! Cracking Eggs, Tea And Toast Band and Moulsecoomb Sword Gang, all four members are also frantic doodlers and illustrators. This over-spill of creativity can be seen on their recent split LP on UTR, entitled 'Or', which sees the band sprint through ten tracks of barely-controlled chaotic glee. Never dwelling for long, Dog Chocolate treat us to songs about pregnancy, poisoned eyes, public transport and cakes. Their observational, often candid lyrics match their nonsensical attitude to their music too, which tumbles and chases pitchshifted guitars through thick forests of feedback and blasting drums. 


TY SEGALL
MOVIE STAR JUNKIES
Wednesday 12 November
Electric Ballroom
184 Camden High Street, Camden Town, NW1 8QP | Map
7:30 | Sold out

GUERILLA TOSS
Tuesday 25 November
The Old Blue Last
38 Great Eastern Street, Shoreditch, EC2A 3ES | Map
8:00 | £6 | Buy tickets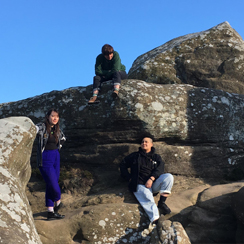 'Confidence' album launch party
TRASH KIT
ANA DA SILVA
ARRINGTON DE DIONYSO
AS ONDAS
Thursday 4 December
Bethnal Green Working Men's Club
44-46 Pollard Row, Bethnal Green, E2 6NB | Map
8:00 | £5 | Buy tickets

WHITE FENCE
Thursday 29 January
100 Club
100 Oxford Street, W1D 1LL | Map
8:00 | £9 | Buy tickets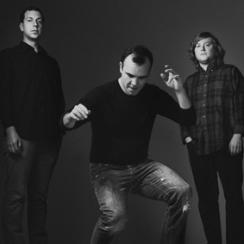 In collaboration with Parallel Lines
FUTURE ISLANDS
Monday 30 March
The Roundhouse
Chalk Farm Road, NW1 8EH | Map
7:00 | £20 | Buy tickets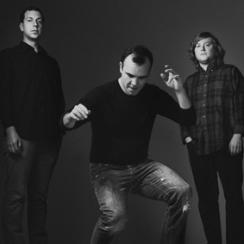 In collaboration with Parallel Lines
FUTURE ISLANDS
Tuesday 31 March
The Roundhouse
Chalk Farm Road, NW1 8EH | Map
7:00 | £20 | Buy tickets