NEWS
PEGA MONSTRO ANNOUNCE NEW ALBUM, HAVE A FIRST LISTEN!
21 March 2017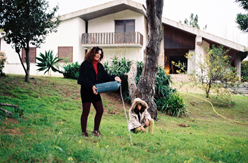 Fantastic news! Portuguese dream-punk sisters Pega Monstro have a brand new album entitled 'Casa de Cima' planned for release on June 2nd. You can hear the immense 'Partir a Loica' taken from the album now as Loud & Quiet have just premiered the track. 'Casa de Cima' by Pega Monstro will be released on LP, CD and digitally through Upset The Rhythm & Cafetra Records and is available to pre-order now!
BAMBOO - NEW ALBUM ANNOUNCED!
6 March 2017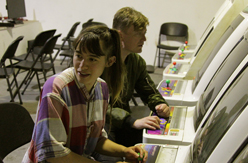 Very pleased to announce today that our pre-order link is now live for our upcoming new album by BAMBOO. The extraordinary album is entitled 'The Dragon Flies Away' and weaves Japanese/Korean folkloric myths into the personal fabric of being. Released on May 26th, the album is available to order on transparent blue vinyl and digipak CD as of now!
XIU XIU - FORGET RELEASED!
24 February 2017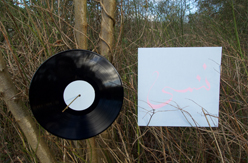 Today we're thrilled to help shepherd Xiu Xiu's new album Forget out into the wider world. It's a total heart-quake of an album and we're extremely proud to be involved with its release. Forget was produced by John Congleton, Greg Saunier of Deerhoof and Xiu Xiu's own Angela Seo. Plus, it features guest appearances by fabled minimalist composer Charlemagne Palestine, L.A. Banjee Ball superstar commentator Enyce Smith, Swans guitar virtuoso Kristof Hahn and legendary drag artist and personal hero of Xiu Xiu, Vaginal Davis. Forget is available on LP, CD and digitally in shops worldwide as of today, including from us directly through our webshop!
STREAM 'FORGET' BY XIU XIU
21 February 2017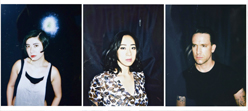 Our forthcoming Xiu Xiu album entitled 'Forget' is available to stream through Noisey now. 'Forget' will be released this Friday!
LATEST RELEASES MIXTAPE
LINKS
UPCOMING SHOWS

DANIEL BACHMAN
JAKE XERXES FUSSELL
Monday 1 May
Cafe Oto
22 Ashwin Street, Dalston, E8 3DL | Map
8pm | £7.00 | Buy tickets
DANIEL BACHMAN is a 6-string and lap guitar player from Fredericksburg, Virginia currently living in Chapel Hill, North Carolina. From 2008 to present he's been releasing material of almost exclusively an instrumental nature while touring everywhere from Istanbul to Los Angeles. He has been playing what he describes as "psychedelic appalachia" since he was a teenager, releasing small run editions of tapes, CDs and LPs for the past three years, with a sound that evolved from drones and banjos to a now guitar centered focus. Touring off and on since the age of 17, Bachman has managed to cover thorough ground across the US, sharing stages with like-minded folk such as fellow Fredericksburg native Jack Rose, for whom he fashioned the artwork for the posthumous release of 'Luck In The Valley'. His newest effort is himself-titled LP on Three Lobed Recordings, his eighth solo album to date. It's his most thoughtful release to date, filled with mindful reflection and confident patience. Even during his snappiest songs, Bachman takes time to consider where he is and where he's going. When his pace starts to rush, he pulls back, ringing out a long chord or even stopping completely to avoid just going with the flow. Bachman takes the listener on an aural journey through the back roads of the foothills of the blue-ridge to calm coastal waters.
JAKE XERXES FUSSELL is a singer and guitarist from Durham, North Carolina. His self-titled debut record, produced by and featuring William Tyler, transmuted ten arcane folk and blues tunes into vibey cosmic laments and crooked rambles. Jake Xerxes (yes, that's his real middle name, after Georgia potter D.X. Gordy) grew up in Columbus, Georgia, son of Fred C. Fussell, a folklorist, curator, and photographer. Fred's fieldwork took him, often with young Jake in tow, across the Southeast documenting traditional vernacular culture, which included recording blues and old-time musicians with fellow folklorists and recordists George Mitchell and Art Rosenbaum (which led Jake to music, and to some of the songs herein) and collaborating with American Indian artists (which led Jake eventually to his graduate research on Choctaw fiddlers.) Fussell's new album, 'What in the Natural World' on Paradise of Bachelors takes the form of transmogrified folk/blues koans. This time these radiant ancient tunes tone several shades darker while amplifying their absurdist humour, illuminating our national, and psychic, predicaments.

EX-CULT
PINK GRIP
Wednesday 3 May
The Lexington
96-98 Pentonville Road, Islington, N1 9JB | Map
7.30pm | £7.00 | Buy tickets
EX-CULT are a Memphis-based punk cyclone, releasing batches of bruising records and laying waste to everywhere they play. Chris Shaw lends a sneering, spitting toughness to the proceedings while the band flays riffs in loose, hairy mosh inducing menace behind him, touching on post-punk, psych sprawl, and early 80's hardcore while remaining beholden to none. They have the power to convert even the most jaded and bored concertgoer into a sweaty mess in the pit. Having released two albums of adrenal-enhancing sluggers through Goner Records, last year saw Ex-Cult releasing 'Negative Growth' on In The Red. This collection of songs were conceived in Memphis and finalized in Los Angeles, with the help of family doctor Ty Segall. It was created in February 2016, when the band traded Memphis misery for a week of California sunshine. 'Negative Growth' is a nine-track nightmare, a death trip in the crystal ship and dedicated to fear and deception.

FUTURE ISLANDS
WING DAM
UTR DJs
Thursday 4 May
The Dome
178 Junction Road, Tufnell Park, N19 5QQ | Map
7pm | Tickets available via ballot | Register for tickets
FUTURE ISLANDS have enjoyed some transformative years since the release of 'Singles', catapulting the Baltimore-based band from cult favorites to synthpop icons. As addictive songs like breakout "Seasons (Waiting on You)" turned the world on to sublime pleasures a loyal fan base already knew, this hard-touring band ploughed forward, playing their 1,000th show in July 2015 and celebrating their 10th anniversary in February 2016. Now Future Islands return with new album 'The Far Field' on 4AD, delivering twelve chestpounding love songs and odes to the road as only they can. This show is a special intimate fan show, tickets are very limited so you are advised to enter the ballot to win a chance of buying tickets.

IAN WILLIAM CRAIG
RESINA
Monday 8 May
OSLO
1a Amhurst Road, Hackney, London, E8 1LL | Map
7.30pm | £10.00 | Buy tickets
IAN WILLIAM CRAIG is a sound artist, award-winning printmaker, classically-trained vocalist, writer, photographer, composer and performer, who currently resides in Vancouver. His visual and sonic research has been exhibited and published internationally, and he has participated in various residencies and performances across his native Canada and beyond. Drawing out analogies between his dual practices of music and print-making, Ian's work is deeply informed by a narrative of impermanence, "notions of life as an act of becoming, and beauty within degradation and deterioration". Blending choral, ambient and noise influences together into this customised array of tape decks, Craig moves you over shifting tectonic plates of operatic improvisations, fields of tape hiss and haunting pastoral melodies. Running on a combination of classical vocal training and process-based uncertainty, his music delivers an elegant balance between theatrical and ambient sentiments, by combining the essence of a choral album from Angel Records or Deutsche Grammophon with the distorted spontaneity of experimental home-recording and the likes of Fennesz or William Basinski.
After moving to Vancouver following his studies, Ian began creating albums from his new home. His first recordings were digitally self-released via Bandcamp between 2011 and 2013. Stunningly textured and vaporous, the majority of these releases are largely voiceless. It was when Craig turned to his background in musical theatre, avant-classical orchestration and the choral tradition for A Forgetting Place (2013) and his first two physical releases, A Turn of Breath (2014) and Cradle for the Wanting (2015), where the real breakthrough would be made, with Ian's voice rising firmly to the fore. Both latter albums were issued by the excellent Californian label Recital Program to widespread critical acclaim, his latest album 'Centres' came out last year through FatCat's 130701 imprint (Max Richter, Hauschka, Dustin O'Halloran, Johann Johannsson, etc).
RESINA is the alias of Karolina Rec, a cellist and composer based in Warsaw, Poland. Born 1982, Karolina graduated from the Music Academy in Gdansk and the University of Gdansk. Active in Poland's independent music scene since the late '00s, she was co-founder / collaborator of some of Poland's most influential alternative bands: Kings of Caramel, Cieslak and Princess, Nathalie And The Loners, Anthony Chorale and more. She has featured on numerous album releases and soundtracks (including the Oscar-nominated 'Rabbit a la Berlin'), and has been the author of a dozen music productions for theatre. A compulsive live artist, Karolina's style is primarily characterized by personal language of improvisation and alternative approach to melody. She has collaborated with Scott McCloud, Paul Brody, Piotr Kurek, Coldair, Scianka and many other artists.
Resina was signed to 130701 in February 2016, having sent in a hugely impressive demo. Her self-titled debut album is a result of experiments with cello and simple electronic tools - sometimes close to the form of song; sometimes based more on powerful, intuitive impressions but always marked by the desire to use non-obvious characteristics of the instrument. It is set for release later in 2016.

DUCKTAILS
JAMES FERRARO
SPENCER CLARK
Friday 12 May
The Lexington
96-98 Pentonville Road, Islington, N1 9JB | Map
7.30pm | £10.00 | Buy tickets

XIU XIU
ICE CREAM
SCOTT HARDWARE
Monday 22 May
Kamio
3 Rivington Street, London, EC2A 3JL | Map
8pm | £12.00 | Buy tickets
XIU XIU is Shayna Dunkelman, Angela Seo and Jamie "Butch Jenny" Stewart. Starting in isolation in San Jose, California in 2002, Xiu Xiu has relentlessly toured all over the world since. Over the course of 15 7"s, five EPs, six collaboration albums and ten full lengths Xiu Xiu has never shied away from any topic that is honest and meaningful to them. Their songs are about gender dysphoria, suicide, loneliness, going insane, child soldiers, the tsunami in Indonesia, hideous sex, the Sanrio character Pandapple, abortion politics, incest, cats, queer life and the individual responsibility of U.S. military. Somehow within all of this, cuteness attempts to find a way to embrace death and horrible emotion. The music is drawn from British post punk and synth pop, modern Western classical, noise and experimental musics, Asian percussion musics, American folk, torch singers, house, techno and 1950s rock n roll. Xiu Xiu have been called "self flagellating", "harsh", "brutal", "shocking" and "perverse" but also "genius", "brilliant", "unique", "imaginative" and "luminous."
New album Forget will be released this February through Upset The Rhythm. The album was produced by John Congleton (Blondie, Sigur Ros), Greg Saunier of Deerhoof and Xiu Xiu's own Angela Seo. It features guest appearances by fabled minimalist composer Charlemagne Palestine, L.A. Banjee Ball superstar commentator Enyce Smith, Swans guitar virtuoso Kristof Hahn and legendary drag artist and personal hero of Xiu Xiu, Vaginal Davis.

PRIESTS
SPECIAL GUESTS
THE SNIVELLERS
Thursday 25 May
OSLO
1a Amhurst Road, Hackney, London, E8 1LL | Map
7.30pm | £8.00 | Buy tickets
This show was originally at The Victoria, original tickets still valid.
PRIESTS are Daniele Daniele (drums), Katie Alice Greer (vocals), G.L. Jaguar (guitar), and Taylor Mulitz (bass). Formed in 2011 in Washington DC, the band has proven a valuable force for strangeness in a city that is increasingly terraformed by norms. At a time when few groups were making serious moves beyond the Beltway, Priests toured throughout North America and Europe. More significantly, they've helped to raise the general standard of show-going at home through cassettes and singles released on Sister Polygon, including music by bands like Sneaks, Snail Mail, Pinkwash, Cigarette, Downtown Boys, and numerous Priests-affiliated groups like Gauche and Flasher. Still, even amidst thriving hometown creativity, Priests possess a singular gravity. They are physical and combustible, urgent and visceral. This January, Nothing Feels Natural, the band's first full length LP was released on their own label Sister Polygon Records. It's the bands most stylistically diverse set of songs to date, expanding on their lo-fi post-punk bona-fides with ideas drawn from pop, R&B, and industrial noise. Thematically, Nothing can be understood as a series of vignettes - nine stories that crystallize into a bigger picture about the economics of human relationships, the invisibility of feminized labor, and the dual purpose of art for both the group and the individual. It's a record that thrives amid the tension between that what is valued and what is dismissed; between what is desired and what is presented.

OOIOO
BAMBOO
Tuesday 30 May
Kamio
3 Rivington Street, London, EC2A 3JL | Map
8pm | £12.00 | Buy tickets
NB. This is a rescheduled date, all original tickets for April 20th are still valid.
OOIOO has always created a musical language all its own. Under the leadership of Yoshimi, also a founding member of Boredoms, the group has recorded six albums that have subverted expectations and warped perceptions of what constitutes pop and experimental music. Four years of work went into to making Gamel, their bold new album inspired by the Javanese style of gamelan and the first new music from Yoshimi in over five years. Gamelan is an ancient form that has inspired a great many composers and musicians over the past century, from Erik Satie and Claude Debussy to Mouse on Mars and Sun City Girls. The introduction of this traditional form transformed the group into a super tribe, side-stepping the road between the past and the future. Their focus is not to replicate these ancient styles, but to incorporate them into their consistently inventive, constantly shifting musical frameworks. They take their love of indigenous music into an entirely new dimension by freely weaving organic and electric tones into a vivid tapestry, employing their keen sense of color and texture.
Yoshimi began her music career in 1986 playing drums in UFO or Die with vocalist Eye, and later joined him in the revolutionary noise-pop group Boredoms. Her explosive drum performances captivated audiences and even inspired Wayne Coyne to name a now-famous Flaming Lips album in her honor. While the band's tours of the United States are infrequent, they are as the New York Times has stated, transcendent.

NOTS
Wednesday 7 June
Cafe Oto
22 Ashwin Street, Dalston, E8 3DL | Map
8pm | £8.00 | Buy tickets
NOTS are a 4 piece, all XX, "nuevo no wavo" band from Memphis, TN. Unpredictable guitars, celestial synths, and punctuated vocals swirl around the repetition of a powerful rhythm section to form a sound and a live show not easily classifiable but entirely addictive. Drummer Charlotte Watson and guitarist / frontwoman Natalie Hoffmann are the band's two constants throughout a handful of roster changes. NOTS' current lineup also includes Alexandra Eastburn on synth, an instrument she picked up to join NOTS and to record on their first full-length LP We Are Nots, and bassist Meredith Lones, another new Memphis musician, and the most recent addition to the band. NOTS' newest punk-noise-psych-collision LP, Cosmetic, aggressively follows on the heels of their debut LP, foreshadowing an ever expanding experiment in direction of things to come for the band. NOTS have releases on Heavenly & Goner Records, plus a brand new live 7" on Third Man.
THE SPACE LADY
Tuesday 20 June
Cafe Oto
22 Ashwin Street, Dalston, E8 3DL | Map
8pm | £10.00 | Buy tickets
THE SPACE LADY began her odyssey on the streets of San Francisco in the late 70s, playing versions of contemporary pop music an accordion and dressed flamboyantly, transmitting messages of peace and harmony. Following the theft of her accordion, The Space Lady invested in a then-new Casio keyboard, birthing an otherworldly new dimension to popular song that has captured the imaginations of the underground and its lead exponents ever since, with the likes of John Maus, Erol Alkan and Kutmah being devotees. Of her early street sets, only one recording was made, self-released originally on cassette and then transferred to a homemade CD. "The Space Lady's Greatest Hits" released in 2014 through Night School features the best of these recordings - mostly covers but with some originals - pressed on vinyl for the first time and features archival photographs and liner notes from The Space Lady herself. "Greatest Hits" contains The Space Lady's personal favourites; her haunting take on The Electric Prunes' "I Had Too Much To Dream (Last Night)," a frantic "Ballroom Blitz" amidst other reconstructed pop music. Following on from this wonderful record, The Space Lady released last year a split LP with the Burnt Ones on Castle Face records which included her spectral take on 'Across The Universe'.

RICHARD DAWSON
Full live band show!
Thursday 22 June
St John on Bethnal Green
200 Cambridge Heath Rd, Bethnal Green, E2 9PA | Map
7pm | £15.00 | Buy tickets
RICHARD DAWSON can never been accused by listeners of a lack of artistic ambition. Whether they got on at the last stop - the 4 track Tyneside-Trout-Mask-through a-Vic and Bob-filter of 'Nothing Important' - or earlier in the journey, with 'The Glass Trunk's visceral song cycle or 'The Magic Bridge's sombre revels. Devotees of his earlier recordings will be at once intrigued by and slightly fearful of the prospect of a record that could make those three landmark releases look like formative work. 'Peasant' is that album, released on June 2nd through Weird World / Domino. From its first beguilingly muted fanfare to its spectacular climax exploring a Dark Ages masseuse's dangerous fascination with a mysterious artefact called the Pin of Quib, it will grab newcomers to Dawson's work by the scruff of the neck and refuse to let them go until they have signed a pledge of life-long allegiance.
Driven forward by exhilarating guitar flurries, Qawwali handclaps and bursts of choral ferocity, 'Peasant's eleven tracks sustain a momentum worthy of the lyrics' urgent subject matter. Dawson describes the themes of these songs as "Families struggling, families being broken up by circumstance, and - how do you keep it together? In the face of all of these horrors that life, or some system of life, is throwing at you?" The fact that these meticulously wrought narratives all unfold in the pre-mediaeval North Eastern kingdom of Bryneich - "any time from about 450AD to 780AD, after the withdrawal of the Roman Empire"- only makes their contemporary relevance more enduring.
Dawson's objective was to create "A panorama of a society which is at odds with itself and has great sickness in it, and perhaps doesn't take responsibility - blame going in all the wrong directions". But encountering 'Peasant's captivating sequence of occupational archetypes ('Herald', 'Ogre', 'Weaver', 'Scientist'), listeners might find themselves wondering if these multitudes could somehow be contained with one person. Dawson will support the release of 'Peasant' with a full UK tour - his first featuring a full live band. Joining Dawson will be long-time collaborator violinist Angharad Davies plus Johnny Hedley and Matt Baty of Pigs Pigs Pigs Pigs Pigs Pigs Pigs.

TERRY
Friday 30 June
The Lexington
96-98 Pentonville Road, Islington, N1 9JB | Map
7.30pm | £8.00 | Buy tickets
TERRY is getting ready, combing his hair, buttoning his jacket, turning the key in the door. "I'm doing fine," sings Terry out loud, he knows. Divide him into four and you get Al Montfort (UV Race, Total Control, Dick Diver etc.), Amy Hill (Constant Mongrel, School Of Radiant Living), Xanthe Waite (Primo, Mick Harvey Band) and Zephyr Pavey (Eastlink, Total Control, Russell Street Bombings). Inevitably, Terry likes to make a noise. Drums, guitars and all his voices come into play, making a solid raft for Terry's inner musings to navigate the languid rapids. This all unravels at its own pace, sometimes drifting into glam pop and country backwaters, always conducting a conversation with the commonplace. Love is a highway, but you're not likely to find Terry there anymore. He's on the plane. Terry saw the light, he put on his sunhat and is heading to Europe. Debut album, 'Terry HQ' was released last year by Upset The Rhythm, look out for a new album around this tour!

SPRAY PAINT
THE REBEL
Tuesday 15 August
The Lexington
96-98 Pentonville Road, Islington, N1 9JB | Map
7.30pm | £7.00 | Buy tickets
SPRAY PAINT are a no wave punk outfit from Austin, Texas made up of Chris Stephenson (drums/vocals), Cory Plump (guitar/vocals) and George Dishner (guitar/vocals). Spray Paint's buzz-sawing guitars run headlong through labyrinthine tunnels of reverb, chased down by some wildly brain-bashing drums. All three members of Spray Paint sing too, helping create an uncontrollable sense of fervour as they jostle for the words. They work up a tone of paranoia amid the jagged rhythms, locking into a motoric groove that's impossible to escape from, offset with stormy blasts of distortion. Since forming in 2012, Spray Paint have released six LPs and 7"s through SS-Records, Goner, Upset The Rhythm and Monofonus Press. They've wasted no time with hitting the road either, touring the US many times, with their friends Protomartyr and The Rebel.
THE REBEL is prolific London outsider Ben Wallers; a charismatic lone wolf in a cowboy hat or trilby and a tie whose electrified howls are too idiosyncratic to be broken down into market-oriented terms. It is difficult to sketch a thumbnail summary of a musician who has amassed a vast and unwieldy discography under a variety of names and genres: the most widely acclaimed is probably the Country Teasers, but he also moonlights as, or in, the Rebel, the Company, the Male Nurse, the Beale, the Stallion, the Black Poodle and Skills on Ampex, across folk, country, garage, post-punk, no wave and electronic pop. In the main part The Rebel is centred around twisted Casio drones, clanging guitar and some defiantly deadpan vocals, all thrown in the pan and pressure-cooked in Wallers' mind. Wallers has amassed a near-unquantifiable discography over the past 20 years, from scores of more or less "official" LPs, EPs and 7"s to seemingly endless self-released cassettes.

NAP EYES
Thursday 31 August
Bethnal Green Working Men's Club
44-46 Pollard Row, Bethnal Green, E2 6NB | Map
7.30pm | £8.00 | Buy tickets
NAP EYES hail from Nova Scotia and make crooked, literate guitar pop refracted through the gray Halifax rain. Recorded live to tape with no overdubs, their songs are equal parts shambling and sophisticated, with one eye on the dirt and one trained on the starry firmament, inhabiting a skewed world where odes to NASA and the Earth's magnetic field coexist easily with lyrics about insomnia and drinking too much. In the world of Nap Eyes, workaday details punctuate (and puncture) cosmic concerns, as songwriter, singer, and rhythm guitarist Nigel Chapman wrestles with air and angels, struggling (and often failing) to reconcile the Romantic rifts, both real and imagined, that define our lives: between chaos and order; solipsism and fellowship; the anxiety of social (dis)orders both big and small; and the various intersections and oppositions of religion, art, and science. It's the sound of being young and alive in the city, a tenuous and impermanent counterpoise of recklessness and anxiety, archness and earnestness. Following the reissue of their 2014 debut 'Whine of the Mystic' on Paradise of Bachelors, Nap Eyes released an album of all-new material entitled 'Thought Rock Fish Scale' last year, following that up with two incredible London shows!

DEERHOOF
LE TON MITE
Monday 4 September
Village Underground
NB. This is the new date for Deerhoof's postponed Feb 6th show, original tickets remain valid
54 Holywell Lane, Shoreditch, London, EC2A 3PQ | Map
7.30pm | £14.00 | Buy tickets
DEERHOOF are an alchemy of '77 punk, pop, glam, hair metal, doo-wop, hip hop, and R&B, late-night car rides, long days, spandex, shadows, and attitude. Poetry into noise, volume knobs into pleasure, friendship into rock band.Twenty years deep into their career it's safe to describe them as legends of the American underground, releasing 14 albums and treating the world to their never-the-same-twice thrill-ride of a live show. Recent album 'The Magic' is out now on Upset The Rhythm, it is a mixtape imbued with Deerhoof's sorcery; boldness, wonder, technical know-how, risk. A mixtape by the kid with the biggest music collection you've ever seen, who will take you camping and show you how to pull a rabbit out of a hat. Are Deerhoof the greatest live band in the world? If you shake the Magic 8-ball, "all signs point to yes"!
LOWTIDE
Tuesday 5 September
The Islington
1 Tolpuddle St, Angel, London, N1 0XT | Map
7.30pm | £5.00 | Buy tickets
LOWTIDE's murmurs have been growing of late. The shimmering vocal exchanges between Lucy Buckeridge and Giles Simon and their unique dual bass lines are pivotal to their shoegaze sonics. These hazy vocals and swirling guitar effects are given room to breathe as the band masterfully exploit rhythm and space. Australian fans have been enjoying all of this since 2014 - as well as a cover of Asylum Party's 'Julia' in 2015. Here in the UK we only got the record last August - and it's been spinning on our stereo regularly since then. 2016 was a breakthrough year for the dream pop / indie pop / shoegaze specialists who received critical acclaim for their inaugural long-player including in Rough Trade's renowned 'Albums Of The Year' list whilst also having amassed 4 and 4.5 star reviews in many of their homeland of Australia's magazines, and a string of sold out shows.